Black Kitchen Countertops
The colour black has many virtues. It is timeless, and therefore, fits in with any style, from the most classic to the most avant-garde. But it is also captivating enough to enhance any feature on its own. In the case of kitchen countertops, black will always be a good choice if you want the work surface to be the main focus.
Another advantage of fitting a black countertop in your design project is that it will work with any colour used for walls, floors, furniture... However no matter how much you like this neutral colour, it is advised not to use it in throughout the whole project because it absorbs the light. That is why we advise you to not use it in more than 50% of the space.
Ideas for kitchens with a black countertop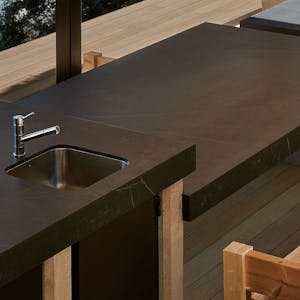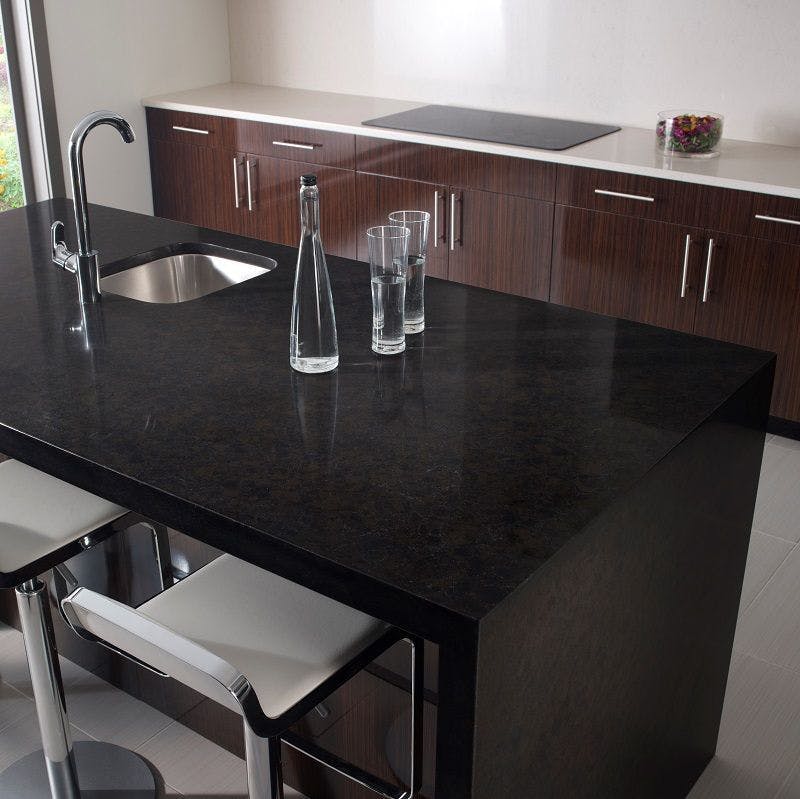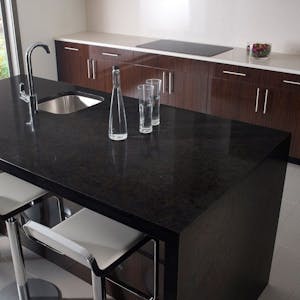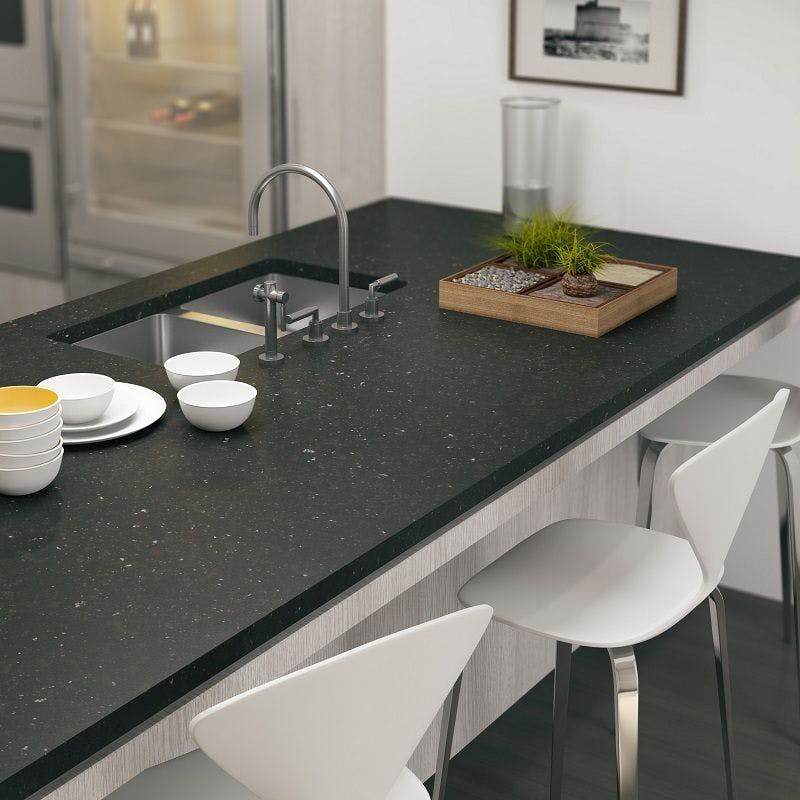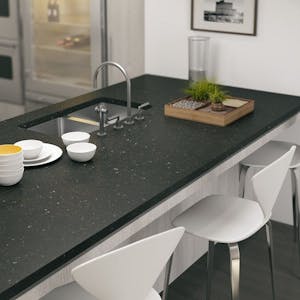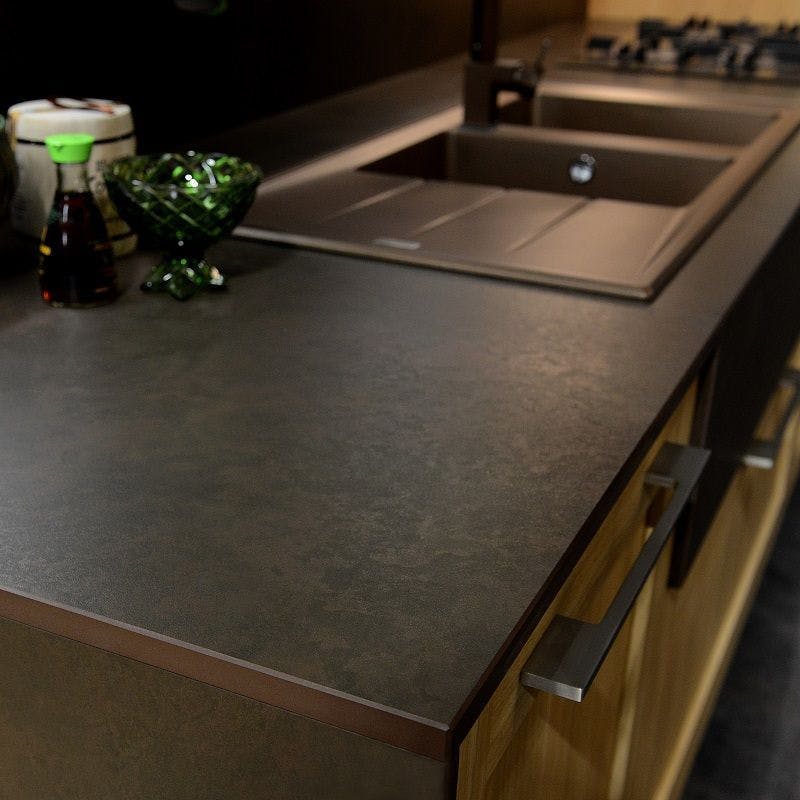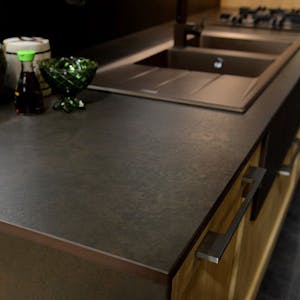 WHY CHOOSE A BLACK COUNTERTOP?
Black is a colour that brings great elegance and distinction to a kitchen. It has a dramatic character that makes it the centre of attention. For this reason, it is best to use in moderation, for example the countertop only, so as not to overwhelm the space.
IDEAL FOR PLAYING WITH LIGHT AND DARK
Get an attractive depth effect playing with light and dark. Not only is it a safe bet when combined with white & black it also combines perfectly with soft shades such as pearl grey, beige, pastel yellow…
PURE HARMONY
If, in addition to the kitchen countertop, you'd like to use black in more areas, to bring distinction and personality to your home, we advise you to use open units or glass fronts, so as not to darken the space.
ENHANCE THE BRIGHTNESS
Black does not reflect light but traps it, so its use should be limited. Therefore, a black kitchen countertop is ideal for a large, well-lit space. Furthermore, it enhances the brightness of the space with small metallic touches.
BEWITCHING AND MYSTERIOUS
Black is an enigmatic colour, very powerful in interior design. To enhance that mysterious halo, you can choose a black kitchen countertop with touches of other colours or beautiful veining. The surface will look even more impressive.
4 examples of black kitchen countertops
SO TRENDY
Black is a popular colour, so we have a dozen options in both Cosentino and Dekton brands. If you want a unique contemporary kitchen, check out our outstanding Dekton design Laurent. This design has a black background with a beautiful golden veining and is inspired by Port Laurent natural stone, an exquisite and elegant marble.
DEFINING THE NORDIC STYLE
Although the Scandinavian style tends to opt for lighter shades, black is not unfamiliar to Nordic decoration. You can depend on the sobriety and simplicity in Silestone Iconic Black to be a great success. This stunning kitchen countertop has been treated with N-boost technology, which intensifies its perfect pure black colour.
PURITY AND SIMPLICITY
If you want to combine a black kitchen countertop with an industrial or minimalist interior design, keep in mind that the motto is simplicity. A pure colour solid surface, with a matte finish, would be a good choice. In this regard you are going to love Dekton Domoos in an elegant graphite black.
SOPHISTICATION AND STYLE
With Silestone Stellar Night an intense black surface with embedded crystals, you will get a wonderful atmospheric finish that will shine on its own. This proposal is ideal for those classic and bohemian decorations in need of a sparkling touch.