Top Homes
A classic yet minimalist kitchen complemented by Dekton's elegance and functionality
Sara Eriksen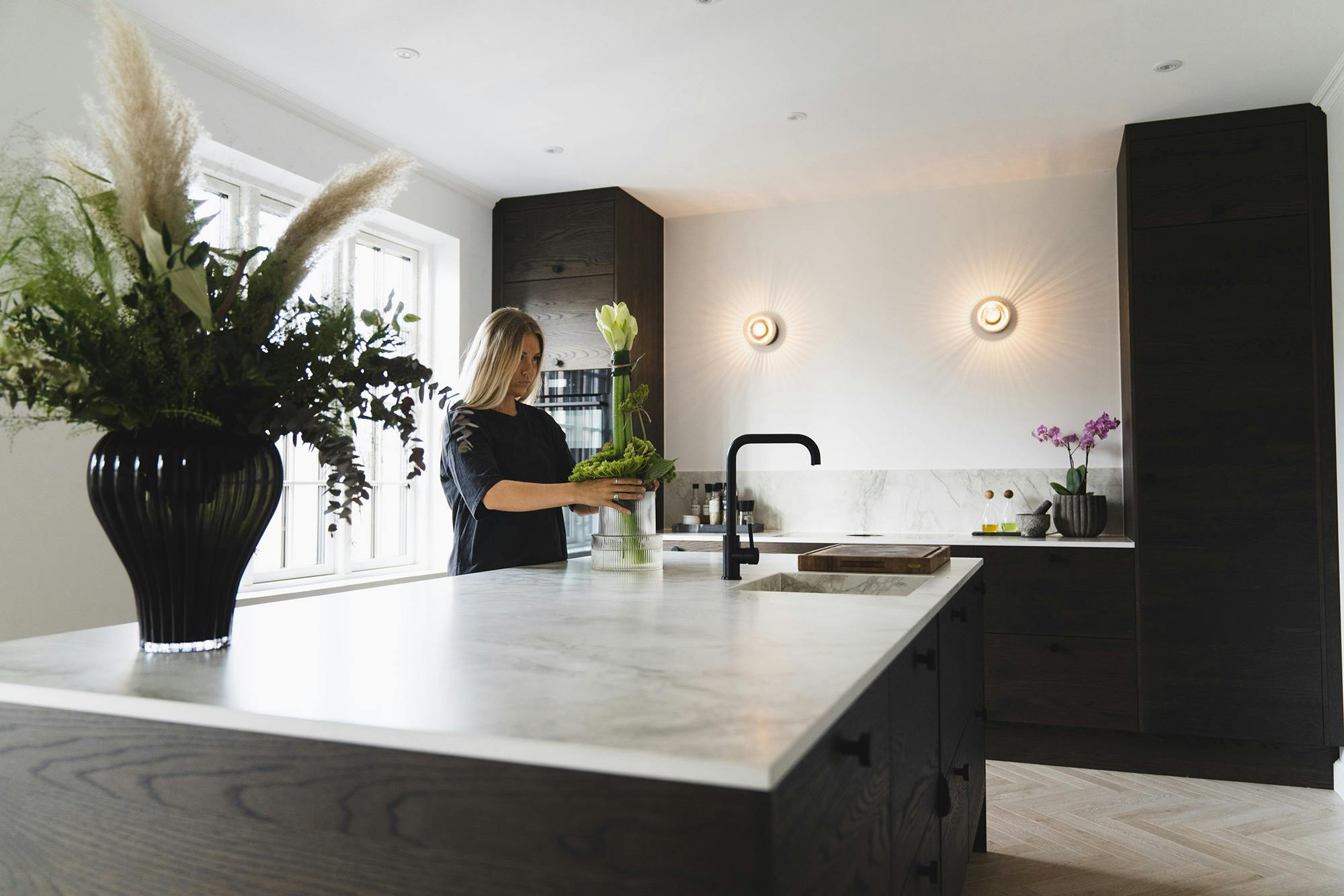 Location
Slagelse, Zealand (Denmark)
Architecture/Design
Sara Eriksen
Application
Kitchen island, worktop and splashback
Fabricator
Marmor & Granit
Influencer Sara Eriksen has posted on social media about the complete renovation of her home, an old villa on the Danish island of Zealand, where the original structure has been preserved, resulting in a charming and balanced dialogue between past and present. The Scandinavian style dominates the interiors, where natural light has been enhanced with soft, neutral colours that make the spaces look bigger.
'We wanted to strike a beautiful balance between the classic and the contemporary, between the minimalist and the wild. Stylish accents, such as the kitchen island with no overhang for easy cleaning and the integrated, customised Dekton Portum sink, have added character to the spaces,' says the influencer.
Easy maintenance for a minimalist kitchen
The kitchen space has been conceived as a place to gather and spend time together, which is open, visually neat and very balanced. 'Originally our idea was to clad the surfaces with natural stone, but we realised how difficult it is to maintain marble and then we fell in love with Dekton,' says Eriksen.
In addition to a flawless aesthetic appearance, Dekton is a perfect surface for the kitchen and, in fact, very easy to maintain. Thanks to its technical features, the surface is resistant to scratches, stains, sudden changes in temperature and is also very hygienic and easy to clean.
A matt velvet finish ideal for a work surface
The colour chosen for this kitchen was Portum, which has been used for the island, worktops and splashback. 'Portum is true to nature and has a striking design without stealing the limelight,' they say. Taking its inspiration from the natural Portobello stone, Portum, in a velvet finish, is both elegant and modern. Its grey veining and sculptural pattern give a lot of character to this kitchen in which the influencer chose the matt tone, without reflections.
'At first we opted for X-Gloss, but in the end we chose the matt finish, which is very pleasant to work with when light comes in through the windows,' explains Eriksen. 'Our integrated, customised Portum sink blends perfectly into the worktop and completes the look,' she concludes.
Cosentino's materials used in this project
Explore Similar Case Studies