Case Study
A minimalist façade with Dekton Edora for a touch of style
Menéndez y Gamonal Arquitectos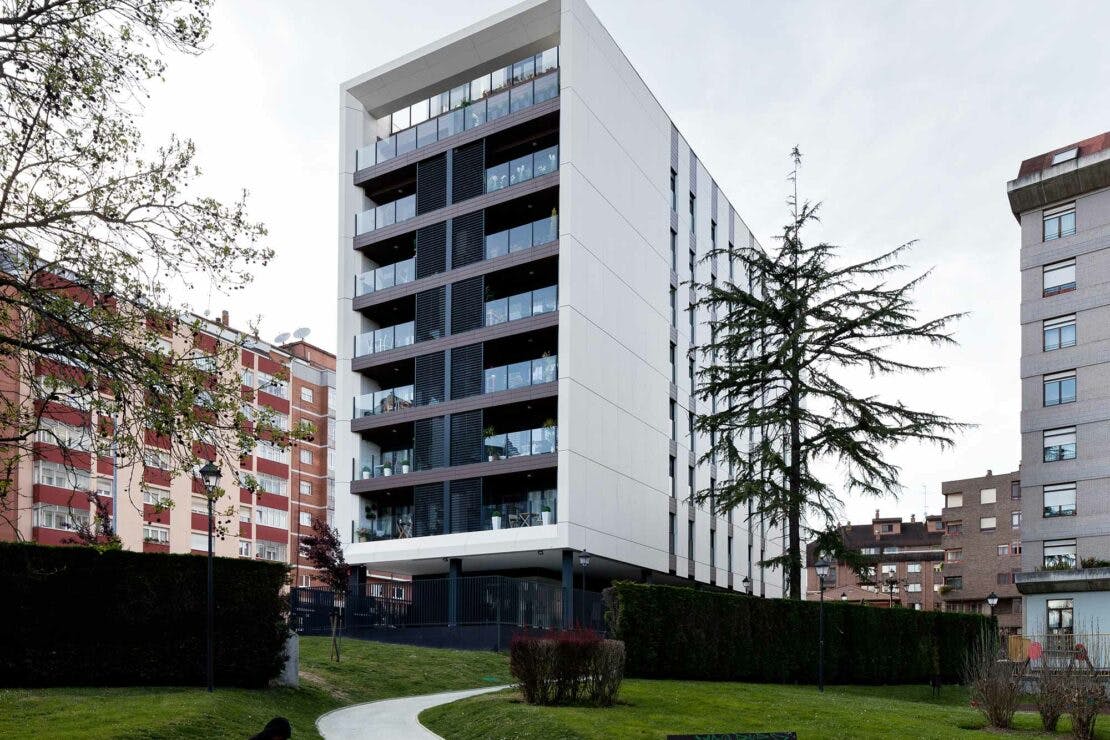 Application
Ventilated facade
Architecture / Design
Menéndez y Gamonal Arquitectos
The calling card of the Sanatorio Blanco residential building in Oviedo is its spectacular minimalist and contemporary façade. Designed by the Menéndez y Gamonal Arquitectos studio, the building stands out in its surroundings for its natural, elegant and modern style, to which Dekton brings beauty and many technical advantages. "The format of the material, available in large format slabs with minimal joints, its technical features and its easy maintenance were key to its choice", say Cosentino's specialists.
The texture, light and warmth of Dekton Edora gave this façade a unique look. This warm shade of grey selected by the architectural studio fits perfectly with both classic and contemporary styles. In this project, it provided a minimalist and neutral touch, resulting in a simple and clean design.
A ventilated façade with large format slabs
As for the format, the team of architects opted for full slabs of 4.5 m2, which were placed vertically. "It gave the Project Management great confidence to have the substructure and fixing systems tested and certified for the Dekton cladding", say the specialists. "The local presence and service and the customised cutting, without intermediaries, were also highly appreciated by the Site Management and its contractors", they further say.
The construction system is a ventilated façade. The substructure consists of load-bearing brackets, mechanically fixed to the supporting wall, and vertical T- and L-shaped profiles laid above the brackets. The cladding is chemically fixed to the profiles. The adhesive used is a one-component polyurethane-based structural filler that polymerises rapidly on exposure to ambient humidity. This system is also used for other construction systems, such as curtain walls.
Dekton, a weatherproof material
In terms of the advantages of Dekton, the team of architects especially valued its performance against the elements of the weather – UV rays, rain and humidity, extreme temperatures and thermal shock, pollution, vandalism (graffiti, impacts, urine…) –, as well as its easy maintenance.
Indeed, its strength makes this material the perfect surface to ensure that the façade will remain in good condition over time. "As it is a cladding with high dimensional stability and minimal expansion/dilatation, it is ideal for this type of installation", they say finally.
In addition, the 25-year warranty offered by Cosentino was decisive. This was not the first time the builder/developer had worked with Cosentino, having previously relied on its products for kitchen worktops in previous projects.
Cosentino's materials used in this project