Top Homes
A seaside flat with a relaxed atmosphere, which enhances the brightness thanks to the off-white tone of Dekton Nayla
Grov Design Studio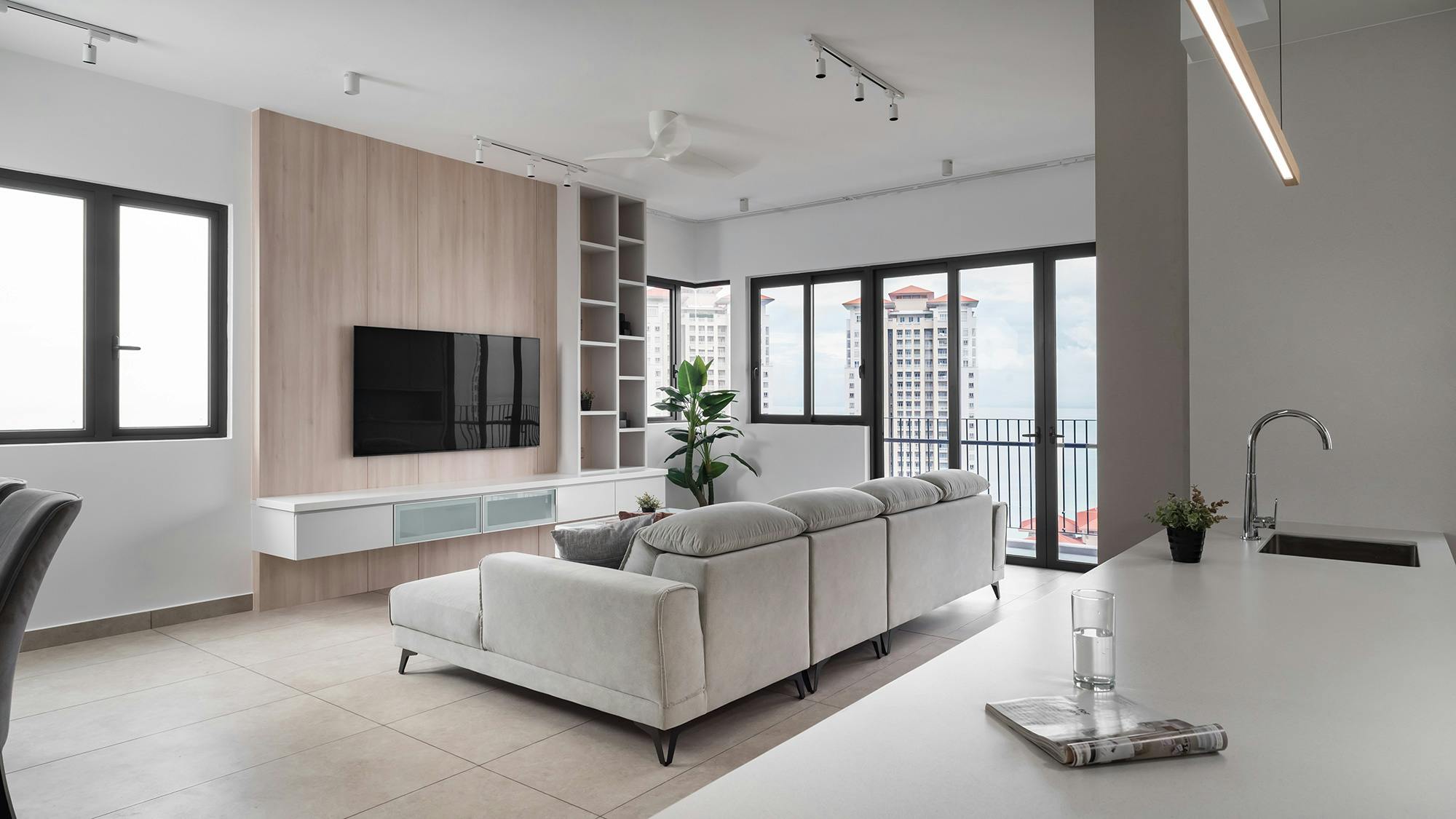 Location
Penang (Malaysia)
Application
Worktop, wall cladding
Architecture/Design
Grov Design Studio
The Tamarind, a newly built beachfront development in Penang (Malaysia), offers an array of facilities such as events room, multi-purpose hall, aerial yoga room, swimming pool and paddling pool, a jogging track, gym, nursery, green spaces, barbecue area and children's playground, among others. It is also very close to a wide range of leisure and dining facilities, as well as transport services, schools and hospitals.
This privileged setting is home to an exclusive flat designed by Grov Design Studio, which has been refurbished with the aim of maximising natural light. 'Located opposite and with sweeping panoramic views of the Straits Quay promenade, the idea behind this refurbishment was to maximise the brightness of the open plan living and dining room. Overall, we were looking to create a calm and relaxed atmosphere: airy, light, minimalist and subtly elegant, without overpowering the blue tones of the sea,' explains the studio.
To this end, they opted for neutral and natural tones, with white as the main colour. In fact, Dekton Nayla, a consistent off-white, was the colour used for most of the cladding in the house, starting with the splashback and worktop of the kitchen and the island.
Dekton, easy maintenance and resistance: 'Its quality speaks for itself'
The advantages of Dekton, Cosentino's ultra-compact stone that is carbon-neutral throughout its life cycle are countless: it resists abrasion better than granite and porcelain tiles; it remains unaffected by scratches and impacts; it is non-porous, so it is also resistant to liquids and residues; it withstands extreme temperatures and even fire; and it is unaffected by UV rays.
'The samples provided and the video presentation of the material ensured that the client had a good understanding of the product. The quality of the product speaks for itself,' says the firm. The response was as expected: 'The ease of maintenance and the features of Dekton – a scratch-proof and highly heat-resistant surface – are factors that always win the hearts of our clients'.
For Grov Design Studio it was also important to find an aesthetically pleasing tone for the project: 'The textured design and matt surface are very eye-catching and suited our concept well'.
Dekton for the TV cabinet and the laundry room
They liked this Dekton colour so much that they also used it for the worktop of the TV cabinet, a bespoke design that matches the kitchen units perfectly. In the laundry room, a Dekton Nayla slab has also been added just above the washing machine.
In addition to aesthetics and functionality, Grov Design Studio's relationship with the company is also a factor that positively influences their choice of products such as Dekton. 'We are very pleased with the service provided by Cosentino, and with the fact that their sales representatives always keep us informed of the company's new products,' the studio concludes.
Cosentino's materials used in this project

Explore Similar Case Studies