Case Study
A showroom-office with soul
Andrea Franke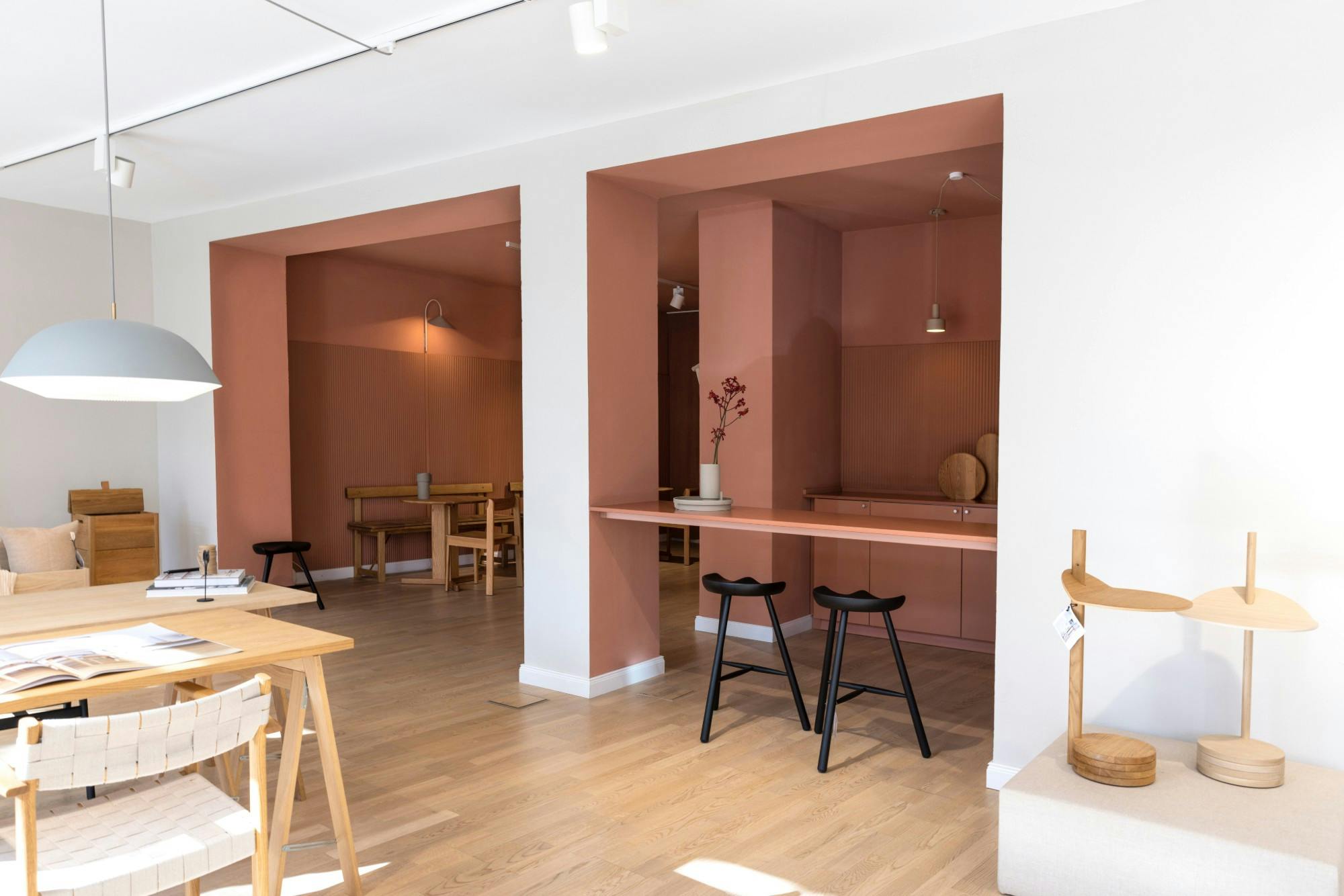 Architecture / Design
Andrea Franke
A space designed with sustainability in mind
"We want to put soul into spaces and create an atmosphere that makes it easy for people to live, work or sell in them", says designer Andrea Franke, who signed the proyect for this showroom and workspace. Following the guiding principle that "design is only good if it works", she and her team from the Federleicht interior design studio put the focus on sustainability, something that is also applied to the company's own facilities. A space she shares with Danish interiors brand Form & Refine, which has the same philosophy when it comes to furniture.
The 200 m2 showroom and workspace is located in Marsstraße, Munich, not far from the train station. The glass façade on the ground floor allows the space to be filled with natural light. Wooden tables, chairs and stools, shelves and storage furniture as well as textiles and accessories are presented in sober shades of white and grey. At the back of the sales room, Mars Café reveals an elegant place and invites visitors and employees to take a break.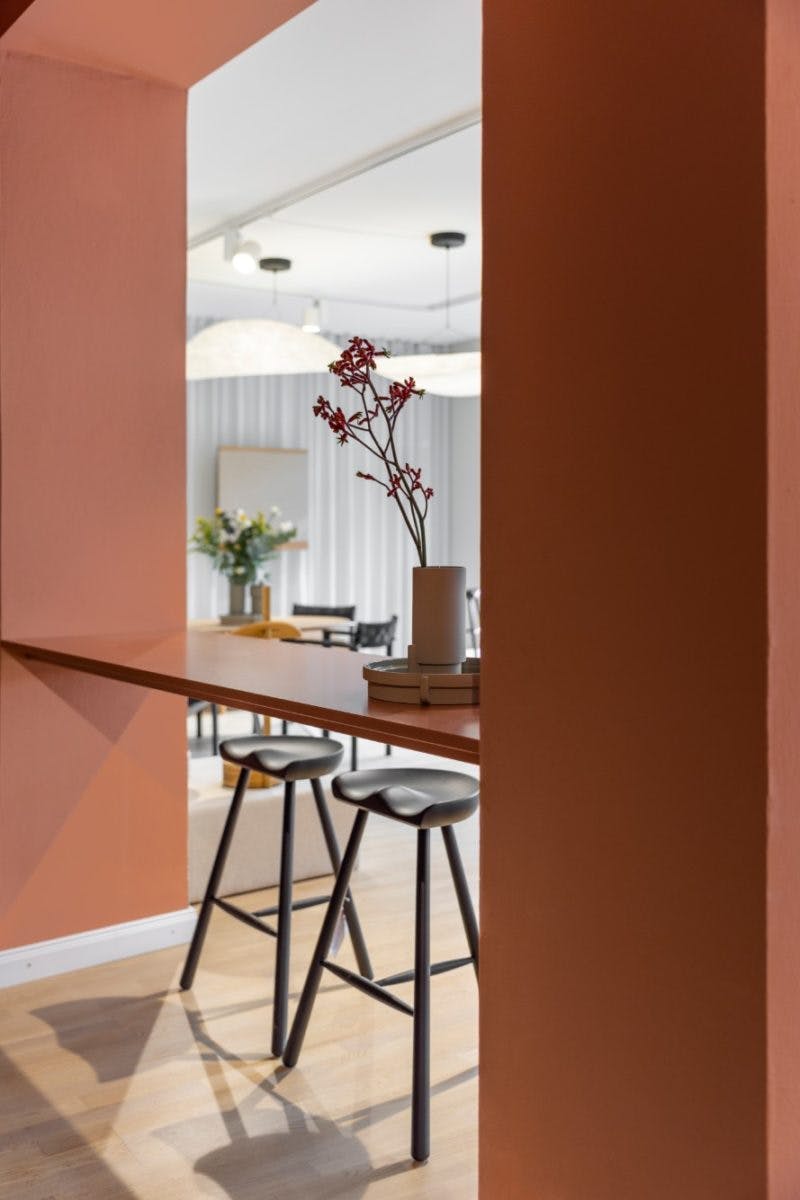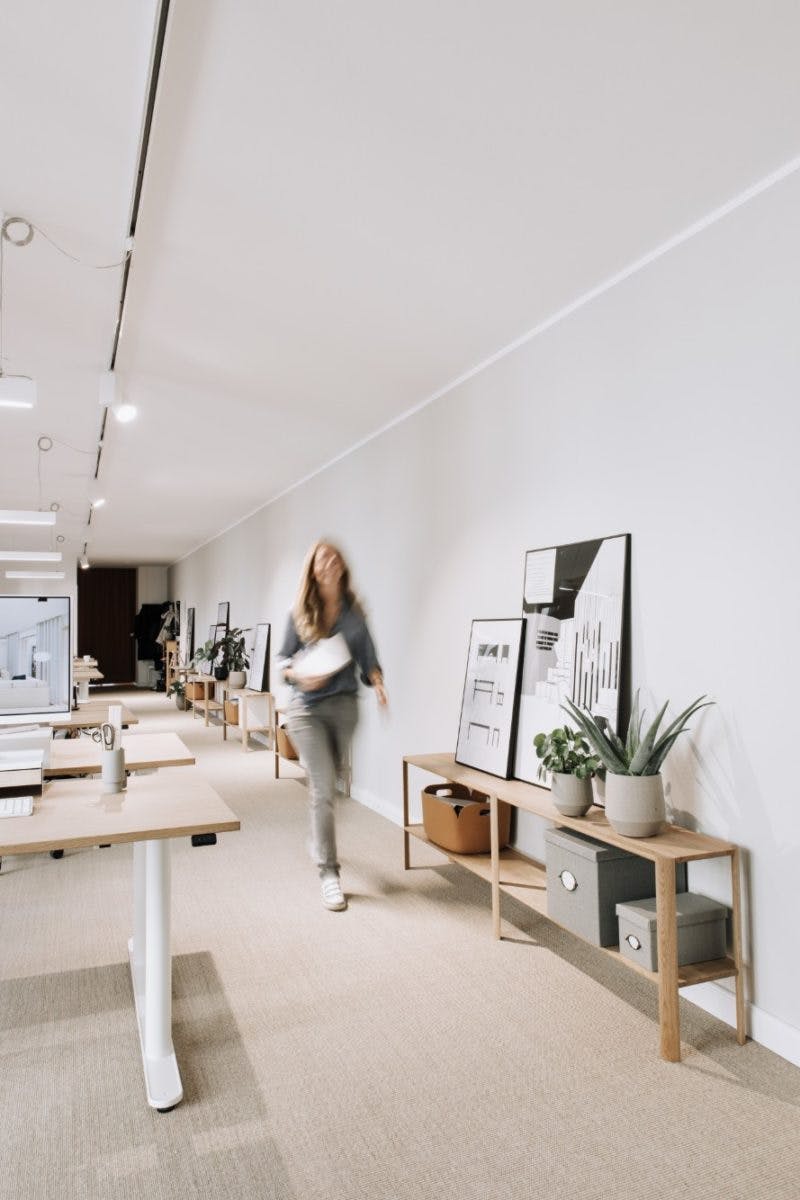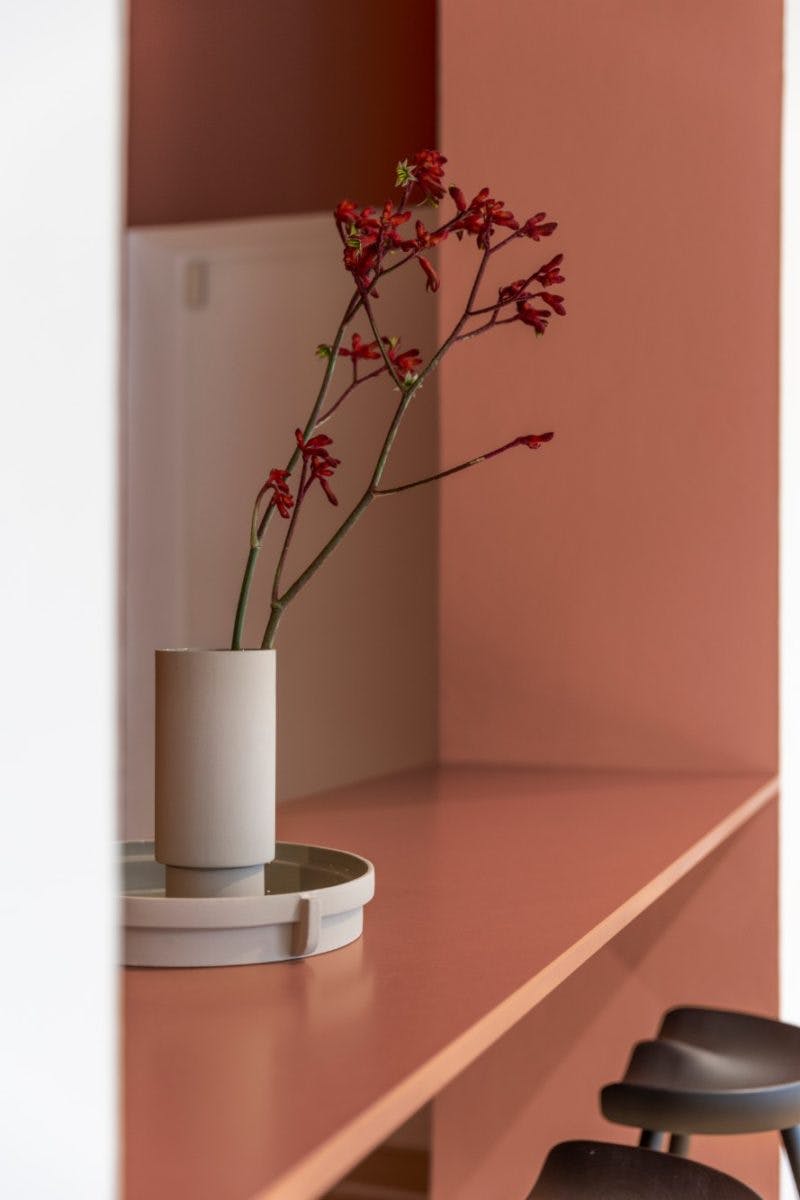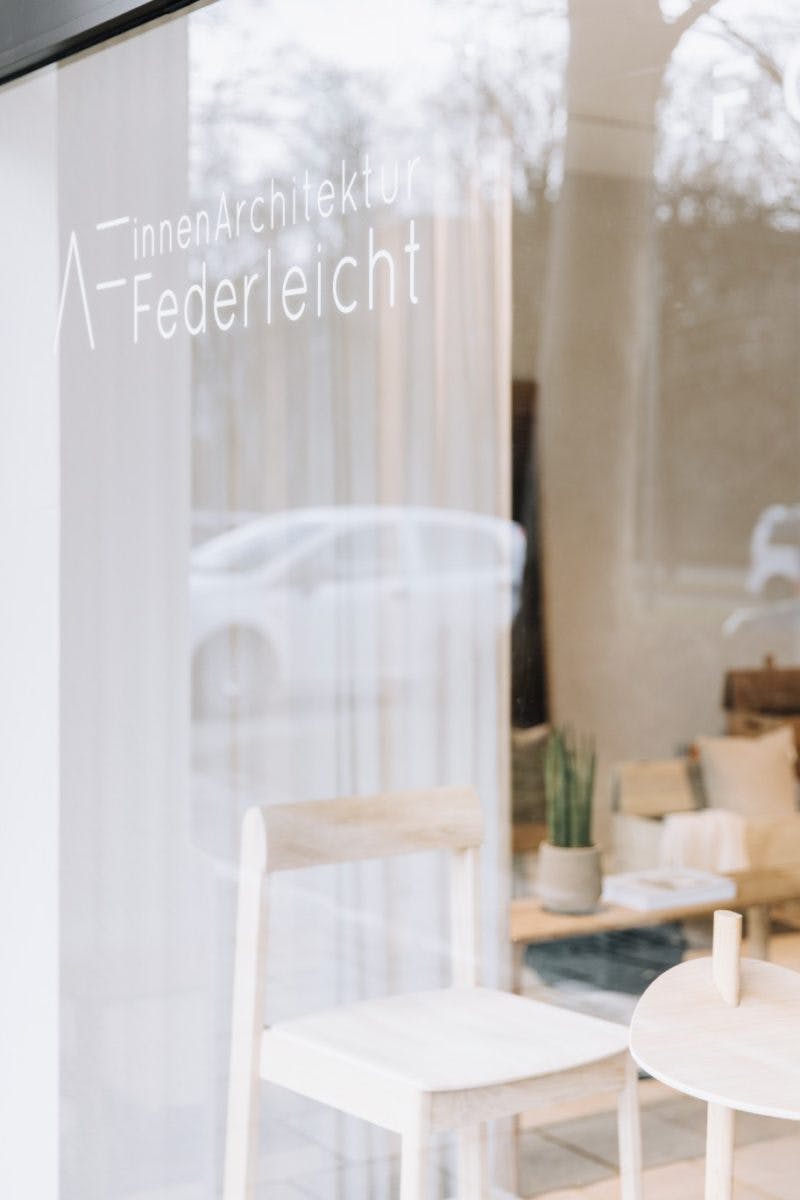 Mediterranean colour at the cafeteria
The warm, soft red tone of the cafeteria is as magnetic as it is striking. It's a place that gives you stability, where you come to rest, says Andrea Franke. "Silestone Arcilla Red was the perfect match. The kitchen surface and the coffee bar are clad in this colour from Cosentino's Sunlit Days collection, being one of its five Mediterranean colours. Inspired by the iron-rich clay soils of the Sierra de Andalucía in southern Spain, this colour takes us back to the very birthplace of Cosentino's materials.
The whole space follows a careful study of colour. Light natural colours and plants as classic elements of biophilic design create a friendly space for concentration. The meeting room in a greyish blue helps to think and have creative meetings. All colours are combined functionally and in accordance with psychological aspects to create a subtle atmosphere where well-being reigns.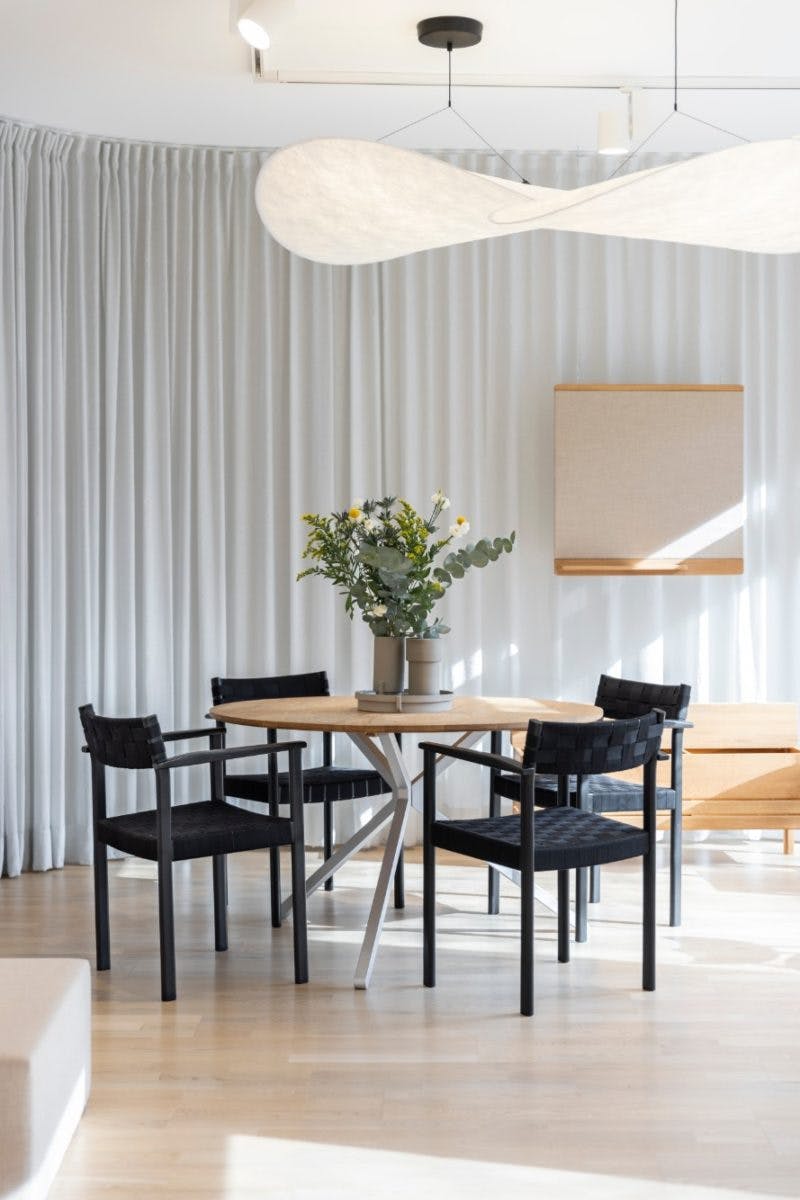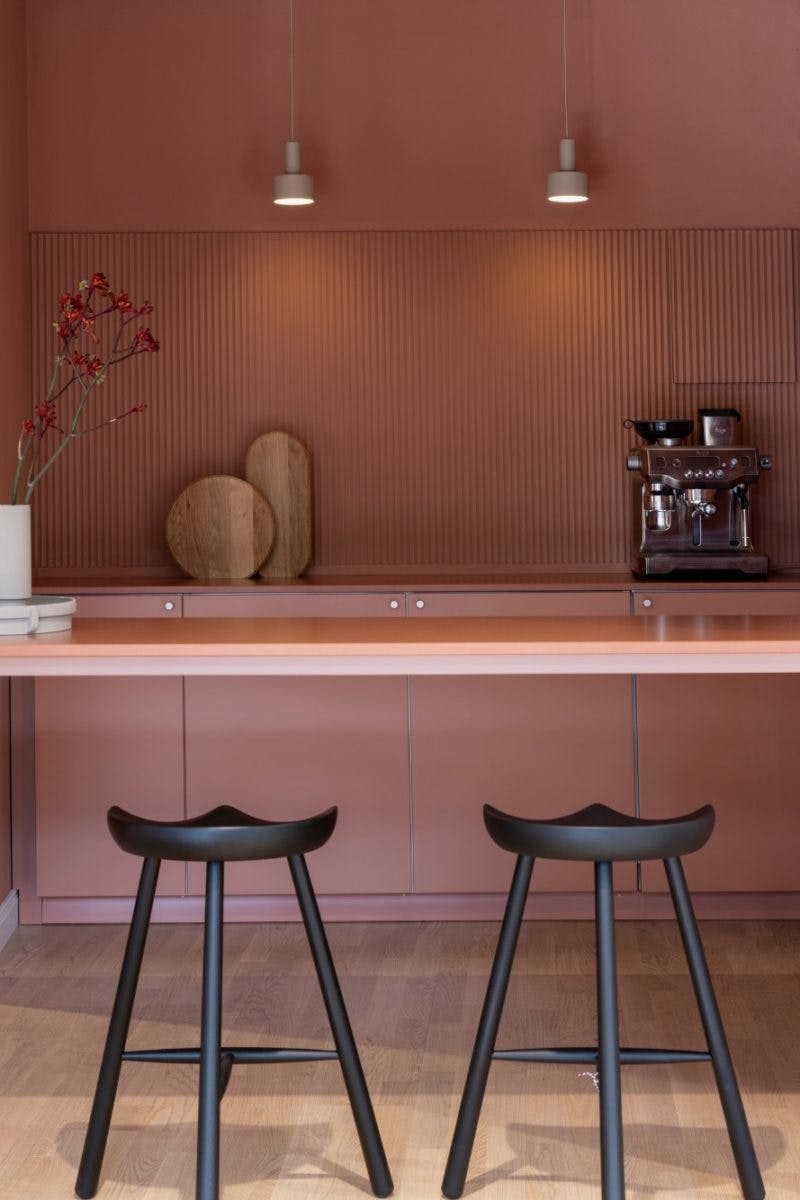 This hybrid mineral surface consists mainly of natural minerals and at least 20 percent recycled materials such as glass. With the innovative HybriQ+ technology, 99 % recycled water and 100 % electricity from renewable energy sources are used in production. Cosentino voluntarily records and offsets the remaining CO 2 emissions from this collection.
"As interior designers, the starting point for our work is always the individual values. Sustainability is of paramount importance here, not only for us, but also for many of our clients", says Andrea Franke. "We use Silestone often, especially in kitchens and bathrooms, because the surface is very hard-wearing, hygienic and easy to clean. In addition to the ecological and functional aspects, the wide variety of more than 80 designs gives us the opportunity to create customised furniture and rooms."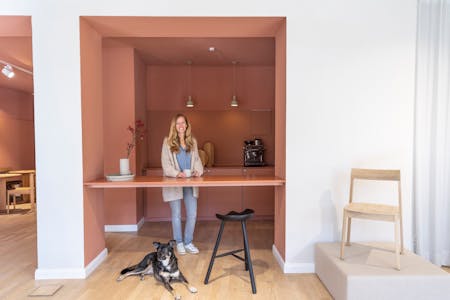 Andrea Franke
Studio Federleicht
Cosentino's materials used in this project