Top Homes
A warm and sophisticated kitchen with extra sparkle and texture thanks to Dekton
Rasmus Malling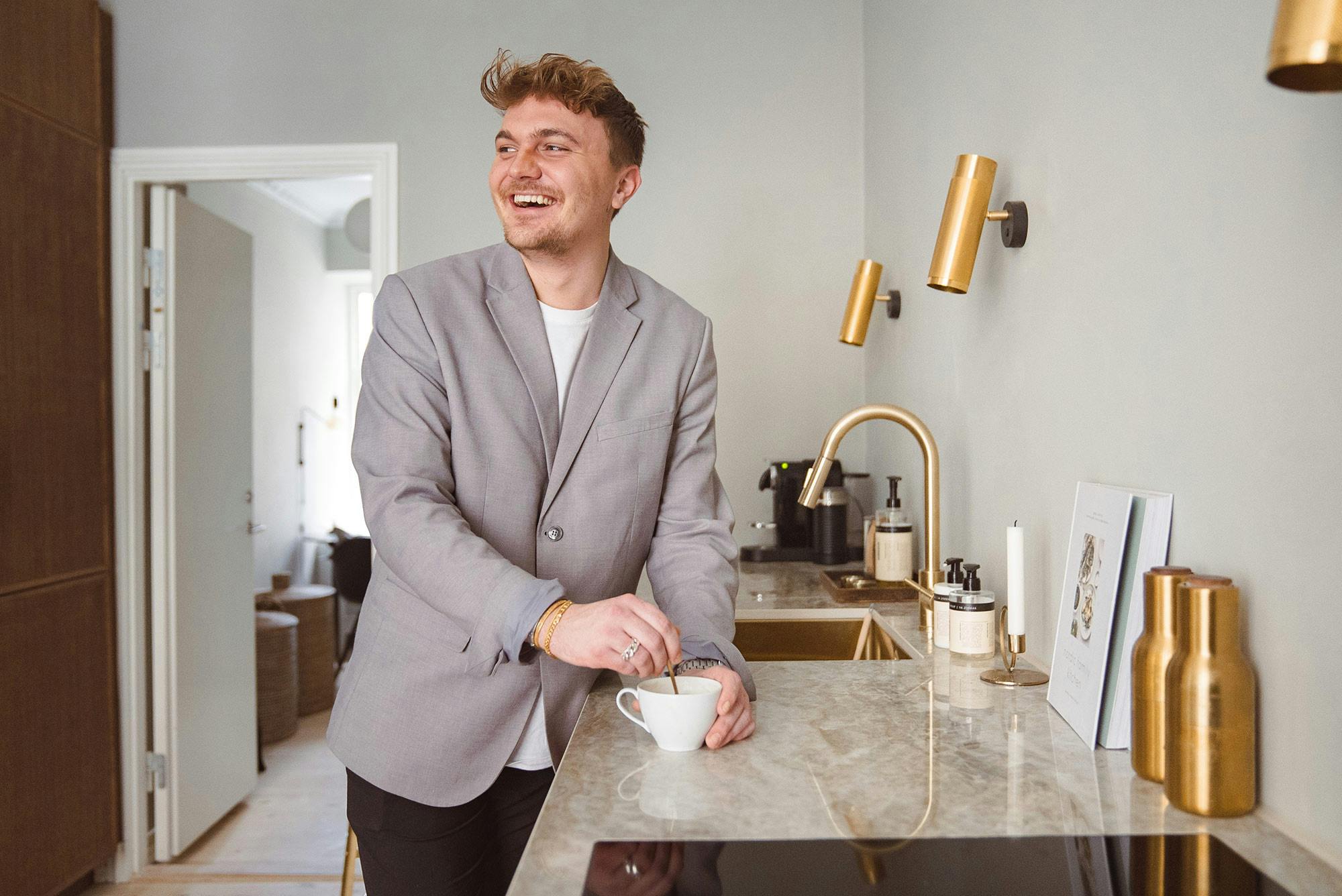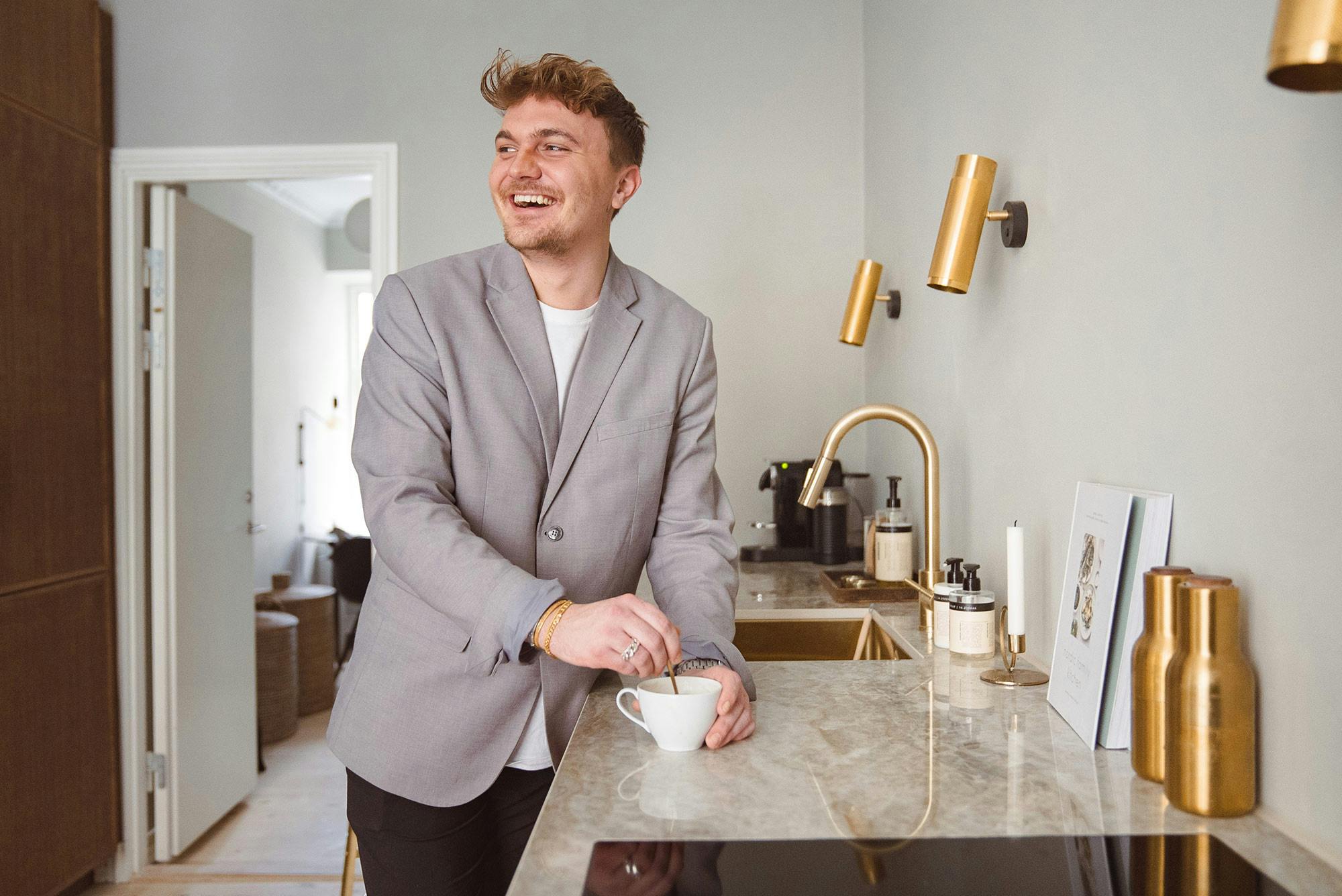 Location
Aarhus (Denmark)
Architecture/Design
Rasmus Malling
From a white, steel, minimalist and impersonal kitchen to a sophisticated and cosy retreat where, in addition to cooking, you will want to spend your time. The transformation undertaken by designer Rasmus Malling in his kitchen is truly amazing and irrefutable proof of his talent.
And yet the rise of his career has been fortuitous, as it started thanks to his Instagram account. This is where the designer began to attract the attention of decoration lovers in 2020 thanks to the clever changes he made to the rented house he lived in.
"I see the potential of spaces all the time. Furniture and interior spaces inspire me deeply. For me, the interior design process never stops, as trends and styles are constantly moving on", explains the Danish designer.
New kitchen trends aim to turn these 'utilitarian' and, until recently, aseptic spaces into natural and warm rooms designed to offer the same 'homely atmosphere' as living or dining rooms. Malling has embraced these trends by choosing wood grain finishes, adding mouldings (which seem to have been there forever) and elegant, golden wall lights and other details, and concealing almost all appliances for a clean, integrated look.
After all, being an open kitchen, it was important that it looked tidy and consistent with the rest of the decoration. "I was looking for an alternative to marble, steel and other trendy materials, and I found Dekton Taga. I used this surface to create an elegant worktop that blends perfectly with the brass, dark wood and colour scheme of my flat", explains the designer.
Inspired by Taj Mahal quartzite, Dekton Stonika Taga is an interpretation of natural stone adapted to the latest trends that maintains the character of natural stone. Its greyish tones with marble and crystalline veins, almost with golden reflections, enhance its natural structure, resulting in a very trendy texture. In addition, its gorgeous gloss and aesthetic quality make this model a premium product that perfectly suit the 'casual sophistication' look sought by the designer.
When choosing Dekton, the interior designer also took into account the extraordinary durability of the Cosentino ultra-compact surface, a technological material composed of a unique blend of minerals. This makes it highly resistant to scratches – it is possible to cut on the surface with a knife without damaging it –, to stubborn stains – which are easily removed with a damp cloth – and to fire and heat – the cookware can be placed on it fresh off the hotplate –.
It also stands out for its high resistance to impacts from kitchen utensils, to abrasion (making it widely used in professional environments) and to liquids, as it almost zero porosity prevents the absorption of liquids.
"The kitchen is a dream come true and I love not having to worry about the worktop. It is an investment that will last for years without deteriorating. It is easy to clean and easy to keep shining. Dekton has turned out to be the perfect choice for my dream kitchen", concludes the 'Instagrammer'.
Cosentino's materials used in this project
Explore Similar Case Studies