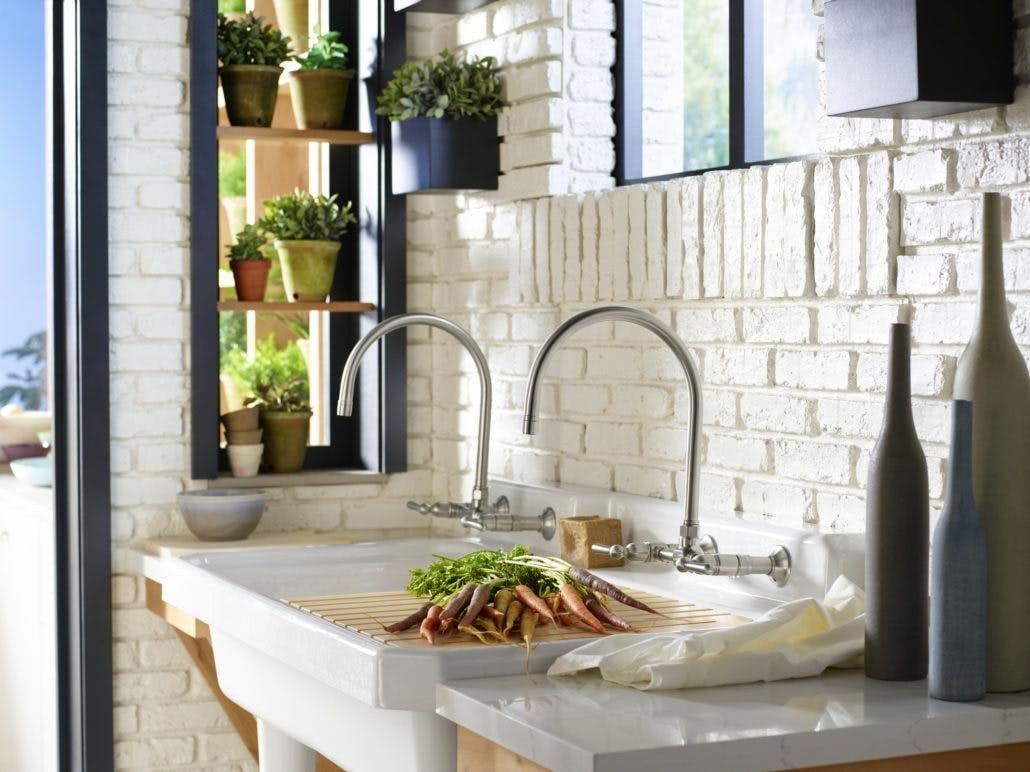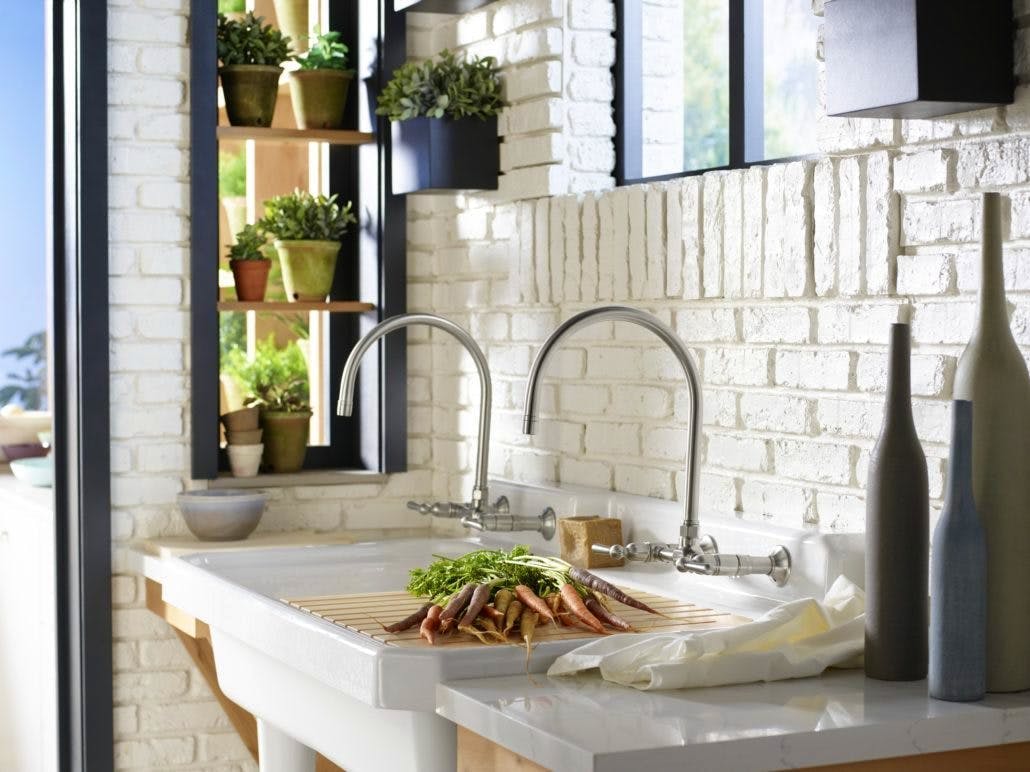 Cheryl Kees Clendenon's Greenhouse Kitchen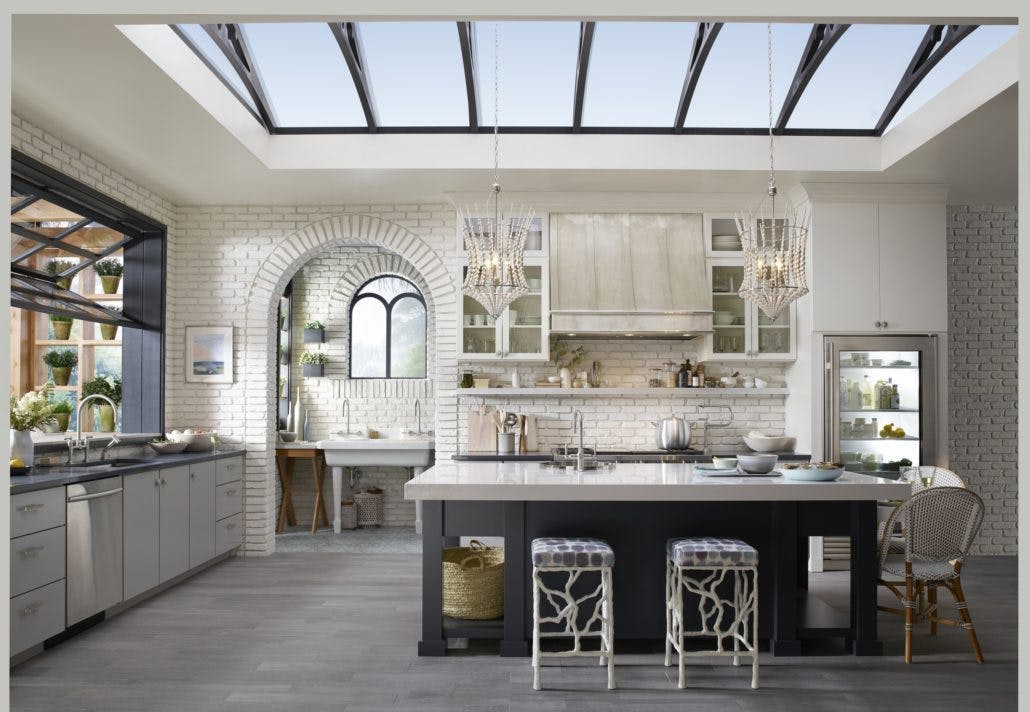 In coastal communities like Pensacola, FL where Silestone Trendspotter Cheryl Kees Clendenon calls home, indoor and outdoor design often go hand-in-hand. In collaboration with Cosentino, Kohler and Benjamin Moore, Cheryl's coastal aesthetic came to life with her Greenhouse Kitchen: a tranquil environment that embraces the outdoors and encourages relaxation. Here, functionality takes center stage with easy access to home gardening, a prep zone for canning fruit and vegetables, wide aisles for aging in place, and wine storage awash in brilliant light. With different kitchen zones in mind, Cheryl used four colors from Cosentino to help define space and ensure maximum durability: Charcoal Soapstone and Calacatta Gold from the Silestone Eternal Collection, Silestone Iconic White, and Dekton Makai.
Cheryl answered some questions about both the look and function of her kitchen design:
Outdoor space plays an enormous role in your kitchen design. Why is marrying indoor and outdoor spaces important to you as a designer? And do you think it's a trending element in kitchen design? 
I live on the gulf coast, so the outdoors is just another room to me! In Florida, outdoor living is a way of life. My goal is to make the indoor/outdoor connection as seamless as possible. Whenever possible, I try to design a kitchen with outdoor access close by. The idea of indoor/outdoor spaces is certainly not new but as more people are cognizant of what they eat and the importance of a healthful lifestyle, I think we'll see a shift in how we approach kitchen design by allocating space for small gardens. For smaller homes, outdoor spaces expand entertaining space. Who wants 20 people in a tiny kitchen? The outdoor area should be designed so guests can move freely from the inside out.
What are your design tips for homeowners who want to create indoor/outdoor flow if an outdoor space isn't an option? (Color selection, material use, etc.)
Incorporate as much natural light as you can! Use colors that are softer and more naturally occurring, and bring in organic materials as well. In this kitchen I used natural woods, brick, metals like copper, and garden-inspired dining chairs from Sika and Charcoal Soapstone - a new color from Silestone that is reminiscent of real soapstone, minus the porosity and upkeep.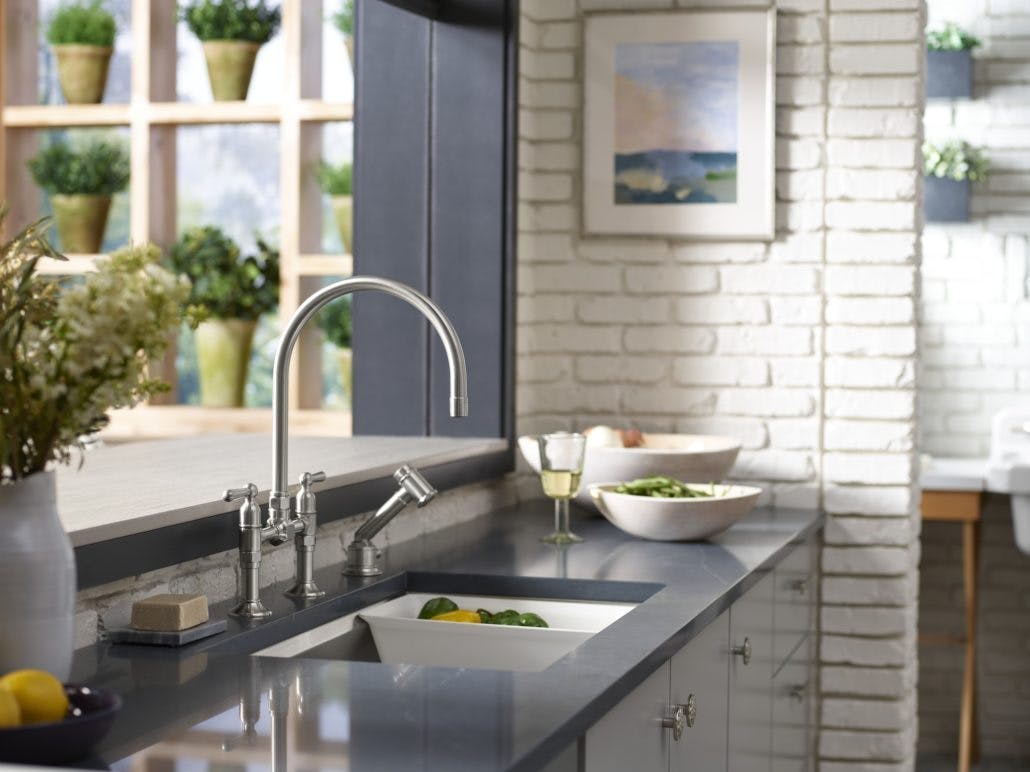 How does this kitchen design address the change in household demographics (frequently extended family or friends are sharing homes)?
We have multiple seating options. The lowered seating at the end of the island is ideal for young children, as well as those in wheelchairs. Table-height seating at the island is a fantastic solution not only for those who love to entertain, but those looking to age in place.
We also have multiple sinks, which is key when you want help in the kitchen! They're even more important than multiple cooking surfaces. But the overwhelming concept was for this kitchen to be family-centric with opportunities for everyone—family and guests alike—to participate in the making of a meal.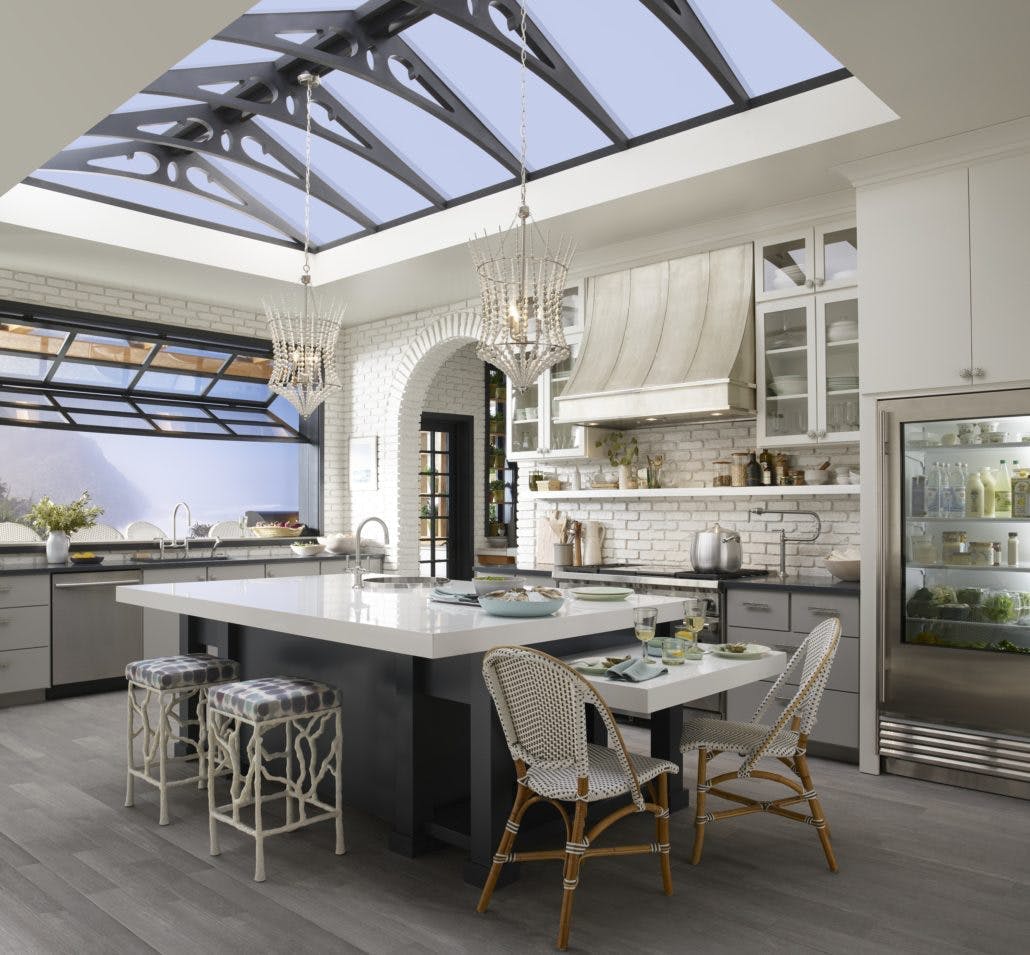 Do you have any kitchen design tips for homeowners thinking about remodeling or building?
Plan, plan, plan. Then stick to the plan! Consider all the uses of the kitchen. Not just for meal prep anymore but also as a true "living room".
Also consider targeted storage (what goes where, and why). Forget anything you have ever heard about a "work triangle," and instead think about zones. What are you doing and what do you need nearby? Have multiple water sources as in sinks and faucets.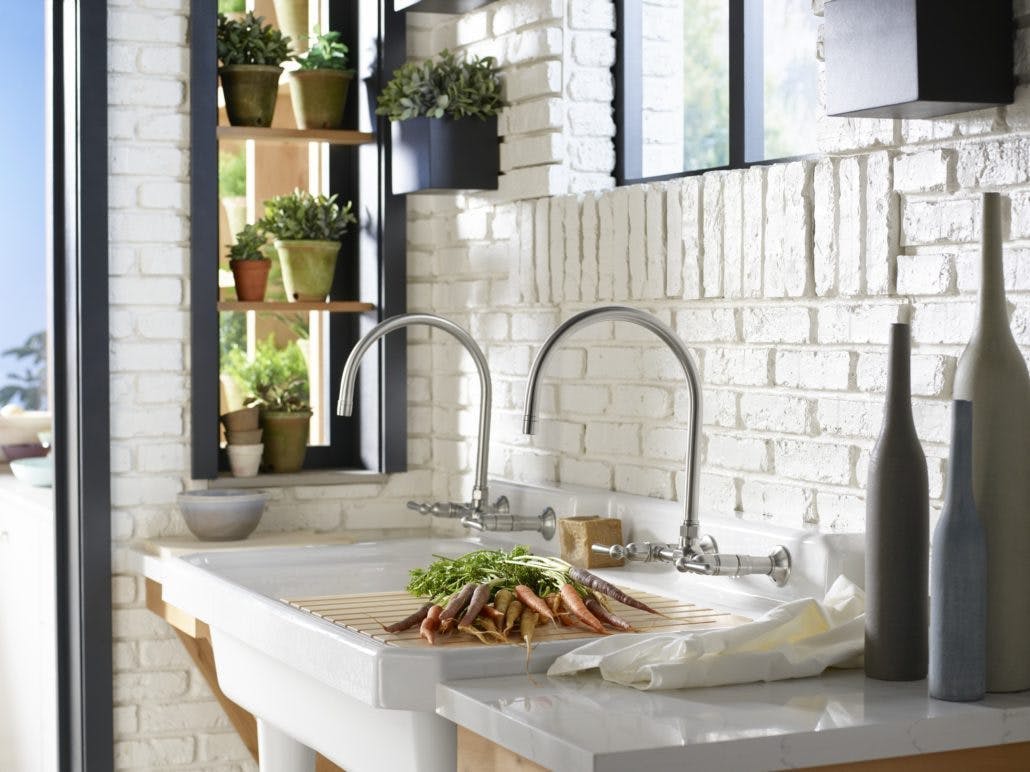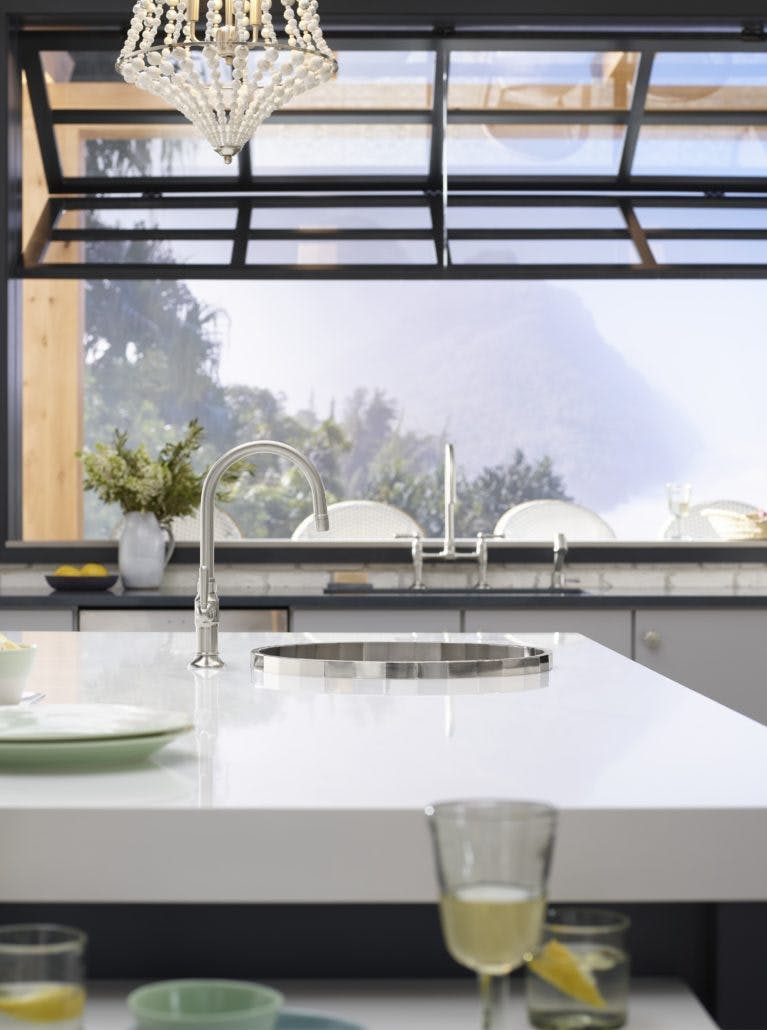 Who did you design this space for and how do you imagine them using it?
A family with middle school age kids, two-parent household, and one older adult. The day begins in the live-in kitchen and ends in the live-in kitchen, either gathered around the island or lounging out on the patio.
If you had to put a name to the design style of your room, what would it be and why?
I think it is a true live-in kitchen. "Living" as in live plants helping you breath better, eat better and are beautiful natural accessories. "Living" as in the joint efforts at producing a meal together. "Living" as in multiple activities being performed and as in loving each other enough to care about preparing quality, healthy meals in tranquil environment.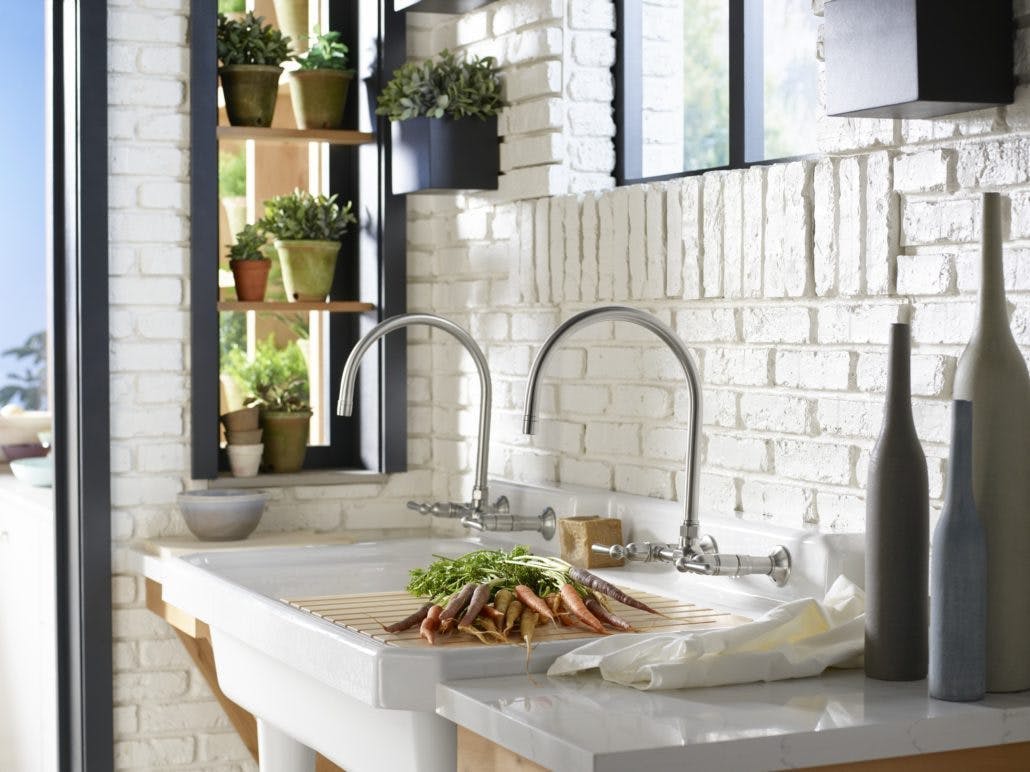 Stay tuned in the coming weeks as we reveal the 4 more kitchens designed by our Silestone Trendspotters for a variety of lifestyles and design aesthetics. Follow along on without our Trendspotters on Twitter and Instagram using #SilestoneTrends.