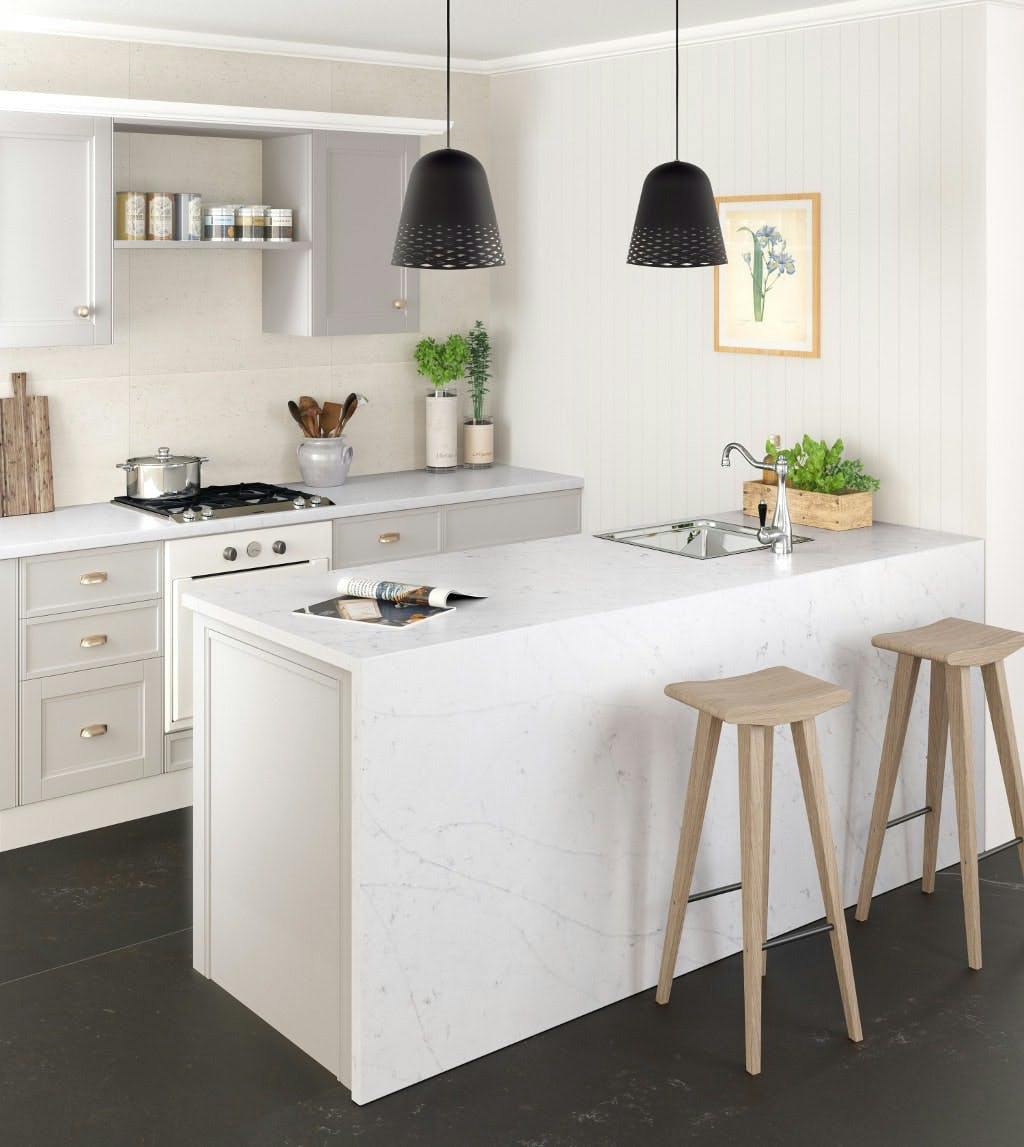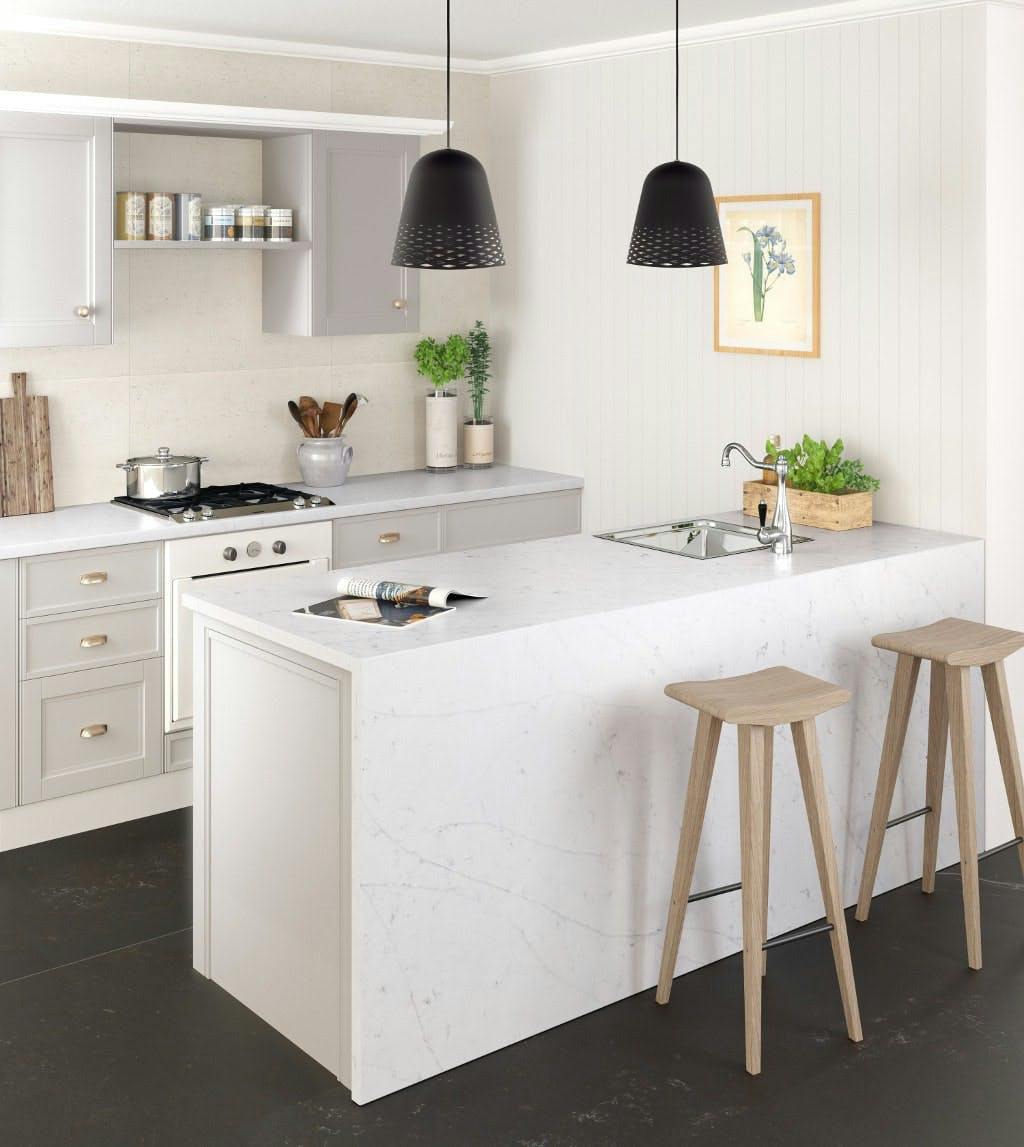 Compact kitchens: Who says they're a disadvantage?
In today's post, we share the secrets to making the most of your small kitchen. The objective: win the battle for space and achieve a practical and modern kitchen where you love spending time.
We can't avoid the fact that homes are decreasing in size and that kitchen space tends to be sacrificed in favour of the living room or master bedroom. On the other hand, instead of being hidden away, kitchens are given more prominence in the main areas of the home. How to decorate a small kitchen How to make the most of the available space Visual tricks to help you "amplify" a compact kitchen Here are our 10 tips and tricks to follow, in order of process:
1. Arrange your kitchen according to its shape
 The first factor that affects a kitchen layout is, obviously, the floor space. A long, thin "tube" kitchen is not the same as an L- or U-shaped kitchen. The latter might be the most promising as it lends itself to a square, well-proportioned layout. Don't be disheartened, however, as every room shape can be used to its best advantage.
If your kitchen is a long and thin galley style' or on a single wall, remember to centre the cooking equipment (hob and oven), placing the sink and dishwasher on the right and the fridge on your left, for example. The washer and dryer can be located further away, perhaps one on top of the other (if you don't have a laundry room) and hidden in a cupboard with floor-to-ceiling panelling. You could add a small breakfast bar or folding table opposite the cupboards.
If your kitchen is L or U-shaped, you could create clearer separation between the cooking and laundry areas, creating a small island or peninsula with high stools. As we know, islands take up space, but there are solutions that are smaller in size or have wheels so that they can be moved around as required.
2. Plan your cooking, laundry and dining areas well
 Our first tip explained that the more clearly we define the areas for cooking, laundry and dining, the more convenient and practical the kitchen will be. You can place the oven below the ceramic hob or arranged at eye level above the microwave for example. This is also a question of taste.
Very narrow dishwashers are available for smaller kitchens. No matter how small your kitchen is, don't forget to find a space for it. The same goes for your fridge, if you can find a side-by-side option to fit your kitchen, try to allow a few extra centimetres. In the long run, you'll be so glad for these little "luxuries."
3. Use storage solutions that reach the ceiling
When we can't squeeze another centimetre more from the floor space of our kitchen, it's time to reach upwards. That's right. It's all about achieving high-level storage areas and creating cupboard space that reaches the ceiling. There are folding solutions that allow the highest doors to be opened and handy little ladders for diminutive chefs.
4. Aim for an open kitchen with a bar or island
 A modern and cost-effective solution to make your kitchen appear larger is to leave it open to the living-dining room. Usually, all that's required to double your space and borrow all the light from your living room is the removal of a stud wall. This is a clear trend taking over kitchens everywhere in 2019.
There are other ways, some more radical than others, to create this merging. You could separate the areas with industrial-style glass doors to unify the two without combining them, or use a bar or island as a connecting element.
5. Use a single material and clad your kitchen devices
Whether you choose to combine your small kitchen with your living room or prefer a traditional option that keeps the cooking area (and smells) separate, the materials you choose can help create an illusion of space. We recommend using the same material continuously to avoid a "patchwork" effect, and to conceal your kitchen devices under panelling with the same finish. Later we can add a touch of colour with some decorative details.
This sense of continuity and order is achieved with the finish on the walls, floors, furnishing and worktops. Go for a good quality worktop that lends style and uniformity to your small kitchen. Remember that a good worktop is like a good pair of shoes: it elevates kitchens created with the most modest of budgets.
6. Tidy, tidy, tidy
Although it may seem obvious, our sixth tip is to keep your space tidy to make it look bigger. Look for solutions that help you to maintain order. Without going to Marie Kondo-style extremes, we suggest small shelves where you can arrange your pots neatly, hooks for your cooking utensils and even, if you're really particular, little areas in the worktop or wall so that everything has its place.
7. Make the most of natural and artificial lighting
Good lighting has the power to transform any space. If you have a large window, include it in your small kitchen and use it to its maximum advantage. You can also make the most of the light entering the living room by using glass sliding doors or small communicating panes between the two spaces.
If your kitchen is dark with little natural light, there are endless artificial options that beautifully mimic this, such as LED strips, symmetrical ceiling lights over the bar or dining area, alcove lighting with a theatrical effect, and more. As a general rule, avoid cold light and opt for a warm glow that connects with the living area.
8. Play with visual effects
So far we've created an excellent foundation. The elements are well-organised, the kitchen has been perfectly planned and designed, and the materials and lighting would satisfy the most demanding interior designer. Now we can start with the fun part.
How to give your mini kitchen that "je ne sais quoi" We love a painted feature wall, some exposed brick, a floor area marked out in bespoke tiles, or some paintings and photos to give it the feel of a living area.
9. Conceal and reveal: folding furniture
Our obsession for tidying up reaches a whole new level in a small space. We can hide the coffee maker, the fryer, and even the table. There are endless alternatives in the form of folding furniture that can disappear when not in use and reappear as if by magic.
We love breakfast corners - toaster, coffee maker and juicer - that can be hidden and folding pedestal-type tables for two.
10. Add your own decorative touch
The fun continues as we add the cherry on the cake to our mini kitchen. Our favourite decorative details include spectacular taps in copper or black, houseplants and paintings that blend with the living area and, of course, a great worktop.
We hope that we've given you some inspiration to turn your small kitchen into a modern and practical space without forgetting the stylish touches that make it all your own. This pre-holiday period is the perfect time to put that refurbishment project you've been dreaming of into action. When you come home, you'll be able to enjoy that wonderful new kitchen feeling and be the party host or hostess with the most. Because let's face it, the best parties always end up in the kitchen, and with one like this, you can't go wrong.