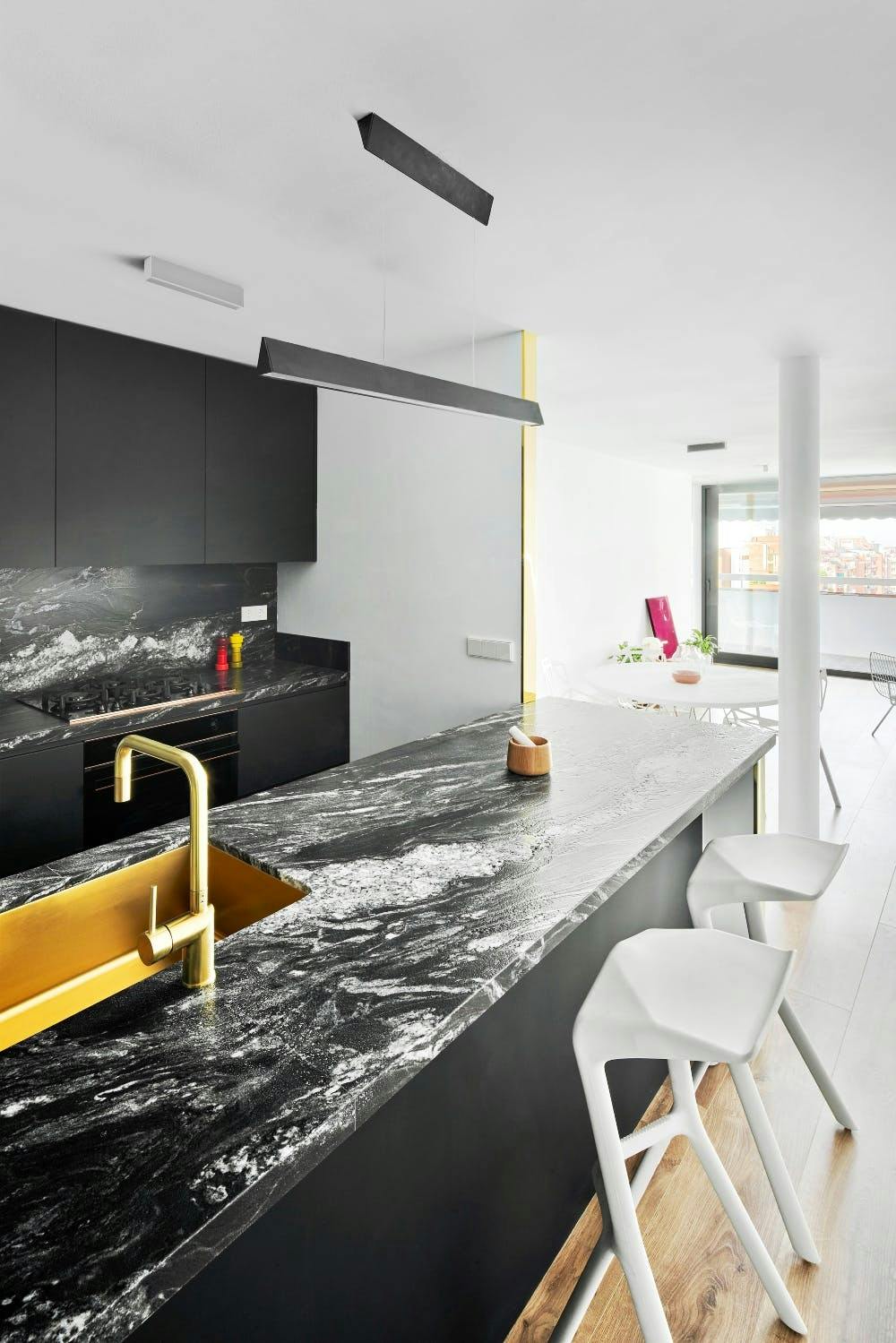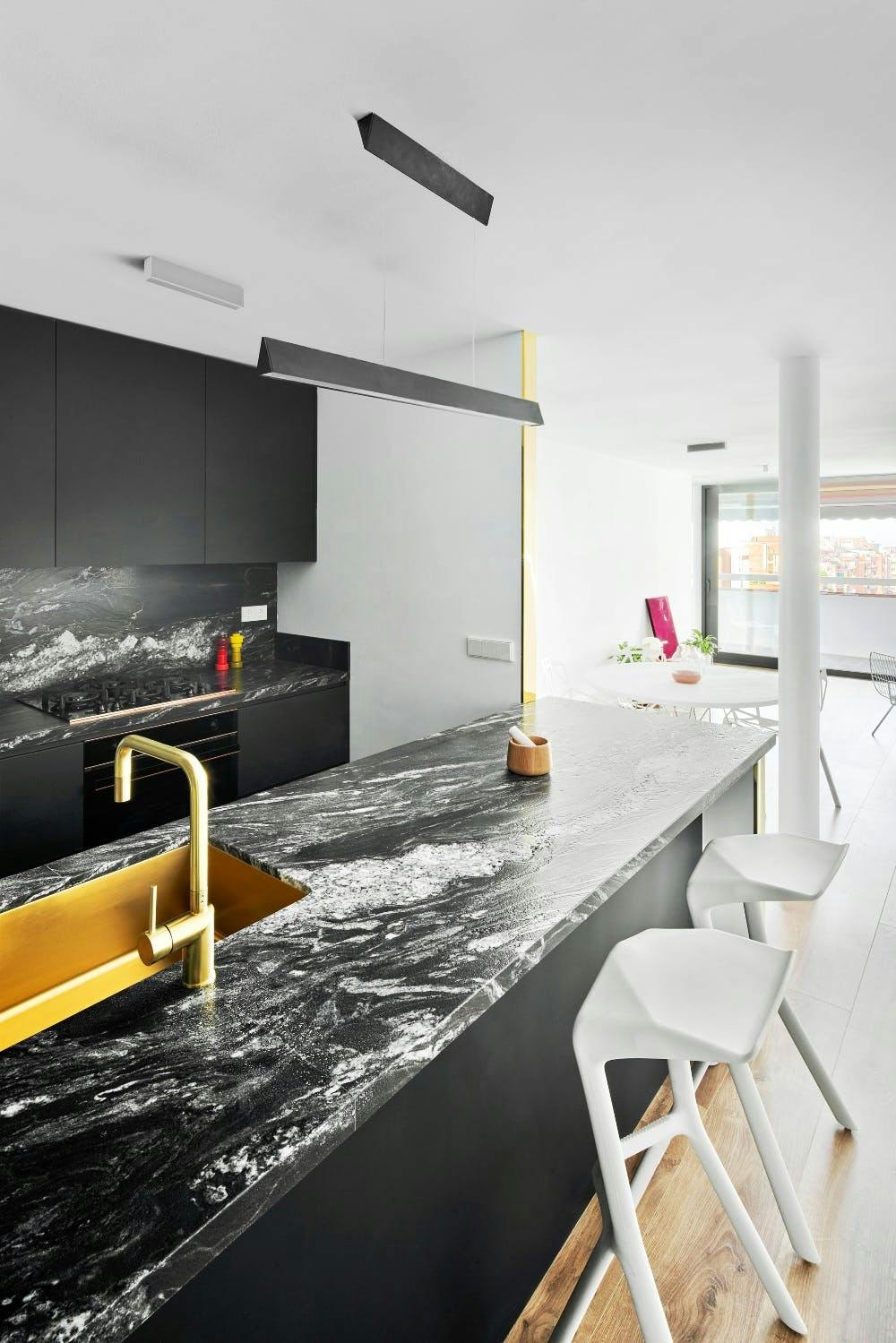 Connected spaces creating an open and brilliant home
A bachelor apartment whose owner dreamed of a bright and open home.
The Sardenya apartment was the work of architect Raúl Sánchez. This modern and functional apartment features two L-shaped partitions.

The first faces toward the entrance and houses the kitchen area; the second houses the bedroom and en suite bathroom. The rest of the space flows freely throughout the interior, maximizing a sense of
spaciousness
and fading the limits between rooms. The open, unobstructed, and practical kitchen—the star of the apartment— is dressed in materials from
Sensa by Cosentino
.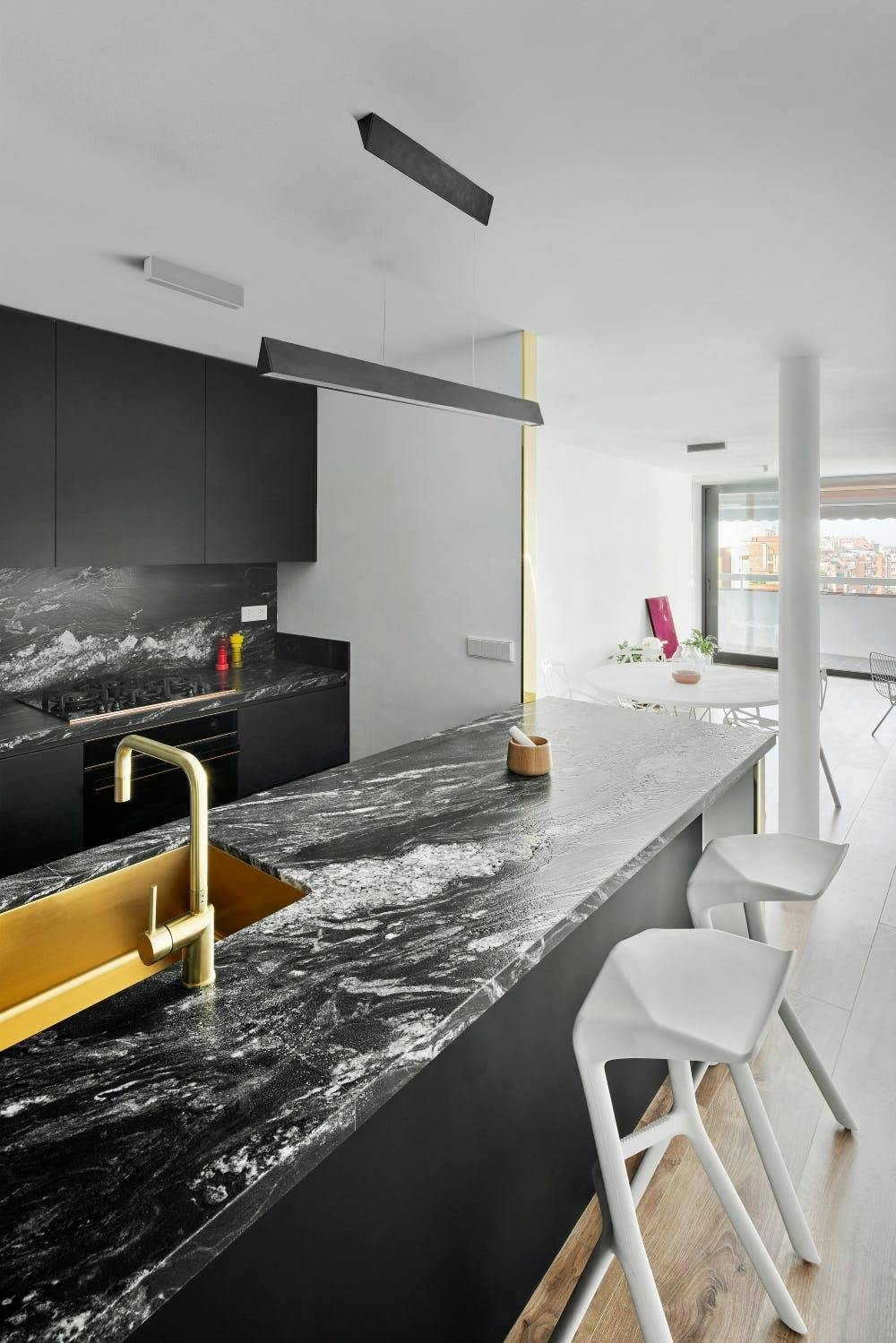 Open spaces
The kitchen's black natural stone from Sensa by Cosentino contrasts with the apartment's calm white hues, enriching the home's character. The L-shaped elements serve to
soften the lines
between spaces. The kitchen, which faces toward the entrance, is separated from it with a free-standing wall, covered in a huge mirror that blurs the boundaries of the narrowest access to the kitchen. At the same time, this space opens to the combined living room-dining room by way of an island that overflows into that area. The golden notes on the brass faucet and sink contrast with the counter's black surface.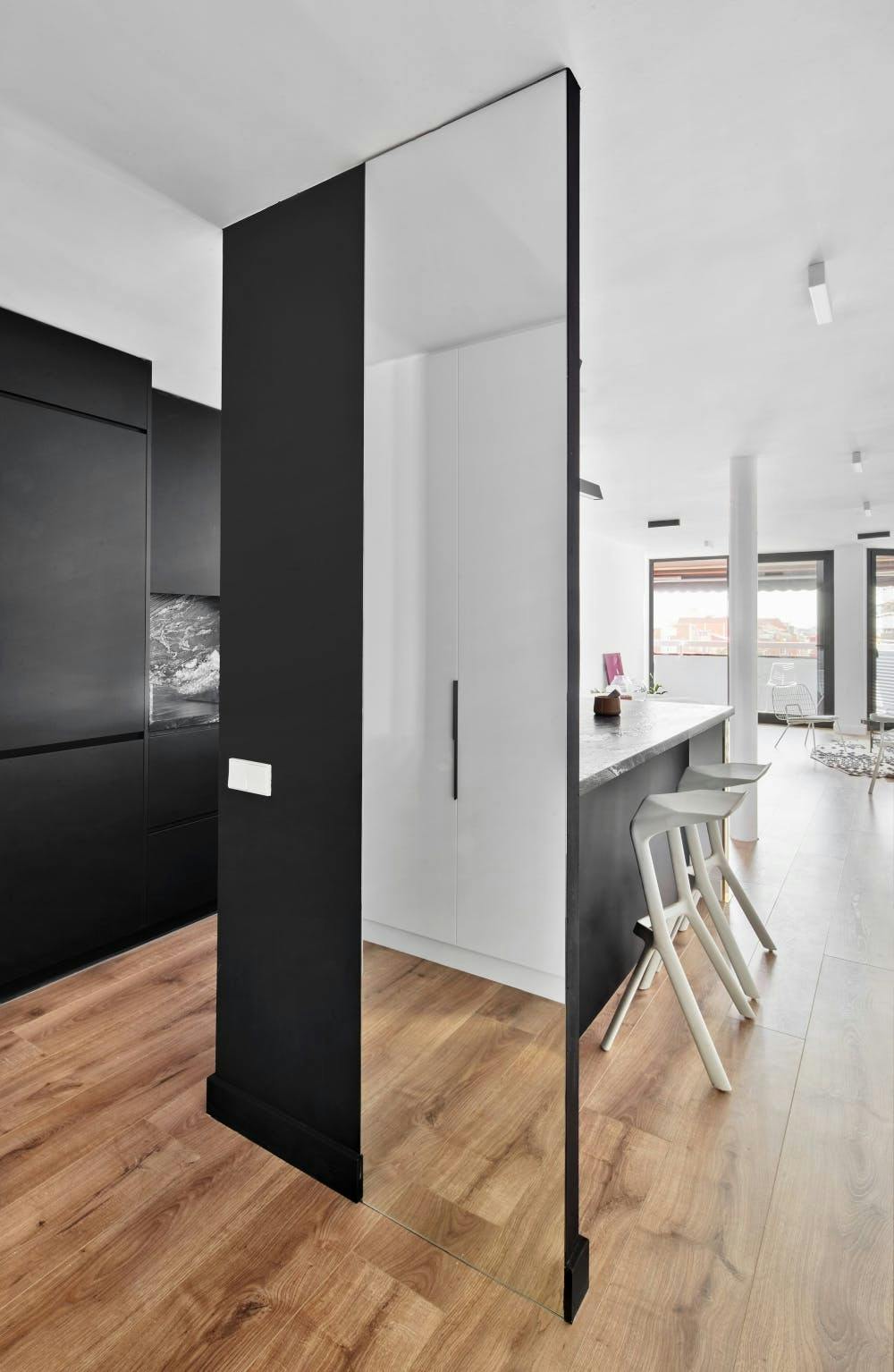 Blurring the boundaries
Both the bedroom and bathroom are closed with
oversized pivoting doors
, from floor to ceiling, without frames or lintels. The partitions are only interrupted where they meet the doors, which, when open, allow the space to flow through them freely. The common areas extend to these rooms, whose use is more occasional, allowing them to enjoy greater functionality.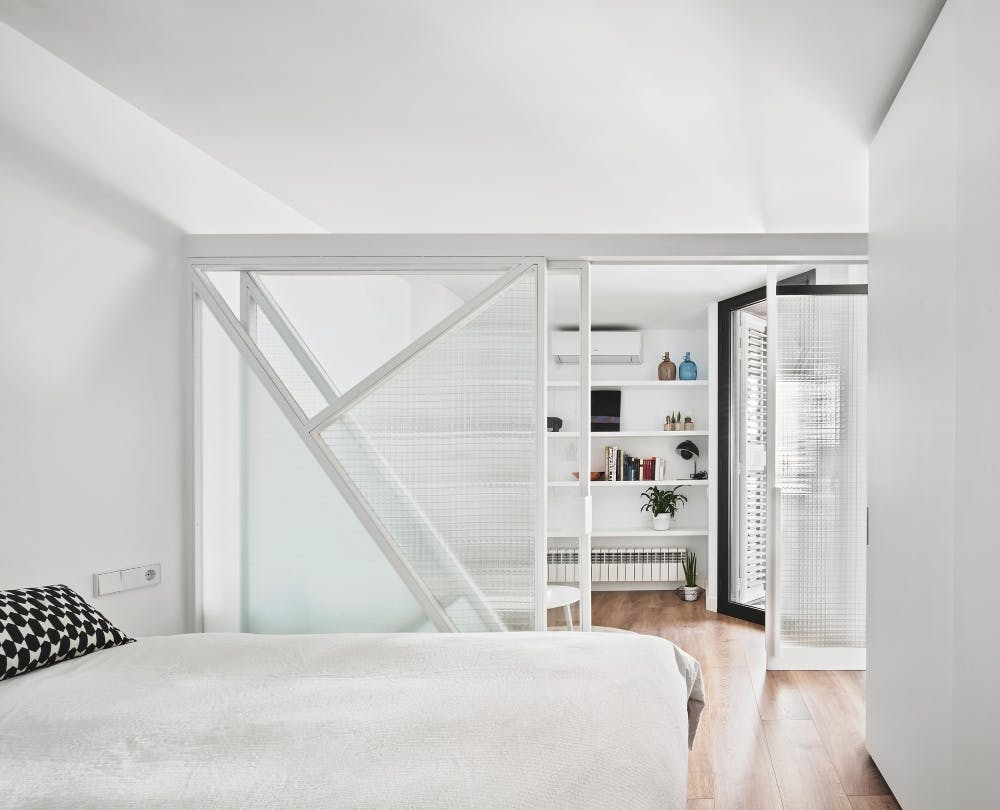 Pure contrast
The large pivoting doors in the guest area are lacquered in black, their handles in brass, marking a contrast with the white walls. The en
suite bathroom
is finished completely in black, combining ceramic, Sensa by Cosentino natural stone, micro cement, and black varnish. The taps and sinks are also in black. In contrast, the
guest bathroom
has an inversed color scheme: here the Sensa by Cosentino natural stone is white, as are the micro-cement and varnish, leaving only the sink and faucets in black.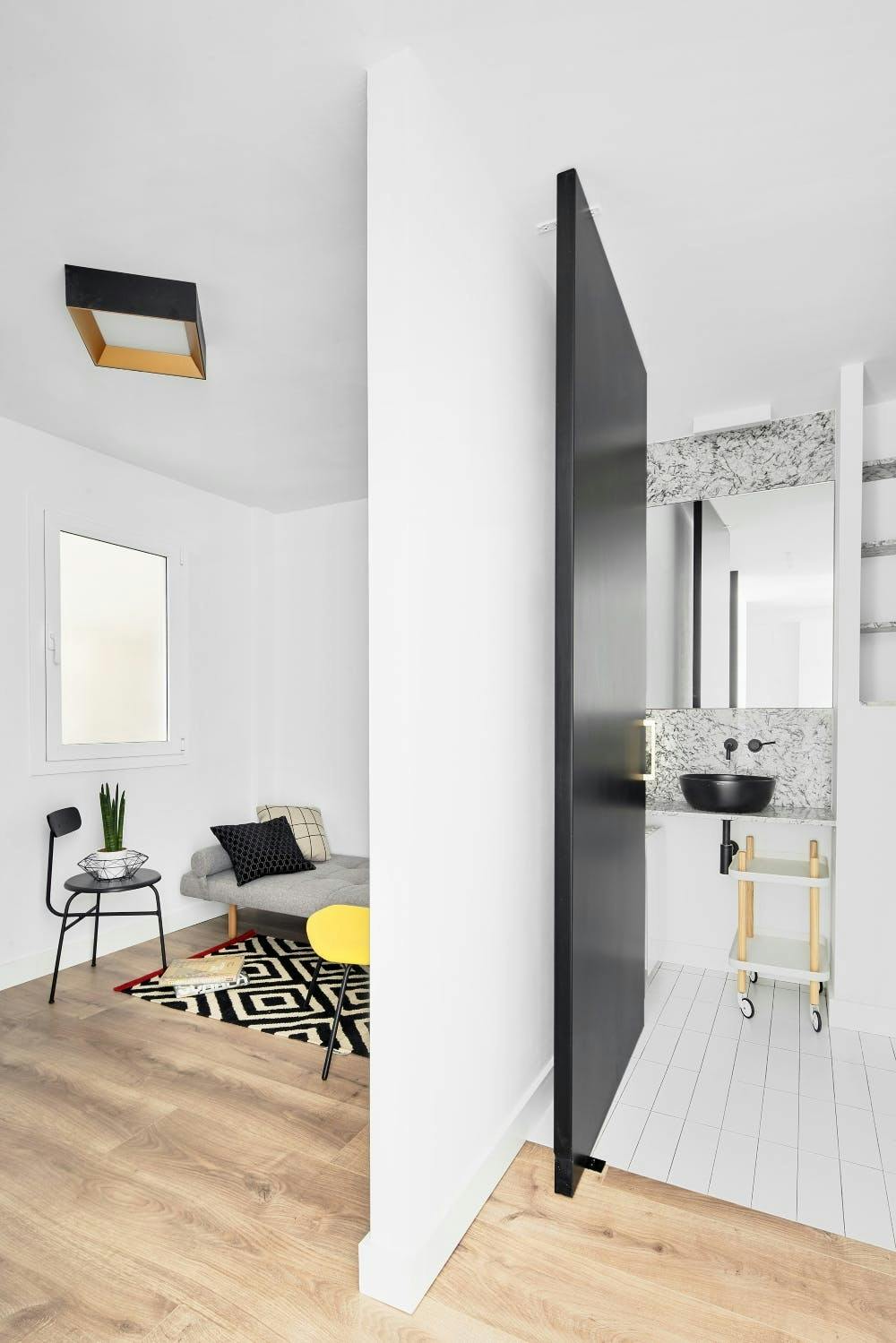 Simplicity and Light
The furnishings are designed in a white lacquer with all black hardware, while the lighting fixtures alternate between
black and white
. In the living room, a Butterfly chair and Visu armchair stand out, but the true star in this space are the two huge picture windows that open to the terrace, filling the home with light. The
natural wood flooring
provides the home with warmth.