Case Study
The many advantages of Dekton and the design possibilities of Silestone for a house with a contemporary design
Concepto DR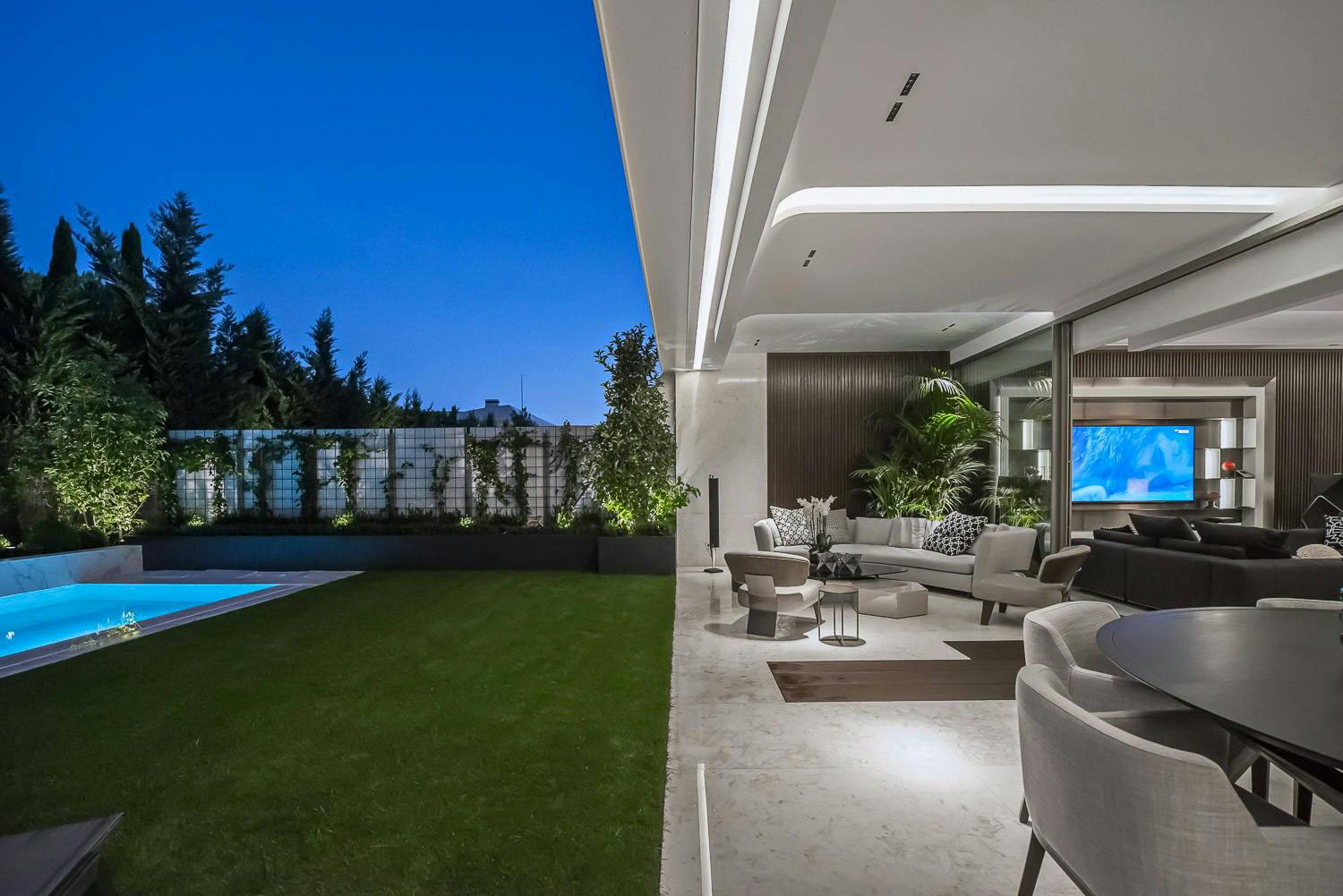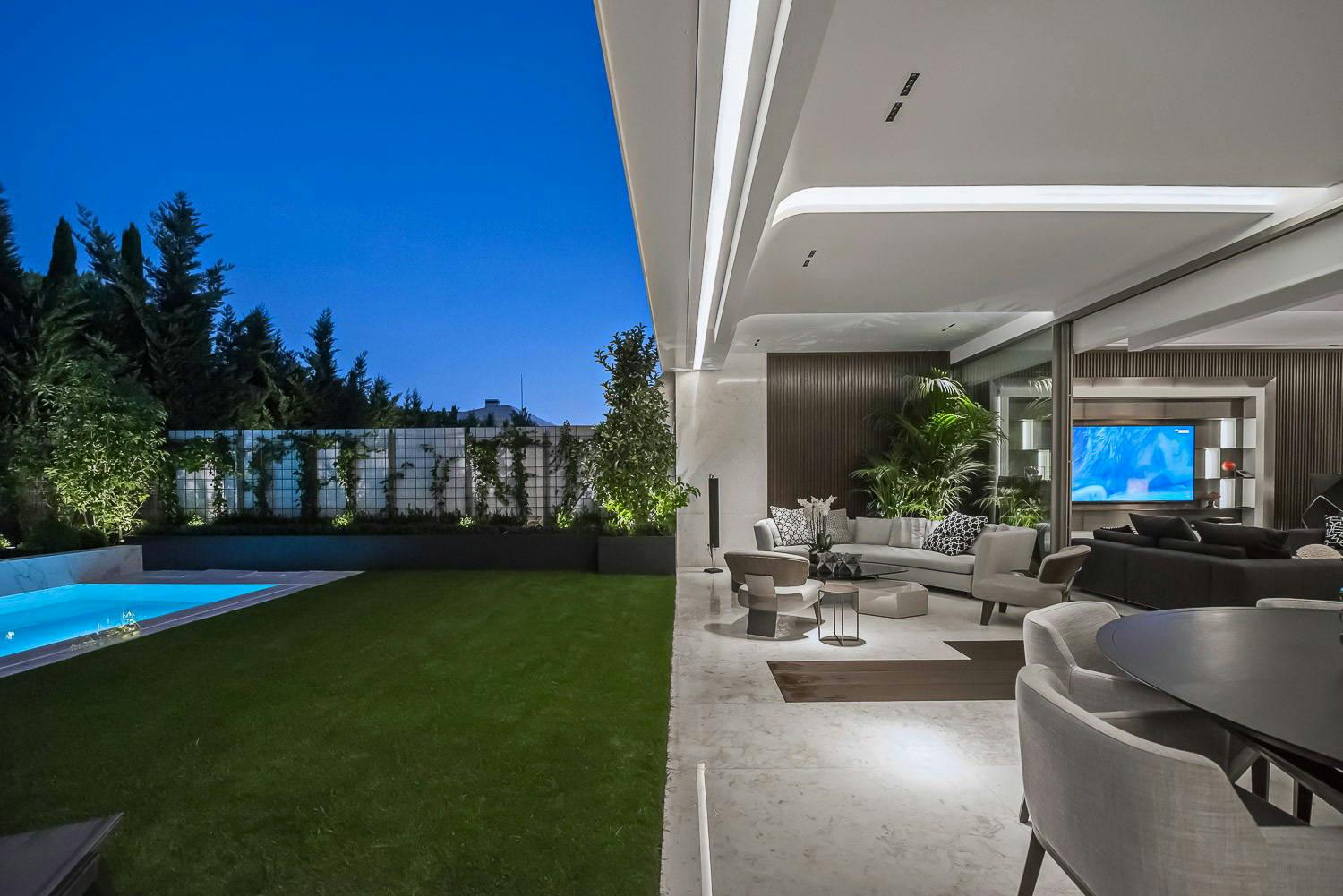 Material
Dekton | Silestone | Scalea Natural Stone
Color
Aura | Blanco Zeus | Et Marquina | Dolomita
Architecture / Design
Concepto DR
Application
Swimming pool | Kitchen worktop | Bathroom countertop | Flooring
Unique spaces featuring technological surfaces
The owners of this home located in an exclusive residential area on the outskirts of Madrid commissioned interior designer Diego Rodríguez, founder of Concepto DR studio, to create a home with spacious, multi-purpose rooms, perfect for day to day living and for relaxing with friends during leisure time. Its design is characterised by elegant, restrained and timeless lines. For this purpose, the interior designer relied on three surfaces: Dekton, Silestone and Scalea, Cosentino natural stone.
Outside the house, green areas surround a large swimming pool with refined lines and clad in Dekton. Thanks to its almost zero porosity, Cosentino's ultra-compact surface is highly resistant to water and moisture and keeps its colour despite sun exposure. Furthermore, the Dekton Grip+ anti-slip treatment ensures maximum safety for users in the area around the swimming pool. In addition to this, its large format allows for minimal joints, thus preventing the proliferation of bacteria and creating a more hygienic and visually pleasing space.
Facing the swimming pool area is a cosy outdoor lounge which follows the same design codes as the interior of the house, both in terms of furniture and floor continuity, which features a combination of wood and Dolomite natural stone. A large floor to ceiling sliding glass door enhances the impression of a single large space.
Inside, the spacious living room presents different atmospheres that are differentiated from each other by the furniture used. The Dolomite floor takes centre stage in the design, as does the stairs, whose light, minimalist style is a distinctive feature of the space as a whole.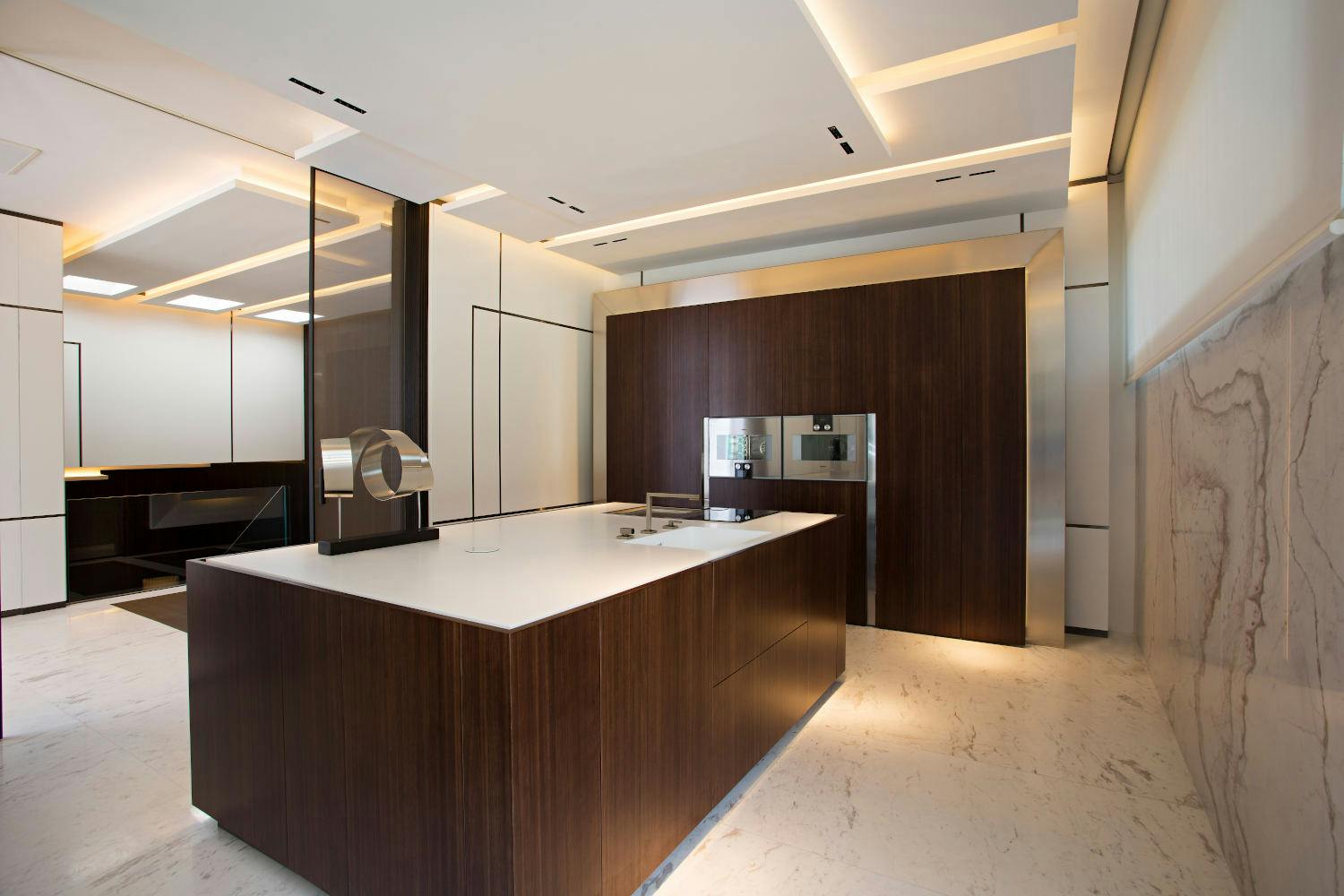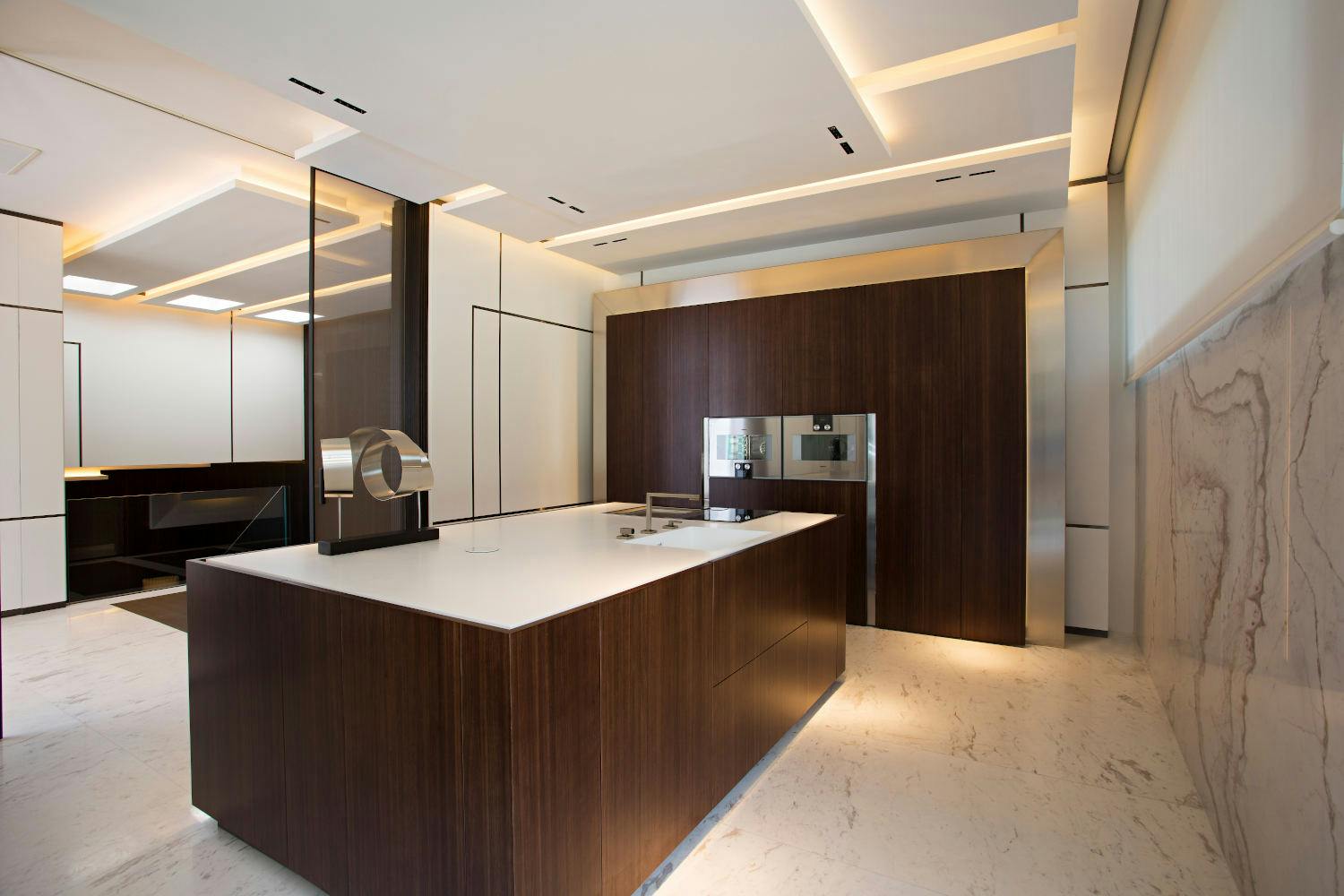 The kitchen features a comprehensive design in which all cupboards and storage drawers are mainly concealed in a large wooden unit topped by a sturdy steel frame which also houses the electrical appliances. The result is a sophisticated and architectural space. In its centre, the worktop in Silestone White Zeus brightens up the sink and cooking area.
Silestone Et. Marquina, a touch of colour for bathrooms
Silestone surfaces continue to be the choice for bathroom countertops and sinks because of its high resistance to stains and knocks. In this case, the interior designer chose one of the designs from the Eternal collection, which is inspired by Negro Marquina marble. Silestone Et. Marquina is characterised by a deep black background crossed by white veins that give character and contrast with the natural stone used on the walls, a touch of colour that continues and highlights the elegance of the rest of the house.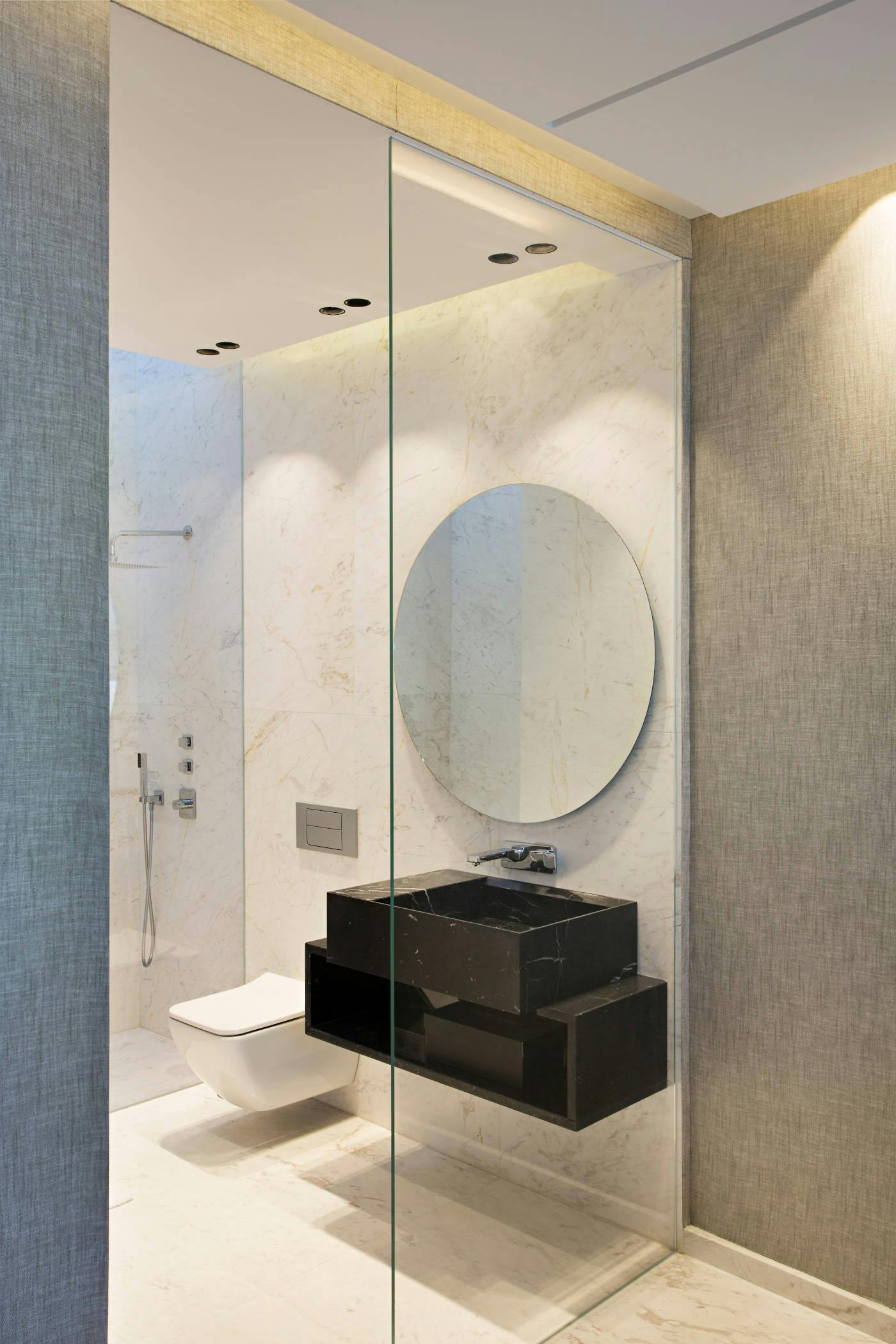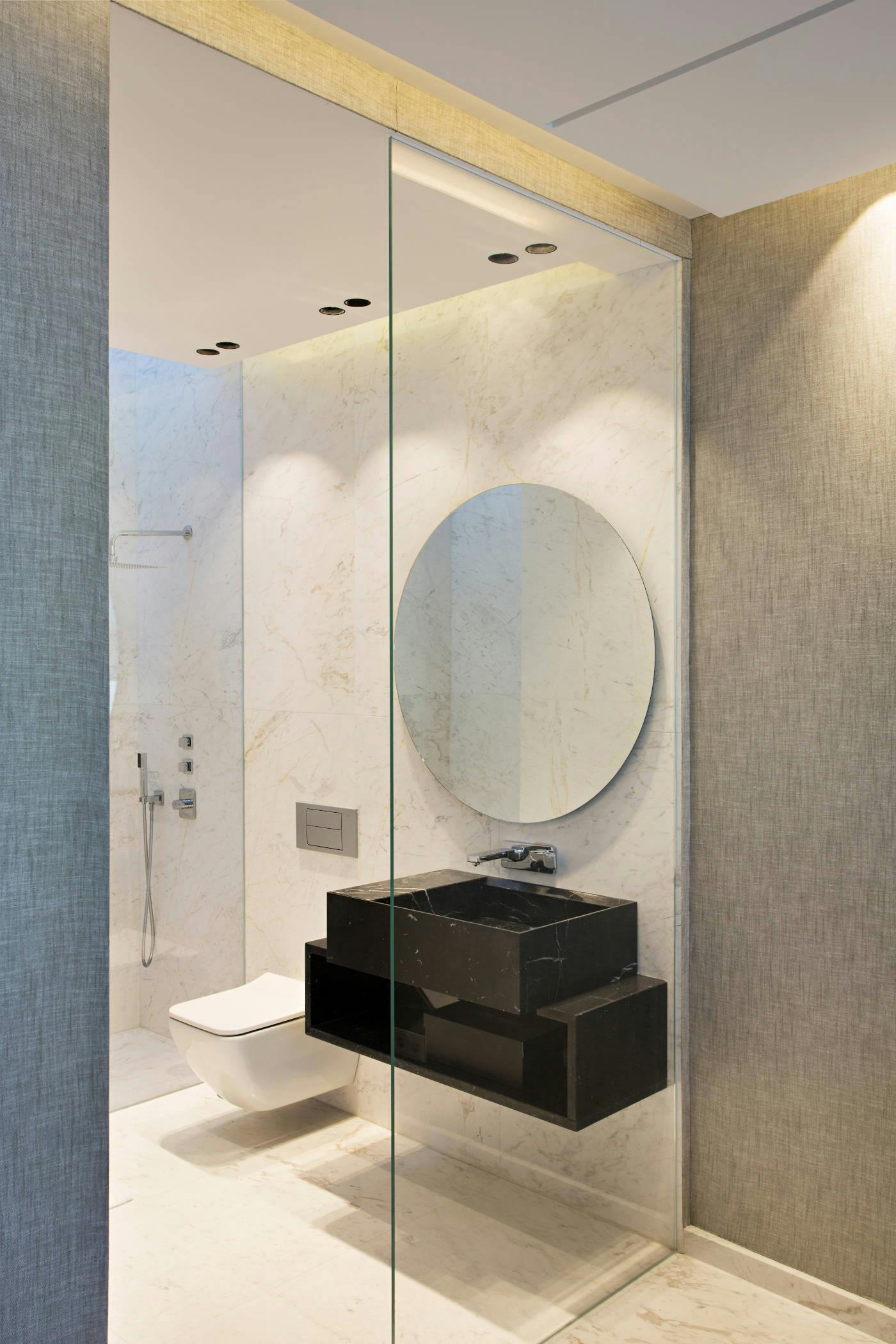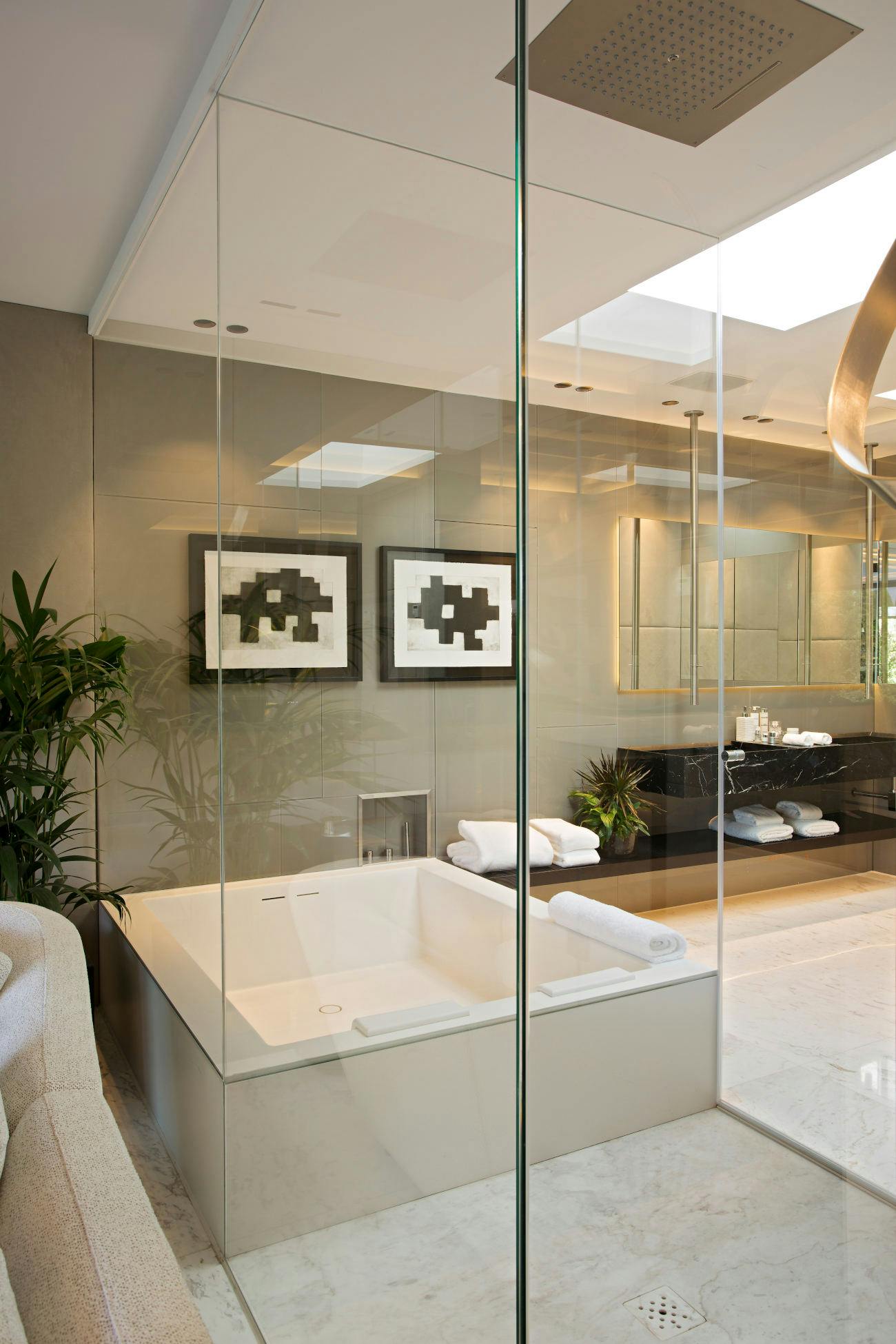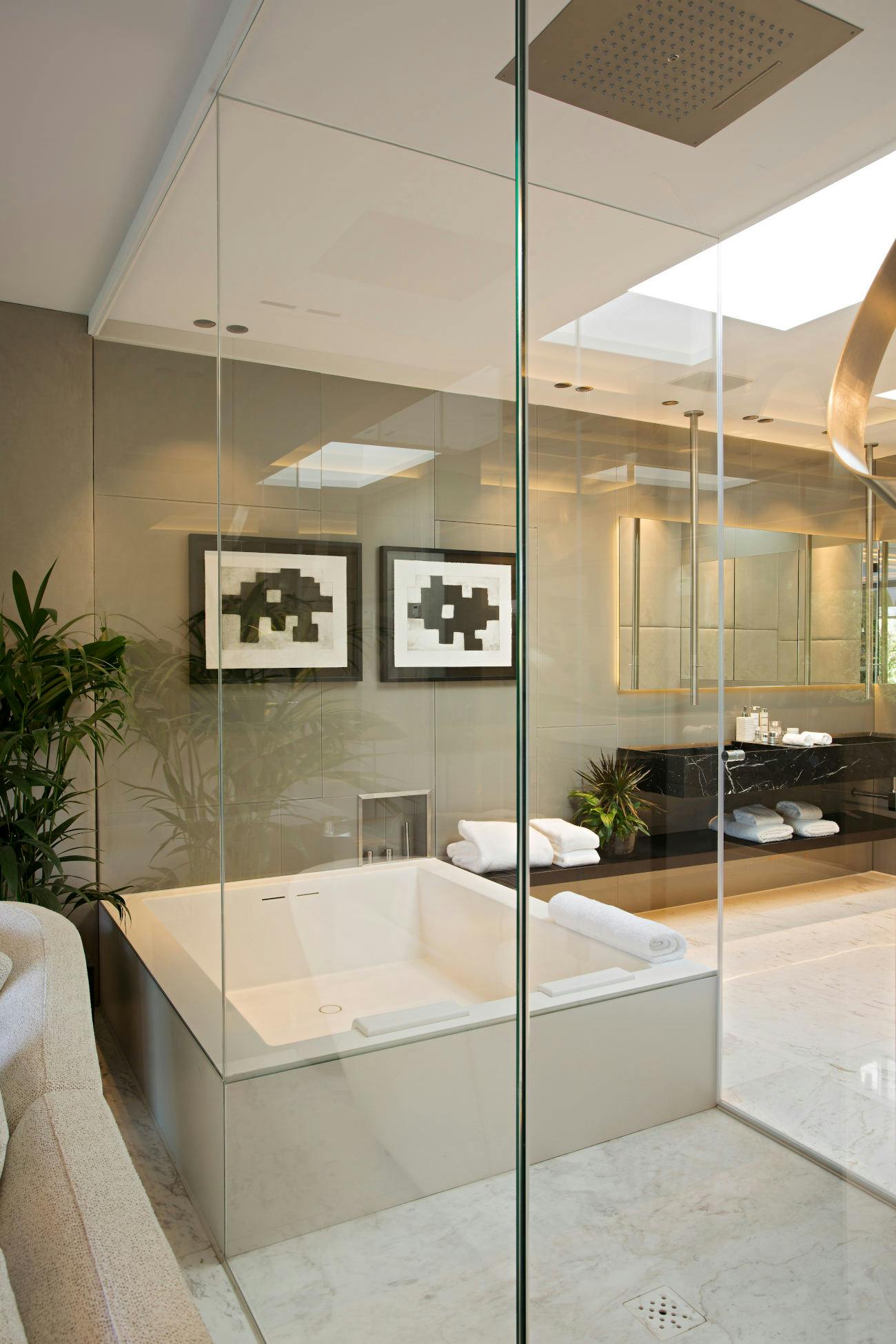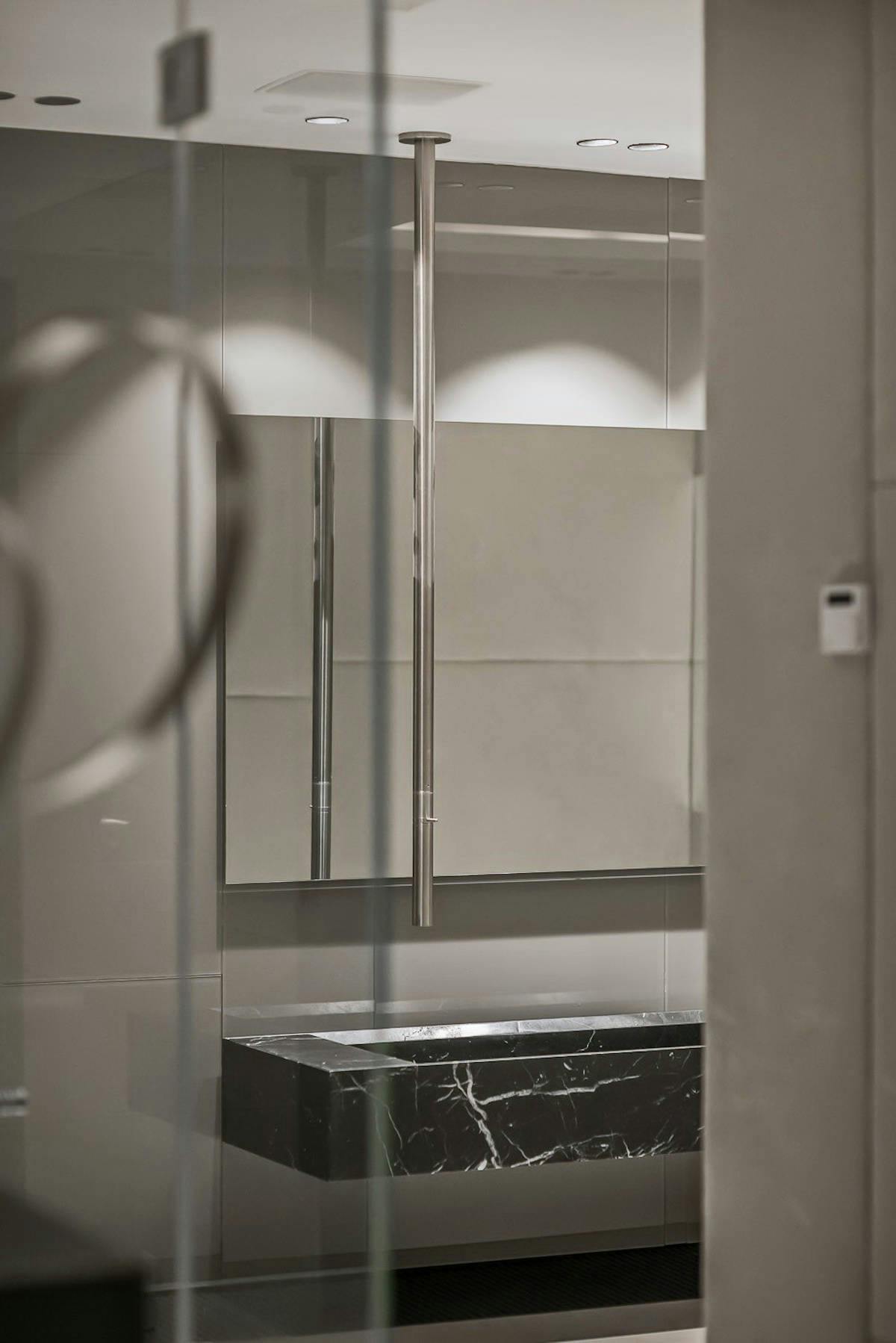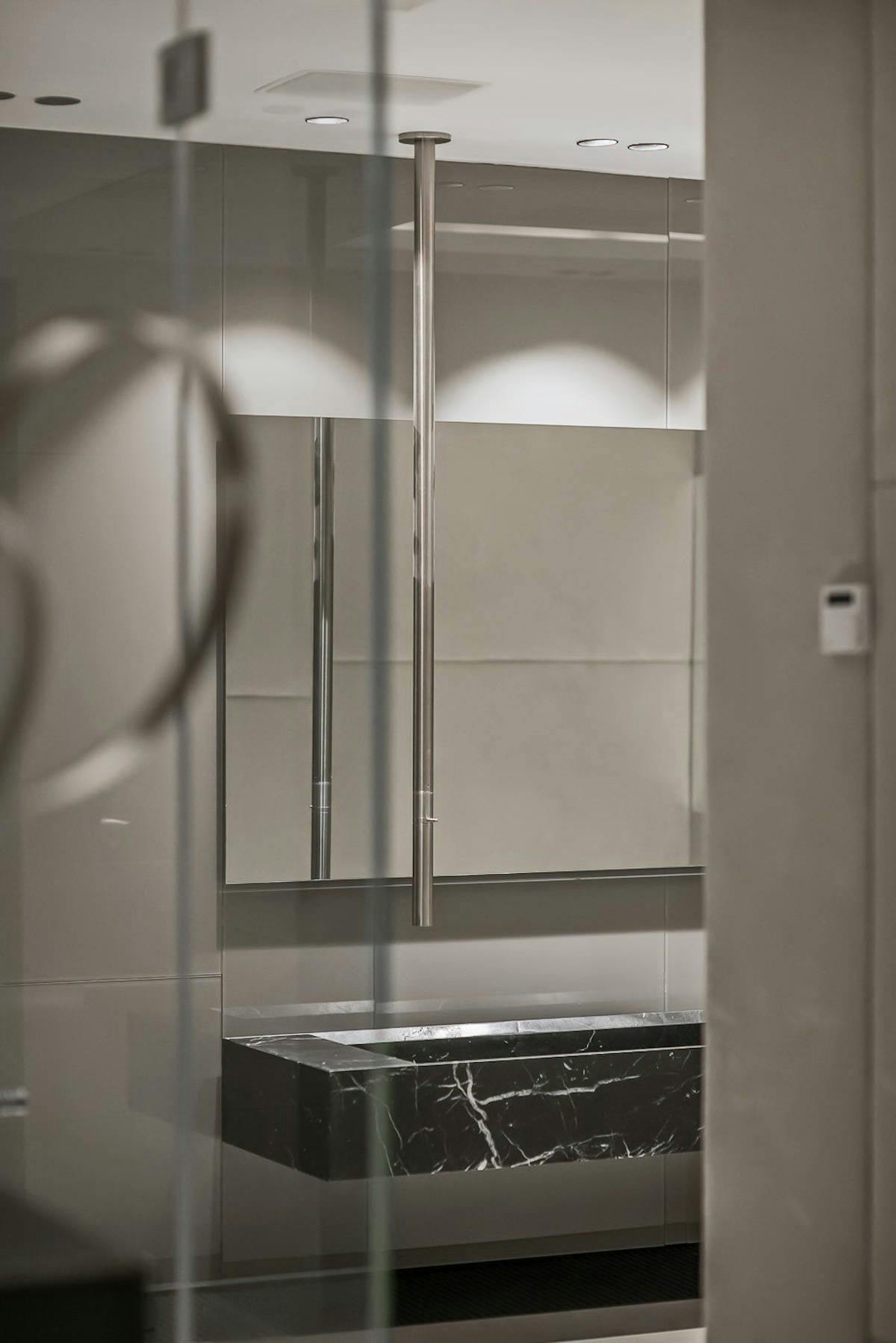 Cosentino's materials used in this project