Case Study
Harmonious contrast
Pizrog Natursteine AG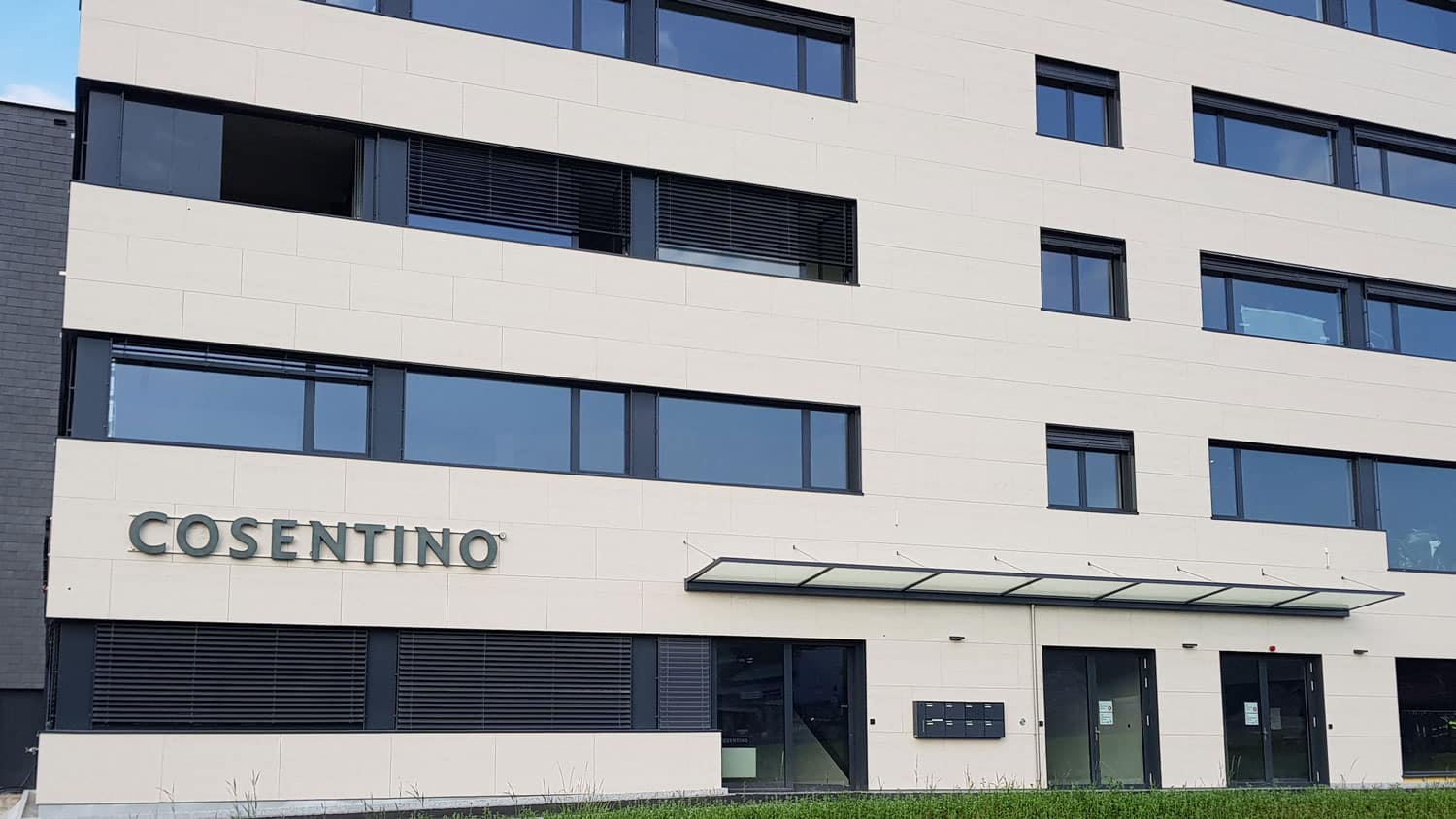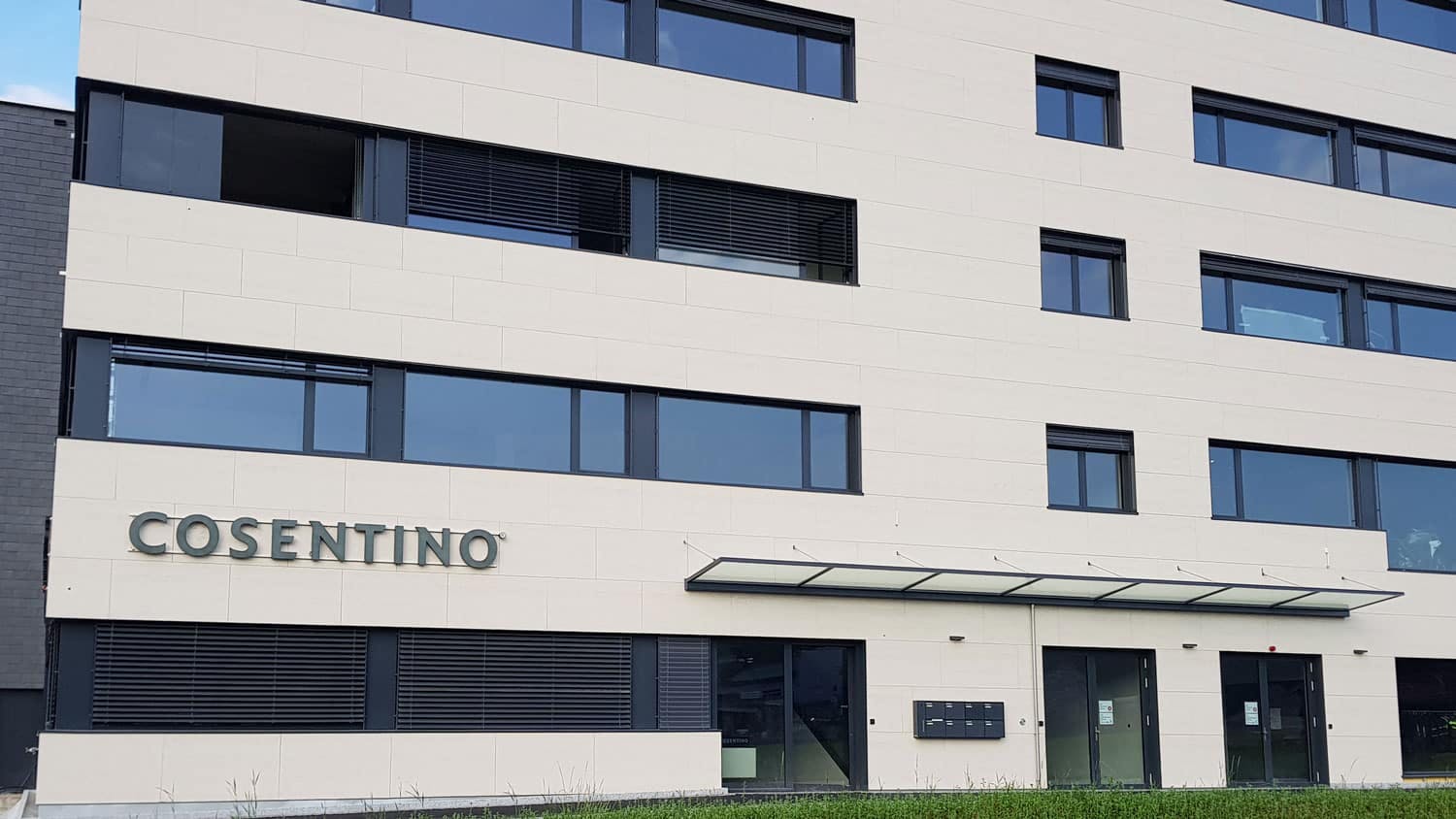 Location
Neuhaus, Switzerland
Application
Ventilated facade
Architecture / Design
Pizrog Natursteine AG
Façade combines light Dekton Danae with dark natural slate
When José Luis Moral takes off, the world lies at his feet. The fervent sports pilot climbs over the meadows and wooded hills north of Lake Zurich and looks out over a breathtaking Alpine panorama. The snow-covered mountains glitter above, as does the lake below. Moral has been installing surfaces for individual construction projects of his customers for around 30 years on its banks and far beyond. With Roandi Immobilien AG he has become one of the developers himself.
His down-to-earth attitude also benefits him here. This way Moral was able to find optimally located logistical locations in a very attractive region, both scenically and commercially, not only for Pizrog Natursteine AG, which he is the head of, but also for an important business partner. The main user in Neuhaus became the "Cosentino Center Zurich" with 375 sq m of exhibition and office space and 2,325 sq m of storage space. The specialist for individual processing and the laying of stone surfaces moved with his company to Bubikon, which is 15 km away.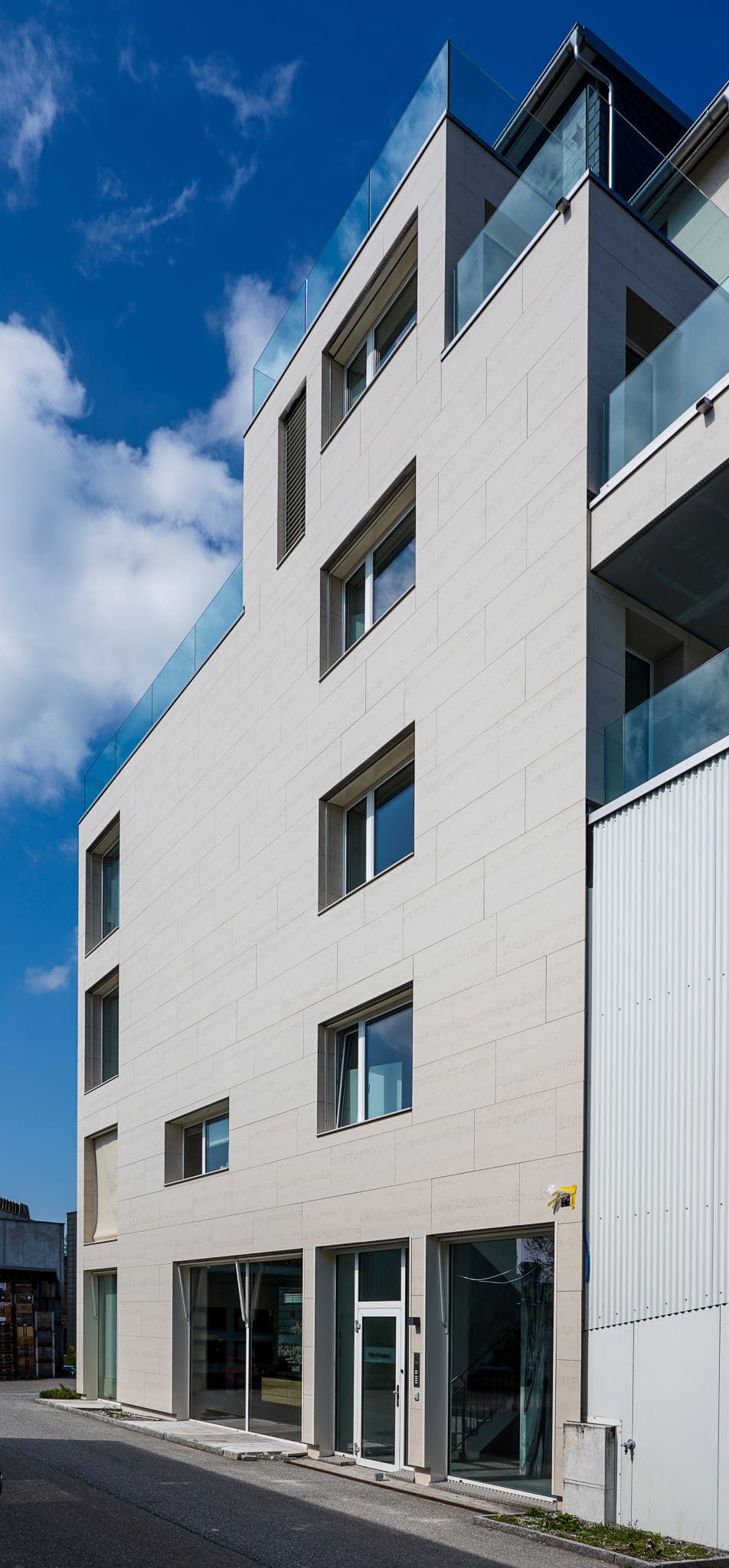 Aesthetic and functional
"We planned and realized the two buildings in parallel with a local architectural office. This is how it always work best on site," says José Luis Moral. At the same time, he set uniform guidelines. "Character-rich design is very important to me, as well as outstanding functionality and sustainable quality for all Roandi items." This applies in particular to the building envelope. The back-ventilated curtain façade has proven to be particularly effective here. It permanently combines high energy efficiency with extensive design freedom.
"The façade front should be invitingly bright and radiate a light Mediterranean warmth, an impression that is reinforced by the contrasting dark warehouse in the background," explains José Luis Moral. "The selected materials should naturally embody the highest standards of quality and the proverbial Swiss precision. I think we succeeded in this through the combination of Dekton Danae and natural shale. By the way, both materials come from Spain just like me," adds Moral with a wink.
Do you need help with a project?
Contact our specialists for advice
Do you need help with a project?
Contact our specialists for advice
Natural minerals, pressure and heat created the two surfaces used. However, it can take millions of years for the clay sediment to become shale. With Dekton by Cosentino the metamorphosis happens in a controlled and accelerated manner within a few hours. At 25,000 tons of pressure and 1200°C the minerals are formed into an ultra-compact surface using particle sinter technology (PST). Dekton is resistant to cold, heat and thermal shocks, UV and color-fast. The material can therefore be used both inside and outside.
Dekton is produced in large-format panels of up to 320 cm x 144 cm and in over 50 designs and textures. In the Roandi projects, the sandy shade Dekton Danae from the Natural Collection in 1.2 cm thickness was used. An embedded glass fiber mesh ensures that no fragments can come loose if the façade is damaged. Cosentino delivered the plates that measure up to 160 x 110 cm cut to size, slotted at the top and bottom and with processed edges, directly to the construction site – numbered consecutively and "just in time".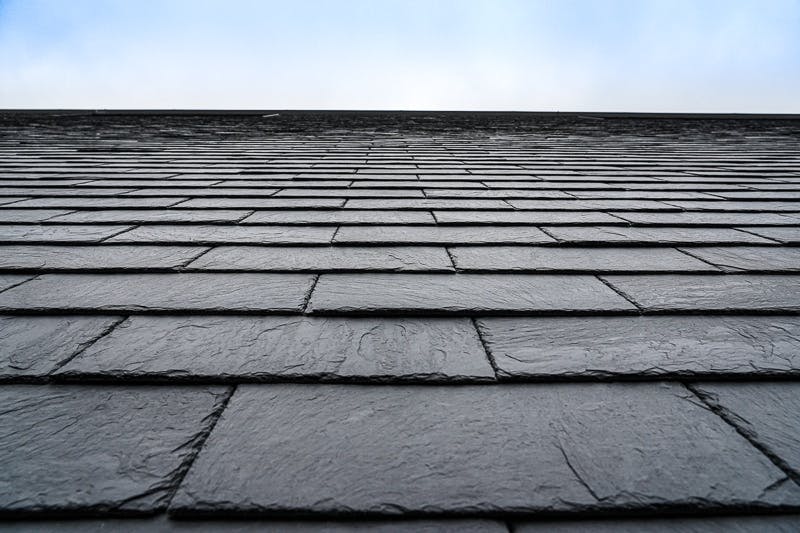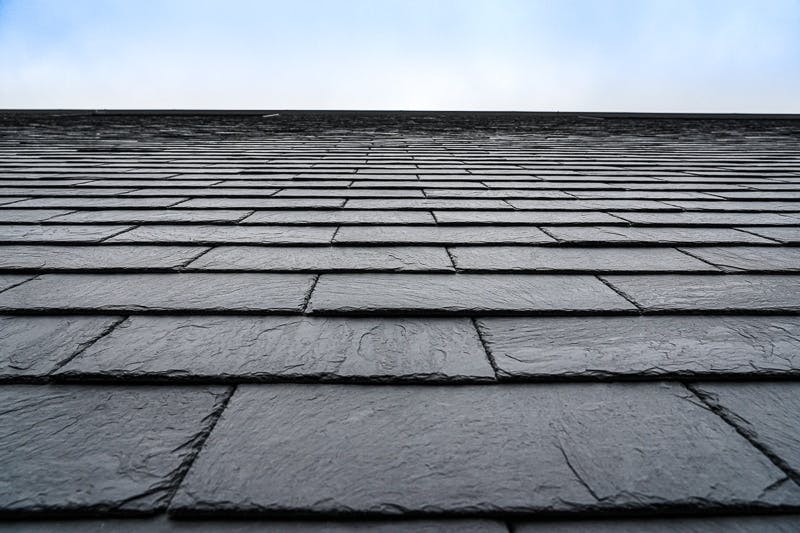 The substructure for the outer cladding consists of thermally separated aluminum brackets, which are fastened with bolt anchors to the concrete wall, otherwise insulated with 19 cm stone wool. Vertical L-profiles are attached to the supporting brackets with horizontal double T-rails. The top and bottom slotted Dekton plates were inserted into these and securely fixed on site by the Pizrog Natursteine AG installers. "With this system you work very quickly and at the same time with high precision", says Moral.
Since Dekton only has a negligibly low thermal expansion coefficient the spaces between the individual plates can be very small. "While large window areas allow plenty of daylight inside the opaque part of the building envelope has a softly shimmering monolithic character this way", says a satisfied José Luis Moral. He will soon be building again with Roandi. Another large commercial building is being built right next to the "Cosentino Center Zürich" - naturally again in the proven combination with Dekton Danae.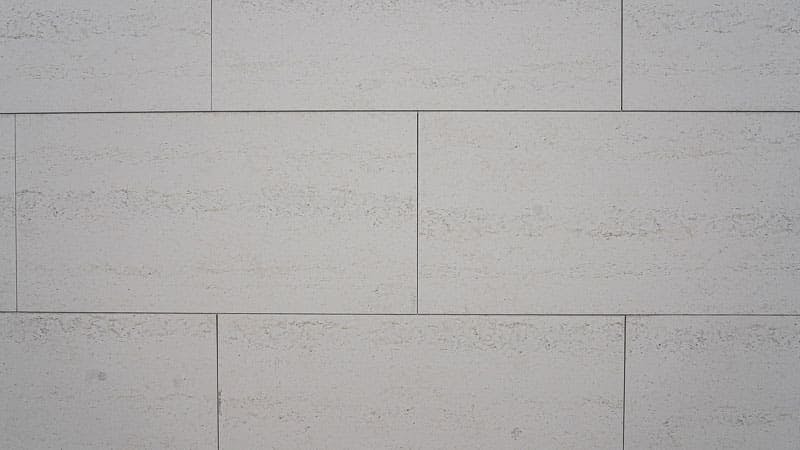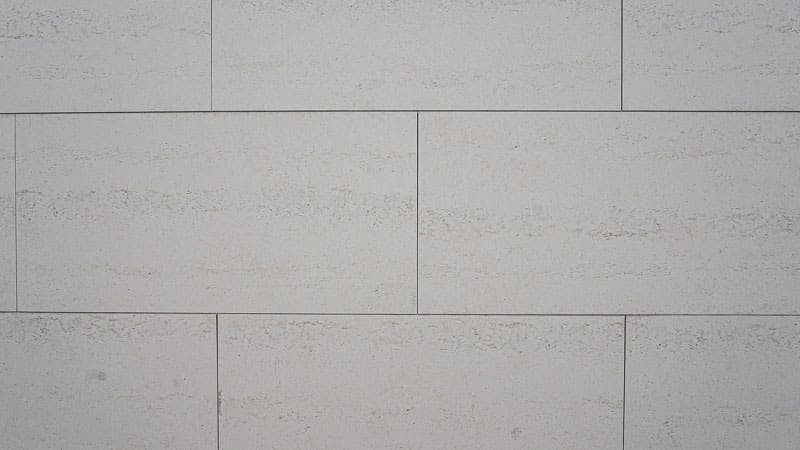 Cosentino's materials used in this project
Related Flagship Projects