Case Study
Cosentino, the star of the new functional, modern and sustainable house in the AEDAS Homes showroom in Madrid
AEDAS Homes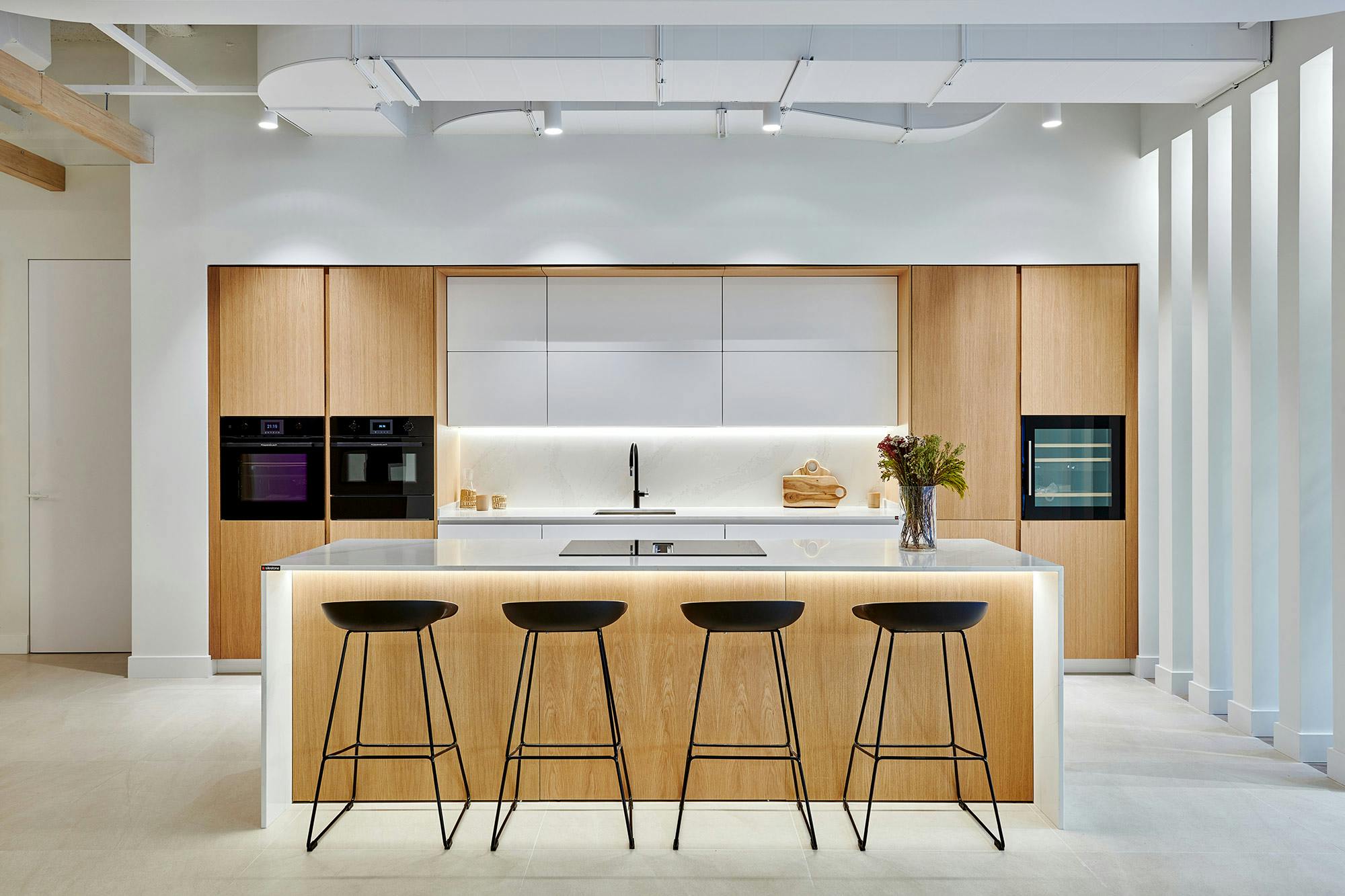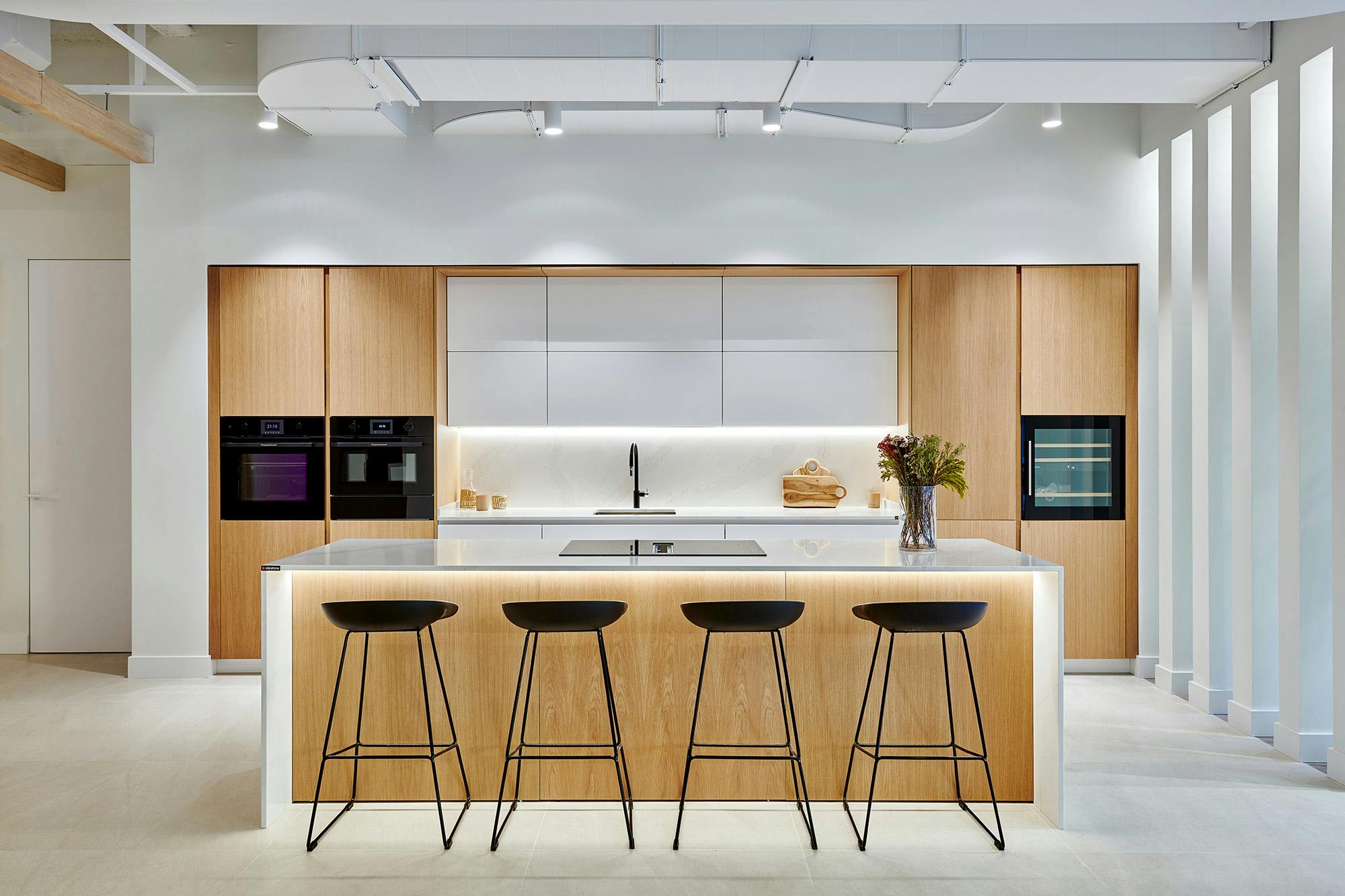 Material
Silestone | Dekton
Application
Multiple applications
Color
White Zeus, Ethereal Glow, Et. Calacatta Gold | Entzo, Laurent, Nilium, Helena
AEDAS Homes is a Spanish real estate developer of new buildings that aims to offer sustainable and up-to-date solutions for flats, houses, villas, ground floor flats with garden, penthouses, duplex houses…
At its properties, the company places priority on care for the environment and wellbeing, and also offers a design service that allows for total customisation of the finishes of the homes. To choose the one that best suits their tastes and needs, customers can visit the company's various showrooms, such as the one located in Madrid, where different spaces of a modern house have been recreated and where Cosentino products play the leading role in kitchens and bathrooms. The developer's commitment to the brand is so strong that Dekton Entzo was the surface chosen to clad the reception desk.
Stylish modern kitchens with Cosentino's DNA
For a Nordic-style interior design in white and wood tones – a very trendy combination –, the showroom features a kitchen with a Silestone White Zeus worktop and island. This white shade, energetic, timeless and almost pristine, is available with a Suede (matt) or Polished (glossy) finish.
Within the field of dark-toned kitchens, very stylish, AEDAS Homes presents a space with grey cabinets, taps, appliances and details in black and worktop and front in Silestone Ethereal Glow. Its elegant gold and grey veining blends into a tinged white foundation, enhancing the delicate features of the space.
Going one step further in the world of the most exclusive interiors, there is a kitchen in dark wenge wood with gold details and worktop and island in Dekton Laurent, the jewel in the crown. Inspired by Port Laurent natural stone, its surface texture creates a play of shades in which its golden veins dominate the space and bring warmth to its dark, cold background, which gives depth to the whole. The high stools in wool bouclé add the finishing touch to the space.
Last but not least, the showroom presents another attractive and eye-catching kitchen, a warm yet refined space. It is a spacious, well-lit kitchen in wood and touches of white in Silestone Calacatta Gold, an exclusive colour reminiscent of the most appreciated marbles of ancient times for its timeless and distinguished look.
Beautiful and functional bathrooms thanks to Dekton and Silestone
AEDAS Homes bathrooms also reserve a special place for Cosentino products. For example, a large washbasin in Silestone White Zeus presides over a bathroom inspired by brutalism, with finishes reminiscent of cement.
Another appealing proposal is the use of Dekton Helena for walls and floor, creating a small jewel box in white and grey with a fine crackle effect that provides a deep finish typical of the Onix natural stone, which is the inspiration for this colour.
Finally, there is a bathroom with a white double-basin vanity unit that looks particularly stylish thanks to the use of Dekton Entzo for the walls, a colour inspired by Calacatta Gold marble whose random golden veining – also present in the reception area – exudes realism and naturalness.
Dekton for the most sculptural fireplace
As we have already seen, the luxurious Dekton Entzo can elevate any interior space thanks to its distinctive marbled effect. Proof of this is the fireplace in one of the spaces in the AEDAS Homes showroom, a piece consisting of two sculptural cubes clad in Dekton that bring a distinctive look and a lot of functionality to the design, as Cosentino's ultra-compact stone withstands the highest temperatures.
Dekton Nilium for an outdoor bartop that withstands everything
Inspired by silver metal, Dekton Nilium offers a subtle combination of white and grey shades, which is enriched by the delicate appearance of its warm colours, accurately depicting the beginning of the oxidation process and adding extra character to the surface.
But the truth is that Dekton remains unchanged over time and is not affected by harsh weather conditions. These reasons led AEDAS Homes to chose it to create a sturdy and eye-catching outdoor bar, perfect for the barbecue area. This way, the brand demonstrates that any space in today's homes is perfect for enjoying the wide range of Cosentino products.
Cosentino's materials used in this project
Explore Similar Case Studies