Case Study
Cutting-edge worktops for university residence hall flats
TOUZA Arquitectos / Julieta Barrionuevo, from JUUBRN studio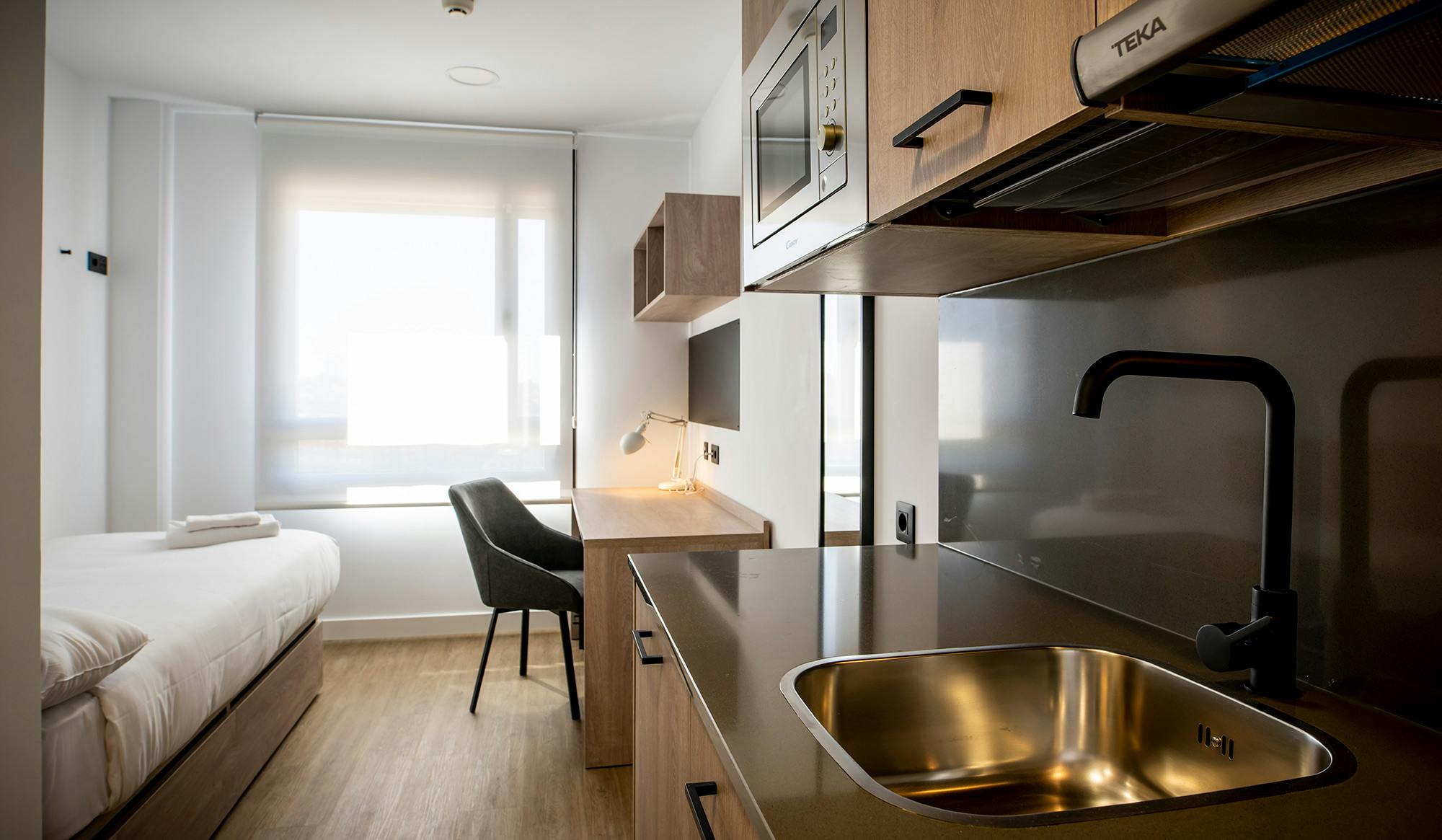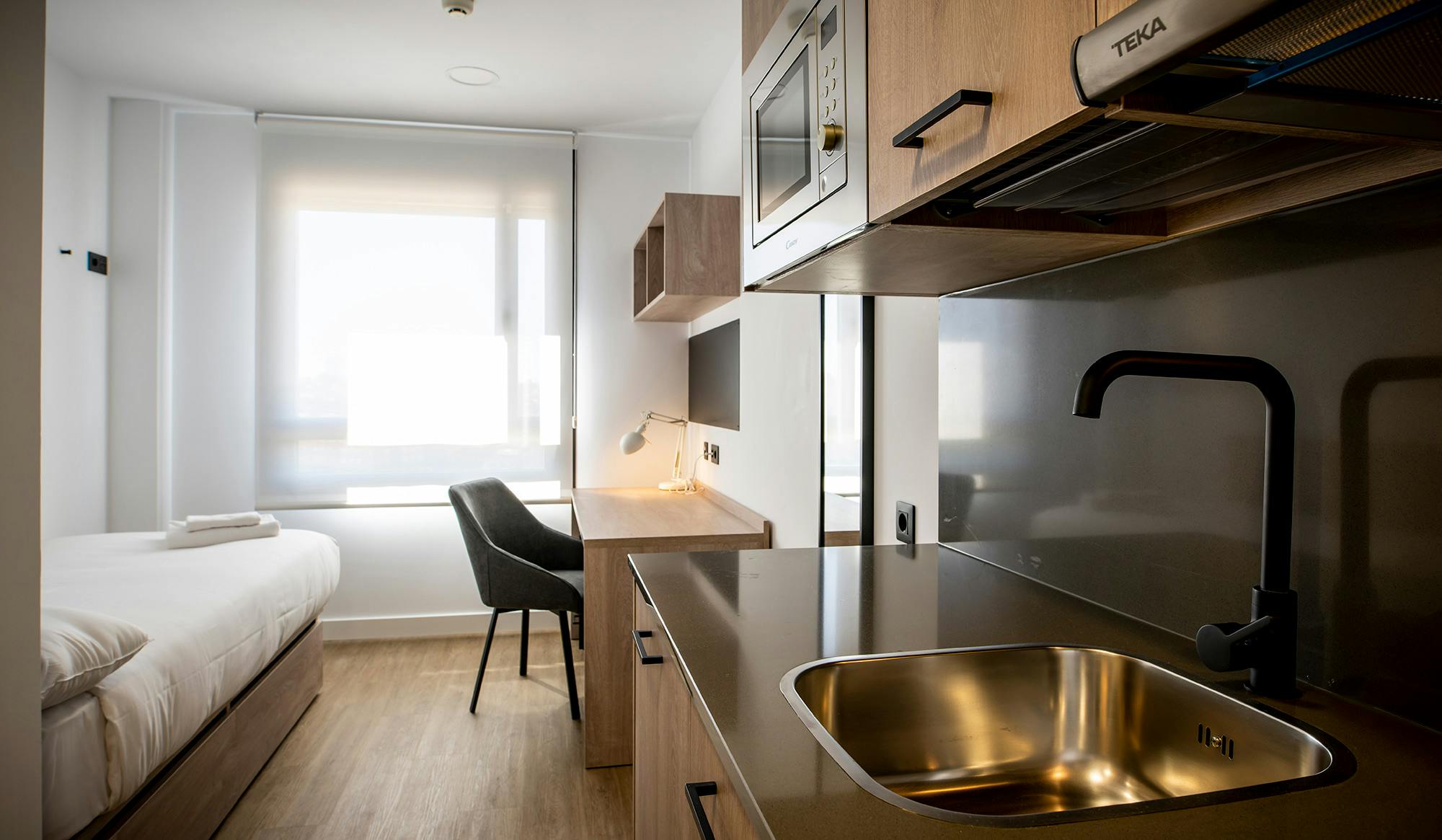 Kitchen design
INMODECO Design, S.L.
Application
Worktops, splashbacks
Architecture/Design
TOUZA Arquitectos / Julieta Barrionuevo, from JUUBRN studio
With a functional and welcoming design, the fully-equipped flats of the Micampus Sinesio Delgado hall of residence are conceived to provide university students with everything they need. Located in a residential area of Madrid (Spain), this hall of residence offers accommodation with ensuite bathroom, air conditioning, central heating, 5G Wi-Fi and a modern kitchen built to withstand the heavy use and traffic of the different occupants.
Designed by the architecture studio Touza Arquitectos and with interior design by Julieta Barrionuevo, from the JUUBRN studio, Micampus has relied on Inmodeco Design to equip and design the kitchens in each of the flats. Here, Silestone has become the material of choice for worktops and splashbacks, providing a contemporary touch and a unique guarantee of durability.
'The worktops in a hall of residence are subject to heavy use,' explain the designers. 'The material must be very hard-wearing to withstand the wear and tear over the course of their service life. It should also facilitate daily cleaning and minimise the need for maintenance as much as possible,' they continue. With this in mind, the material chosen was Silestone, as it meets all the requirements of this type of kitchen.
Due to its technical features, Silestone is highly resistant to scratches and knocks as well as to stains and acids common in everyday kitchen use. It is very easy to maintain and a very hygienic surface, making it the ideal solution for the kitchens of Micampus student flats.
Industrial and avant-garde style
'Thanks to Silestone's wide range of finishes, it was easy to find the one that best matched the design of the hall of residence and conveyed its identity,' say the designers. The colour Cemento Spa was selected by the designers for these worktops. Its dark grey tone, reminiscent of the finish and texture of cement, adds an industrial and avant-garde touch. Combined with the wood tones, it creates a cosy and relaxed space, in keeping with the design of the rest of the room.
In terms of project execution, the designers feel that working with Cosentino has been a great advantage. 'Cosentino manufactures the worktops and guarantees the finishes without intermediaries, except in those cases where the intervention of a marble supplier is necessary. In such a case, Cosentino works closely with them to guarantee the quality of the finishes and compliance with deadlines,' they explain.
Furthermore, Cosentino provides full support throughout the project cycle – from pre-sales to project management – and all its finished products come with a warranty. 'It also gives us peace of mind that we are working with a company that will be responsive and provide service for the entire life cycle of the product,' they conclude.
Cosentino's materials used in this project
Explore Similar Case Studies