Case Study
Dekton and Silestone, a sure winner for cladding a modern, sophisticated and functional four-star hotel
FINEHARD in collaboration with Buob AG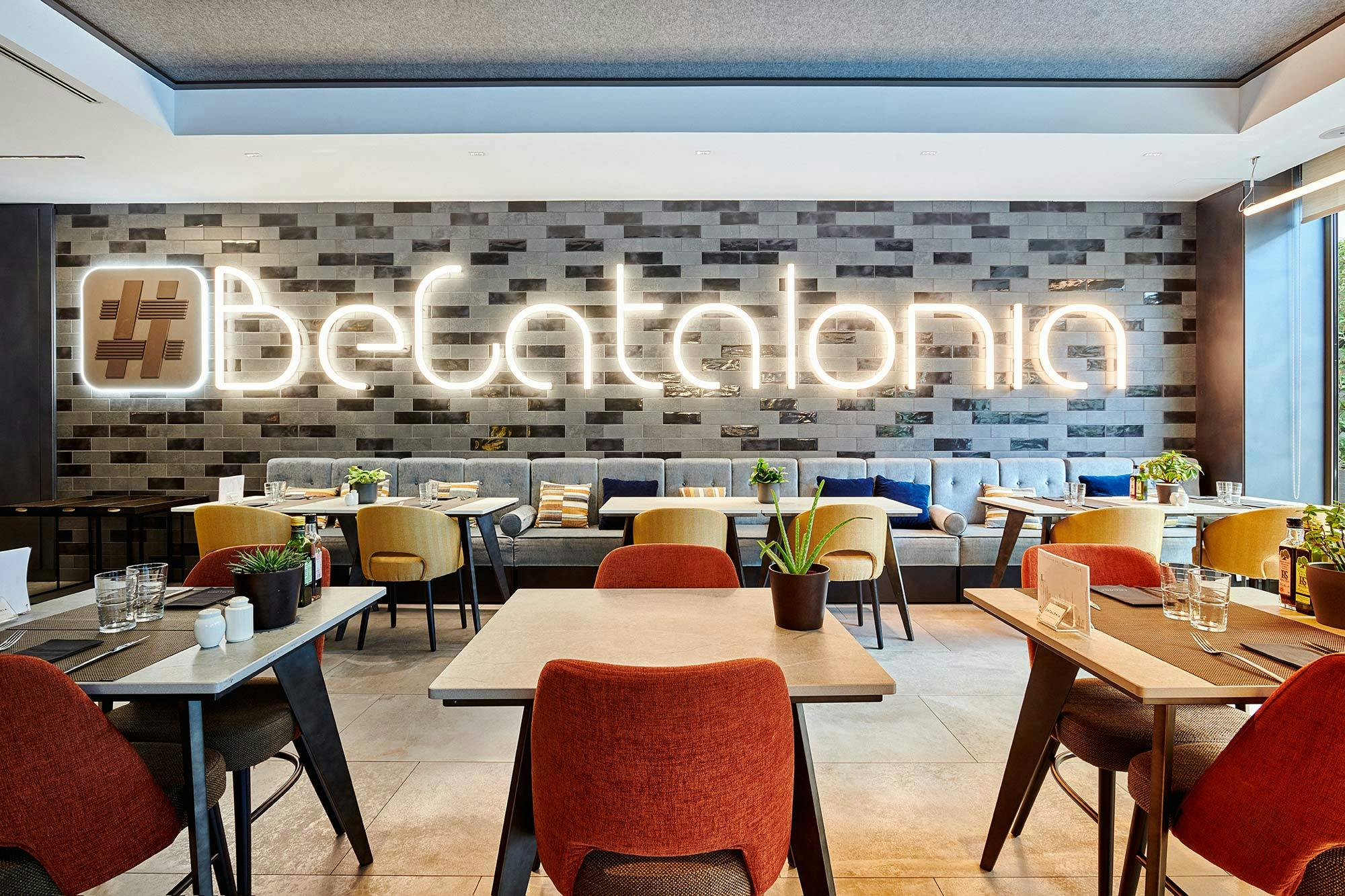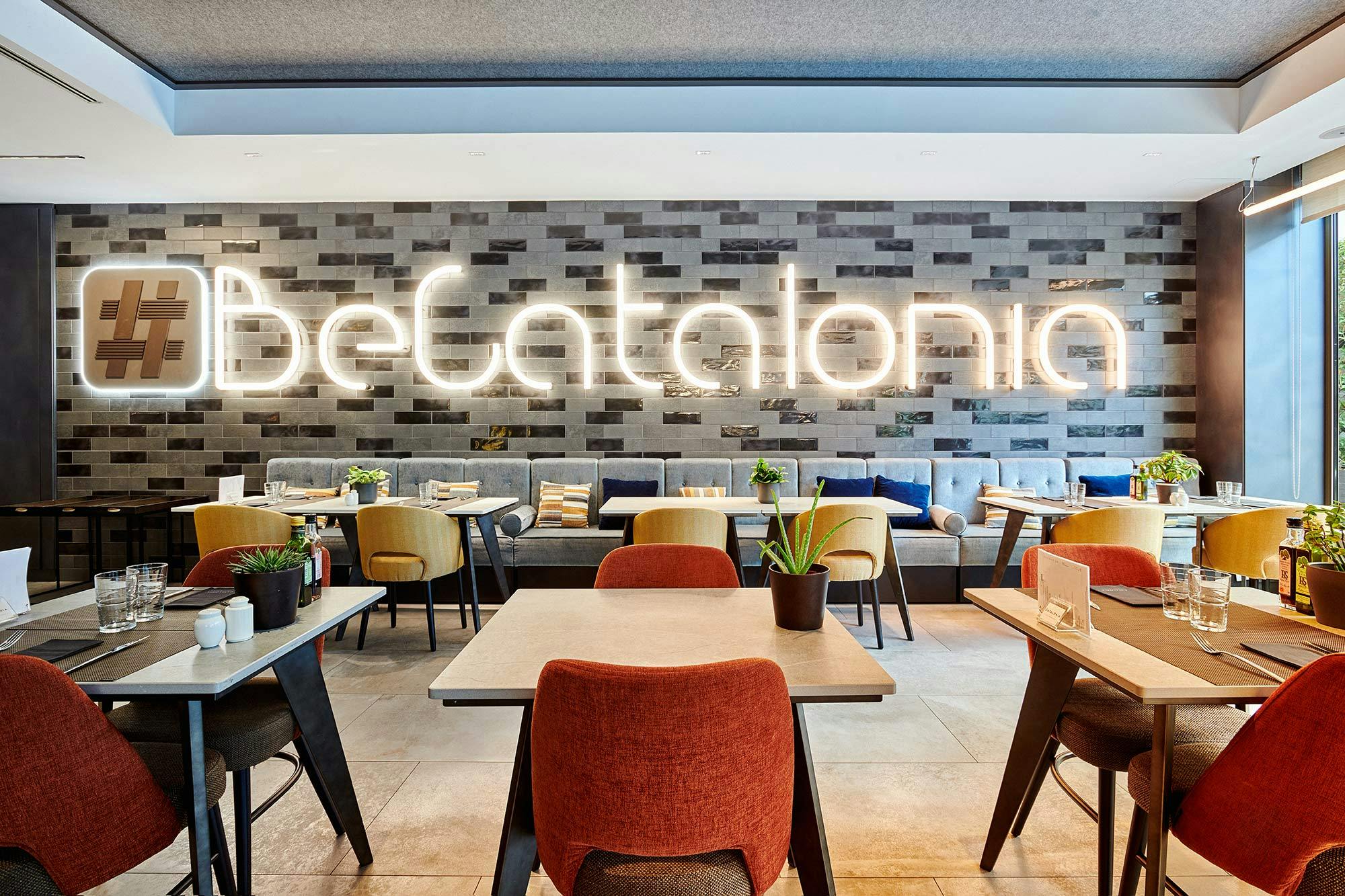 Material
Silestone | Dekton
Color
Liquid Shell from Liquid Collection, Soke from Industrial collection| Kensho, Charcoal Soapstone
Quantity
42 Elegance washbasins, 42 Silestone Kensho shower trays, 7 Silestone Charcoal Soapstone 650 mm diameter tables, 6 Dekton Liquid Shell 700 x 900 mm tables and 18 Dekton Soke 700 x 800 mm tables
Architecture/Design
FINEHARD in collaboration with Buob AG
Application
Washbasins, bathroom cladding, table tops, worktops
In the heart of the Gran Vía, close to the best shopping area, museums and restaurants, is the modern and elegant Hotel Catalonia Gran Vía Bilbao. This four-star hotel comprises 106 comfortable rooms, its own car park, swimming pool, terrace, urban garden, wellness and spa area, as well as meeting rooms.
To round off the sophisticated yet functional look of the hotel, the Catalonia Hotels & Resorts chain, through the architecture firm Arques-Molinero i Associats, has once again opted for ultra-compact surfaces by Cosentino.
'We went for Dekton and Silestone because they are high-end materials with a wide variety of options in terms of design and durability, which meets our specific requirements as hotel managers. But above all because of the company's approachability and the overall service offered throughout the entire project cycle, as well as its long-term service commitment,' explains the hotel chain.
A modern blend of industrial and natural inspiration
When it came to designing the bathrooms of the new hotel, they opted for Silestone Kensho slabs, a silky and harmonious grey surface that creates an Asian, Zen-like ambience. They were also used for shelves, showers and washbasins, the latter featuring the pure lines of the Elegance model.
In addition to the wet areas, Cosentino products have also been incorporated into the hotel's restaurant for the design of its bespoke tables. For the round tables, for example, the colour chosen was Silestone Charcoal Soapstone, inspired by the popular 'soapstone' from which it takes its name. Its bluish-grey finish with vibrant grey veins is a spectacular choice for its distinctive roundness, depth and movement.
The other table tops, and even some worktops, were clad in two colours: Dekton Soke and Dekton Liquid Shell. The first shade has a modern cement effect thanks to a realistic veined structure paired with a background full of details in a range of greys. The second, however, evokes the natural world, specifically the life under the waves of the sea. In fact, its pearlescent appearance resembles that of seashells, in a whitish tone with creamy nuances and subtle changes in surface gloss.
Safety, hygiene, beauty and low maintenance: the keys to choosing Cosentino in hotel environments
'We were looking for a more attractive, uncluttered space, with a modern and up-to-date image, in keeping with the operating requirements of an urban hotel,' explains the Catalonia Hotels & Resorts chain. 'Cosentino materials are safe, hygienic, aesthetic and highly durable. Furthermore, they are virtually maintenance-free, and this reduction in cleaning and care time is a key factor in hotel operations,' continues the company, which preferred Dekton and Silestone over porcelain tiles and solid surface type materials.
However, if there is one thing that project managers emphasise, it is advisory work and brand effectiveness: 'Cosentino has provided support and advisory services during all phases of the project, as well as manuals and technical documentation. Additionally, they delivered the material directly to our premises in a timely manner, as we had arranged. Its project management department was in charge of scheduling deliveries according to the needs of the site,' they conclude.
Cosentino's materials used in this project
Explore Similar Case Studies