Top Homes
Dekton and Silestone enhance the kitchen and bathroom design in a Tokyo home
Housing Operation Architects Inc.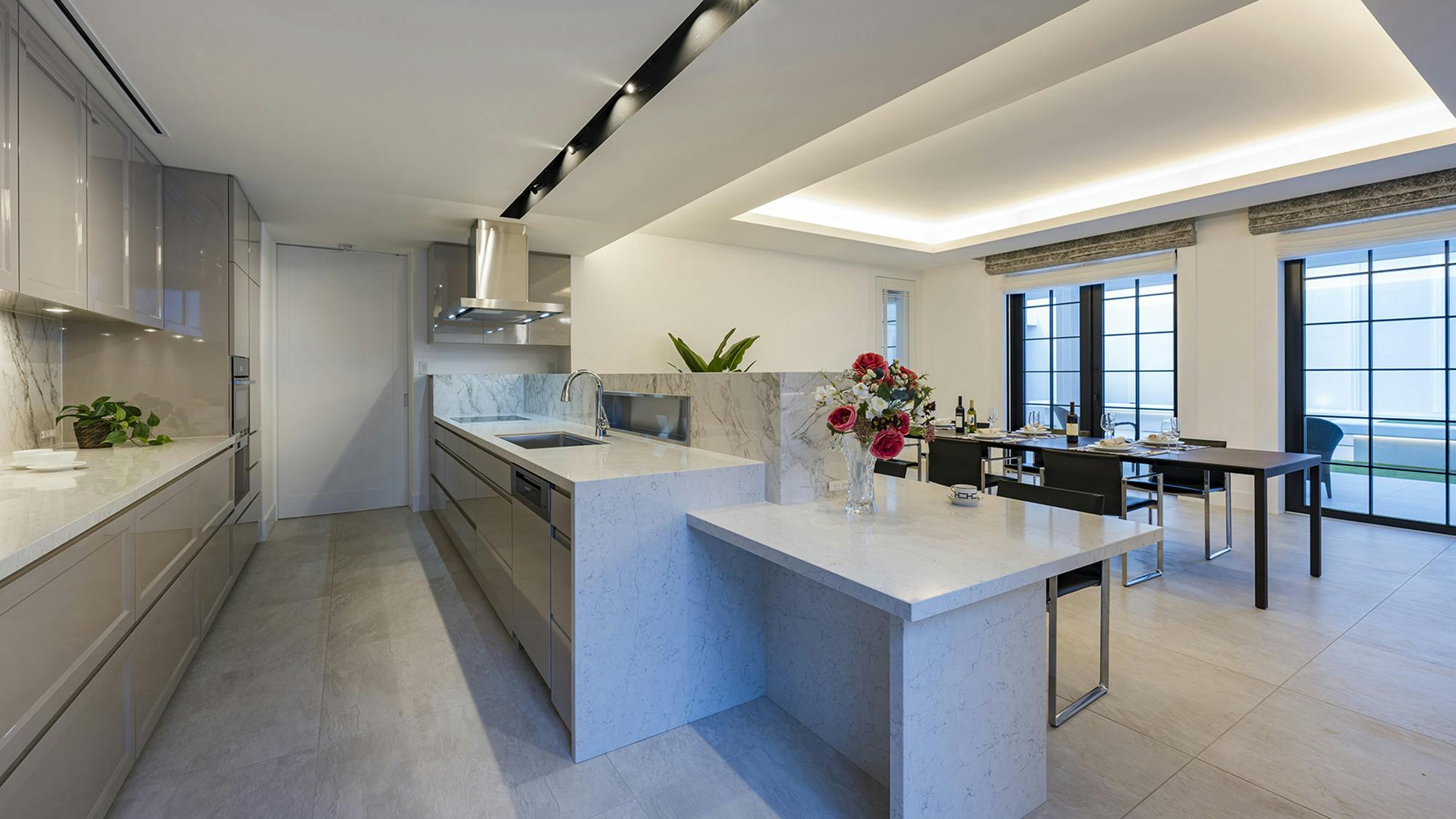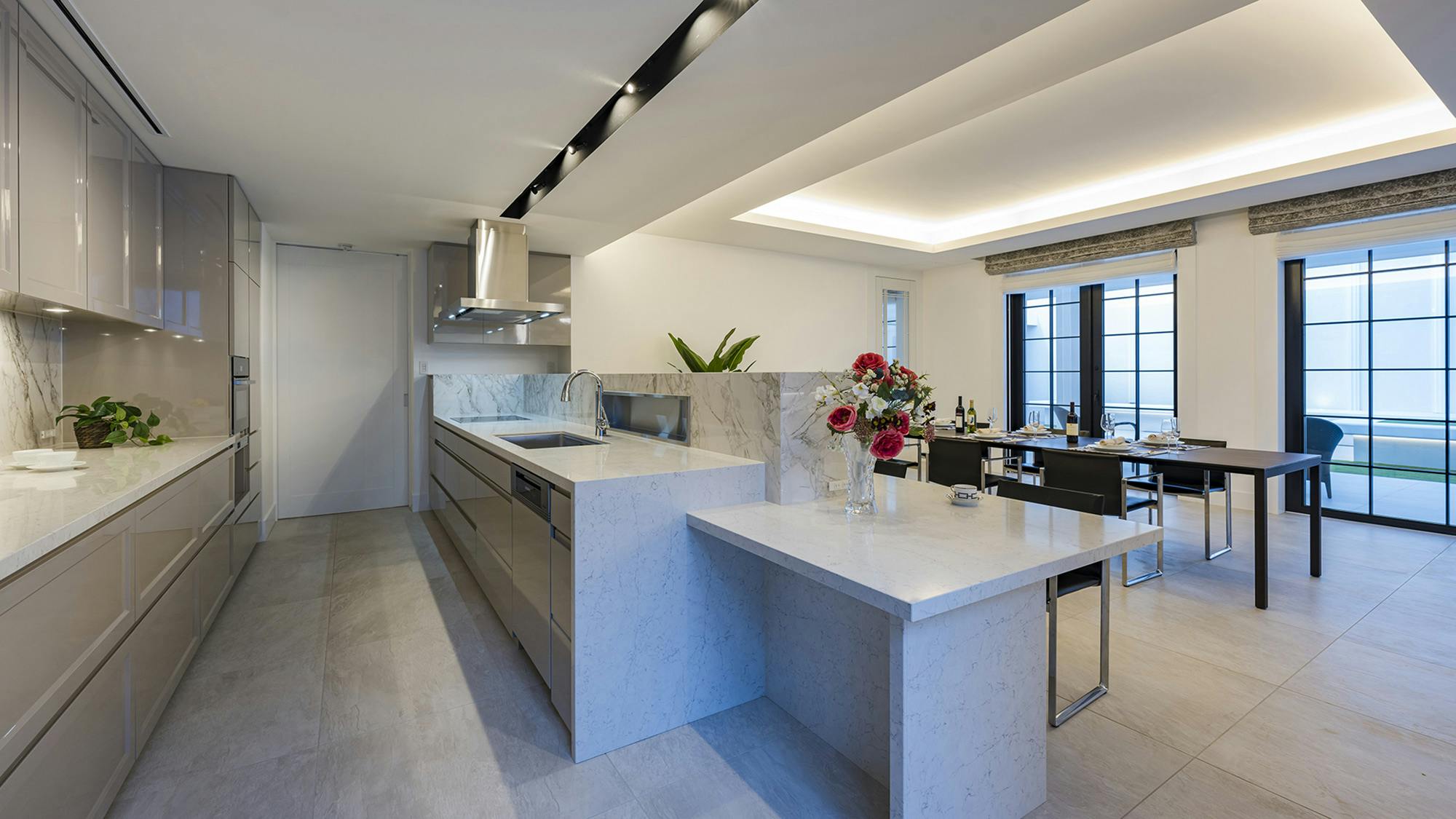 Material
Dekton | Silestone
Application
Kitchen island and splashback, wall cladding, table, bathroom countertop
Photography
Fototeca Ltd., Mr. Kida
Architecture/Design
Housing Operation Architects Inc./Mr. Katsuura
Color
Bergen, Arga | Pearl Jasmine, Polaris, Et. Statuario
With the aim of creating an elegant atmosphere with a focus on quality, the architect from Housing Operation Architects first thought of using natural stone to clad the kitchen and bathroom of this Tokyo home. 'We wanted to enhance the quality and standard of the kitchen, bathroom vanity and furniture,' explains Mr. Katsuura. 'We thought about using natural stone, but it is difficult to manufacture and apply due to its thickness,' he continues. It was then that Dekton and Silestone stepped in to offer a design solution.
The result was flawless. A contemporary style permeates the kitchen, dining room and bathroom, providing visual continuity and classic elegance throughout the home thanks to Cosentino materials. 'The client is very satisfied and this project is already considered one of our studio's most reputable projects,' says the architect.
Stylish atmosphere with matching colours
The overall look of the house has been achieved through a balanced colour scheme. The kitchen features a central island with a geometric design. Here, Dekton Bergen has been used for the cladding of both the front and back of the island. This colour, which is reminiscent of natural Portobello stone, has also been incorporated into the kitchen splashback.
The classic beauty of its sculptural grey vein pattern matches the elegant Silestone Pearl Jasmine which, in applications such as the island and kitchen worktops, brings a touch of calm with its white limestone look and subtle grey veins.
Silestone also takes centre stage in a bar-style table designed for another room in the house. In this case, the intense Polaris colour has been chosen, with plenty of fine, light veins that stand out against a darker grey background.
Finally, Dekton Arga brings sophistication to the bathroom. Inspired by Taj Mahal quartzite, this colour recreates the luxury of natural stone and adds an almost magical touch with its subtle veining on a brown and gold background. When used for the washbasin countertop and vanity area, it enhances this space designed in neutral tones.
All in favour of a flawless appearance
'It was very easy to install the materials and I am very satisfied with the result we have achieved. I plan to use Dekton and Silestone again in the future,' concludes the architect who designed this luxury home in Japan.
Both in the wet areas and in the kitchen, Dekton and Silestone have met the architectural firm's expectations. Due to their technical features, both materials are ideal for these spaces as they are resistant to stains and scratches thanks to their low porosity, and their easy maintenance and cleaning make them highly hygienic surfaces.
Cosentino's materials used in this project

Explore Similar Case Studies