Top Homes
Dekton Arga, "a mixture of the Sahara and Norway" for Mona Berntsen, one of Norway's biggest dance stars
Fredrik Follegg, Milla Studio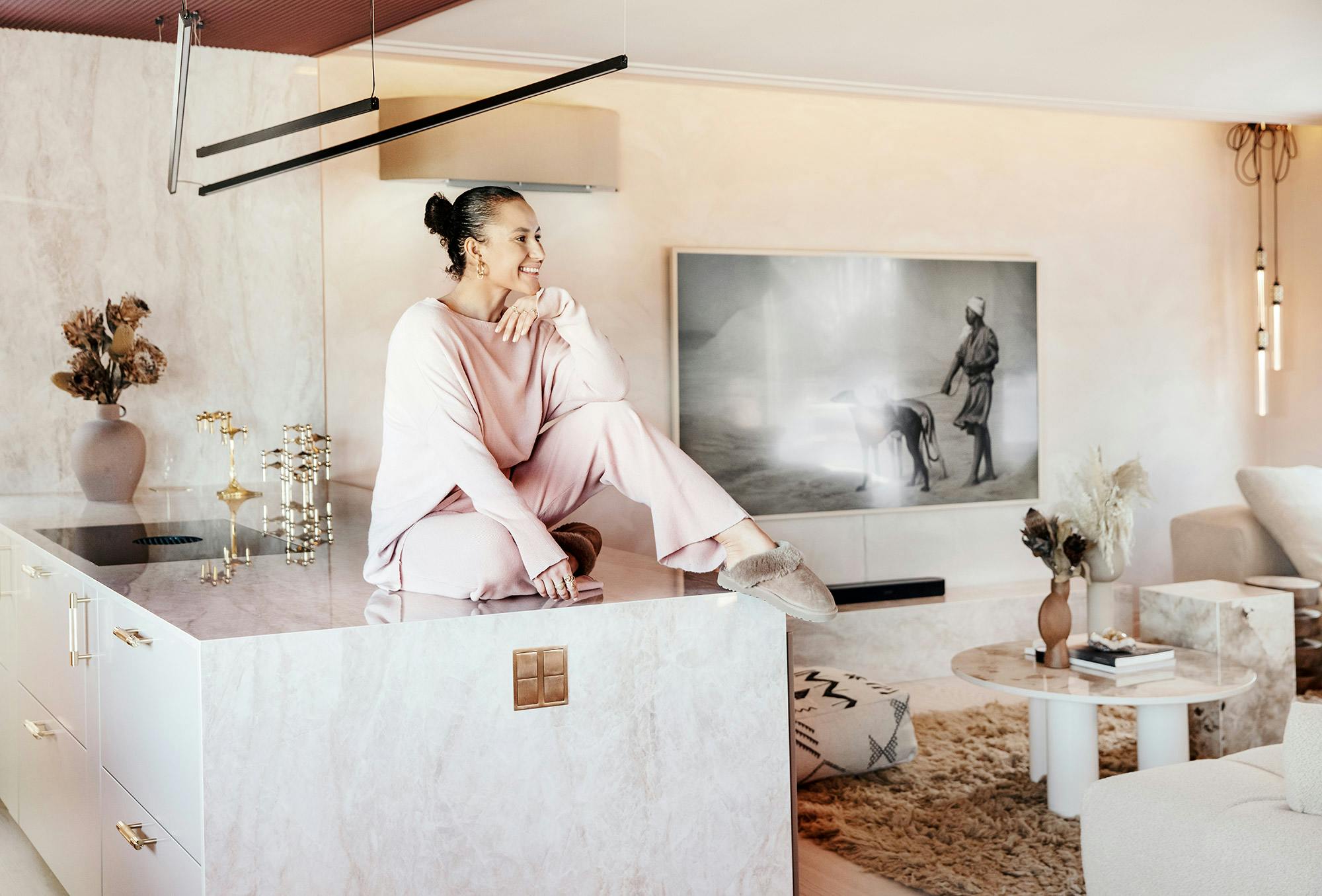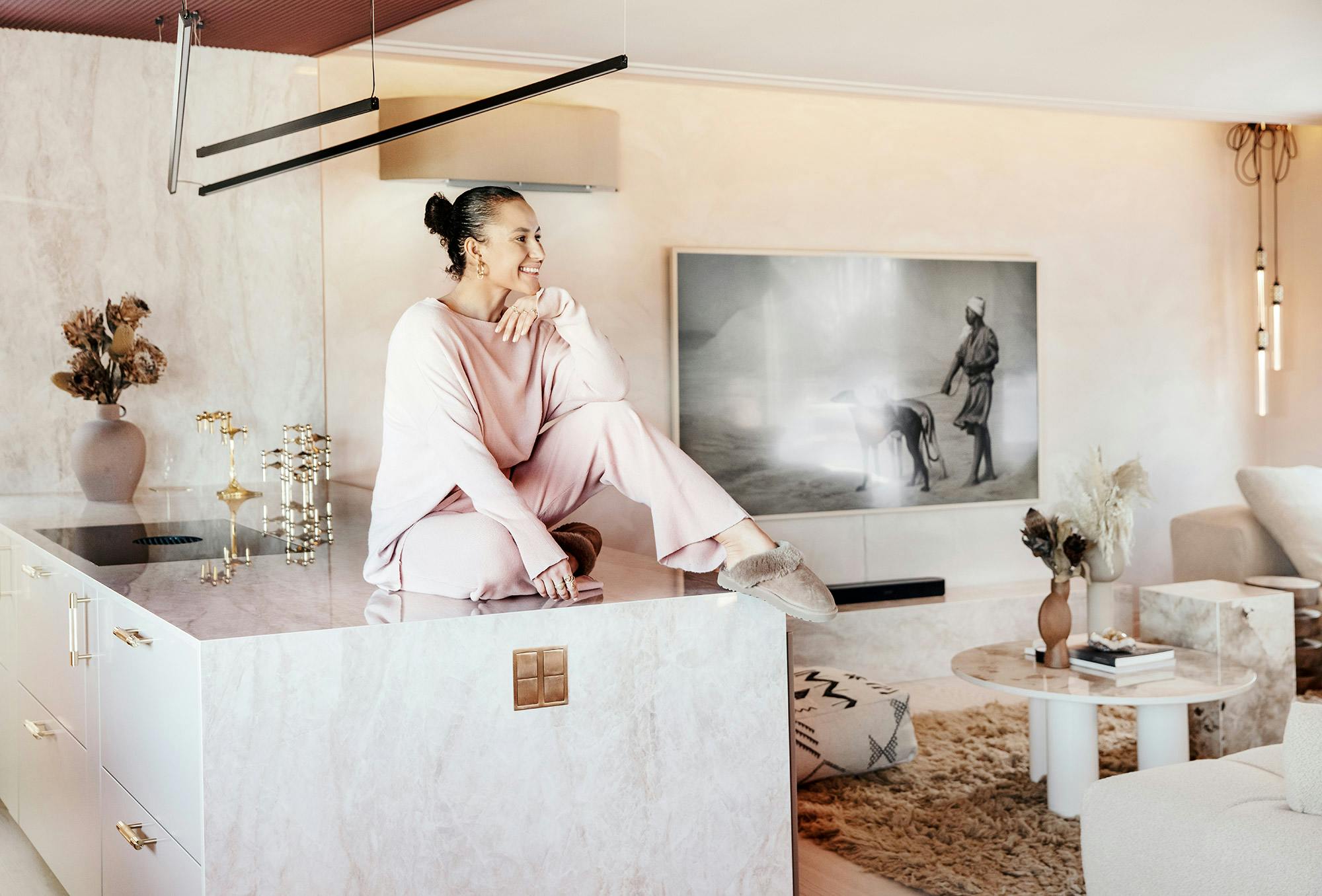 Application
Worktop, TV console unit, tables
Architecture / Design
Fredrik Follegg, Milla Studio
Photography
Yvonne Wilhelmsen
"The worktop was the first thing I chose." For one of Norway's biggest dance stars, Mona Berntsen, the decoration of this home has been particularly important. And all the interior choices are based on one thing, namely the worktop from Cosentino.
"I saw Dekton Arga on Pinterest when I was looking for inspiration for the renovation of this house. I totally fell for that product. The colour and pattern remind me of my childhood and Morocco. At the same time, I feel that the clean lines and the more minimalist expression are very Nordic. For me, the stone is a mixture of the Sahara and Norway. I am half Moroccan and half Norwegian, so it gives me a good feeling", says Mona.
Permanently based in L.A. and around 280 travel days a year as a professional dancer for several of the world's biggest artists, the homes have been temporary and received little attention. Now that Mona has moved home to Oslo, it is extra important for her to create a nice home where she and her partner can feel comfortable. Mona was able to negotiate with her roommate about a light colour in the kitchen, instead of black, as they had originally planned.
"Kitchen designer Fredrik Follegg has helped us with the whole process. He is super talented, and I am so happy with the work he did. I love the kitchen and the different choices of design and functions, and it's a lot about him understanding who we are and our wishes", says Mona.
The stylish kitchen from Drømmekjøkket comes into its own with the unique Dekton Arga plate and the gold-coloured handles from Buster + Punch and 2home.no. Askim Steinindustri has ensured that the worktop is perfectly adapted.
"A home becomes a home for the people and memories created there. And I want people to feel that they are with me as soon as they enter. Creating this 'feeling of home' means a lot to me since I have lived abroad for so long", says Mona.
Just showing personality and putting together a whole of things that have both been bought on Mona's many travels and choosing new furniture, Mona saw as her own little adventure, but also an exciting challenge. And this is where Milla Studio came into the picture.
"Camilla Berntsen from Milla Studio has done a fantastic job of using my things with new ones to create a living room that I love. We found finding a TV bench that we felt fitted in difficult. Milla Studio specially designed the TV bench by Dekton Arga, which creates a nice connection to the open kitchen area", says Mona.
The living room table and side table are also Dekton in the colour Khalo, made by Milla Studio. "There is a lot of Dekton here, and I like it so much! Using a lot of stone is very common in Morocco. When we have such an open space between the kitchen and the living room, it's nice that you don't get tired of the stone. I have become so fond of these beautiful stone slabs from Dekton. Now I can only look forward to filling the house with friends and family", concludes Mona.
Cosentino's materials used in this project