Case Study
Dekton brings contemporary style, versatility and durability to Manchester's newest office space at Circle Square
Bruntwood and Bridge Architects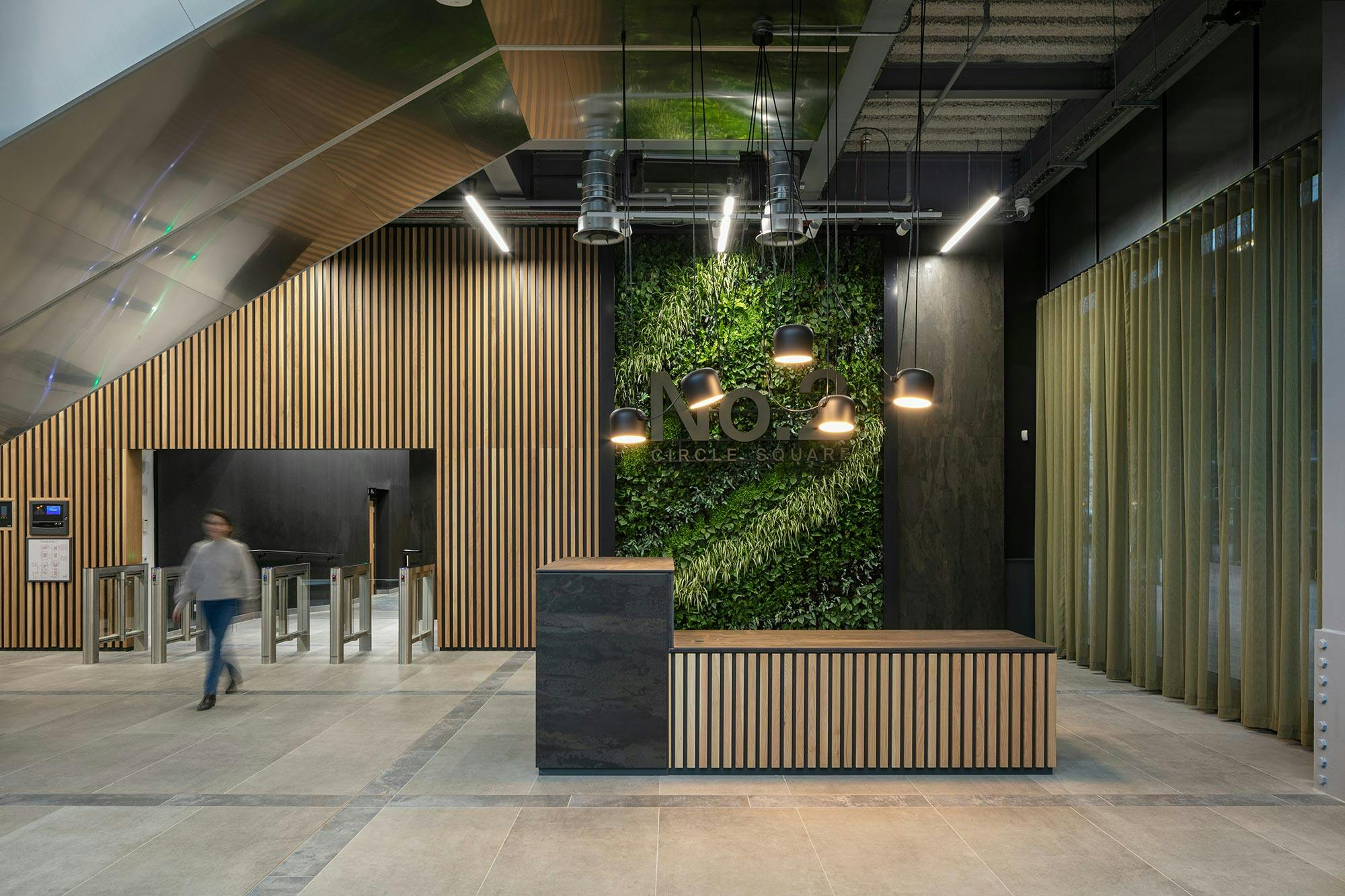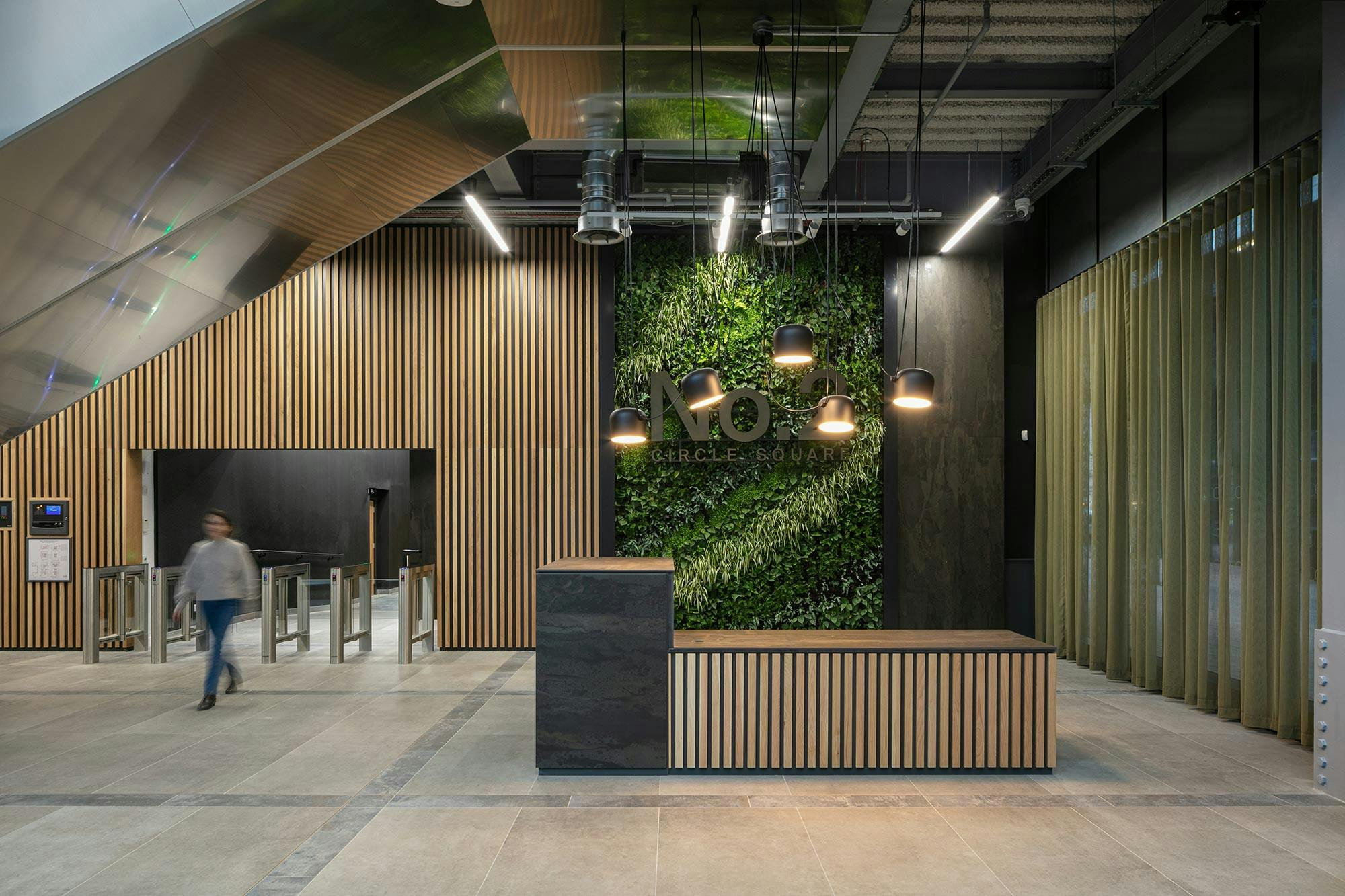 Application
Flooring, cladding, recepcion desk, plant pots
Architecture/Design
Bruntwood and Bridge Architects
Color
Kreta, Orix, Radium
Located in the heart of Manchester, Circle Square is a new, vibrant neighbourhood bringing together exciting retail and leisure brands, unique restaurants and flexible office spaces. Once home to the BBC regional headquarters, Circle Square is now a diverse destination, providing the opportunity for businesses of all shapes to grow and thrive.
No. 2 Circle Square is one of three planned commercial spaces offering flexible office solutions. From serviced spaces and leased offices to coworking areas and meeting rooms, it is a sophisticated environment that gives users choice and helps create a sense of community.
A contemporary space with industrial inspiration
Applying the latest thinking around best productivity, work/life balance and wellbeing, Bruntwood and Bridge Architects designed the interior to be a contemporary space with industrial and natural inspirations. Three designs from Dekton's Industrial collection were specified for a range of applications, including flooring and cladding, for a total of over 430 square metres of stone installed throughout the space.
For the flooring, Kreta and Orix were selected in a 12 mm thickness and custom bespoke tile sizes cut in Cosentino's factory in Almería, Spain, in accordance with the architect´s layout. For the cladding in the lift area, reception wall, reception desk and escalator, Dekton Radium was picked in two different thicknesses, 8 mm and 12 mm. Matching the darker accents, the plant pots near the entrance were cladded in Dekton Radium.
Inspired by classic cement floors with calm movement, Dekton Kreta's design is even and controlled, although it provides darker or lighter areas depending on the density of the pattern. Its matte texture and earthy grey tone combine with any type of material, making it the perfect choice for a busy office building.
Dekton Kreta is contrasted by the different shades of grey, blue and green of Dekton Orix, used on the stairs, lift area and across the entrance in a grid pattern. Darker and more dramatic, Dekton Orix mimics the look of rusted metal and features a unique, rough-hewn texture that adds depth and character to the floorspace.
Both Dekton Kreta and Dekton Orix used for the flooring were selected with Grip+ technology, an innovative treatment that guarantees slip-resistance on Dekton ultra-compact stone, providing maximum safety for high-traffic spaces.
Dekton Radium has a unique aesthetics, inspired by the natural oxidation process of metals. Deep and rusty, it blends a smoky background with orange tones, creating a striking statement in both commercial and residential properties.
Dekton, ideal for any type of application
Dekton is a sophisticated, ultra-compact stone combining more than 20 natural minerals. Available in a variety of colours and sizes, it is ideal for any type of application, even in the most demanding conditions, such as facades and high-traffic floors. Extremely resistant to impact, abrasion, scratches, heat, water and stains, it is an incredibly low-maintenance material engineered for everyday use.
Dekton is also the only cradle-to-grave carbon neutral surface on the market. From the extraction of the raw material and the production cycle to its use and the end of its life, Dekton has offset its emissions by investing in GHG emission reduction projects. These projects are not only responsible, but also have a strong social component supporting the SDGs of Agenda 2030 for Sustainable Development.
The variety of thicknesses available, including the ultra-thin 4mm thickness, encourage creativity into any space, allowing more design styles for cladding and decorative solutions.
Cosentino's materials used in this project
Explore Similar Case Studies