Case Study
Dekton gives character to the bar and the organically shaped ceiling of this unique restaurant in Valencia
Julio Guixeres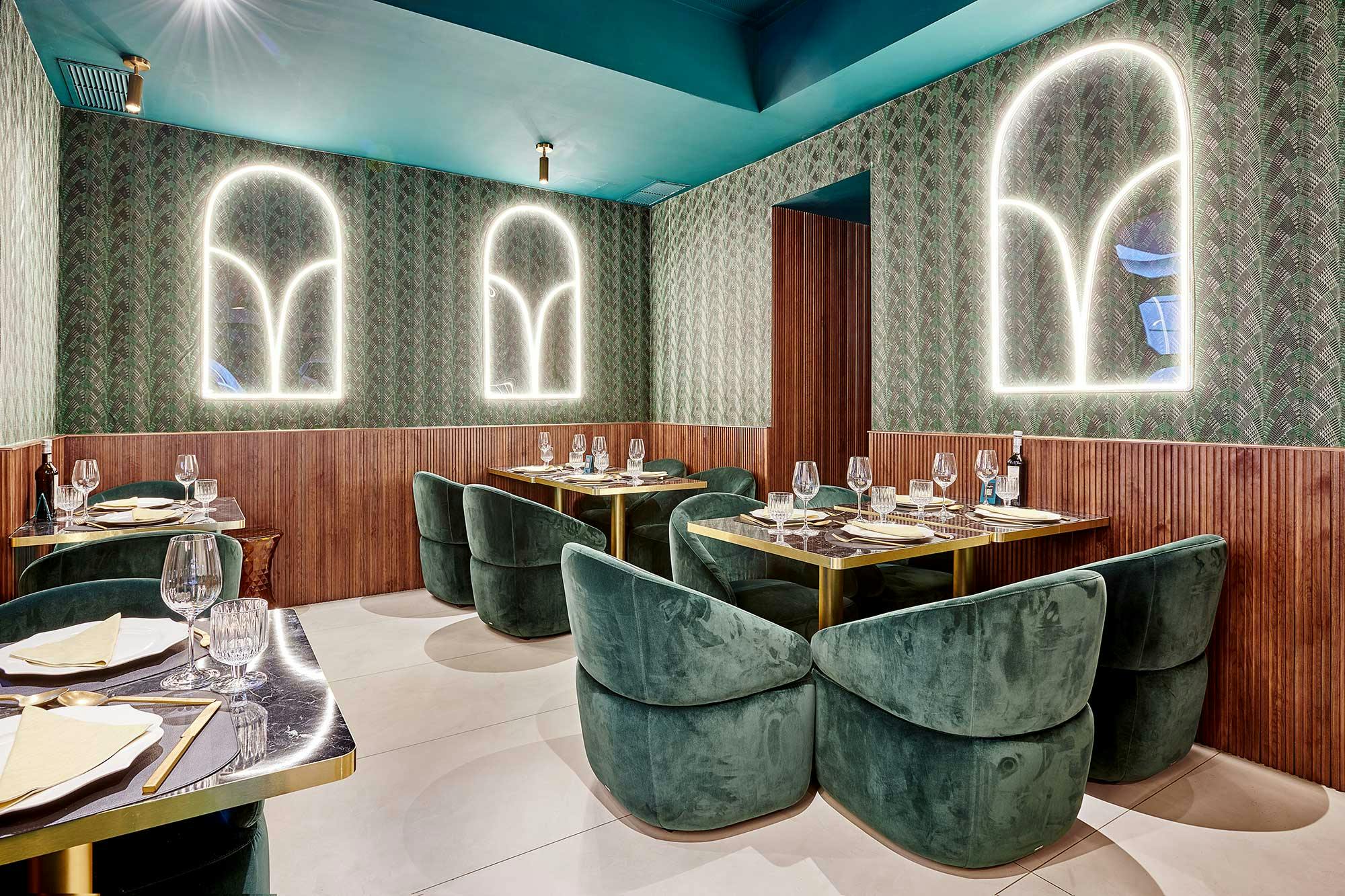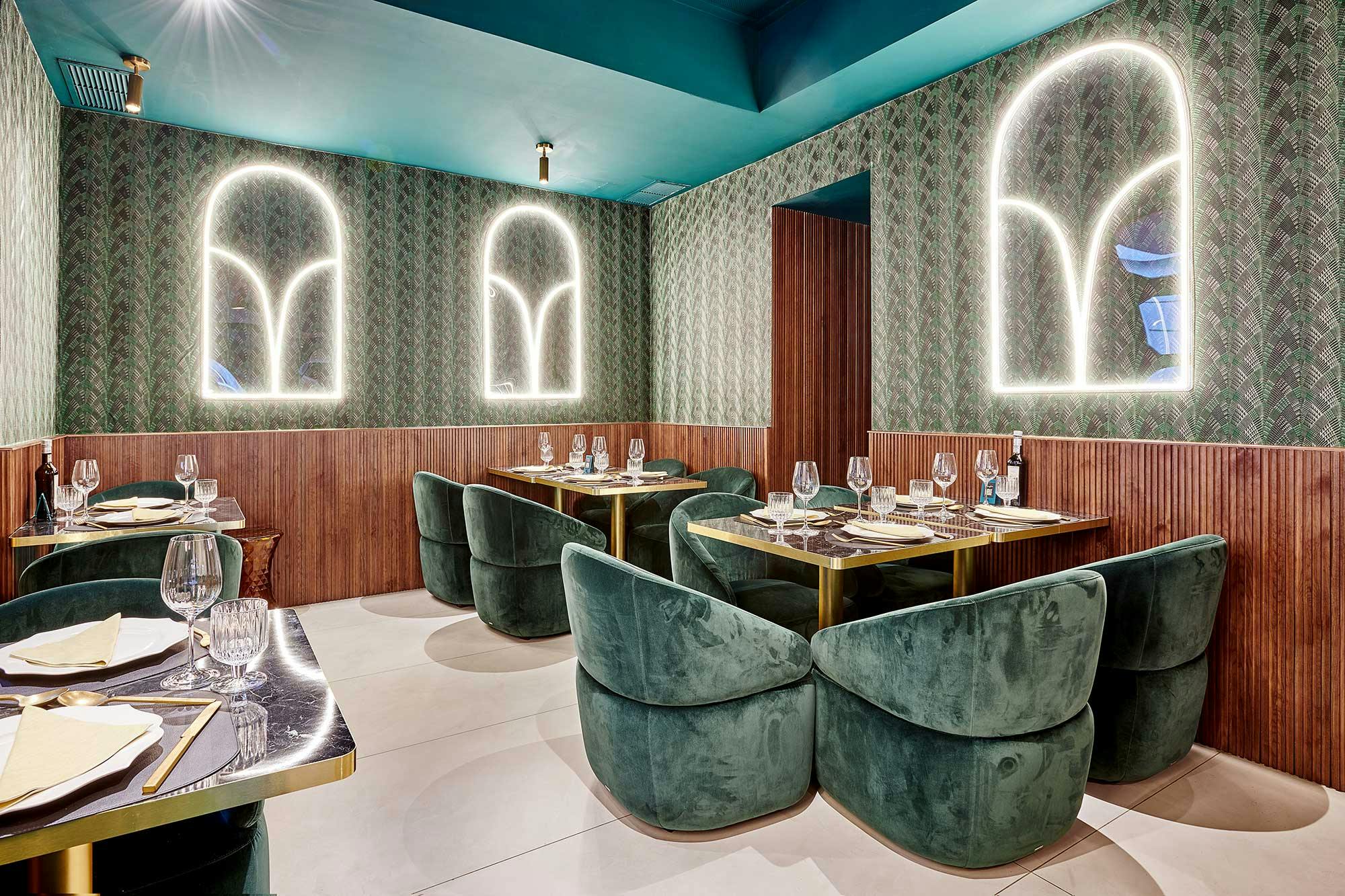 Location
Valencia (Spain)
Application
Flooring, bar cladding, ceiling with organic shapes
Photography
Craus Fotografía
Architecture/Design
Julio Guixeres
Small, cosy and very personal, this is the Barrafina restaurant, located in the city of Valencia and designed by the architect Julio Guixeres. The establishment was created by José Tomás Arribas and Julia Martínez, owners of the famous Q'Tomas? restaurant. The idea was to set up a small bar to complement the menu offerings of its predecessor.
Its captivating atmosphere stems from a design concept that exudes curves, colours and a surrounding sensation achieved thanks to the materials used. The most prominent of these is Dekton, which has been used both for the floors and the main bar that runs through the restaurant, as well as for the organically shaped ceiling that creates a fluid and dynamic movement throughout the establishment.
A sculptural ceiling shelf made from Dekton Umber
The shades of green and decorative elements, such as mirrors and neon lights, add an extra touch of fancy that blends perfectly with the Dekton colours chosen for the project. Specifically, Dekton Albarium and Umber from the Kraftizen collection have been used for this purpose. The soothing, chalky tone of the Albarium has been placed on the floors, creating a sense of continuity.
In contrast, the terracotta tone of Umber has been used 'to add a splash of colour and give the room a strong character with the organic shapes that originate at the top', explains the architect. 'We believe we have taken Dekton a step further than what it is normally used for. It is a suspended structure that functions as a shelf on which objects can be placed and, at the same time, marks the passage through the establishment,' he adds.
The bar is also a key feature in the design of the restaurant, becoming the main focus of activity and attention. The same Dekton colours have been used for this piece, with Albarium for the interior and Umber for the exterior. Thus, it strikes a dialogue with the overall concept and provides a sense of uniqueness and balance.
Dekton, versatile and durable
'We have been able to experiment with the possibilities of the material in three of its thicknesses, i.e. 4, 8 and 12 mm, which has allowed us to suit each of the applications for which it is used,' says the architect, alluding to Dekton's versatility. Additionally, the large format has enabled the number of joints to be kept to a minimum, something that the architectural firm valued highly in shaping its design concept.
The great advantages of Dekton in this type of gastronomic premises are not only aesthetic. The surface is highly resistant to sudden changes in temperature, scratches and stains. Together with its easy maintenance and cleaning, this makes it a hygienic and durable product, even in areas of heavy traffic and heavy use, as is the case in this charming restaurant.
Cosentino's materials used in this project
Explore Similar Case Studies