Top Homes
Dekton Helena brings beauty and sustainability to a relaxed luxury flat in Singapore's most exclusive area
Stacey Leong Interiors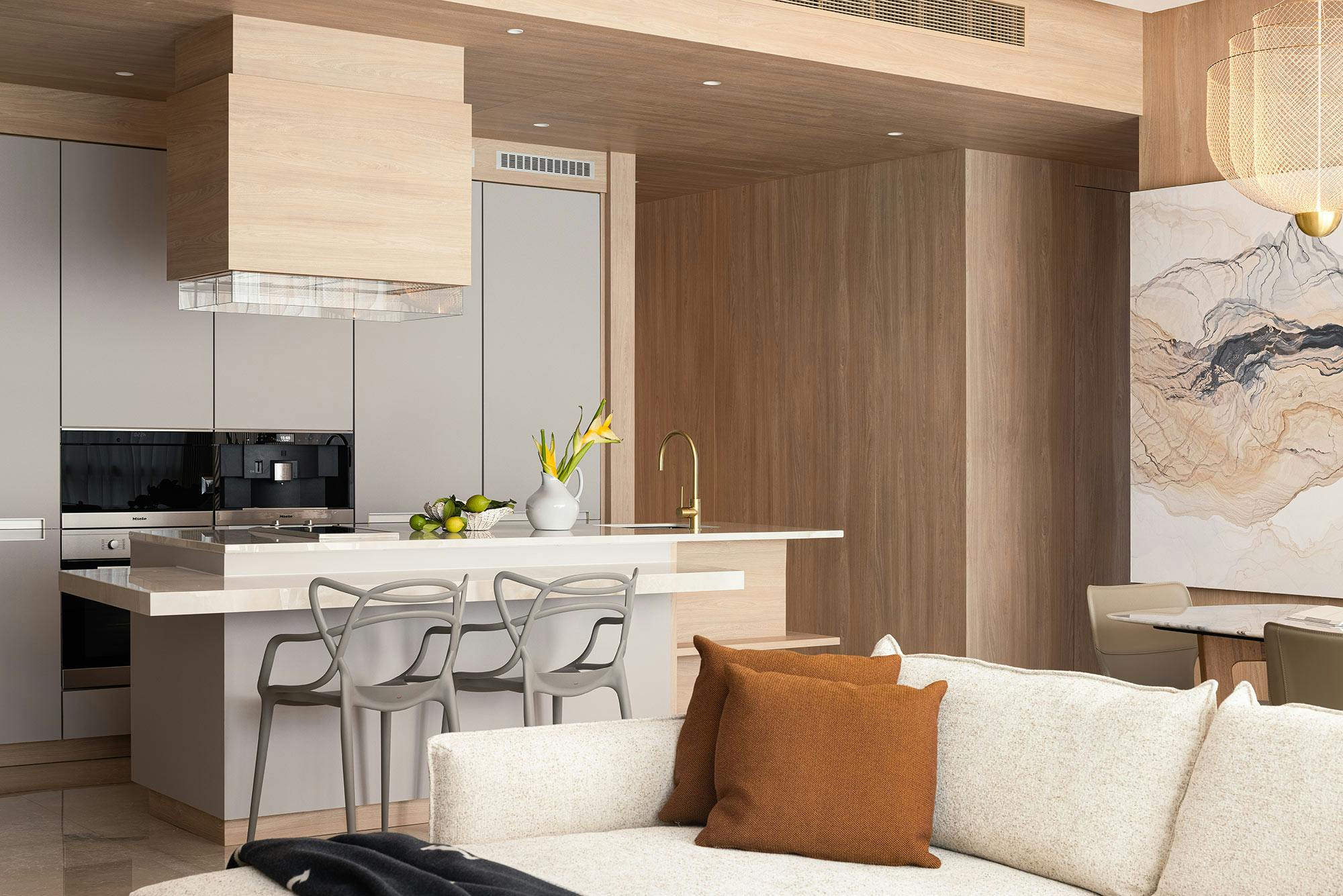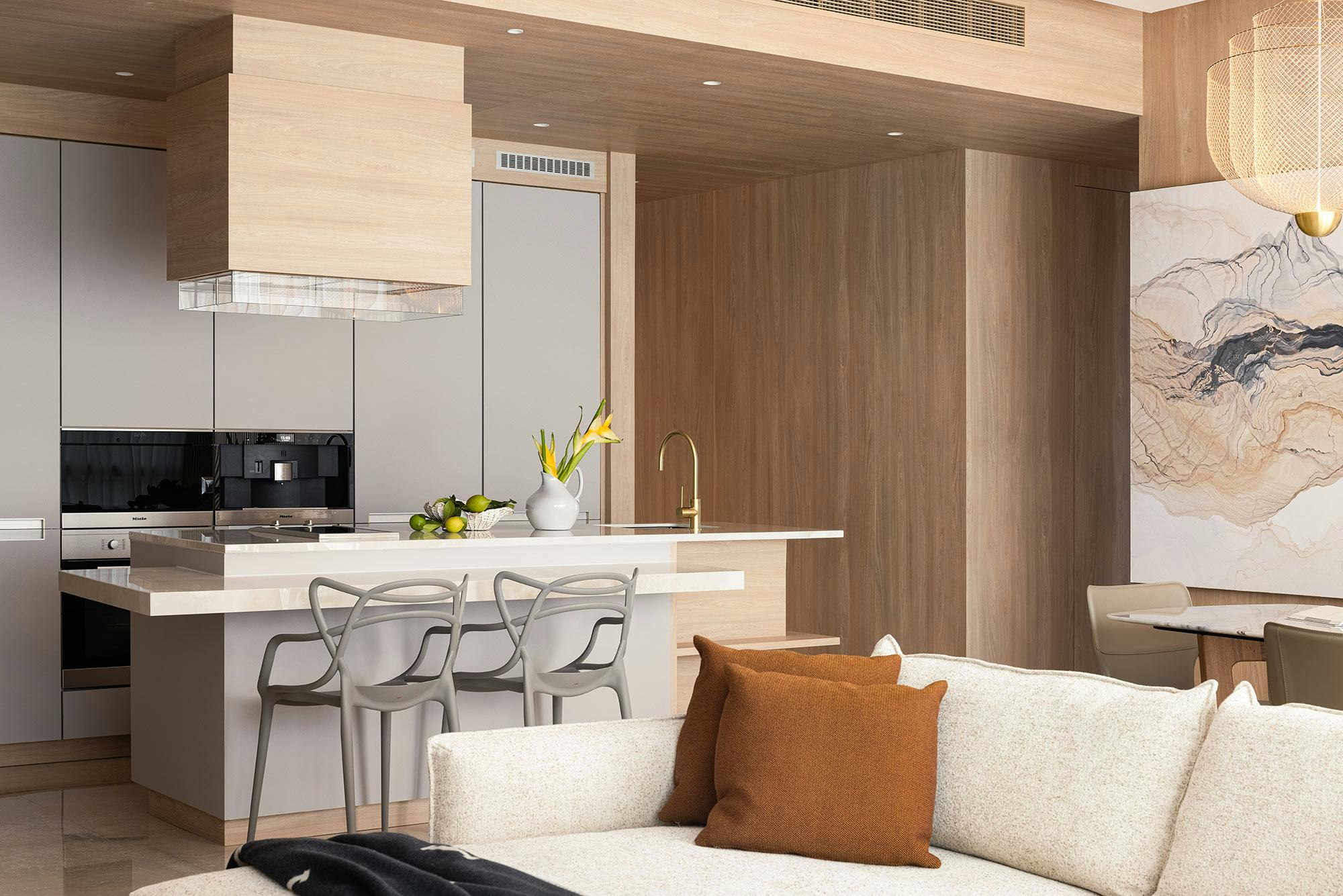 Application
Kitchen worktop, bar top, TV console unit, wall
Architecture / Design
Stacey Leong Interiors
Situated in the coveted Marina Bay area, in Singapore, stands a modern building housing more than 1,000 high-end luxury flats that surround a stunning interior garden of almost 20,000 square metres. Marina One Residences, a tropical paradise in the city centre, features waterfalls, shopping and dining spaces and lounge areas for residents.
These features place it at the forefront of modern, sustainable architecture, which in turn is reflected in its interior spaces. Proof of this is Apartment 23, a project by Stacey Leong Interiors that exudes relaxed luxury.
"The customers fell in love with this spacious, light-filled flat with unrivalled views of Singapore's east and south coast, home to the iconic Marina Bay Sands, which we transformed into an urban retreat for their second home. What we had to do was pretty clear: create a warm, tactile and environmentally sustainable place to host them and their guests when coming to Singapore. We placed great emphasis on spatial harmony, with a relaxed but stimulating colour palette and a penchant for organic and robust materials", explains Leong.
The bright, rich and long-lasting white shade of Dekton Helena characterises the design
The project, which was carried out remotely because the customers live in the USA, makes extensive use of Dekton Helena. "It is a beautiful and subtle material that adds depth and character to the space. Elegant and warm, serene yet visually interesting. Mixing materials for a touch of understated luxury is very easy when you have the Cosentino range at your disposal", says the interior designer.
Helena is, in fact, a very rich colour with the perfect balance of grey and white tones and a delicate crackle that brings a depth typical of the stone that inspires it, onyx. However, it is much more robust than this stone: Dekton is highly resistant to scratches, wear and tear, impacts and stains, as its porosity is virtually zero. It is also a carbon neutral material throughout its production process (from cradle to grave), which is of great importance for the designer and the owners.
Cosentino, a safe bet for the most demanding customers
"All our customers have exquisite taste and demand the best performing materials: surfaces that are functional but that look and feel authentic, organic and full of life. Luxury customers are very demanding and, in this sense, I have full confidence in the Cosentino range of surface materials that I offer them", says Leong.
The interior designer usually works with Dekton, Silestone and Sensa, Cosentino's three main product lines. "For me, my favourite application of the material is as wall cladding, in bathrooms and decorative walls. I am also a fan of Silestone surfaces with a matt finish, such as Nolita and Cincel Grey. They are simple, subtle and luxurious. On the other side, the quality that I like the most is that of Sensa, a surface with a 10-year warranty".
The surface chosen this time was Dekton, which offers a 25-year warranty, and which was used to clad the kitchen, the bar, the TV console unit and, of course, the wall. "Honestly, I think Cosentino products are unbeatable. Unless I specifically have to use natural marbles, I always feel more comfortable using Cosentino materials. I find them to be of excellent quality, easy to maintain and absolutely beautiful", Leong says finally.
Cosentino's materials used in this project