Top Homes
Studio Marije Aintz revamps and enhances the value of a flat in San Sebastián thanks to Dekton
Studio Marije Aintz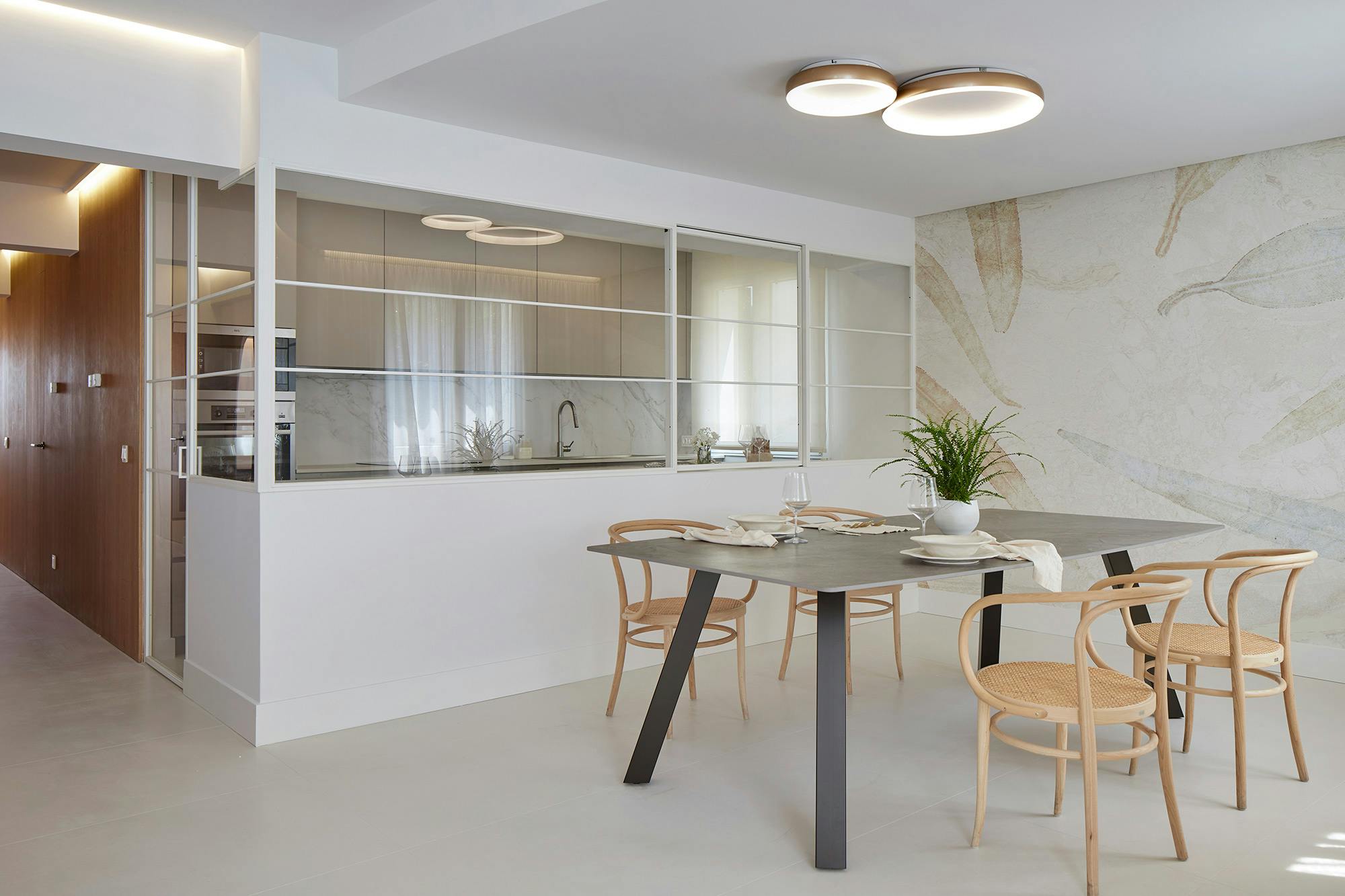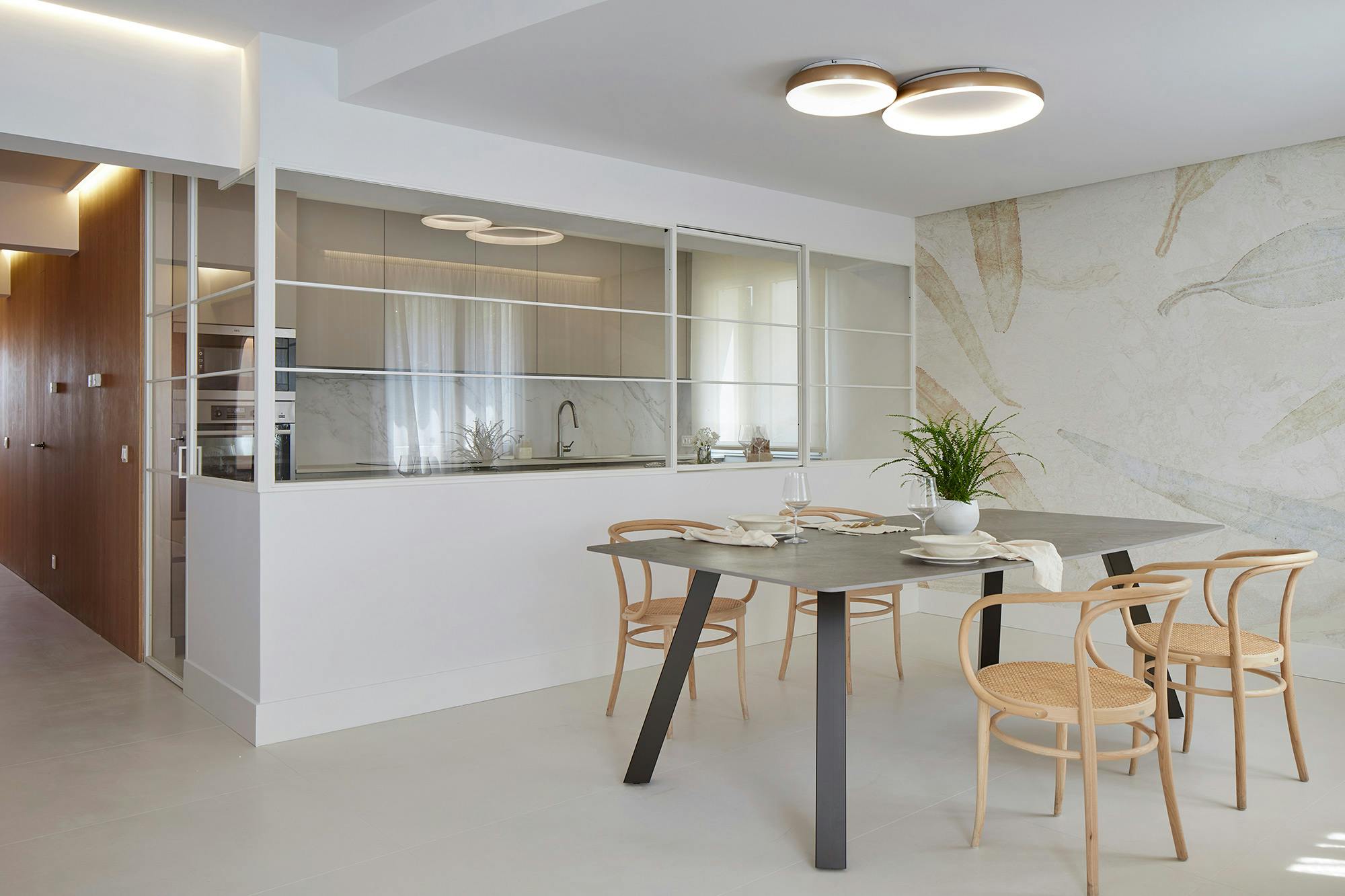 Location
San Sebastián (Spain)
Application
Worktop , Flooring
Architecture/Design
Studio Marije Aintz
'The customers' premises were clear: they were looking for a house that was bright, open, practical and made of quality materials'. These were the words of the Marije Aintz studio, in charge of the refurbishment of this attractive flat in the upper part of Donostia.
'Originally, the house had a polished concrete floor. It was very worn and gave the appearance a dark, industrial look, which did not fit in with the romantic-style building in which it was housed,' the studio continues.
Therefore, the flooring needed a makeover which, as well as adding elegance, would enhance the brightness of the house. What was the solution to this? Dekton Aeris, a colour that boasts light tones with cream-coloured detail inspired by white limestone.
This neutral and subtle choice is both stately and versatile, allowing for endless combinations to suit different environments and architectural styles. It creates a contemporary, functional and very comfortable space, because Dekton requires low maintenance and is resistant to stains, abrasion and scratches.
The new flooring also serves as part of the underfloor heating system, since Dekton conducts heat better than wood or linoleum, products traditionally used for this type of solution. However, unlike these materials, the expansion of Cosentino's ultra-compact surface is lower and its dimensional stability guarantees a perfect assembly, remaining even over time.
Dekton Aeris also in the bathroom, dining room and kitchen
'In the project, we decided to optimise the spaces by opening them up as much as possible to let in light and make them appear larger. To this end, we unified the living, dining and kitchen areas,' says the Marije Aintz studio team.
This new integration is enhanced by the same floor colour, Dekton Aeris, which has also been replicated in the bathroom cladding and on the dining table top. 'This has resulted in a consistent look that enlarges the spaces and produces a sense of bright, clear continuity,' explain the professionals.
Working with Cosentino materials: a rewarding process
'It was a very positive outcome. Working with quality materials such as those from Cosentino optimises and makes the homeowner's expenditure profitable and increases the value of the property. Choosing quality materials is always a sure winner in the final result of a project and in the customer's satisfaction with our work as designers and project managers,' says the company.
And they go on to say: 'It's been a fantastic experience, both for the treatment received when visiting the Cosentino facilities in Oiartzun with our customers to select the material, and for the professional advice we received when deciding on the product. The purchasing process and the delivery of the material to the construction site were also impeccable,' conclude the experts from Marije Aintz studio.
Cosentino's materials used in this project
Explore Similar Case Studies