Top Homes
Dekton shapes the luxury homes of the most contemporary tower in Puebla (Mexico)
Bulnes Arquitectos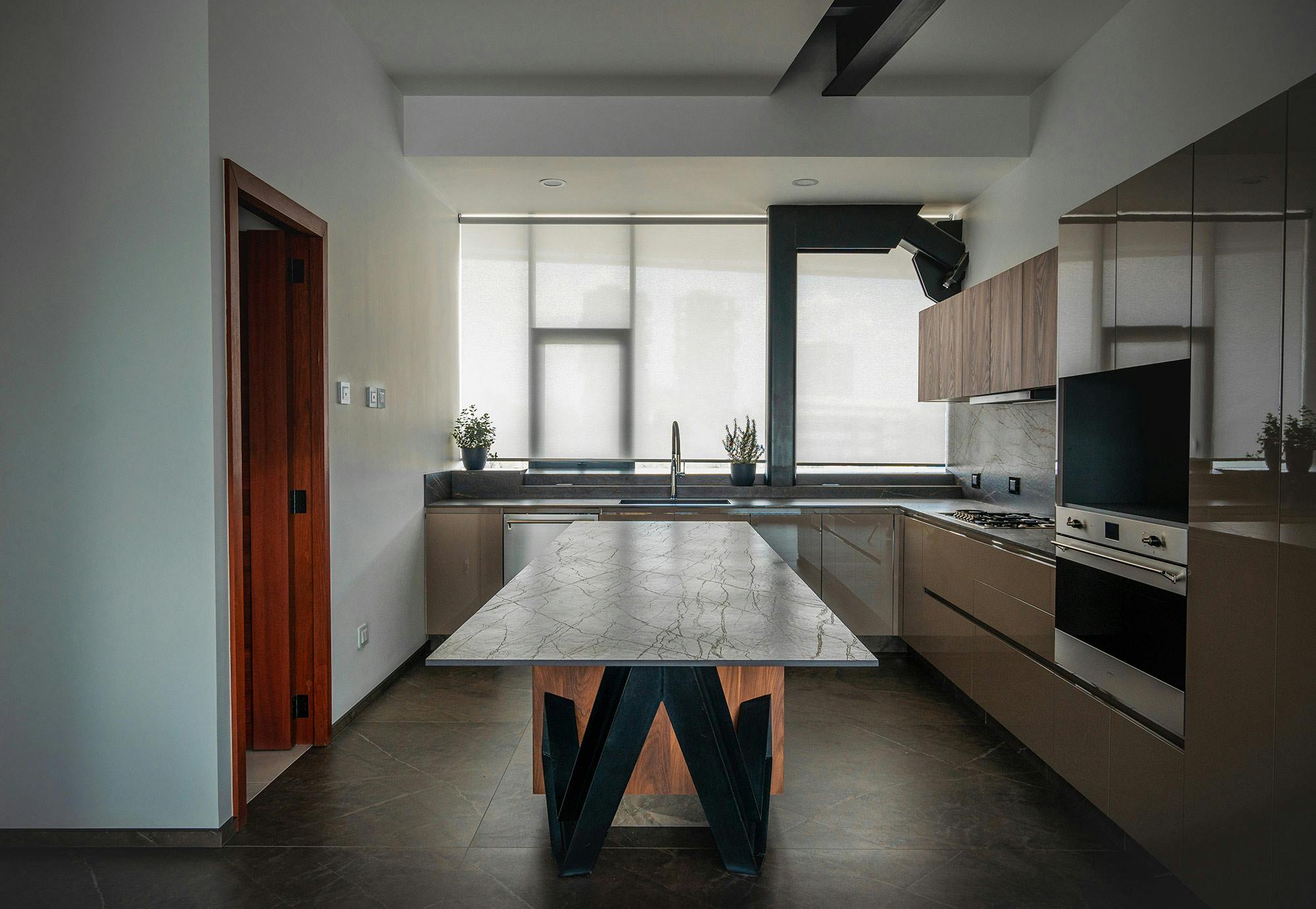 Façade designer
Interior spaces and architectural façades
Application
Floors, bathrooms, kitchen, worktops, wall cladding
Thickness
4 mm, 8 mm, 12 mm
Architecture/Design
Bulnes Arquitectos
Color
Kira, Kairos, Aura, Laurent, Kelya, Eter, Korso
With a stunning geometric helix-shaped design 142.5 metres high, the Torre Helea residential building rises above the skyline of Puebla, Mexico. Each of its floors consists of three flats with panoramic views that give the impression of being suspended in the air. This unique architectural project houses 93 luxury homes, most of which feature Dekton surfaces in multiple applications throughout the different rooms. "To date, 60 of the flats are equipped with Dekton surfaces, a material that has been chosen by the owners themselves", explains the studio.
"Apart from the beauty that Dekton brings to the space, its main advantages are the durability and stability of the material, the ease of transformation of the product and the wide range of colours and textures available, which allow you to create compositions with rhythm and elegance", the designers further say. "The different thicknesses allow us to use the same colour for the floor and the bathroom countertop", the studio says.
A wide range of textures to play with
Different Dekton colours, finishes and thicknesses have been combined in the different areas of the flats, creating stylish combinations. For example, one of the flats features Dekton Kira for the floors, Dekton Kairos and Aura for the bathrooms and Dekton Laurent for the kitchen. Its owner highlights Dekton's great versatility, its light weight and "Cosentino's commitment to honour the agreements made", they say.
In this flat, the floors create a homogeneous concept thanks to the choice of Dekton Kira. Inspired by natural stone and featuring a background in earth tones, this colour creates sophisticated spaces thanks to its soft texture. In the kitchen, the colour chosen was Dekton Laurent. Its striking golden veins dress the island, the worktops and the splashback, creating a perfect combination. Dekton Korso was the colour chosen for the cladding of one of the walls in the open space, offering a timeless and elegant wall that adds character to the area.
As for the bathrooms, Kelya and Eter, both dark and deep colours, were used for the countertops, creating a contrast with Kairos and Aura, both characterised by light backgrounds crossed by grey veins. A play of chiaroscuro to create an elegant and balanced atmosphere.
Cosentino's materials used in this project

Explore Similar Case Studies