Top Homes
Dekton Taga gives life to the beautiful kitchen of influencer Iselin Guttormsen
Sol N. Nielsen (L'appartement)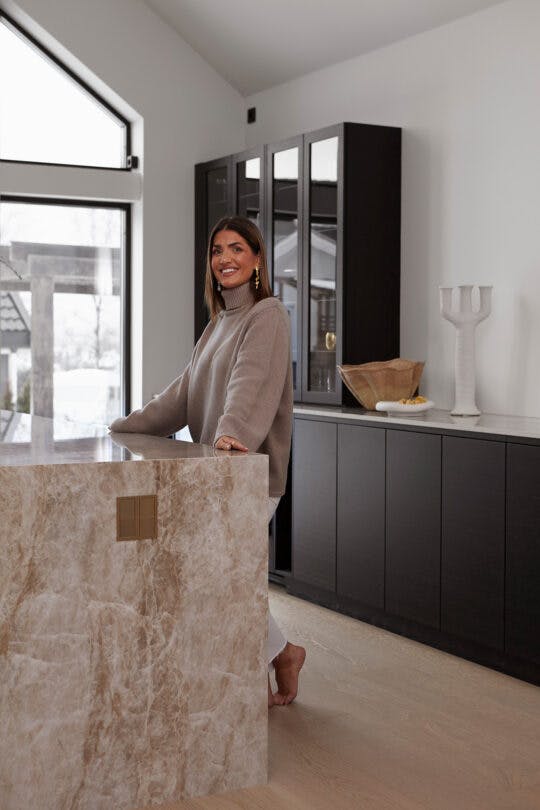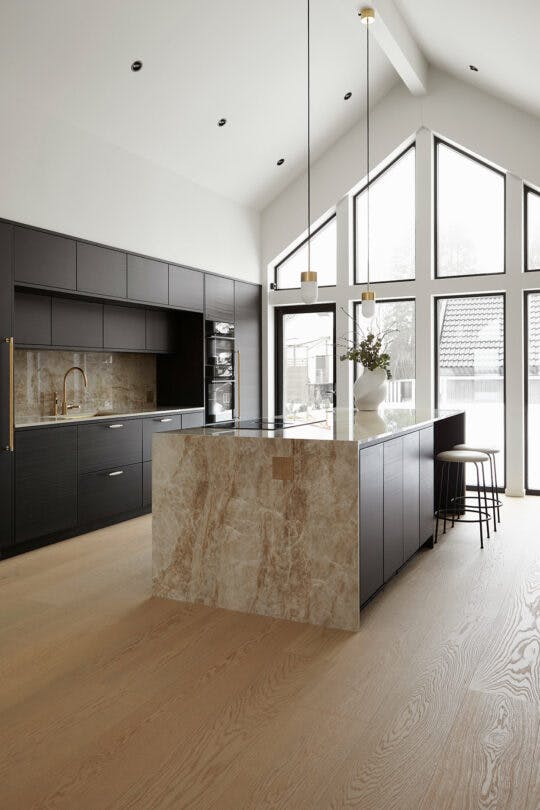 Architecture / Design
Sol N. Nielsen (L'appartement)
Photography
Birgit Fauske
Sexologist, influencer, author and podcaster, Iselin Guttormsen, had actually ordered the kitchen before interior designer and stylist, Sol N. Nielsen from L'appartement, came and changed the whole expression.
After a long renovation process, Iselin and her daughters have settled into their new house. What Iselin calls a proper 'girl bump' has become a stylish home with many thoughtful and aesthetic choices.
"Iselin hired me after the kitchen had already been designed and ordered. She had initially chosen a different worktop that was dark and different in expression. I suggested Dekton Taga, which I thought could fit in better with the rest of the color palette and decor I had planned for Iselin, and we just managed to change the worktop before it was put into production", says Sol.
"The worktop is both a piece of jewelery and at least the heart of the house. This is where we are gathered as a family for large parts of the day. Cooking, baking, homework, meals and delicious moments lit candles and hot cocoa. And when it's not in use – just the island stands there and shines like a piece of jewellery! I love the smooth surfaces and the elegant expression", says Iselin, "the heart of stone has taken on a whole new meaning for me".
The color Taga gives life to the beautiful kitchen from Drømmekjøkket, the mixer tap from Bella studio, handles, lamps and gold details from 2home.no and vases and interiors from Milla studio. The work of cutting, adaptation and assembly is done by Naturstein Monterging.
Dekton Taga is a high-gloss stone slab inspired by the quartzite of the Taj Mahal in India. Dekton by Cosentino is a carbon-neutral material that withstands heat, wear and tear, is easy to clean and stays just as good year after year. It is a particularly big advantage in a home with children and a high level of activity.
"My kitchen has become so nice! I am so grateful for the work Sol has done, and I am so glad that she changed the worktop ¬ it is too beautiful", says a satisfied Iselin.
"Here I was lucky to have a customer who showed confidence in my vision and presentation. I believe and hope Iselin is satisfied with the choice now afterwards. Dekton has clearly added a wide selection of exclusive and bright stones that I personally in this profession have missed before. There is something for every taste and it is really only the imagination that sets limits to the possibilitets", concludes Sol.
Cosentino's materials used in this project