Top Homes
Dekton, the perfect solution for a garden exposed to extreme temperature changes
Held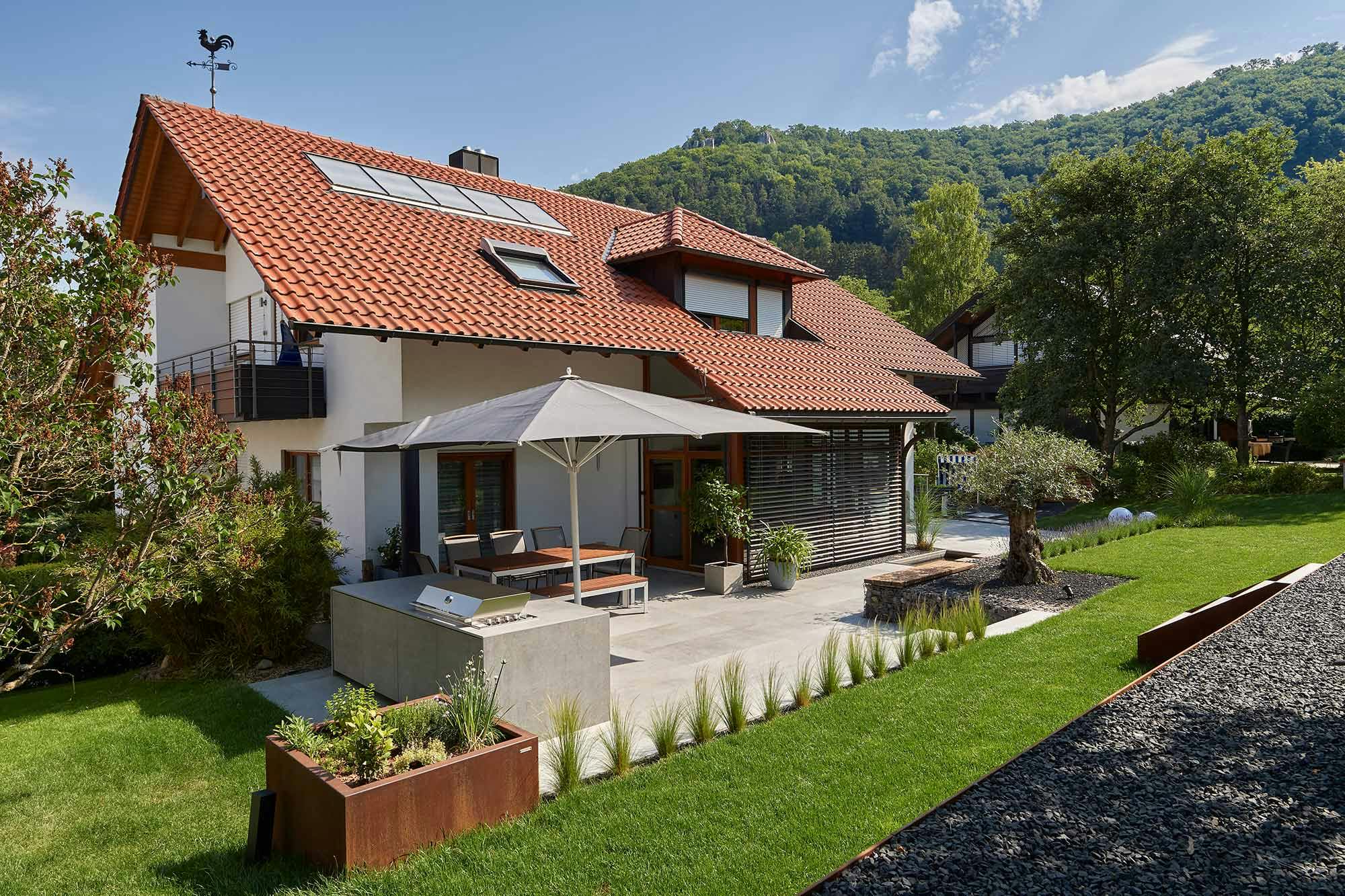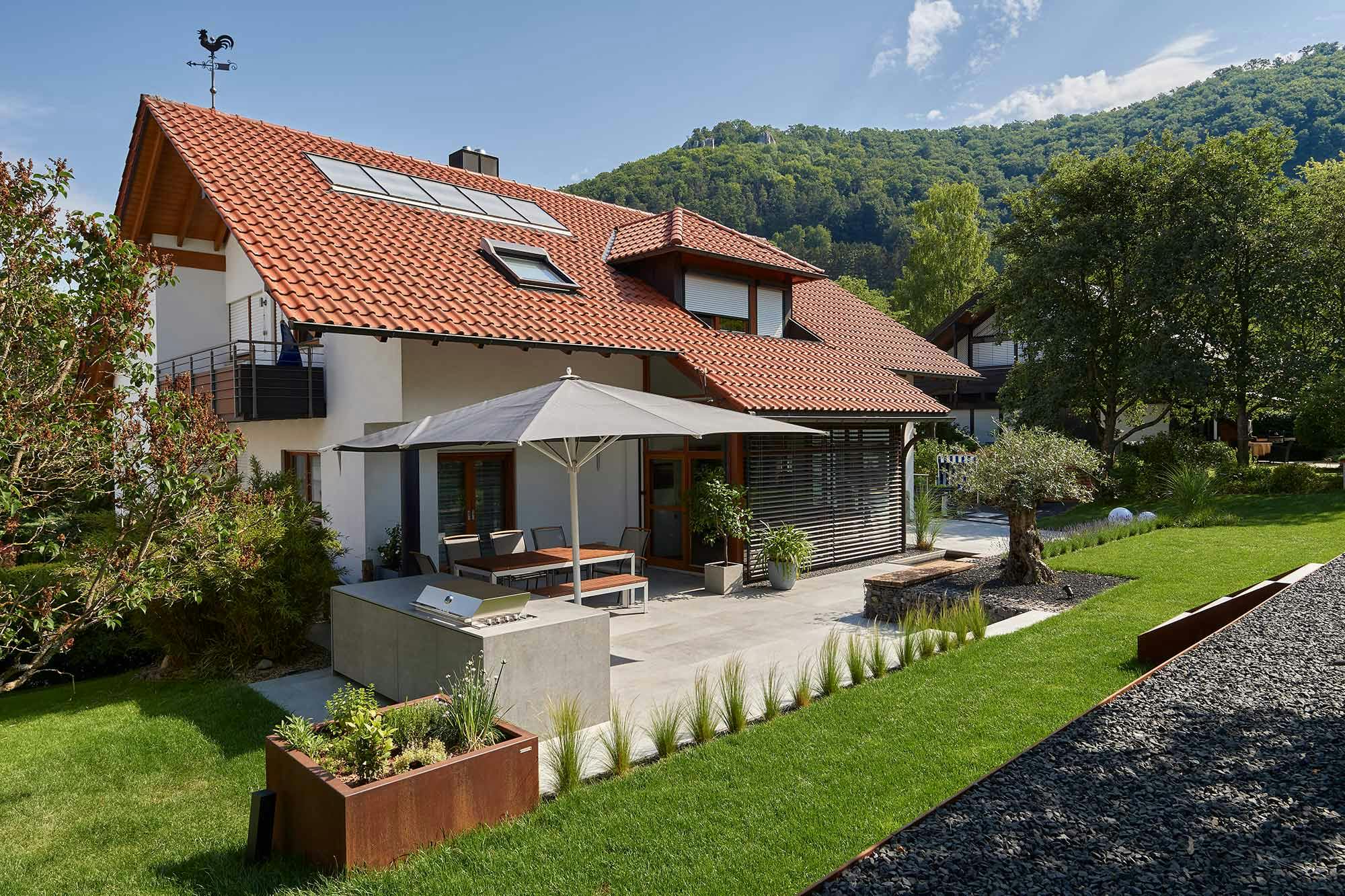 Location
Bad Überkingen (Germany)
Application
Worktop, flooring, stairs
Thickness
2 mm, 4 mm, 20 mm
Ulrich Held, second-generation owner of the sophisticated furniture shop and design studio Held – which has been in business for more than 60 years –, takes inspiration for his interior design projects from the well-known furniture fairs in Milan, Paris and Cologne. Its catalogue features well-established German and European manufacturers, who are committed to an environmentally friendly approach to furniture manufacturing.
So when the time came to design the exterior of this beautiful German house, the studio had it clear: Dekton, Cosentino's ultra-compact surface, manufactured in Spain and carbon neutral from cradle to grave, would be the material of choice.
"Dekton is easy to clean and is available in large format slabs, which were two essential aspects of this project. It is also resistant to UV rays and moisture, which is crucial in Germany due to its extreme weather conditions, ranging from snow and frost in winter to very hot days in summer", the studio explains.
Indeed, thanks to its almost zero porosity, Dekton is water and moisture resistant. In addition to this, its low coefficient of thermal expansion makes it resistant to extreme temperatures and even fire. Therefore, its performance in environments exposed to sudden temperature changes is perfect. Furthermore, as these experts point out, Dekton can withstand UV rays without affecting its colour at all.
Dekton Kreta, a contemporary and serene grey that stands out both indoors and out
With this in mind, the Held team used Dekton for the outdoor flooring, a step that doubles as a makeshift bench and the kitchen island in the garden. In all cases, the colour used was Dekton Kreta, a shade inspired by traditional cement floors that evokes a very contemporary sense of serenity.
Its design is homogeneous and restrained, although it includes darker or lighter areas depending on the density of the pattern. In addition, its matt texture and grey shade match all types of materials, making it perfect for any application. In fact, the studio highlights that Dekton can be used equally both indoors and out.
Dekton Grip+, a new anti-slip finish ideal for outdoor use
A very special finish was used for the flooring and step in this spacious garden. This is none other than Grip+, an innovative and advanced treatment that ensures anti-slip performance on Dekton surfaces, providing maximum protection, specially when the surface is wet due to rain.
Dekton Grip+ also offers a similar softness to standard finishes, providing a very pleasant feeling when walking barefoot.
Dekton Kreta was also used for the outdoor kitchen. This time, its standard finish was chosen. "It is an earthy grey tone that blends in perfectly with the interiors and the surroundings", says the studio, which is more than satisfied with the continuous design of Cosentino's ultra-compact stone – which offers a modern look thanks to the minimal number of joints used –, its easy maintenance and the possibility of using it in different applications with ease.
Cosentino's materials used in this project
Explore Similar Case Studies