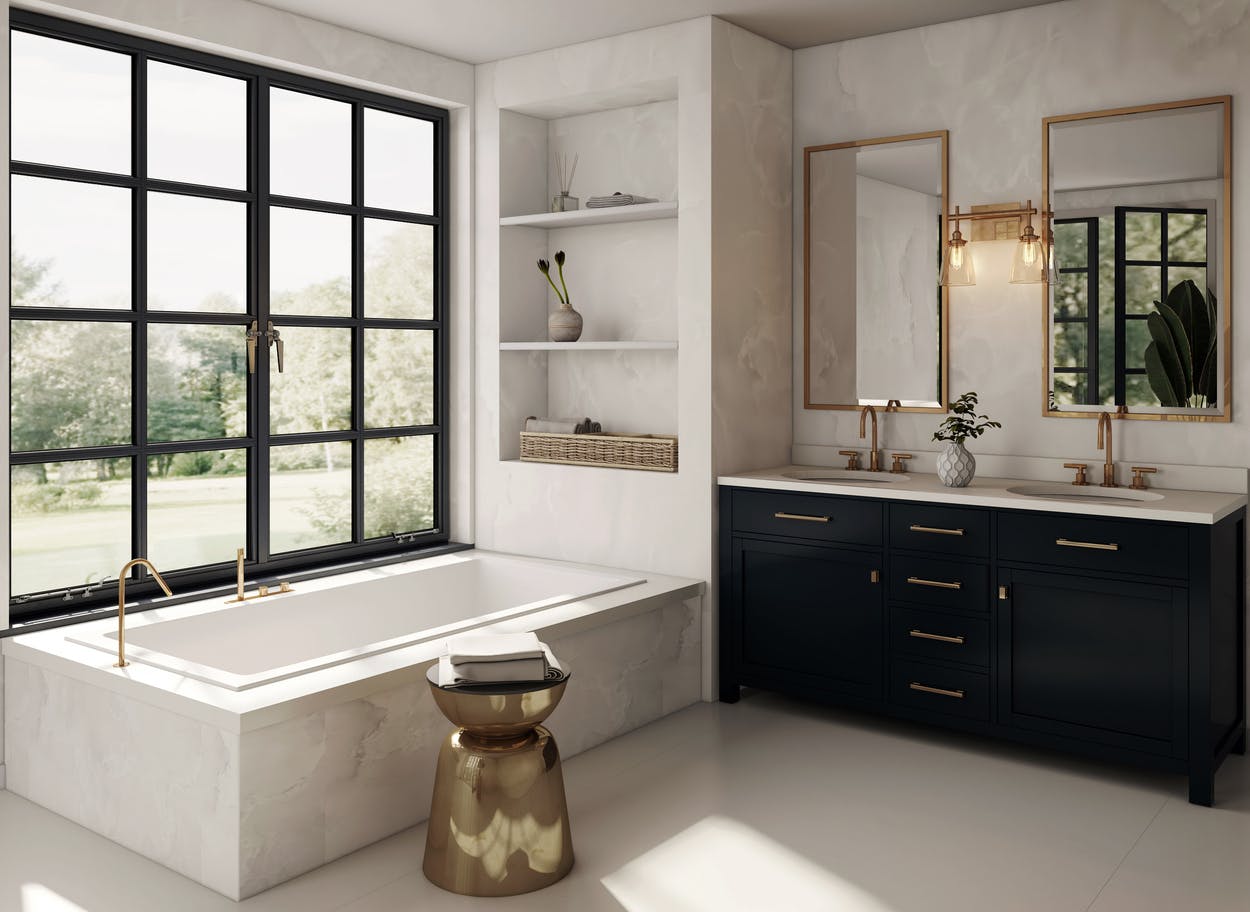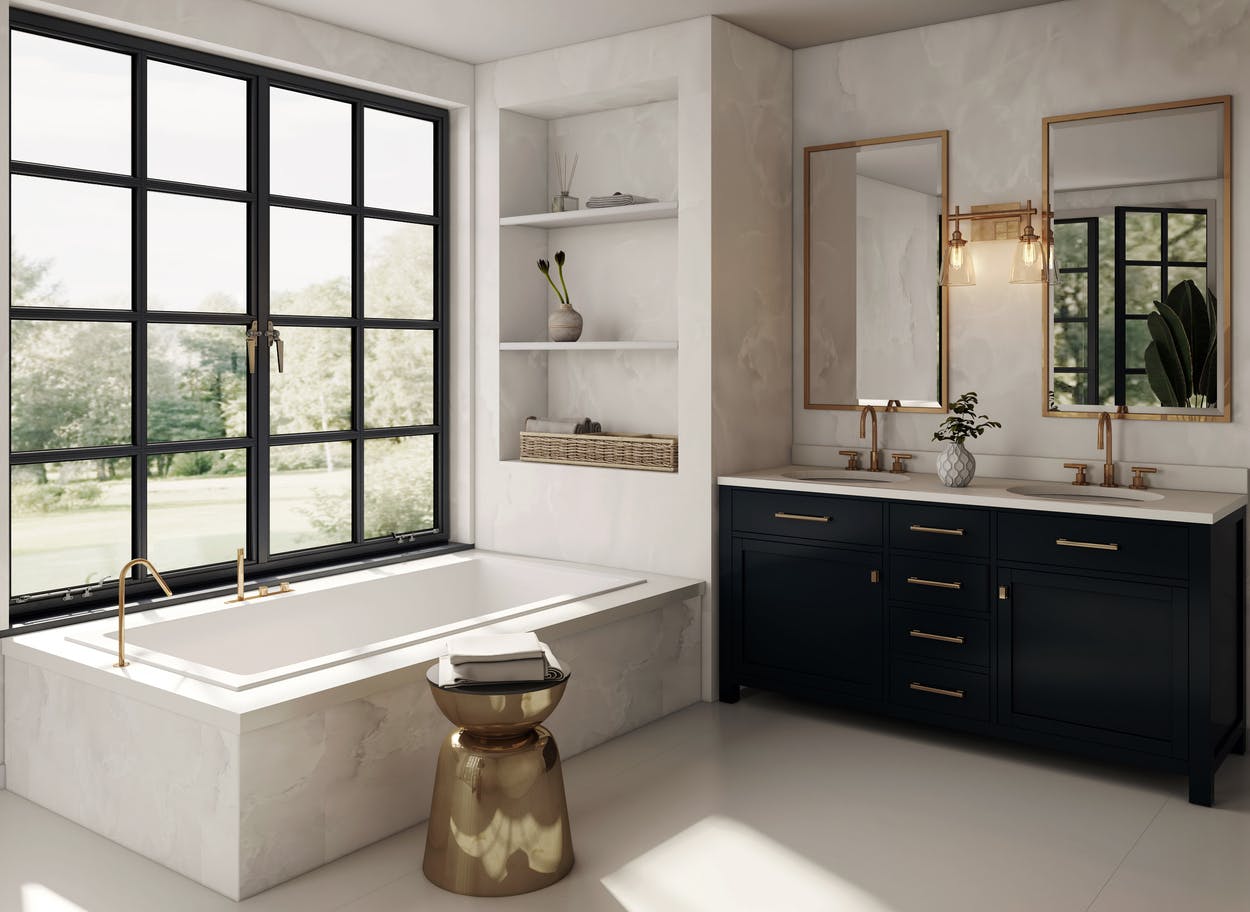 Design, strength and sustainability: this is the bathroom you will want
If you are looking for a bathroom design with character, that stands the test of time and is sustainable, you need to know C·Bath, Cosentino's comprehensive approach to reimagining the bathroom space through design and technology.
The bathroom is a living space that is subject to wear and tear and constant contact with water, limescale and soap. It should also be accessible and comfortable for all members of the family, from the youngest to the oldest, so it should be carefully designed to meet the needs of all family members.
Through our leading brands – Sensa, Silestone and Dekton –, we make it easy for design professionals to create unique, timeless and long-lasting bathrooms. Whether you are a lover of natural stone or prefer innovative and sustainable surfaces, we have a wide range of colours and shapes for claddings, shower trays, washbasins, worktops and floors.
Here are the reasons why you will find your perfect bathroom with C·Bath: a designer, durable and sustainable bathroom.
Silestone, Sensa and Dekton have been conceived to design your bathroom
Our catalogue features more than 200 colours, with different thicknesses and finishes that will allow you to choose all the applications for your bathroom: flooring, walls, countertop, washbasin and shower tray. Furthermore, with our 4 mm Dekton Slim slabs, you can even clad your bathroom furniture, giving it an impeccable finish and achieving an integrated design.
We are so confident in the possibilities that Dekton, Silestone and Sensa have to offer, that we have challenged five internationally renowned designers to create their own bathroom projects with our surfaces. The result is The Bathelier, a creative space where Daniel Germani, Colin Seah, MUT Design, Remy Meijers and Claudia Afshar have reimagined what the perfect bathroom would look like from their different views on architecture and design.
Find out about all The Bathelier's designs here.
Strength: put our surfaces to the test on a daily basis
Silestone is the most sustainable and cutting-edge hybrid surface of premium minerals available on the market and is manufactured with the exclusive and innovative HybriQ technology. It comes with a 25-year warranty, as it offers unrivalled technical, functional and design properties. Our leading surface is stain, impact and scratch resistant to withstand the daily grind of your home routine.
Dekton is our technical ultra-compact stone that decodes the beauty of natural stone, enhancing it through technology. Dekton's great versatility makes it perfect for all kinds of applications, even the most demanding ones, such as façades and floors. It is resistant to abrasion, stains, scratches, impacts, UV rays and extreme temperatures. And of course, it also comes with a 25-year warranty.
Sensa is Cosentino's range of natural granite and quartz surfaces featuring the exclusive SenGuard stain-resistant treatment, which comes with a 15-year warranty. Thanks to this treatment, you can enjoy the many benefits of natural stone without worrying about stains, as this treatment is applied only once and will last for the lifetime of your countertop. Sensa retains all the advantages of granite or quartz, such as their hardness, natural beauty and resistance to impacts and heat.
Sustainable surfaces for healthier and safer homes
At Cosentino we are all about making surfaces that are safe and healthy. That is why our Dekton and Silestone brands are backed by health and sustainability warranties that meet the highest quality standards.
Dekton is a sophisticated blend of more than 20 minerals extracted from nature. In addition to this, it is the only surface in its sector that is Carbon Neutral throughout its life cycle.
As for Silestone, it is the most sustainable and cutting-edge hybrid surface of premium minerals and recycled materials – a minimum of 20%, such as glass – available on the market, and is manufactured with the exclusive and innovative HybriQ+ technology.
Thanks to their physical-mechanical properties, both Silestone and Dekton ensure maximum hygiene and safety on all their surfaces. In addition, thanks to their very low porosity, they are low maintenance. This allows you to keep bathroom surfaces clean and disinfected with minimum effort.