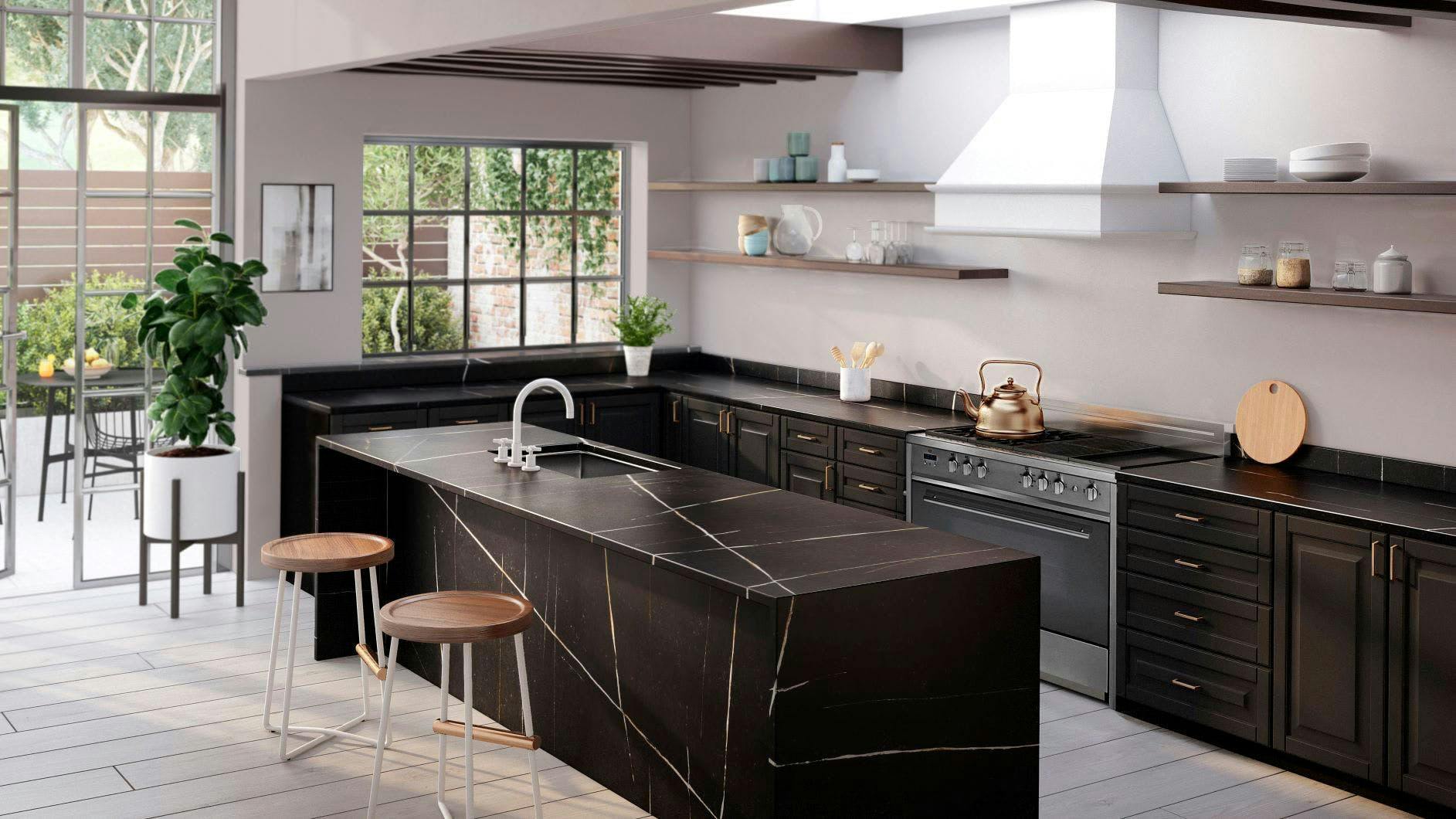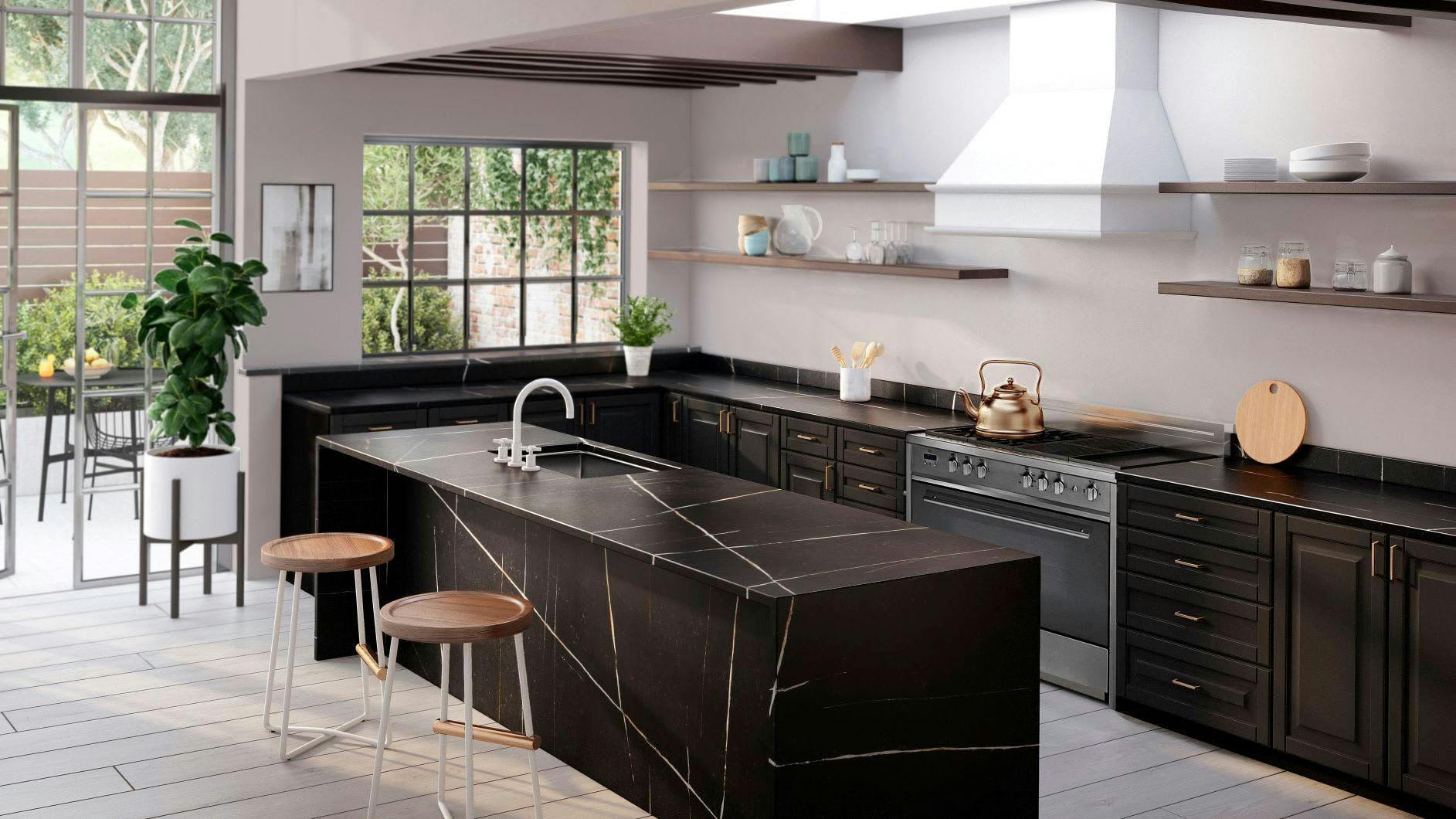 Discover the most popular black kitchens
As Black Friday draws closer, we'd like to share our contribution to this long-awaited day with you, by talking about black kitchens. Because, commercial holidays aside, black kitchens are all the rage.
Back in the 60s, "Los Bravos" told us that Black is Black, with the first single by a Spanish group to top the international charts. The colour black is associated with power, mystery, strength, authority and elegance. Black is essentially the absence of colour and, in fact, for a long time it was prohibited from fashion and decoration due to its sombre connotations. Yet, during the 90s, the colour black became a symbol of poise and elegance.
So, black is definitely back, bringing with it endless possibilities. First of all, the colour black works with up to 5 striking combinations that are sure to turn heads:
1. The black and wooden kitchen
The colour black combines perfectly with wooden elements, lending discretion and elegance with an industrial touch. Wood, on the other hand, evokes organic and natural feelings. These elements make black and wood the ideal pair for your kitchen. 
Wood also creates a sleek visual link from the kitchen to the living room. We adore smooth cupboard doors with a lacquered matte finish and unique handles that add character, such as vintage shell-shaped handles or those in antique gold. Another way to bring warmth into a black and wooden kitchen is to add mosaic flooring.
2. Kitchen with black countertops
Just like black kitchens, black countertops are in fashion. They combine perfectly with natural wood kitchens or with lacquered wood in darker tones, in addition to with kitchens featuring grey or white-lacquered cabinets. We are particularly partial to kitchens that use natural stones with veins or small imperfections to add charisma to the material. 
The brand Silestone by Cosentino features two very special models of black countertops: the elegant Eternal Noir with white & gold veining that is perfect for a central island and Eternal Marquina, with subtle veining, both inspired by natural stones. These two additions form part of our Eternal collection that was created in 2017. Silestone made the decision to renew the collection to respond to the increasing trends that favour black kitchens and marble.
3. The modern black kitchen with a hint of white
Another combination that works really well in a black kitchen is adding a splash of white. Add the colour white to a marble or stone countertop, stripped wood or porcelain flooring or any furniture.
For the finishing touches, black and white tiled walls, checkered flooring and black tap fittings are just some perfect additions to a modern black kitchen.
4. The almost-black kitchen
If you're looking for a slightly more conservative style and to move away from the most popular trends, why not opt for an equally contemporary yet modest alternative to the black kitchen. We're talking about kitchens with wooden cabinets with grey lacquer finishes or smoke-coloured countertops. Another option is a grey sink integrated into the countertop: our favourite is the Integrity Q model, thanks to its organic, seamless finish.
You can find an array of proposals for black and grey kitchens on the Silestone Pinterest board to stay up to date with this trend.
5. The black and steel kitchen
Our last option in this "best colour combinations" chapter is the black and steel kitchen: a classic pair that never disappoints. We take great inspiration from sober and functional models created by German brands that give the impression of being built to last. 
We recommend combining black with steel in kitchens that feature large, sleek, harmonised panels free from bumps and handles – where all appliances and drawers blend seamlessly and disappear. The black and steel kitchen is ideal for open spaces that blend into the living room. One way to make this science-fiction style kitchen a little more "human" is to combine it with bare brick walls or add a long refectory table made from unfinished wood.
You now have five proposals to deck out your kitchen in black. It doesn't have to be Black Friday to modernise your cabinets or countertop. There's always a good excuse to make your house a home, and the kitchen is, without a doubt, the best place to start.