Case Study
The light of the Adriatic Sea floods into the Drita Kafè with Dekton Entzo
By Giusy Scalia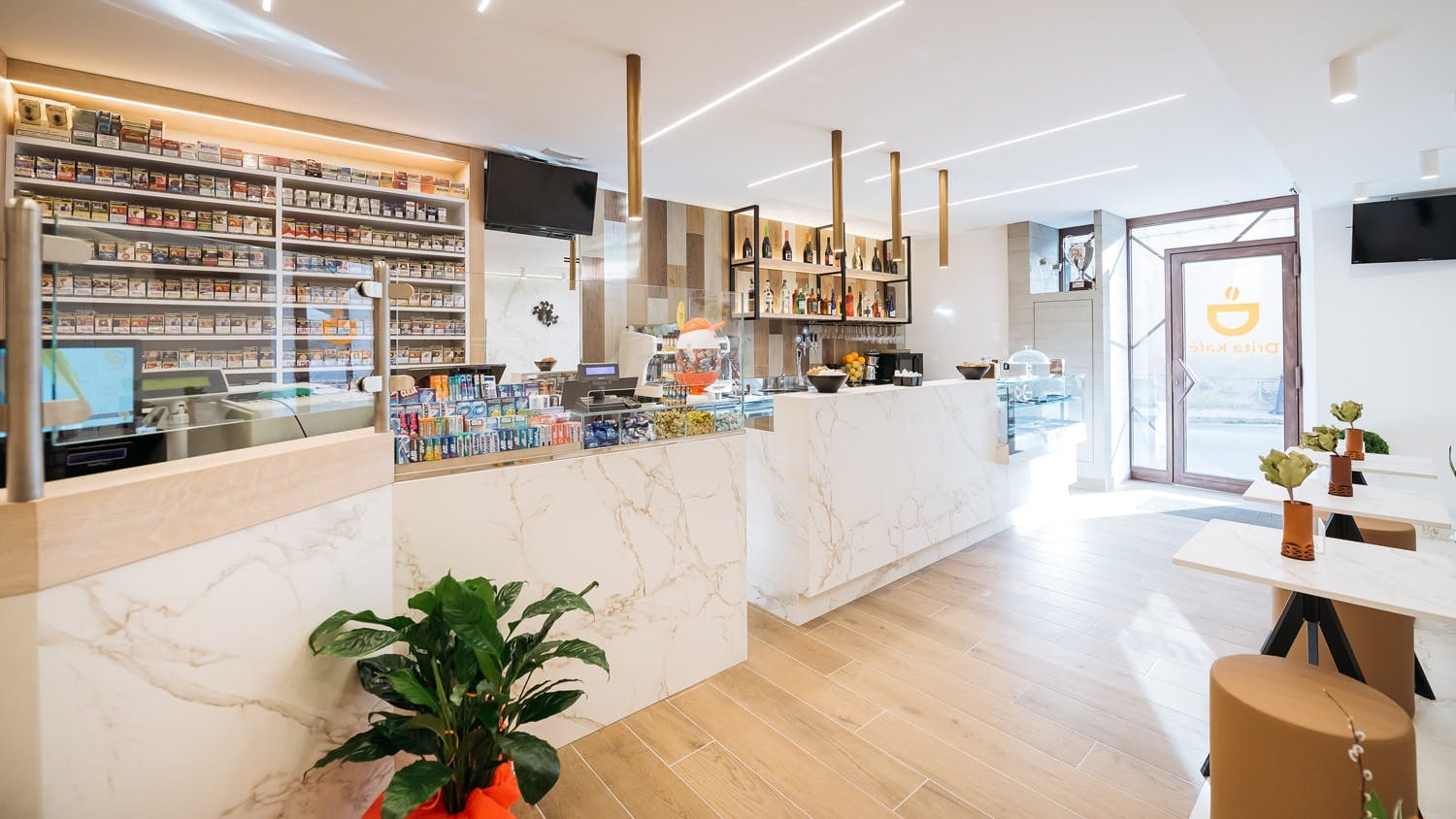 Location
Piana degli Albanesi, Palermo, Italy
Architect / Design
Ing. Giusy Scalia
Application
Worktop, table tops, wall cladding, flooring
Thickness
0.8cm | 1.2cm | 2.0cm
Nature as a starting point
Drita means light in Albanian. But a very special light, like the one reflected by the turquoise waters of the Adriatic Sea and the creamy colour of Albania's sandy beaches. Drita Kafè is a small café which recreates an atmosphere of idyllic nature and endless summer in Piana degli Albanesi, a small mountain village embedded in Sicily and founded over five centuries ago by Albanians.
History, tradition and modernity come together in this café to offer the typical Sicilian 'cannoli', as well as a variety of local pastries and cigars. At Drita Kafè everything is designed to please the senses. And here, the Dekton surface, in its striking Entzo colour, plays a perfect role.
How to expand the possibilities of a reduced space
Dekton Entzo recreates a Calacatta marble that captures the warmth of light; its steamy golden shiny veins give it a unique personality that enriches any interior space. The designer and engineer Giusy Scalia has cleverly used this feature to illuminate and enlarge the small, narrow premises.
The 0.8cm thick Dekton Entzo surface has been used to clad the walls of the table area, continuing down to the floor to give a sense of uniformity that creates two different spaces in this café; a radiant and welcoming space, to enjoy the pastries, and another more intimate one, the service area, where the wood tones have been combined in different intensities.
The ensemble is completed by the tables and bars, also in Dekton Entzo - 2.0cm and 1.2cm thick respectively - which, in addition to offering a very attractive design, provide the owners of the Drita Kafè with non-porous surfaces that are easy to clean and highly resistant to scratches and wear and tear of time, like the spirit and tenacity of the Albanians who founded Piana degli Albanesi.
Do you need help with a project?
Contact our specialists for advice
Do you need help with a project?
Contact our specialists for advice
Cosentino's materials used in this project