Case Studies
ExteAundi, a 13th-century house converted into a modern boutique hotel thanks to Dekton and Silestone
Tamara Amaral (northHomeStudio)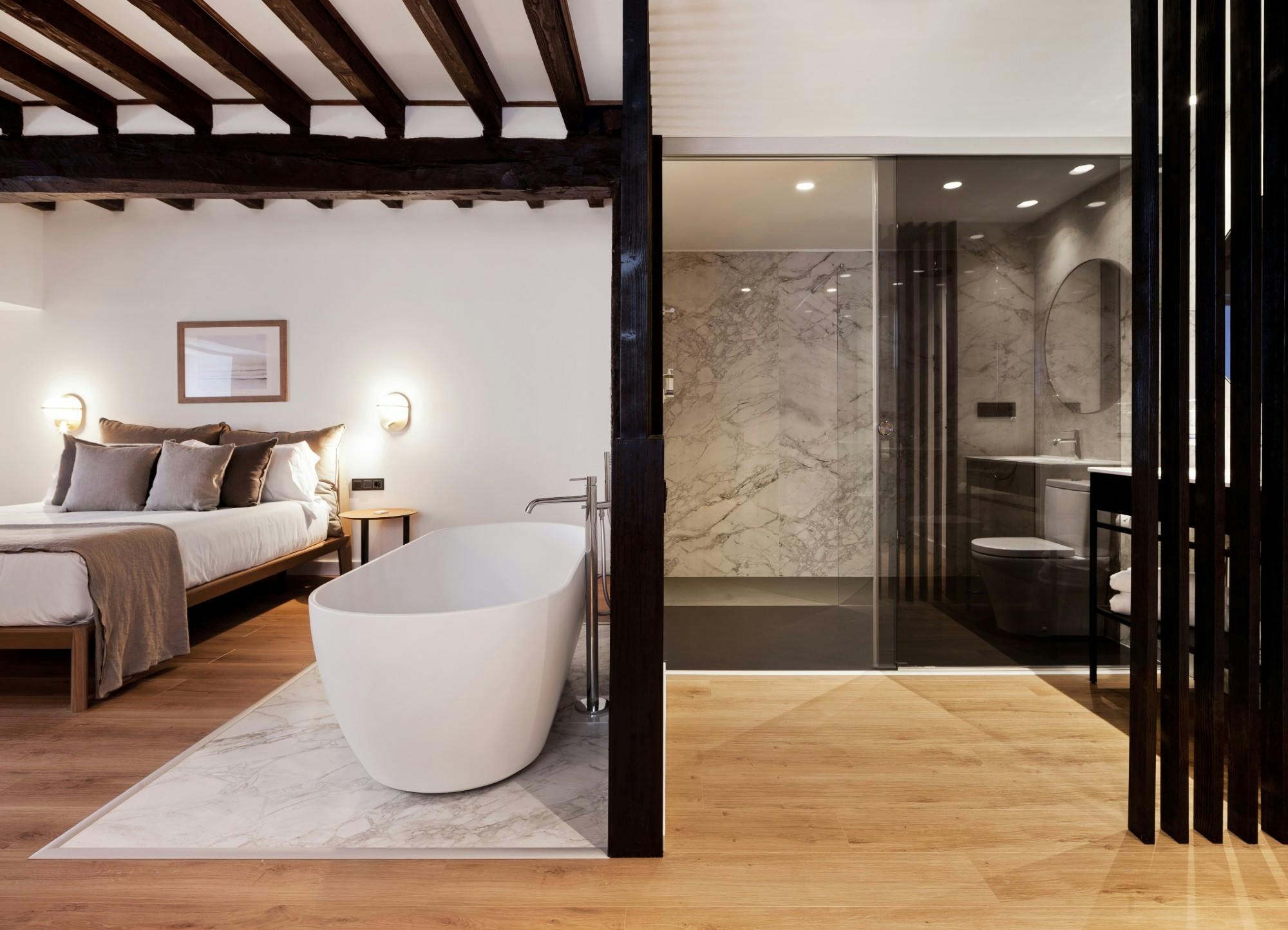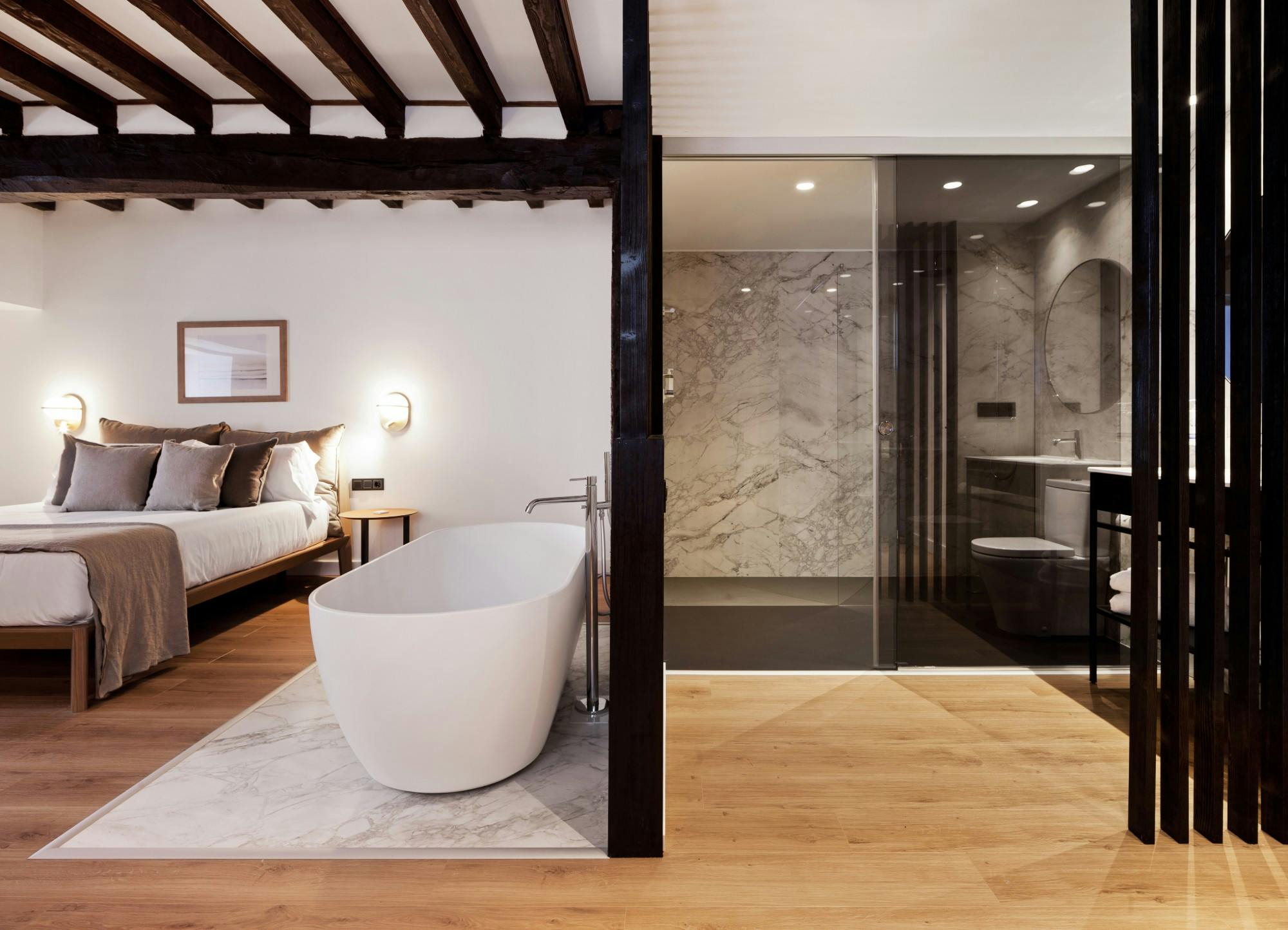 Location
Oñati (Gipuzkoa), Spain
Material
Dekton | Silestone
Application
Vertical cladding, floors, washbasins, shower trays, worktop
Architecture / Design
Tamara Amaral (northHomeStudio)
Color
Entzo, Domoos, Edora, Sasea, Bergen, Kelya | Elegance Silestone Rougui, Exelis  Silestone Rougui
Medieval charm with the latest amenities
The ExteAundi Hotel Boutique is located in the Oñati valley, in the heart of the Spanish province of Gipuzkoa. It occupies a 13th-century building that was once the old ancestral home of the Lazarraga family, in Oñati. In fact, it was the first home of such an iconic family name.
The exterior of the building retains its medieval charm, while inside, its 21 rooms are the perfect combination of design, comfort and style thanks to the recent renovation. The hotel also has a restaurant that offers updated traditional cuisine.
The use of Cosentino materials, Dekton and Silestone, stand out throughout the building. "Working with Cosentino materials has been very easy and pleasant and we have achieved excellent results", says architect Tamara Amaral, of North Home Studio. "Without a doubt, it has exceeded our expectations. Its wide range of available finishes are a source of possibilities when it comes to creating different compositions", says the architect.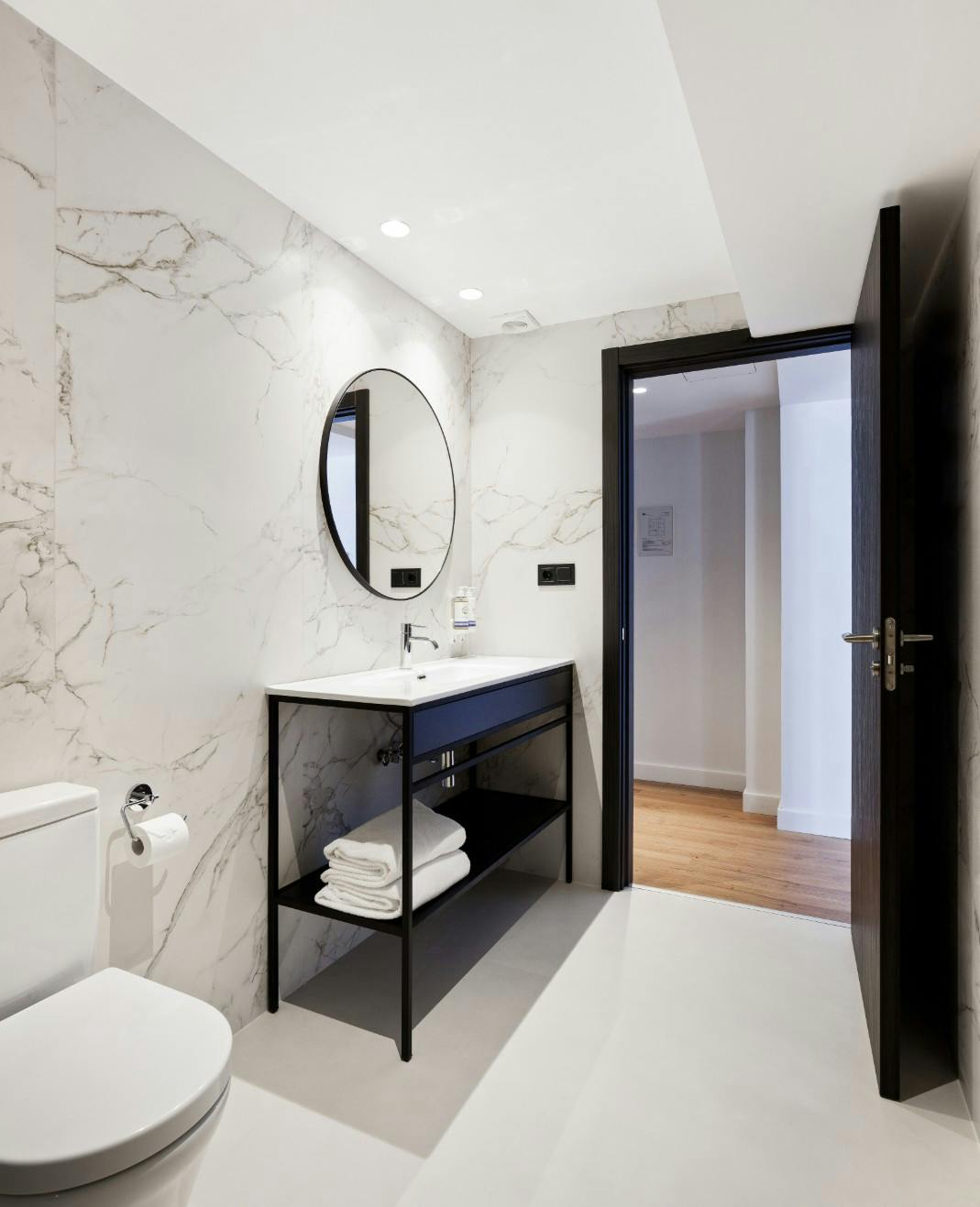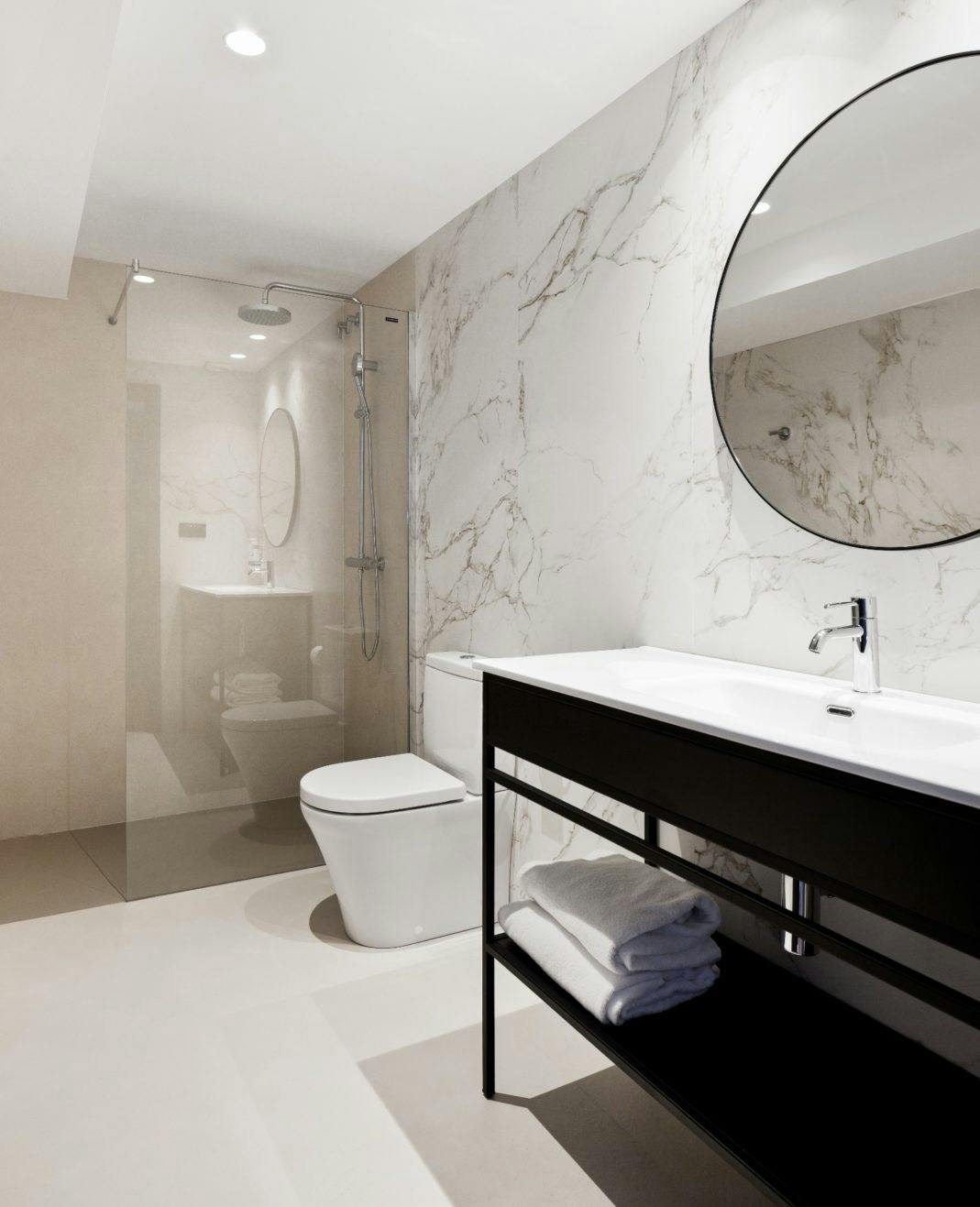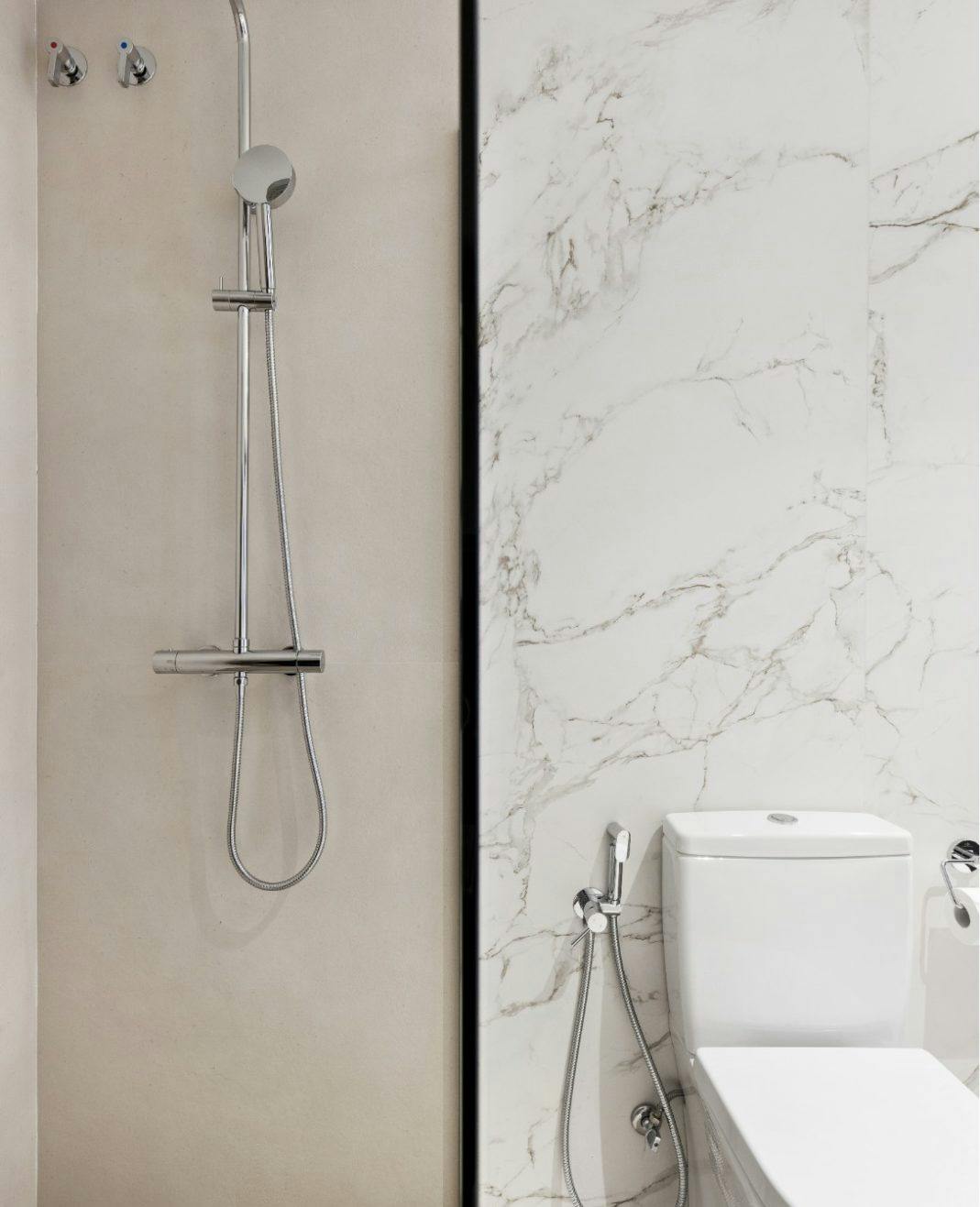 Serene and stylish colours by Dekton for bathroom wall and floor claddings
Different Dekton colours, Cosentino's innovative, ultra-compact and high-performance surface, have been used to clad the walls of the hotel's bathrooms, including the showers, thanks to its high heat resistance and very low water absorption. 
Among the chosen colours, Dekton Entzo stands out. Inspired by the renowned Calacatta gold marble, this elegant colour adds a touch of realism and authenticity thanks to the random pattern of its golden veining. 
The warm grey of Dekton Edora, suitable for both classic and avant-garde styles, has been used in the wet areas of the hotel. This surface creates minimalist and neutral environments that make it easy to play with other colours. 
Dekton Sasea, a colour inspired by Sahel limestone, has been used in combination with Entzo to clad some of the hotel's showers. Sasea features a cream-grey background full of details, yet soft and gentle, which has all the elegance of Sahel limestone and all the quality of Dekton.
The play of colours comes to an end with the floors in Dekton Domoos and Dekton Bergen. Domoos features a graphite black background with a pure design, while Bergen is inspired by Portobello stone, featuring beautiful greyish veins with a sculptural pattern running through its off-white background.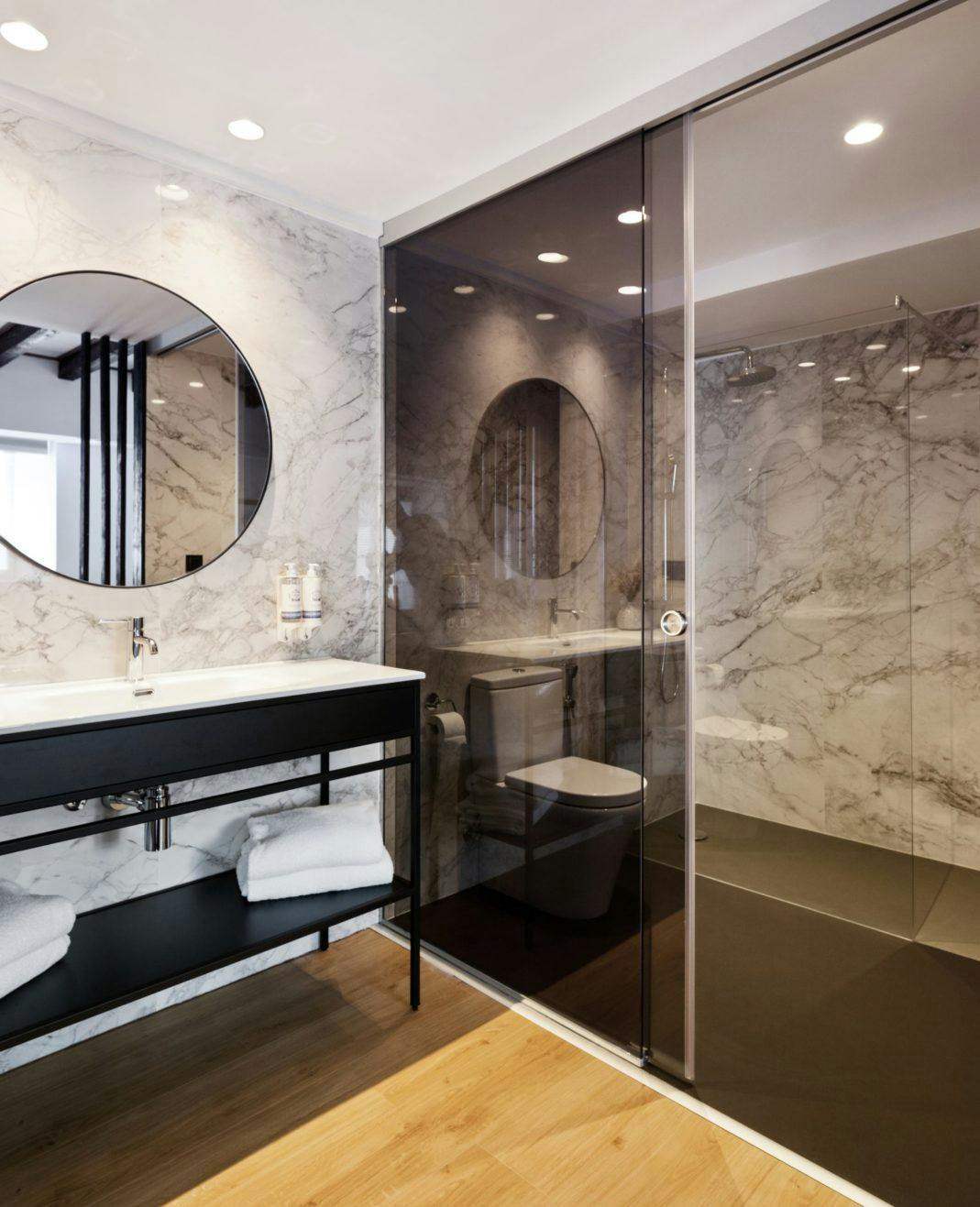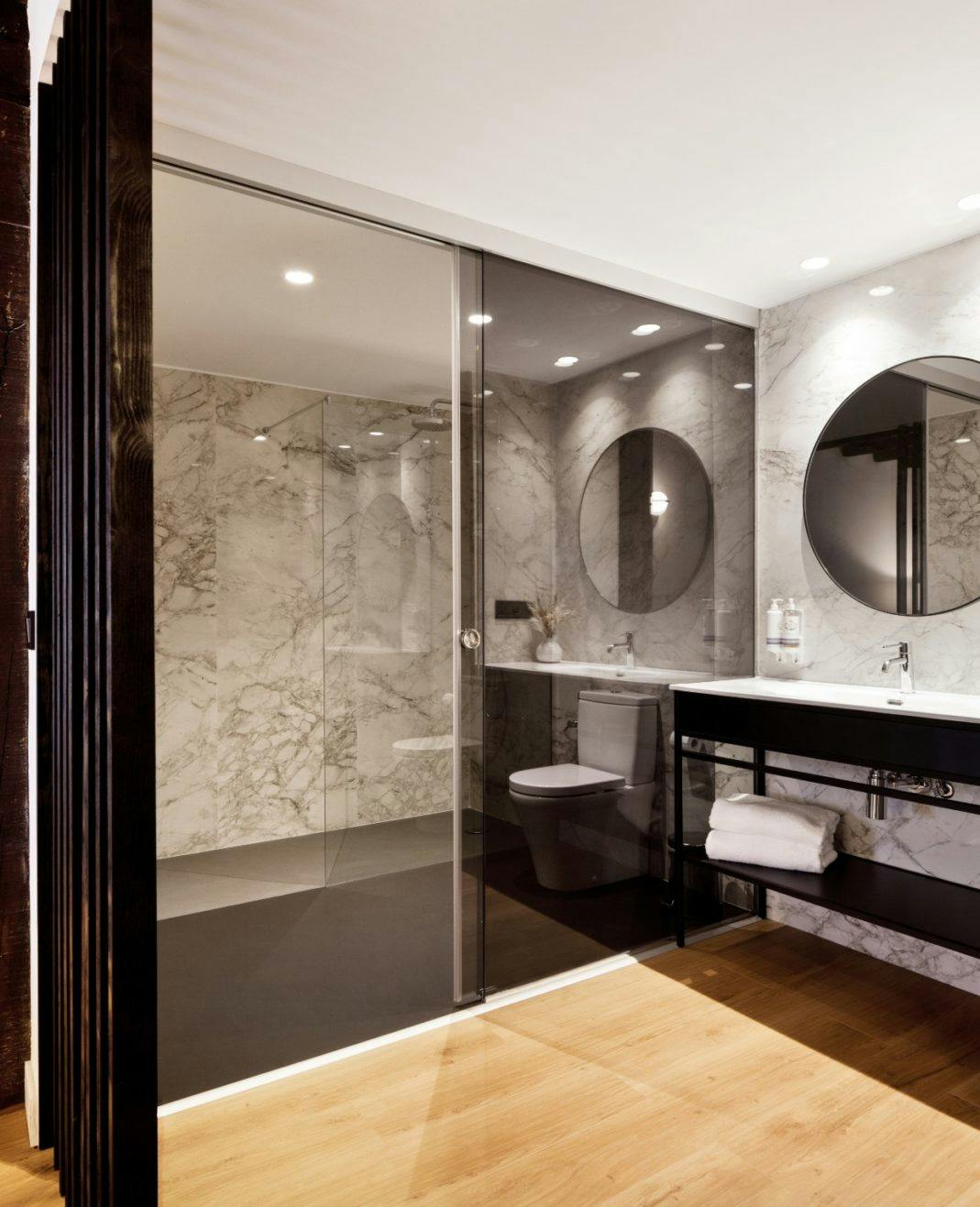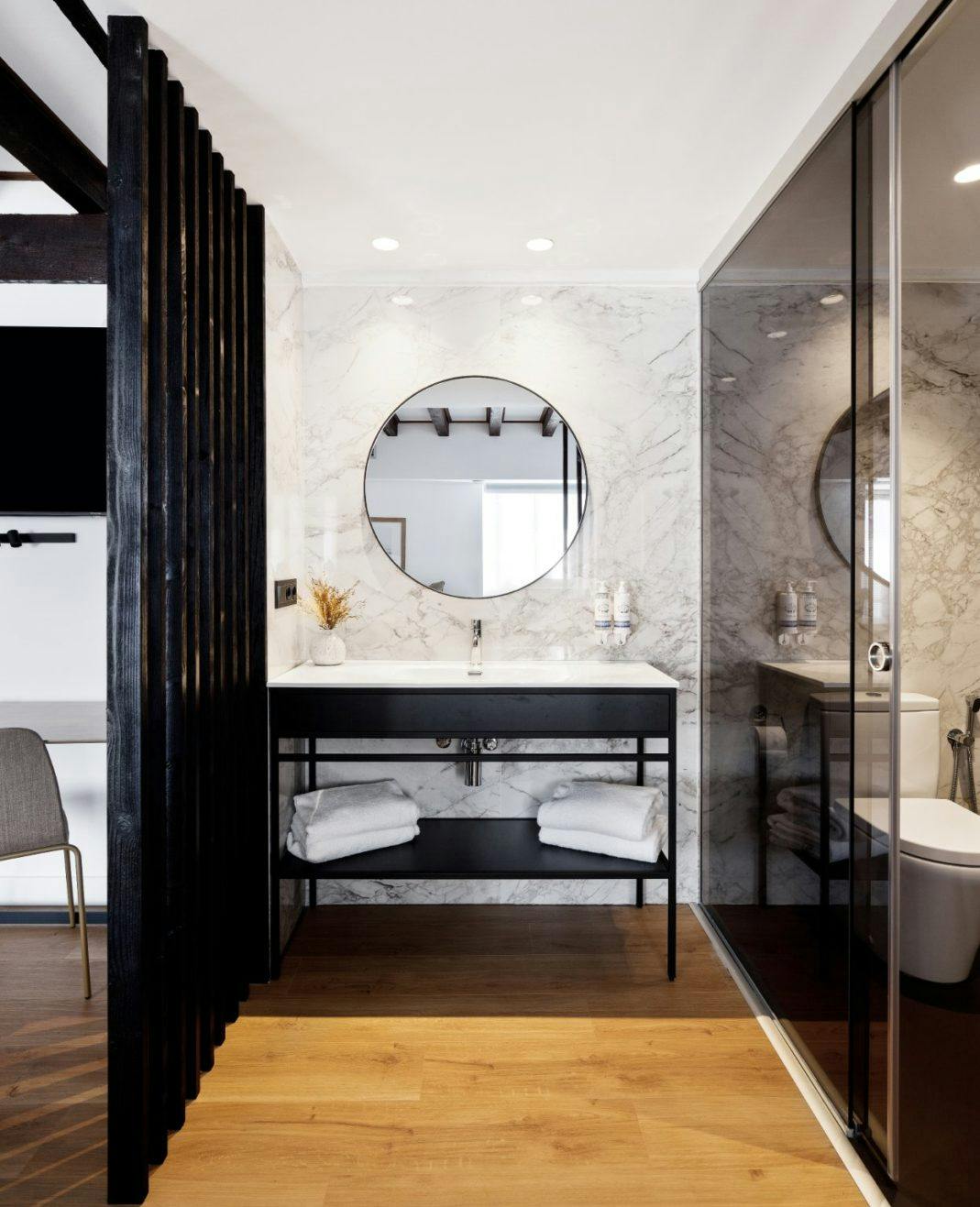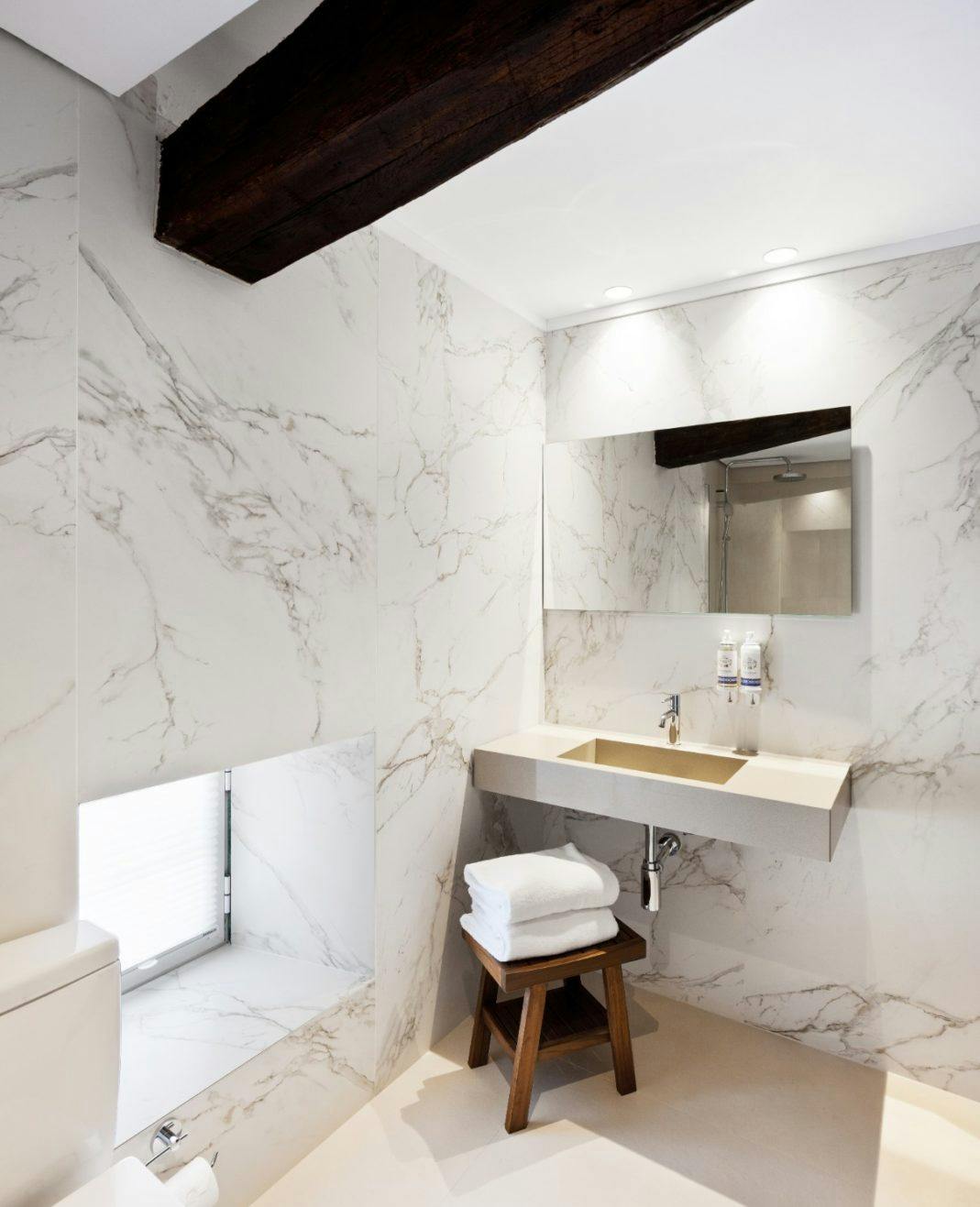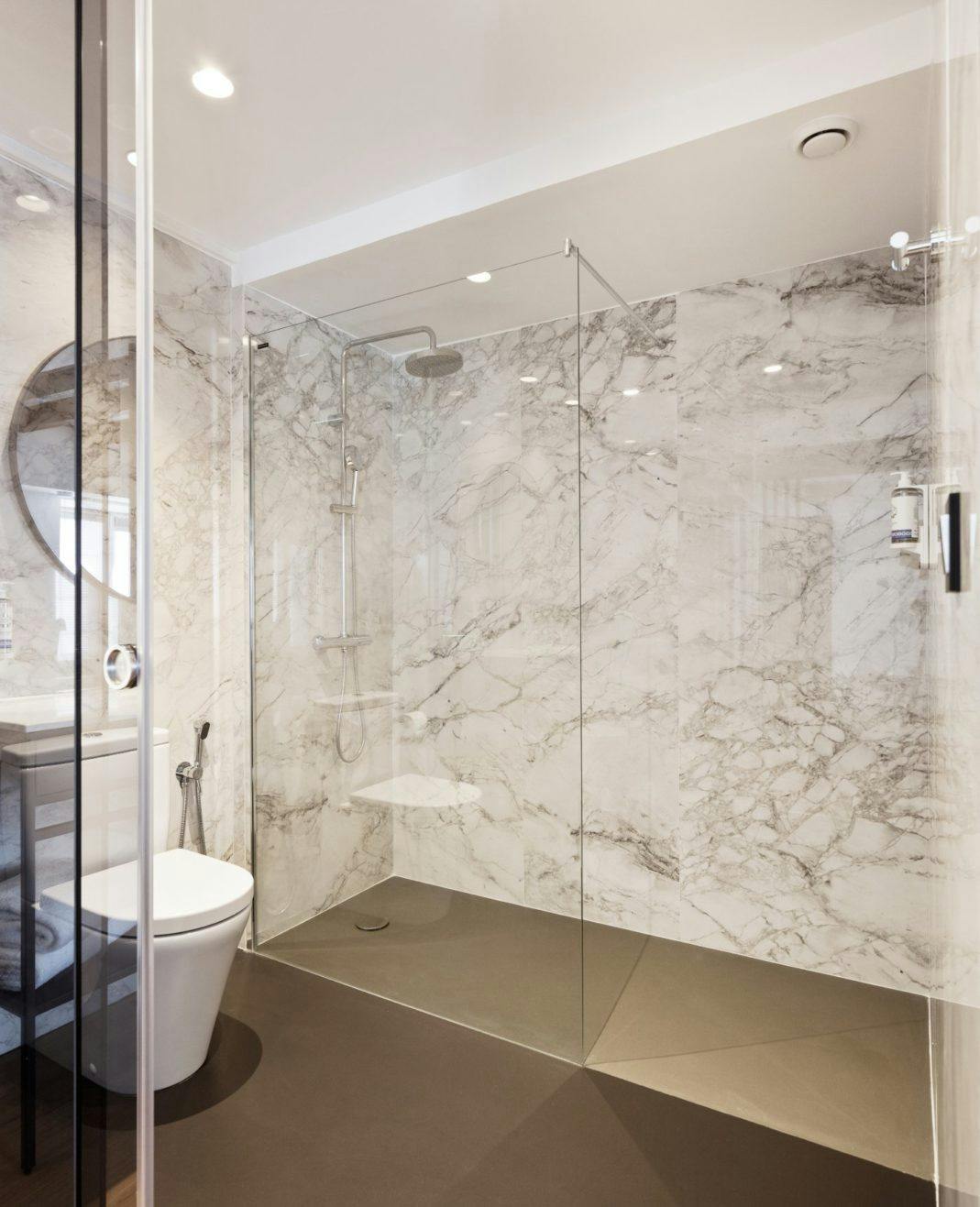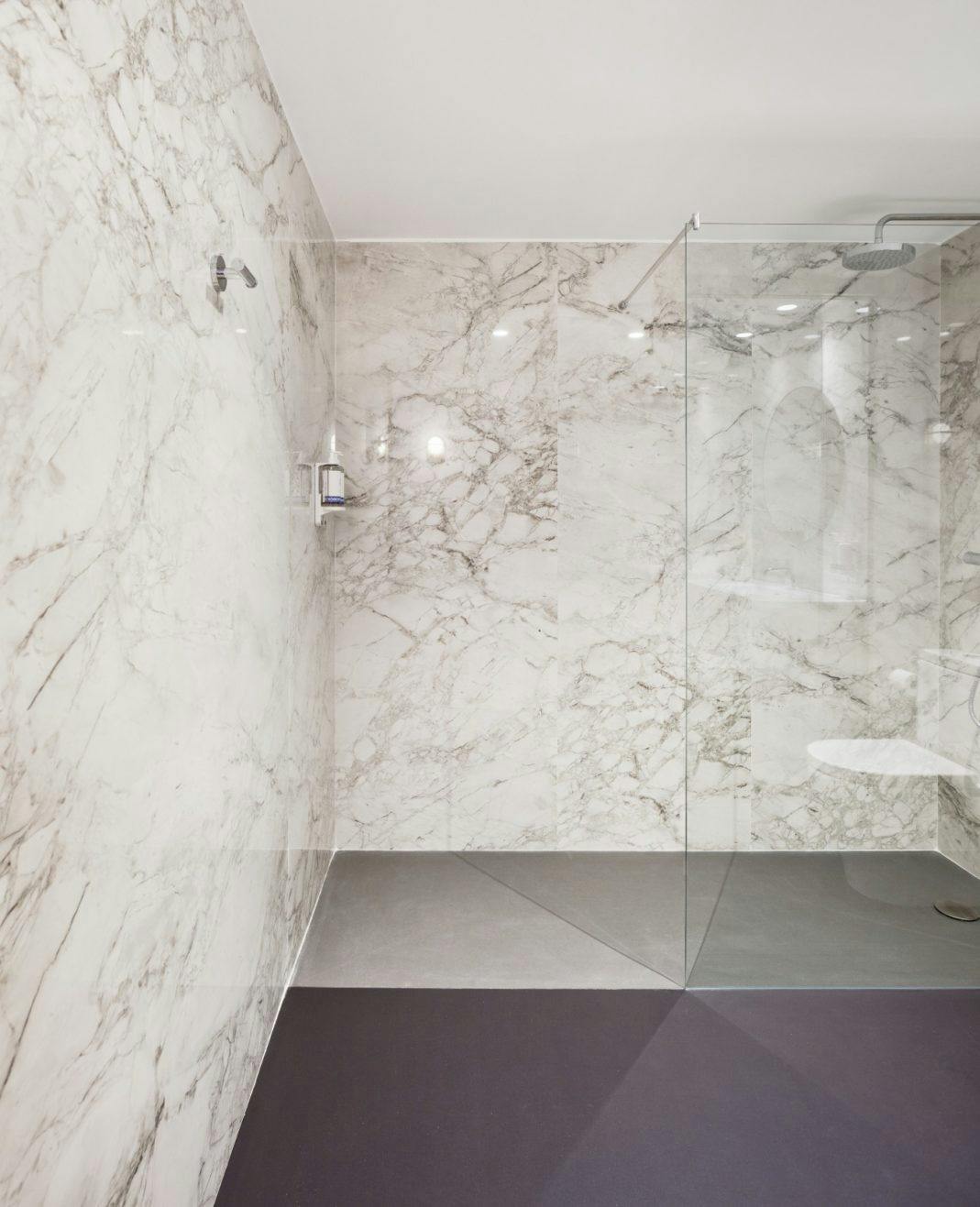 Shower trays and washbasins by Silestone: ultimate customisation
Silestone is a material of extraordinary hardness and durability, able to stand the test of time in perfect condition, even when exposed to impacts or scratches. It also offers a wide range of elegant and innovative models, among which Amaral has chosen Elegance.
Elegance is a washbasin available in two different textures that can also be made to measure, allowing you to create uniform and elegant designs. Choosing a colour was not an easy task, as Silestone offers a wide range of colours. In this case, the colour chosen was Rougui, a colour that blends harmoniously with the rest of the tones used in the bathroom.
As for the shower trays, the interior designer opted for the Exelis model in the same colour. Exelis features a simple but robust design, with a four-way drainage system that makes it suitable for any need. Furthermore, its textured finish provides great anti-slip properties.
A bespoke worktop for a user-friendly refreshment area
The hotel's refreshment area has a mini fridge and several coffee machines and was designed to serve as a meeting and refreshment point. The room features a sober design in which one Cosentino product takes central stage. The worktop in Dekton Kelya, a colour inspired by dark marbles with light veins, provides the WOW effect thanks to its texture and character. A colour designed to embellish the most exclusive environments, such as this unique hotel, which has been brought up to date without losing its essence.
Cosentino's materials used in this project