Case Study
Ideal for convivial grill kitchens
By Belmento GmbH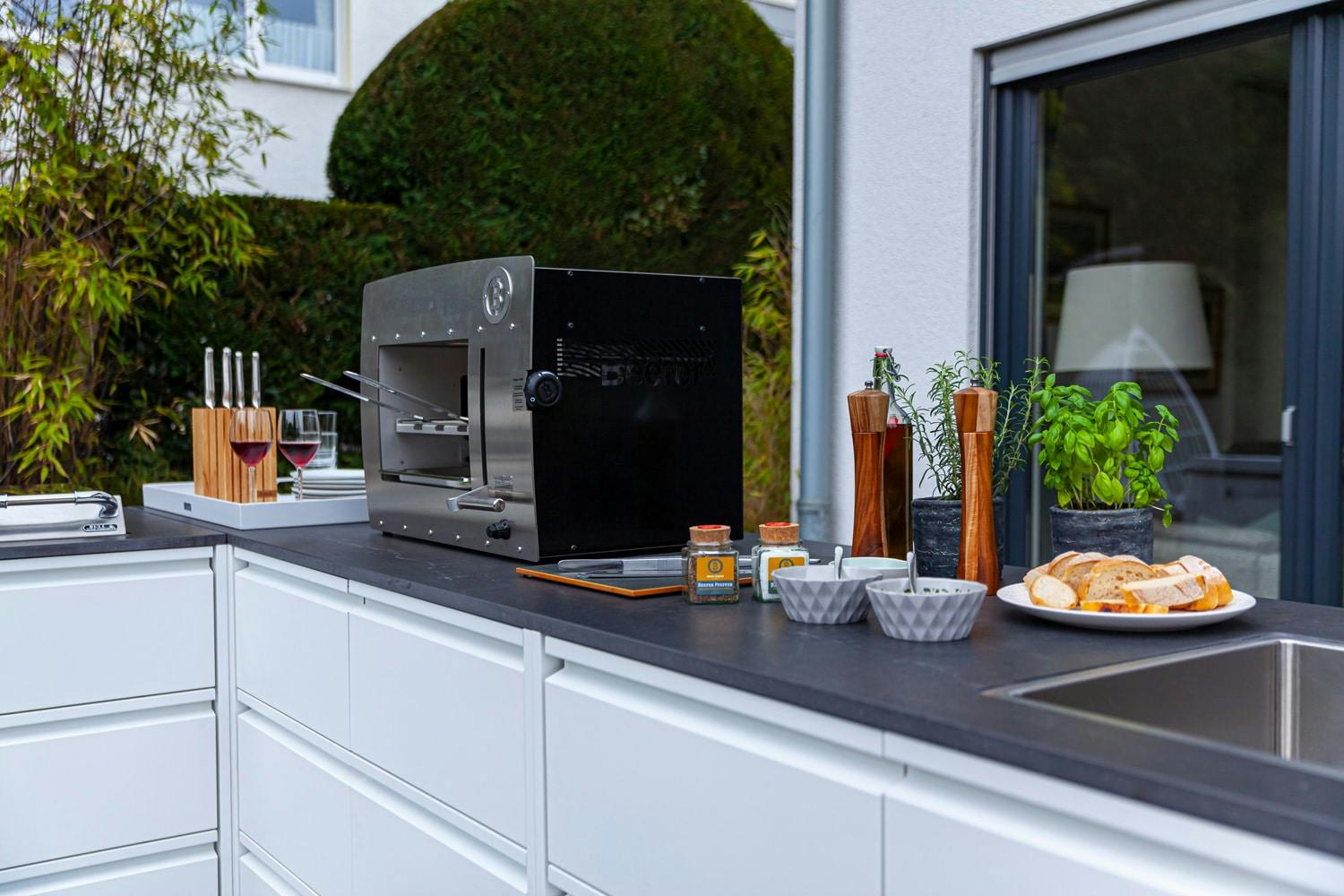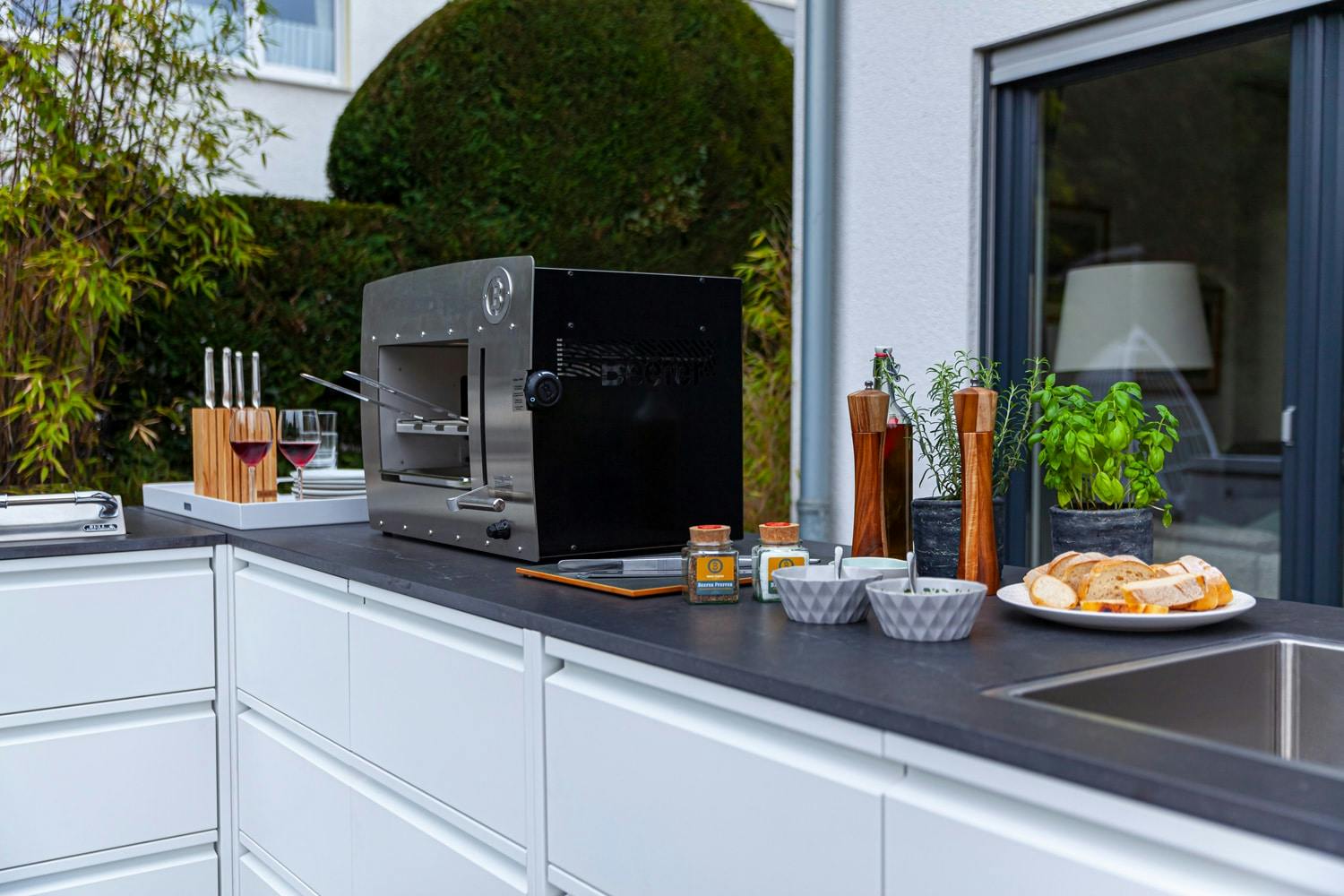 Color
Kreta | Kovik | Eter | Aeris
Architecture / Design
Belmento
The ideal surface for outdoor furniture
With Dekton, the founders of Belmento found the ideal surface for their outdoor furniture: beautiful, heat-resistant, UV and weather-proof.
The plan was to have a cosy barbecue evening. Yet the host was forever running back and forth between grill, kitchen and wine cellar. This is how the business idea came about: how cool would it be if you could combine them all? Since then, the three founders of Belmento have been passionate about furniture that is so functional, it results in the perfect outdoor kitchen. And so beautiful, it actually belongs inside the house.
Networks connect people. This is exactly what happened with Volker Podendorf, Daniel Ackermann and Holger Schmieding. For years, the three of them held leadership sales roles at large telecommunications providers. When their companies merged, they had the opportunity to break new ground together. "We are now selling something beautiful that you can touch", enthuses Daniel Ackermann, co-managing director responsible for marketing and finance.
For months, the three friends fine-tuned their business model and developed their "perfect" product, which consists of a few well thought-out elements that at the same time offer many individual options. The focus is clearly on functionality and design. And the grill is at the centre. The five kitchen modules are made of galvanised, powder-coated steel with a width of 60 cm and 116 cm. Drawers, shelves and gas cylinder pull-out, as well as refrigerator, sink, and various premium grills, burners and cookers can be integrated perfectly.
Highest functionality and design standards
"The work surface was a challenge", admits Daniel Ackermann. It needed to be weather and UV-resistant, so that even after years of permanent outdoor use, the appearance of the furniture would be affected as little as possible. This eliminated wood and composite materials containing resin. "In addition, the surface should be easy to clean and as scratch-resistant and heat-resistant as possible. Grease splashes are an integral part of grilling. And even if a sharp steak knife or an 800-degree hot cooking grate hit the surface, wherever possible they should not leave any traces."
Belmento opted for Dekton by Cosentino. The material, which is also very popular with indoor kitchens, consists of up to 20 natural minerals that are moulded into an ultra-compact surface under high pressure and heat. The particle sintering technology replicates the metamorphic processes that take millions of years in the formation of natural stone in a controlled and accelerated manner. Dekton is completely inorganic, suitable for indoor and outdoor use and is available in over 50 different designs and textures.
Do you need help with a project?
Contact our specialists for advice
Do you need help with a project?
Contact our specialists for advice
The construction is modular, from the sideboard to the XXL outdoor kitchen
"Since Dekton is dyed homogeneously and available in large formats of up to 320 cm x 144 cm, the work surface can be individually tailored to the wishes of the customer", says Daniel Ackermann. Now that the three founders have developed their perfect product, they are using their professional experience just as passionately when it comes to selling it. The modules can be easily assembled and are available from BBQ specialists, kitchen studios, interior designers and garden experts, but also online, so you can enjoy convivial barbecues.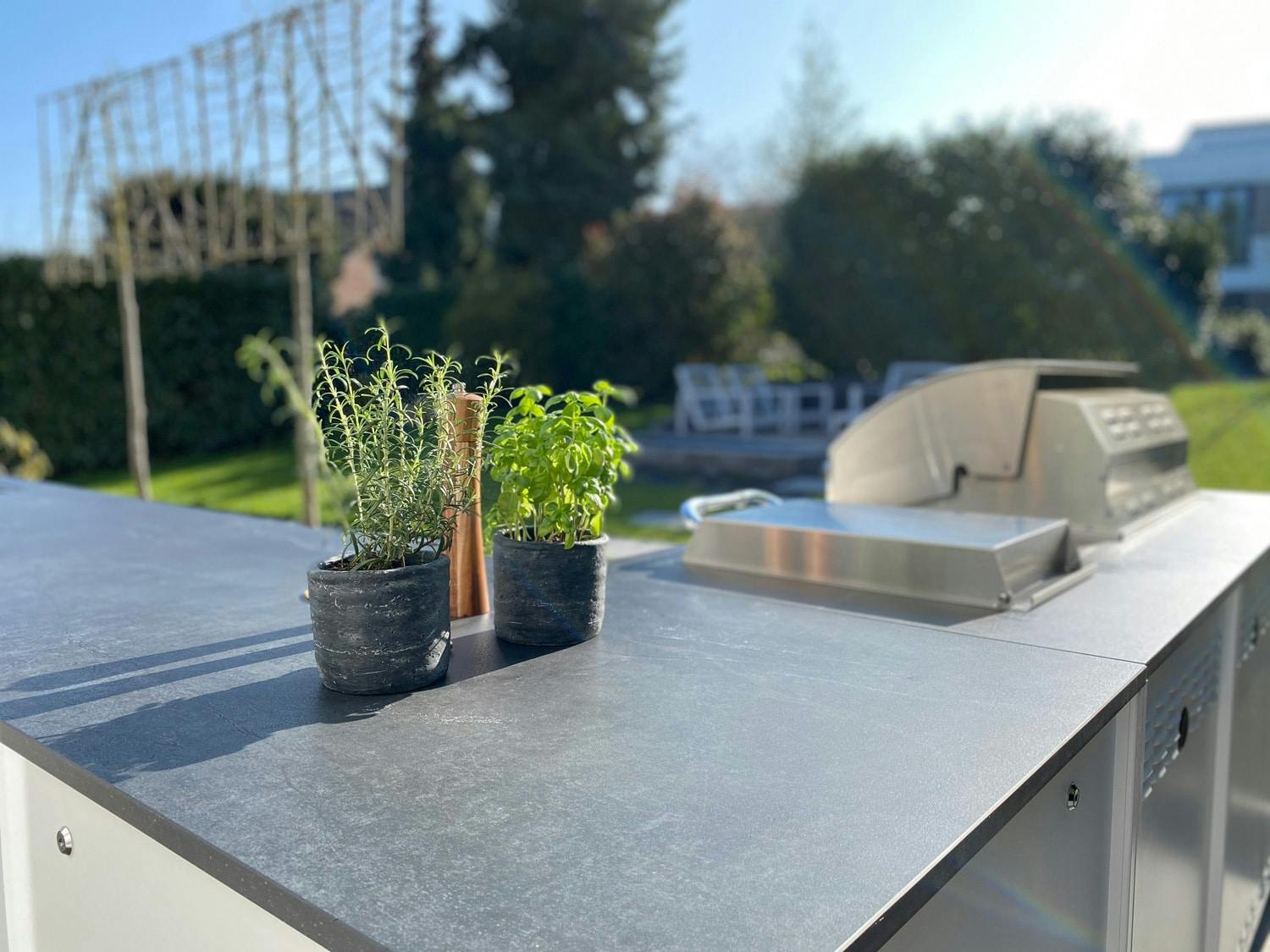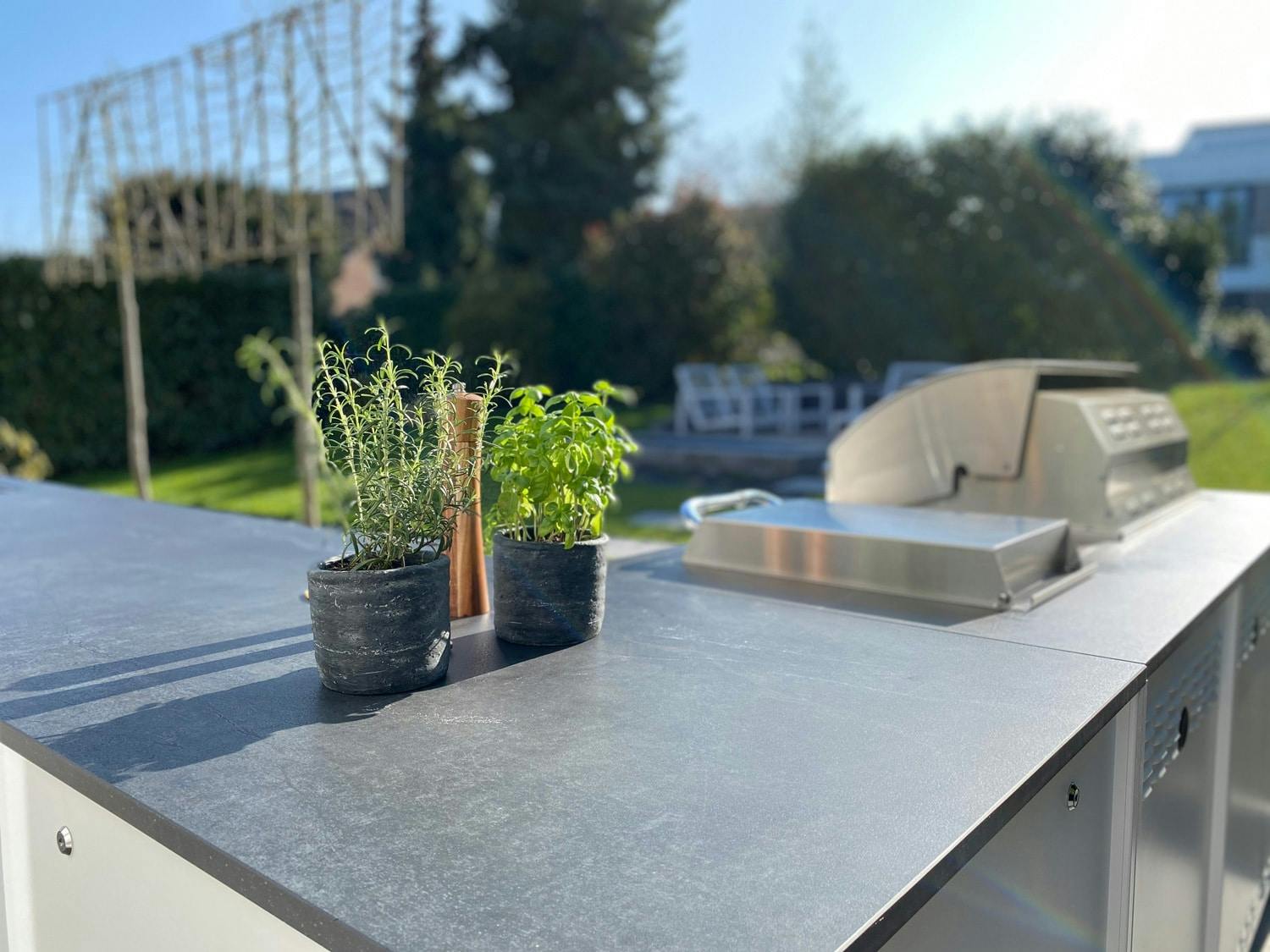 Cosentino's materials used in this project