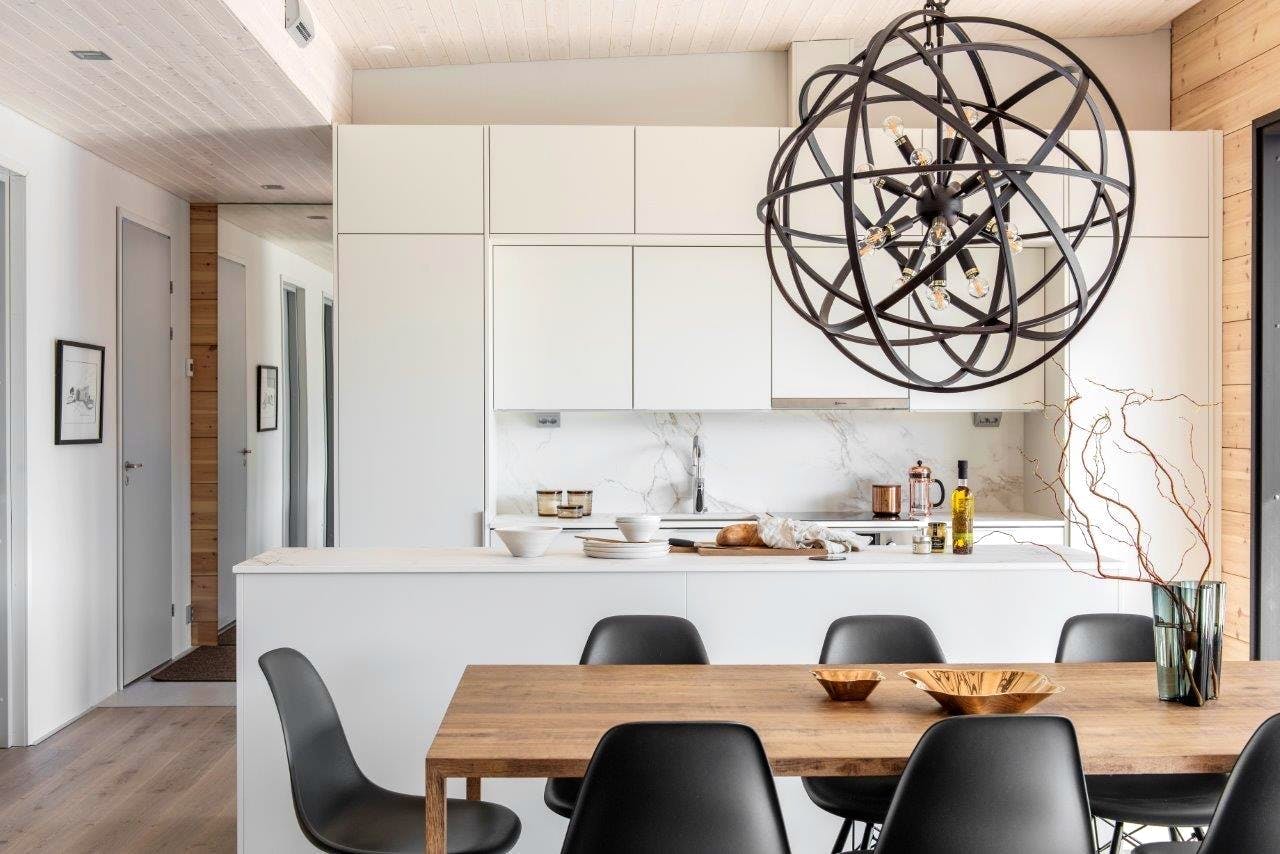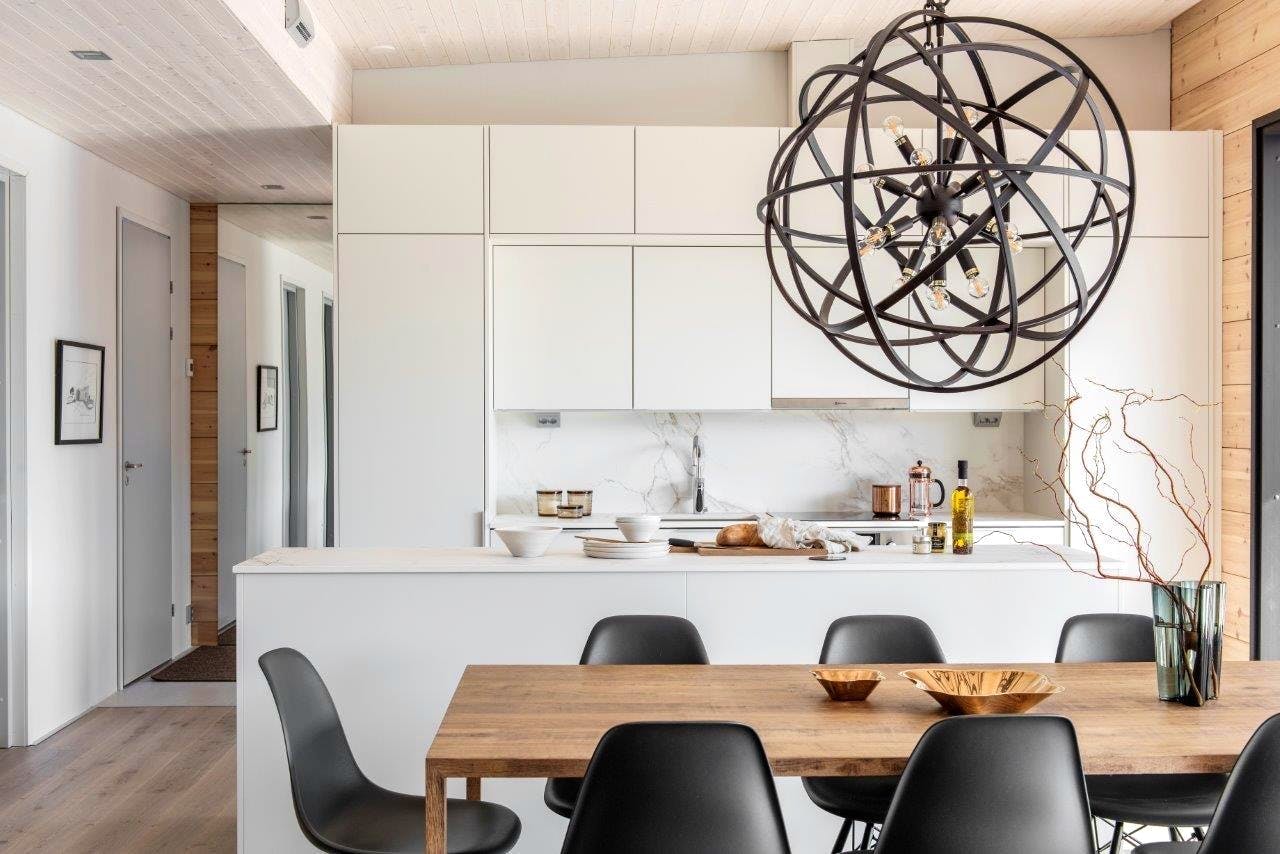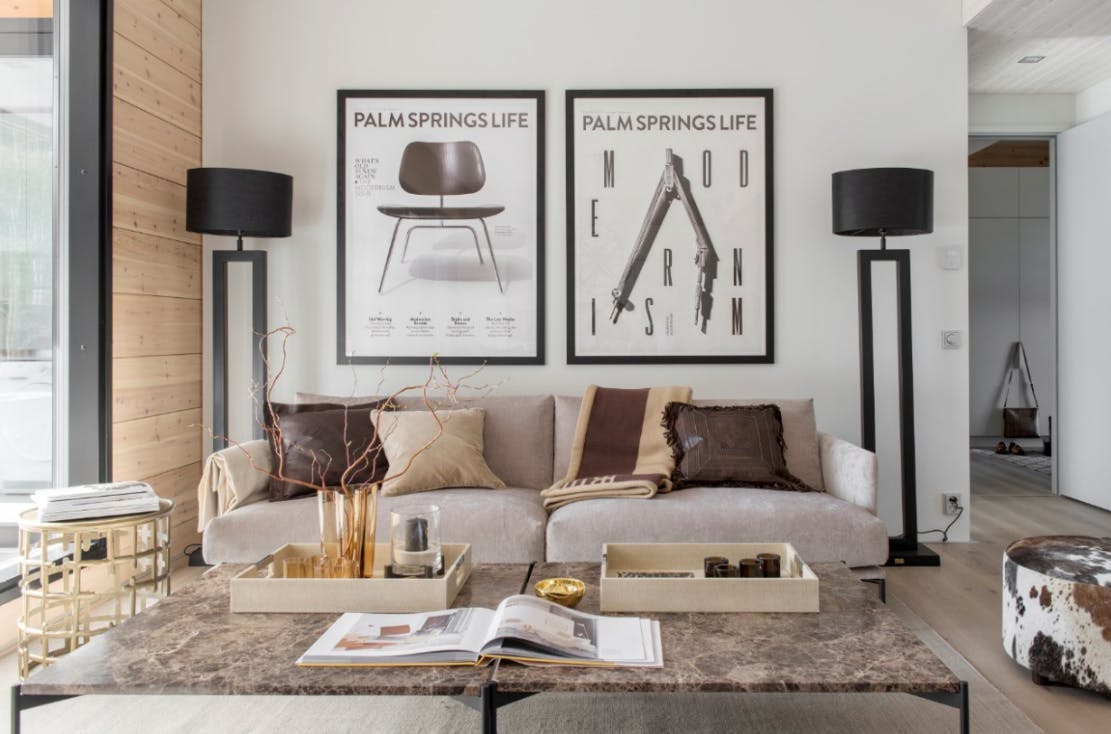 Finnish wooden house Kontio Laaksolahti
Kontio Laaksolahti is a luxury model house, which gracefully combines the modern and luxurious living style with Californian elegance.
Olavi Kujanen, long time creative leader and architect in Kontio has designed lots of house models to Kontio, the world's largest log house manufacturer.  The modern log houses have gained popularity in recent years. 21% of new houses are log houses in Finland. Olavi Kujanen travels a lot and this house model has been inspired by his favorite area of ??Palm Springs, California. The house has many large windows, a clear floor plan, rational rooms, good views, a quiet and peaceful atmosphere. House is 142 m2, but it feels much bigger.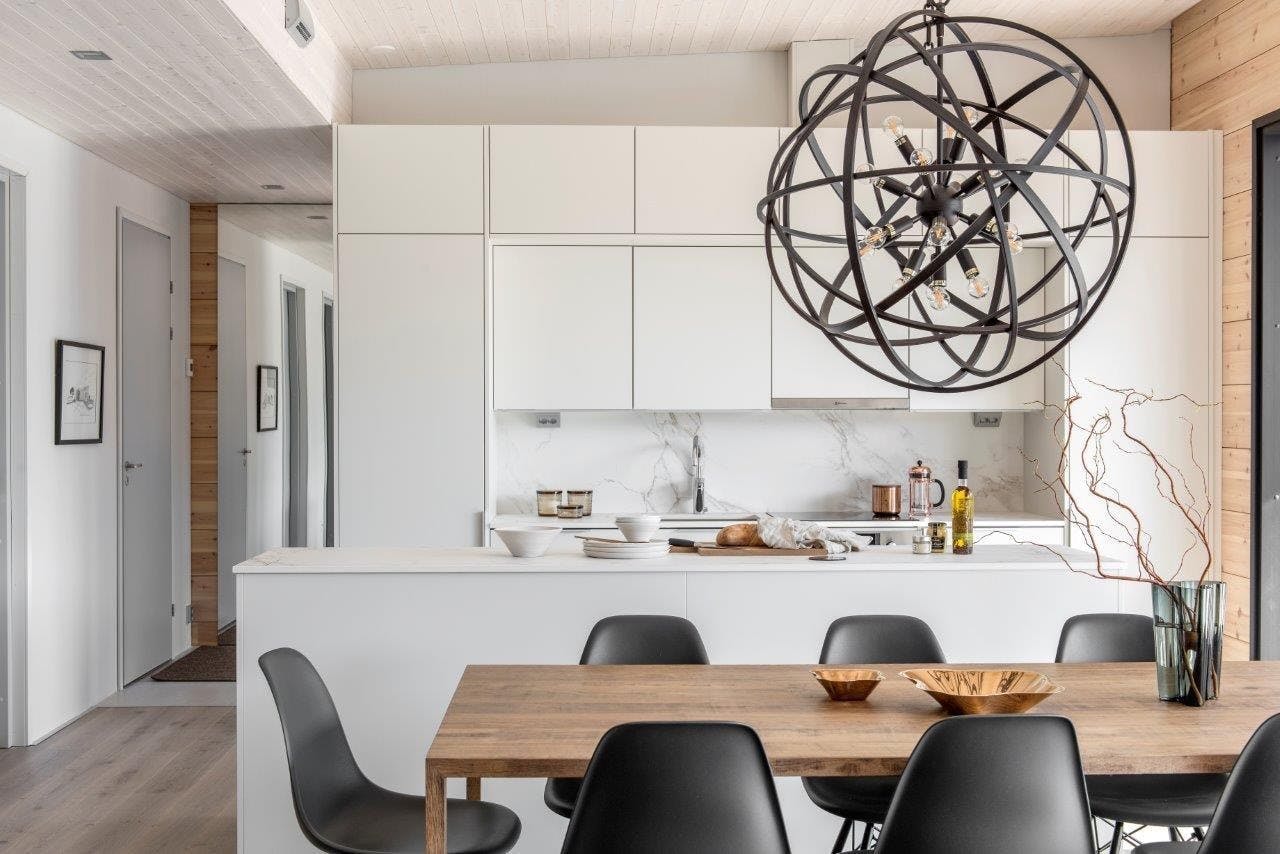 Presentation of the project
The brown tint in the house façade is also used inside. We consider the furnishings as shallow and clear, so that the light can pass well, and the spaces are not blocked.
Materials are timelessly stylish: sofas are brown-velvet upholstered and coffee tables are brown marble, Ralph Lauren's blankets and cushion covers are brown and dark blue cashmere, the textiles are linen and cotton. Handmade pottery is brought to the kitchen to highlight the real and high-quality atmosphere of the house, Olavi Kujanen says.
Interior designer Piia Kalliomäki has worked as interior consultant in this project. The house exudes California's lifestyle and luxury, so we bring the same spirit to the interior. The interior materials are of high quality, classic and natural in color. Furnishings, textiles, and art from Olav's travels will come to their right with this background. Piia says: "Olavi has so many different ideas and together we found a calm, beautiful and peaceful balance in this house".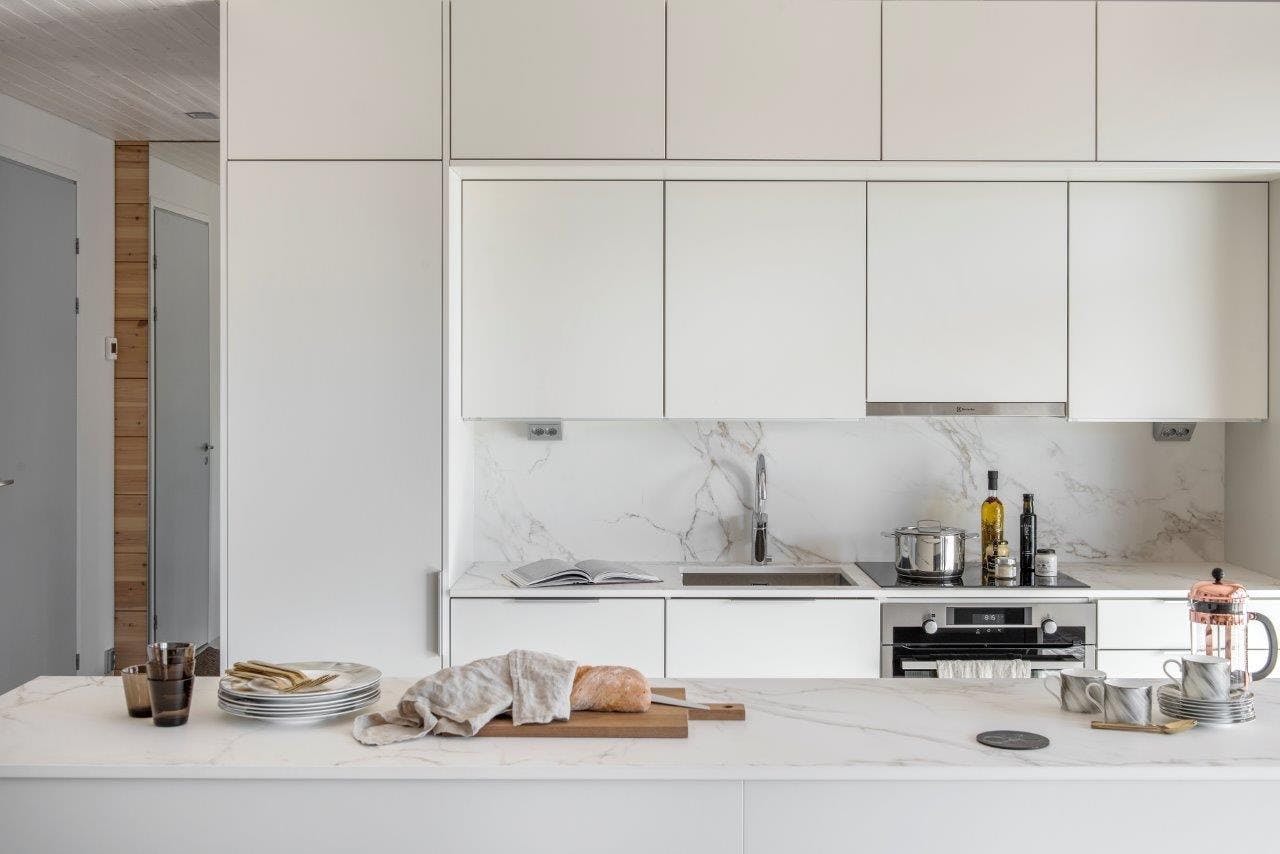 The kitchen and bathroom furniture are from Kontio's own Kontio Living-collection. "The entire Kontio Living-range was renewed with this project", says Piia Räisänen, Kontio Living Sales and Designer manager.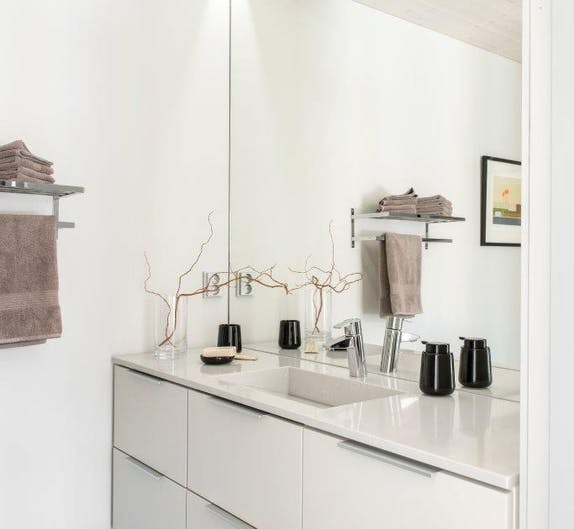 "Dekton was familiar to me from earlier projects, so it was natural to make Dekton part of this project also. Dekton Enzto we found in Cosentino Finland's showroom as well as the Silestone washbasins".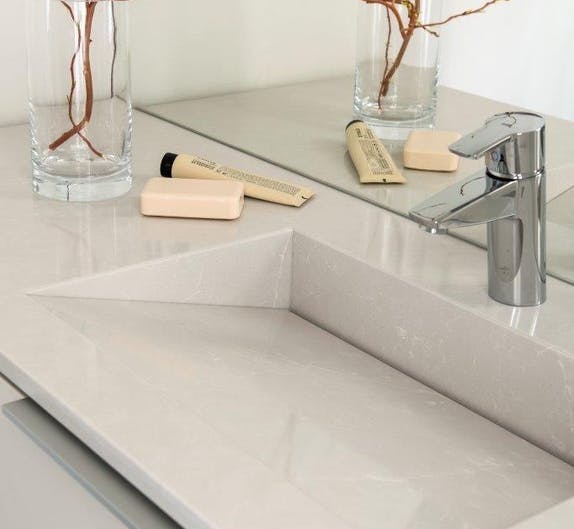 Project details:
Project: Finnish Wood House "Kontio Laaksolahti" with Silestone® Bathroom and Dekton® Kitchen.
Architect and house owner: Olavi Kujanen / creative leader Kontio
Trend: Modern Finnish wooden architecture mixed with luxurious style interior.
Style: 1 floor Log House and Wood house from Kontio
Influence: modern and luxurious living style with Californian elegance.
Materials:
Dekton® Entzo 2 cm as worktop and back splash
Silestone® Desert Silver 2 cm polished: bathroom vanity top and wash basin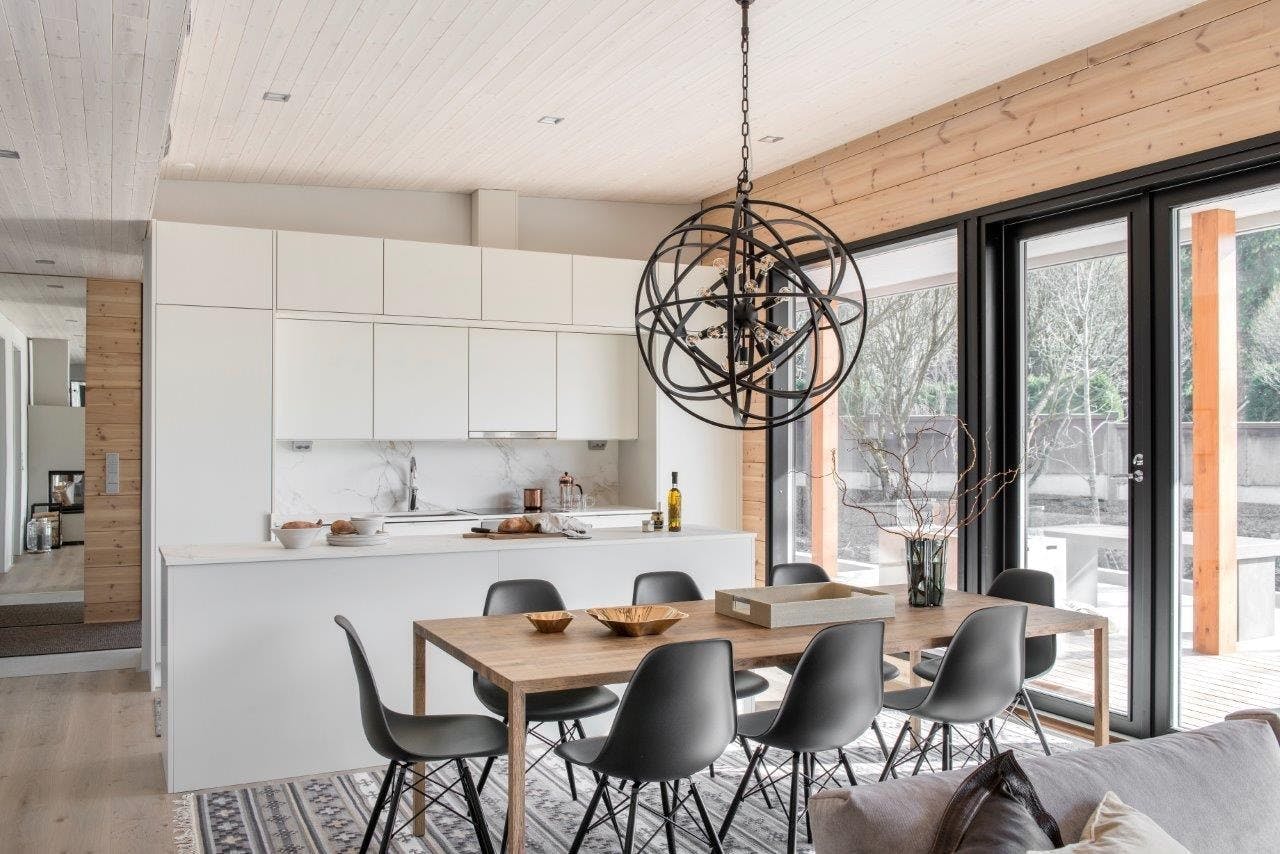 All photo credits to Pauliina Salonen
[/vc_row]