Top Homes
Dekton cladding, 8mm inspiration
In order to fulfil a customer's desire for something special, FINEHARD created a kitchen front with extremely slim door panels.
Location
Bütschwil/Neuhaus (Switzerland)
Application
Cladding | Countertop
Collaborators
Bisag Schreinerei | Finehard
Photography
Klaus Andorfer
An aesthetic and functional solution
FINEHARD is a leading processor of innovative surface materials made of quartz, ceramic, and high-tech materials for room architecture in the kitchen, bathroom, and living area. The company is part of Fraefel AG, one of the largest manufacturers of bathroom furniture in Switzerland. With innovative production methods, the company also works on kitchen construction with architects, interior designers, and carpentry workshops like BISAG which focus on creating individual solutions.
For the new kitchen for a customer in Wängi in the canton of Thurgau, centrally located between Zurich, St. Gallen, and Lake Constance, BISAG SCHREINEREI was looking for something very special. A combination of European walnut wood with a pronounced grain and uniformly dark surfaces was planned. FINEHARD recommended Dekton by Cosentino for the homogeneity and design options. In order to draw on the colour of the existing natural stone floor, the graphite black Dekton Domoos was selected for the 12 mm thin horizontal shelves.
"The central cooking island should stand out visually. For this purpose, we used Dekton Keranium, which creates an abstract connection to the colour of the wood with its strong technical dark brown," explains Durak Fazliji, Production Manager at FINEHARD. "The door elements should be designed with the same surface, but without being bulky or complicated. We had to test how thin we can produce the fronts without jeopardizing stability – and how we can secure the fittings in the long term."
Dekton Keranium from the Cosentino Tech collection is available in 20, 12 and 8 mm thickness – too much to apply the ultra-compact surface to a carrier plate if you want to create the slimmest possible profile. "We were therefore looking for a solution to connect the hinges directly with Dekton," says Fazliji. "We did not want to just use adhesive. However, in order to set screws, we needed a fastening system that had the shortest possible anchors, and we had to find a way to set precise and resilient bores without the material experiencing too much stress and tearing."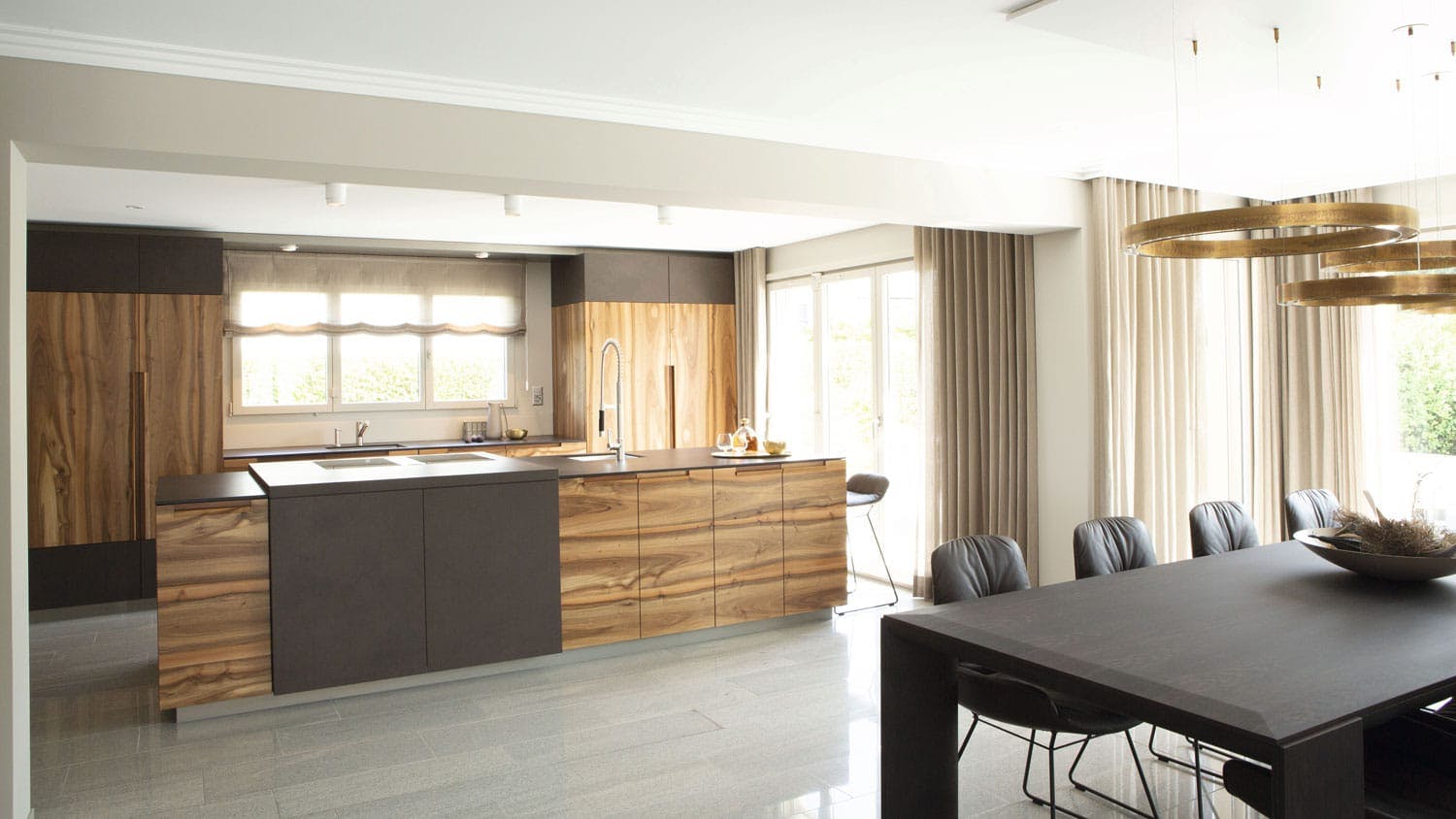 Freedom to create any kitchen solution
Dekton is extremely stable, resistant to bending, and sturdy. The ultra-compact surface is manufactured in a particle sintering process developed by Cosentino. Up to 20 exclusively natural minerals are compressed under high pressure of approx. 25,000 tonnes and heated up to 1,200°C so that the particles combine to form an extremely durable surface with the highest homogeneity. The material is water-resistant and stain-resistant, fire and heat-resistant, and available in more than 50 designs, also in large formats.
However, the hardness of the material is a challenge during processing. "We tested various drilling tools and their parameters on our machines for weeks," Fazliji remembers. Finally they got the hang of it. "By including our fitting supplier, we found the right product which we were able to anchor perfectly through high-precision boreholes. We were then able to attach the door hinges, door fittings, and telescoping runners securely and without tension by using pull anchors and screws."
Do you need help with a project?
Contact our specialists for advice
Do you need help with a project?
Contact our specialists for advice
Cosentino's materials used in this project