Case Study
Grupo Delgado headquarters, design and functionality from the façade to the offices
EAU ARQUITECTURA SLP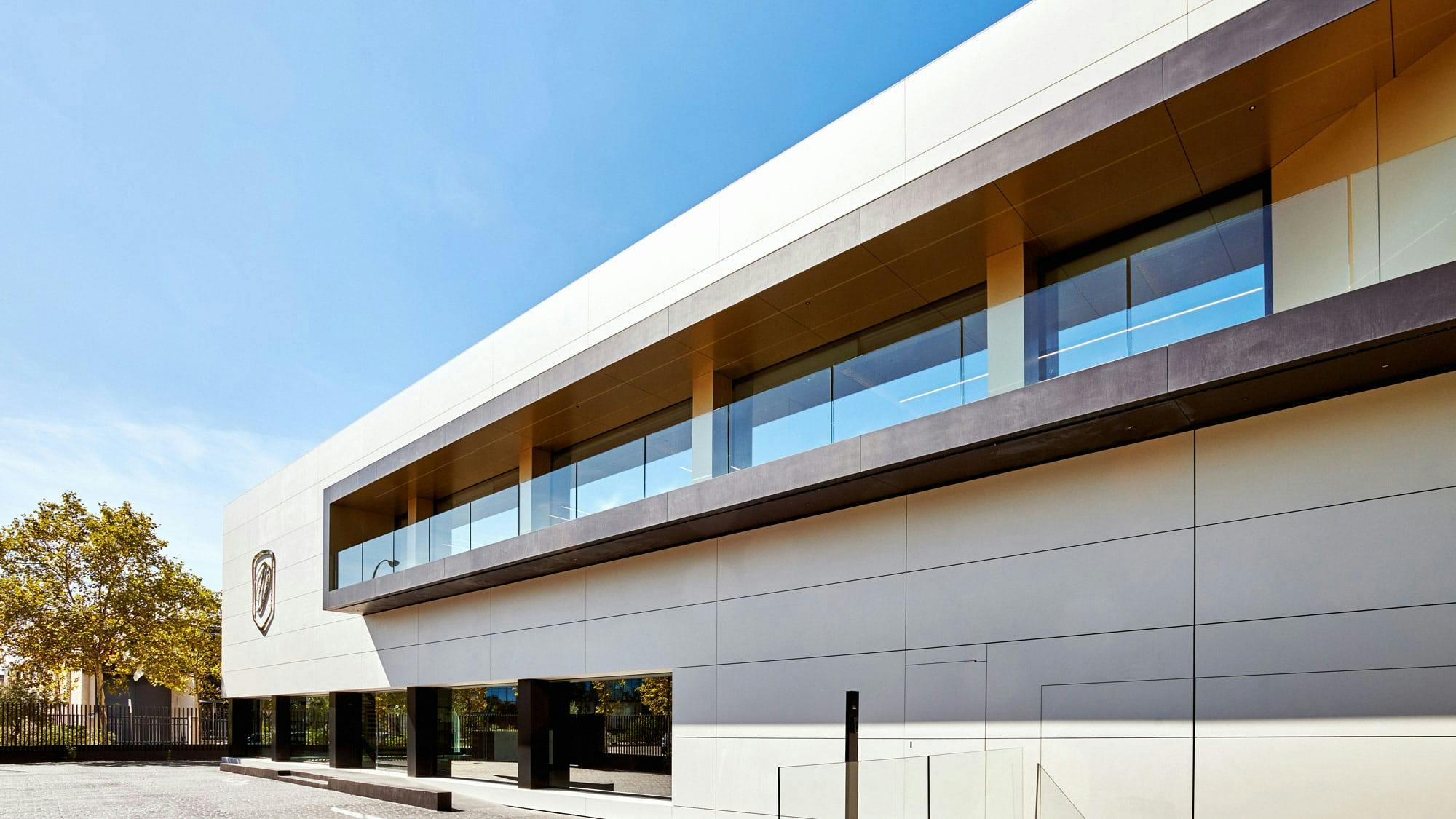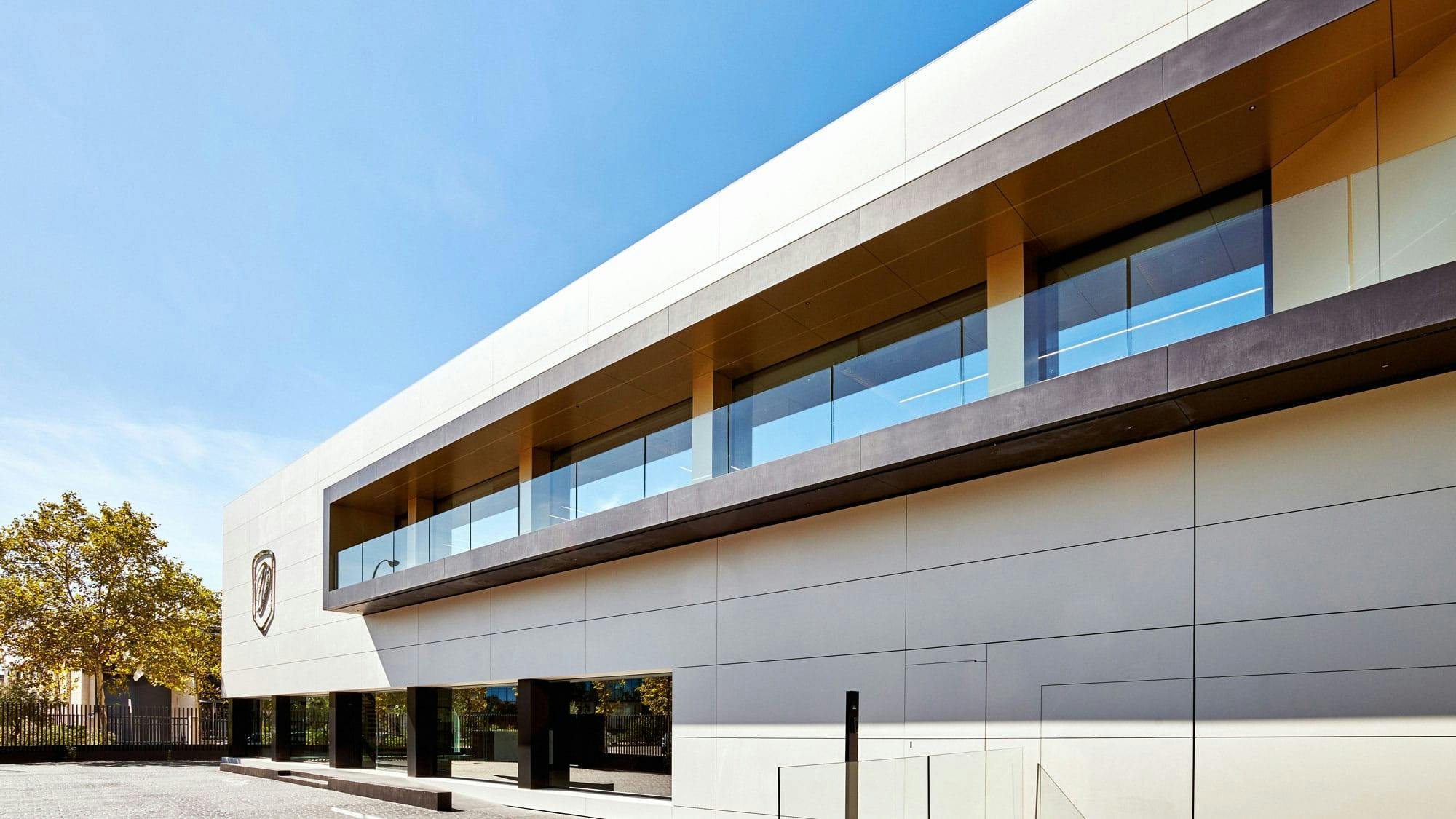 Material
Dekton | Silestone
Color
Warm White | Domoos | Blanc Concrete | Entzo | Aura 15 | Iconic White
Architecture / Design
EAU ARQUITECTURA SLP
Application
Ventilated façade | Flooring | Stair cladding | Furniture | Washbasins
Collaborators
Izcon Modei| A-Plomo | Caybe SLU
Quantity
More than 1,500 m2
A comprehensive refurbishment designed to last
This architectural project involved the remodelling and extension of an existing building in order to house the headquarters of our client, Grupo Delgado. EAU Arquitectura studio designed a comprehensive refurbishment of the building, which extends from the basement, intended to provide parking spaces, to the top floor, for both staff and executive offices.
The aim of the refurbishment was to create open and light spaces oriented towards functionality but also with a marked aesthetic character. Cosentino materials, Dekton and Silestone, were key to achieving this combination both indoors, highlighting the furniture and flooring, and outdoors, featuring a ventilated façade designed to withstand the temperature changes and exposure to sunlight typical of central Spain.
"Thanks to their size, lightweight and durability, Cosentino materials have allowed us to go one step further".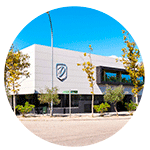 EAU ARQUITECTURA SLP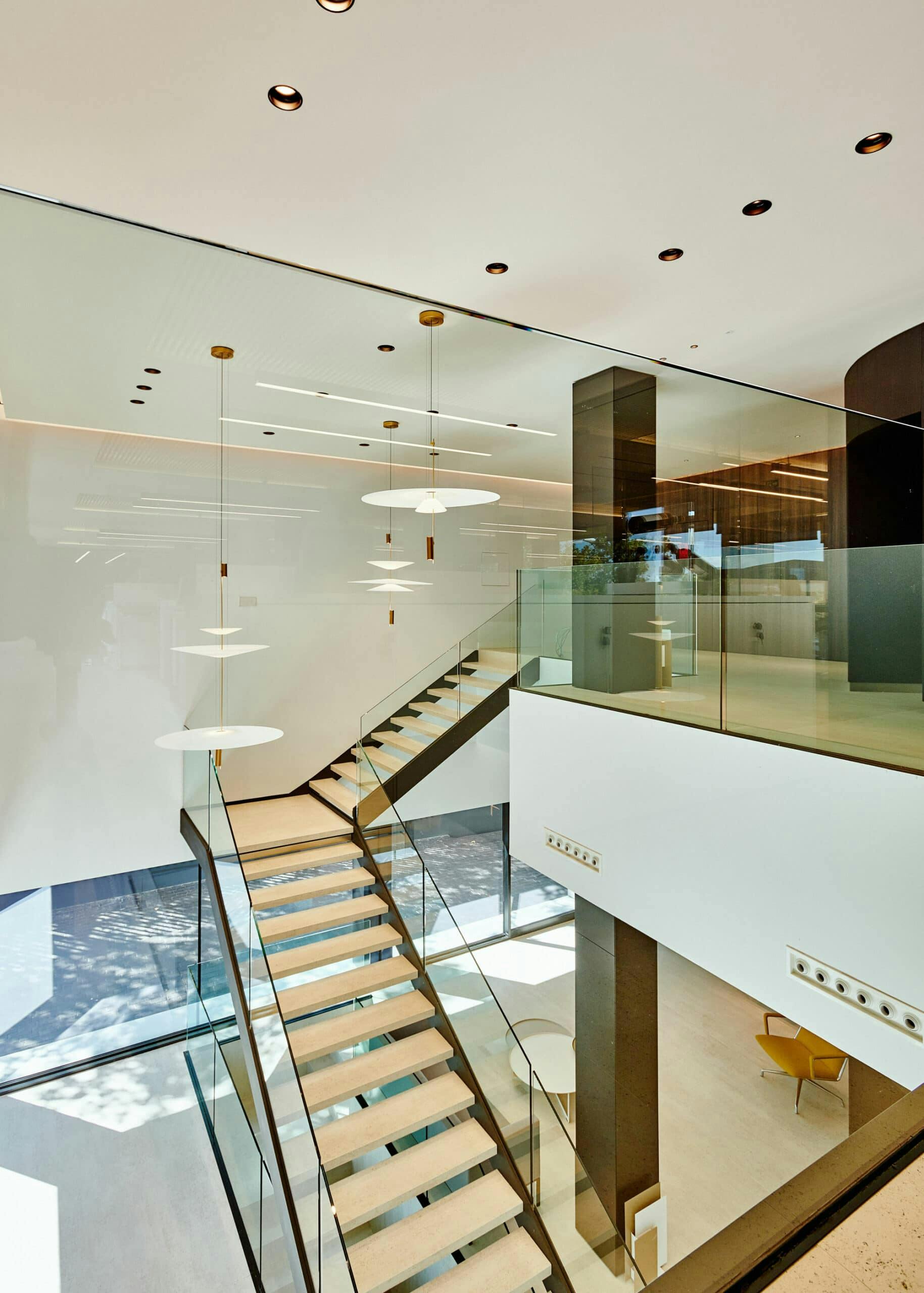 Dekton, lightweight and resistant surfaces
During the refurbishment of the building, the original façade was completely demolished in order to plan a new one that would meet two needs: design and durability. "We wanted a contemporary, refined and simple design, without embellishments, that would provide sobriety to the building", explains the architecture studio, which is why Dekton in colours Warm White and Domoos was chosen for this project.
For the construction of the ventilated façade, the studio used large format Dekton panels, which allow such cladding thanks to its lightness compared to other materials - Dekton is available in thicknesses up to 4 mm-. "We managed to reduce the weight of the façade compared to other materials such as precast concrete or stone, which would have required the use of a more complex substructure as well as waterproofing the material from time to time in order to prevent discolouration, dirt, water absorption…"
Dekton's physicochemical properties, such as its resistance to UV rays, its low porosity and resistance to frost and thawing, make it possible to obtain a material that remains practically unaltered outdoors without the need for long-term maintenance.
Do you need help with a project?
Contact our specialists for advice
Do you need help with a project?
Contact our specialists for advice
Scratch-proof design furniture
The star of the ground floor is the lobby, designed to allow natural light to flood the space and facilitate the flow of both staff and visitors. Large format Dekton slabs in Warm White, Domoos and Blanc Concrete were used for the flooring, thus reducing the number of joints, enhancing visual continuity and facilitating maintenance. "For us it was very attractive because of its scratch resistance and anti-slip properties".
The bespoke reception in Dekton Entzo is the focal point of the lobby. Its interesting veining provides elegance and is reminiscent of the Calacatta marbles, but with a beautiful golden shade.
A whole collection of furniture, including tables and counters in Aura 15 and Domoos, was also designed. The use of Cosentino materials is extended to the washbasins, featuring the model Silence in Silestone Iconic White.
Cosentino's materials used in this project
Related Flagship Projects