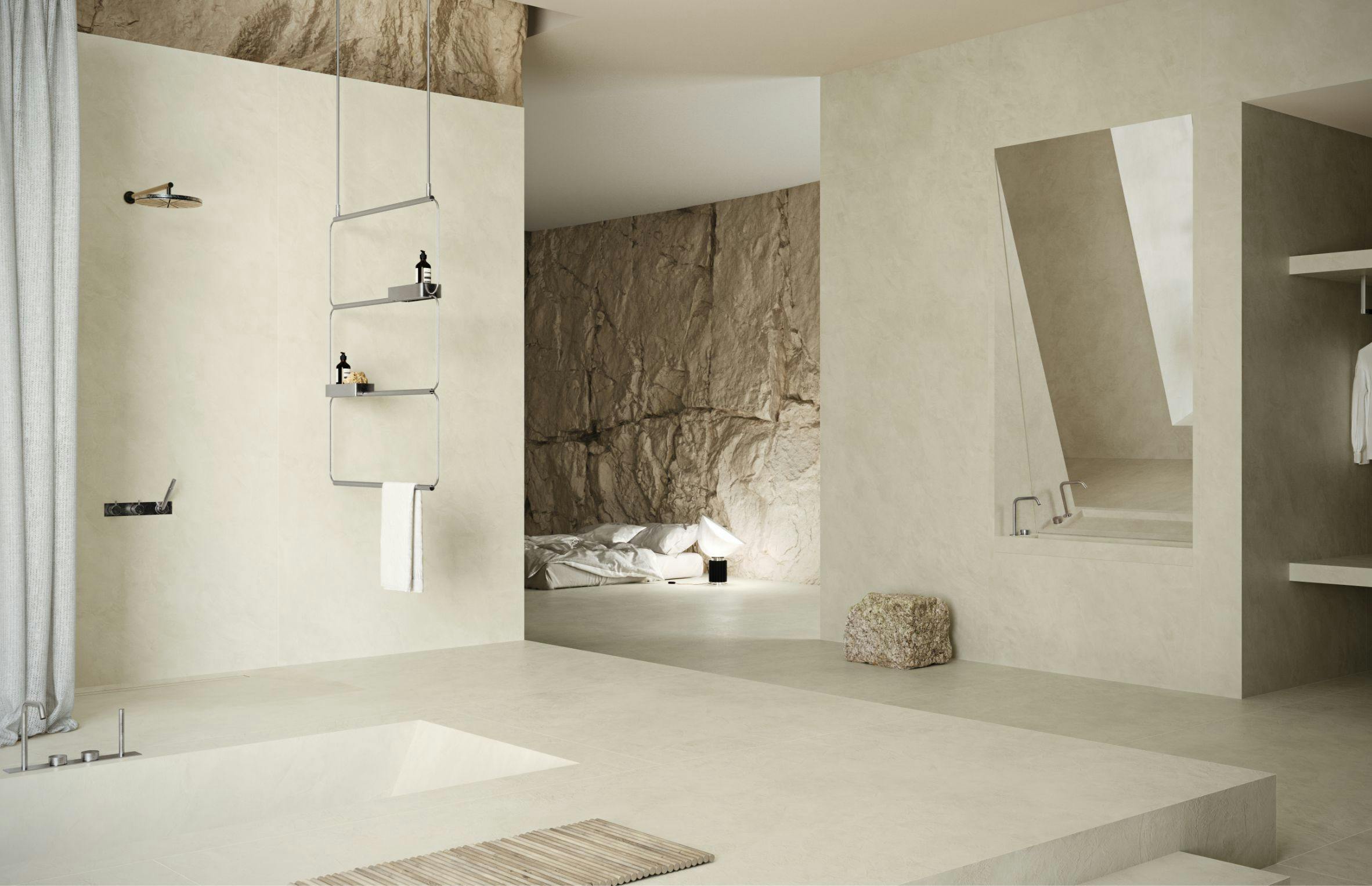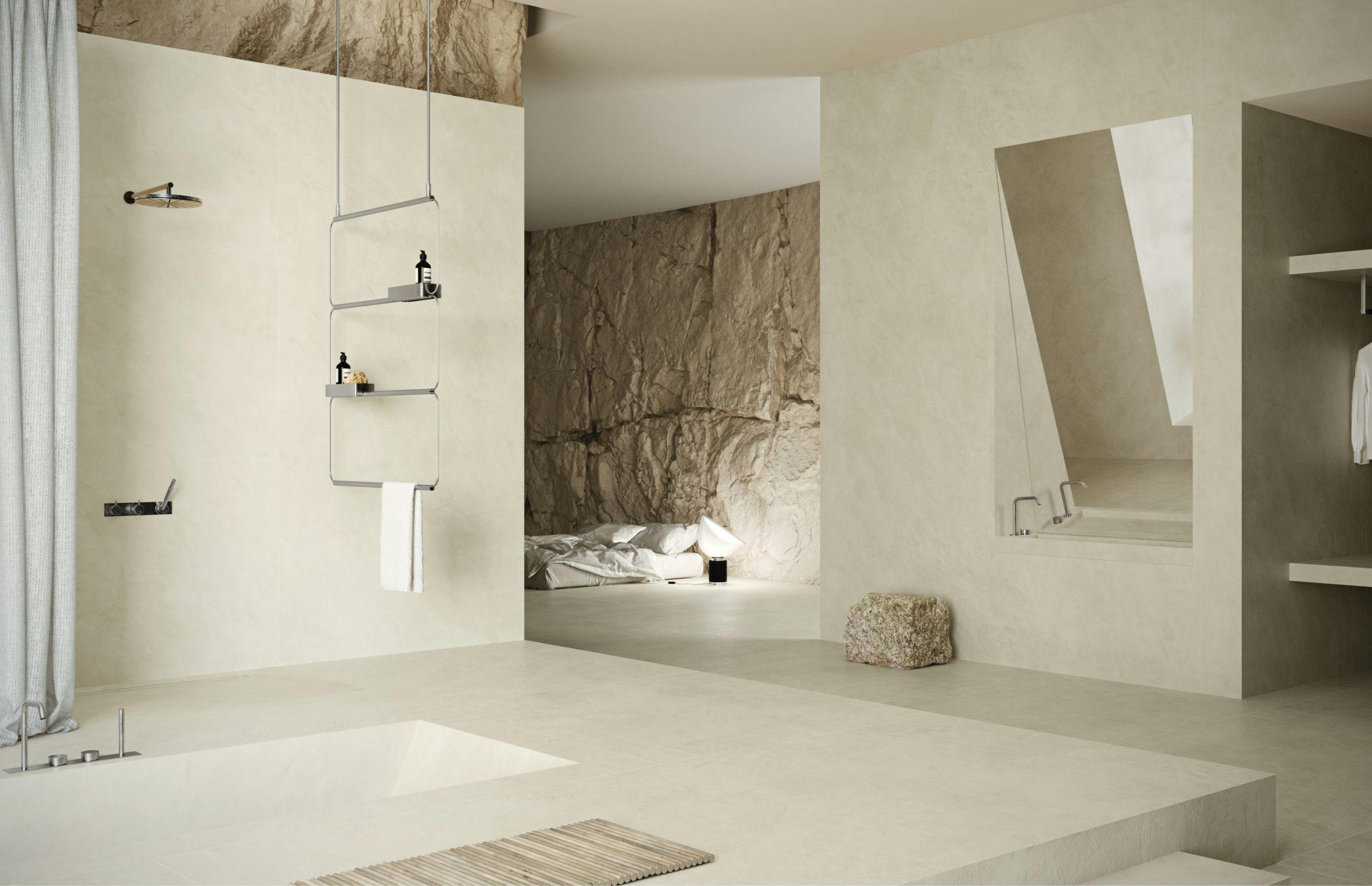 Here are the top bathroom trends for 2023
On the occasion of our latest launch, we take a closer look at the bathroom trends for 2023: C·Bath, the comprehensive approach to reimagining the bathroom space through design and technology.
With our Dekton, Silestone and Sensa surfaces you can create unique and personalised atmospheres, featuring large format wall and floor cladding and minimum number of joints, colours and textures in perfect balance, minimalist washbasins and shower trays designed in detail.
To this end, Cosentino works alongside a selection of leading international designers and interior designers who help us to anticipate what the market will be like in the coming months and even years. In this article we bring together the opinions of experts such as Daniel Germani, Colin Seah, MUT Design, Remy Meijers and Claudia Afshar, who, together with our trends team, share with us the latest in formats, colours, textures and distribution of the bathroom space.
Spa baths integrated in the bedroom
The bathroom is gaining space to evolve into a hybrid between spa, bathroom and dressing room where even small lounges with fireplaces can fit in. The aim is to make it a peaceful sanctuary away from the hustle and bustle of the rest of the house.
When we ask top designers and architects how they envision their perfect bathroom, they talk about creating a space where you can find yourself and take care of yourself without haste.
Remy Meijers admits that he is very keen on layouts in which transitions between separate spaces can serve as really nice design features that create a sense of spaciousness. 'I like spaces that merge seamlessly, rather than arranging small boxes next to each other.'
According to Daniel Germani, bathrooms have evolved over the years to become what they are today: 'they are holistic spaces where we heal, practice our rituals and recharge. It is a great time in history to design bathrooms as a professional'.
Double shower and bathtub with a view of nature
Large showers for two people, with space to relax and enjoy a 'spa' moment thanks to the rain spray mode and chromotherapy, are becoming increasingly popular.
Designer Colin Seah favours a well-equipped thermostatic shower, natural light and, wherever possible, a view of the landscape. This use of biophilic design in the bathroom helps us to relieve stress while allowing ourselves a moment of self-care.
The MUT Design studio also encourages the introduction of a bathtub with an outdoor view, making it the centrepiece of the bathroom design.
The importance of lighting in the bathroom
As in other spaces such as the living room, lighting is also of paramount importance in the bathroom. LED backlit mirrors will be increasingly introduced for a better experience in the daily skin care routine, combined with warm light spots in places such as the shower to enhance relaxation.
Designer Claudia Afshar reveals that she carefully selects the lighting for her bathroom projects, as it will set the tone of the space, which she says should be romantic and warm.
In this regard, home automation has completely dominated the bathroom, enabling us to control the intensity, temperature and position of the lights at the touch of a button.
Natural materials that bring us closer to nature
Materials such as travertine and marble-inspired colours are very much on trend in bathrooms. These noble materials that bring us closer to nature provide a timelessly luxurious and understated ambience.
Cosentino introduces this trend with its new Pietra Kode collection from the Dekton brand, which, in collaboration with designer and architect Daniel Germani, has managed to reinterpret the timeless beauty of three classic stones: Vicenza stone, Travertine marble and Ceppo di Gré.
'They are stones that tell stories, they transport you to places and memories of Italy,' says designer Daniel Germani.
The importance of keeping your bathroom clean and tidy
Just as in the kitchen, cleanliness and tidiness in the bathroom are of vital importance, even more so in recent years. Designs that facilitate cleaning are preferred, such as rimless wall-mounted toilets, seamless surfaces, profile-free partitions and others.
To facilitate the cleaning and maintenance of the home, at Cosentino we have developed innovative ultra-compact surfaces such as Silestone and Dekton, which have very low porosity, prevent the accumulation of dirt and allow us to use all kinds of cleaning products without damaging them.
Accessible bathrooms for the whole family
Where there are children or elderly people at home, we realise how important having an accessible bathroom is. Not only homes, but also public spaces such as bars and restaurants need to be adapted for people with reduced mobility.
More and more renovations are being carried out to make a bathroom more accessible by installing a walk-in shower such as the Rainfloor model by Dekton. The good news is that you can have a safe, accessible and adapted bathroom without compromising on design by choosing Dekton and Silestone surfaces.
Sustainable and healthy bathrooms
Modern bathrooms are more sustainable, which means reducing water and electricity consumption, using durable and environmentally friendly design surfaces, as well as being safe and healthy for users.
For this purpose, designers opt for classic designs that stand the test of time and do not need to be revamped every few years. Beyond fashions and passing fads, the aim is to create functional and beautiful spaces that the client will fall in love with for years to come.