Cosentino Flagship Project
Hotel Mediterráneo Park: an intimate showcase for Cosentino materials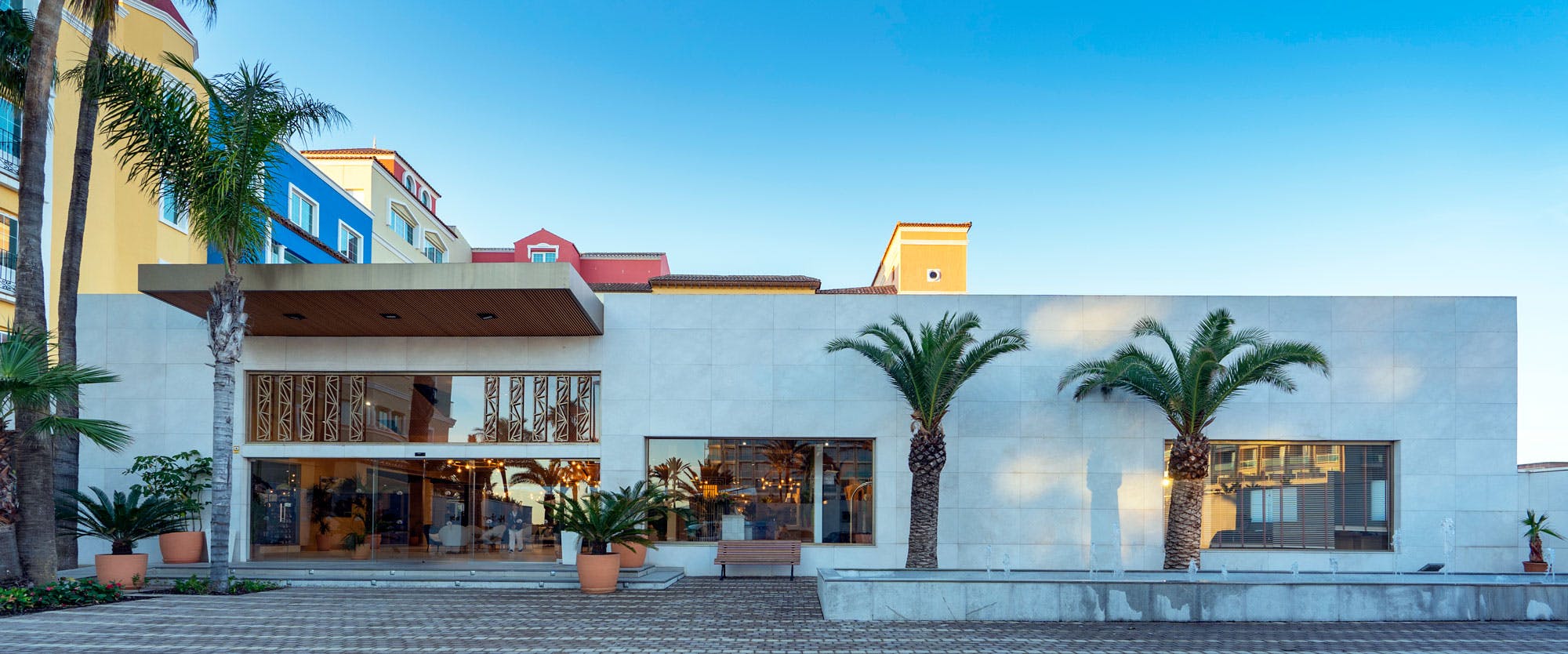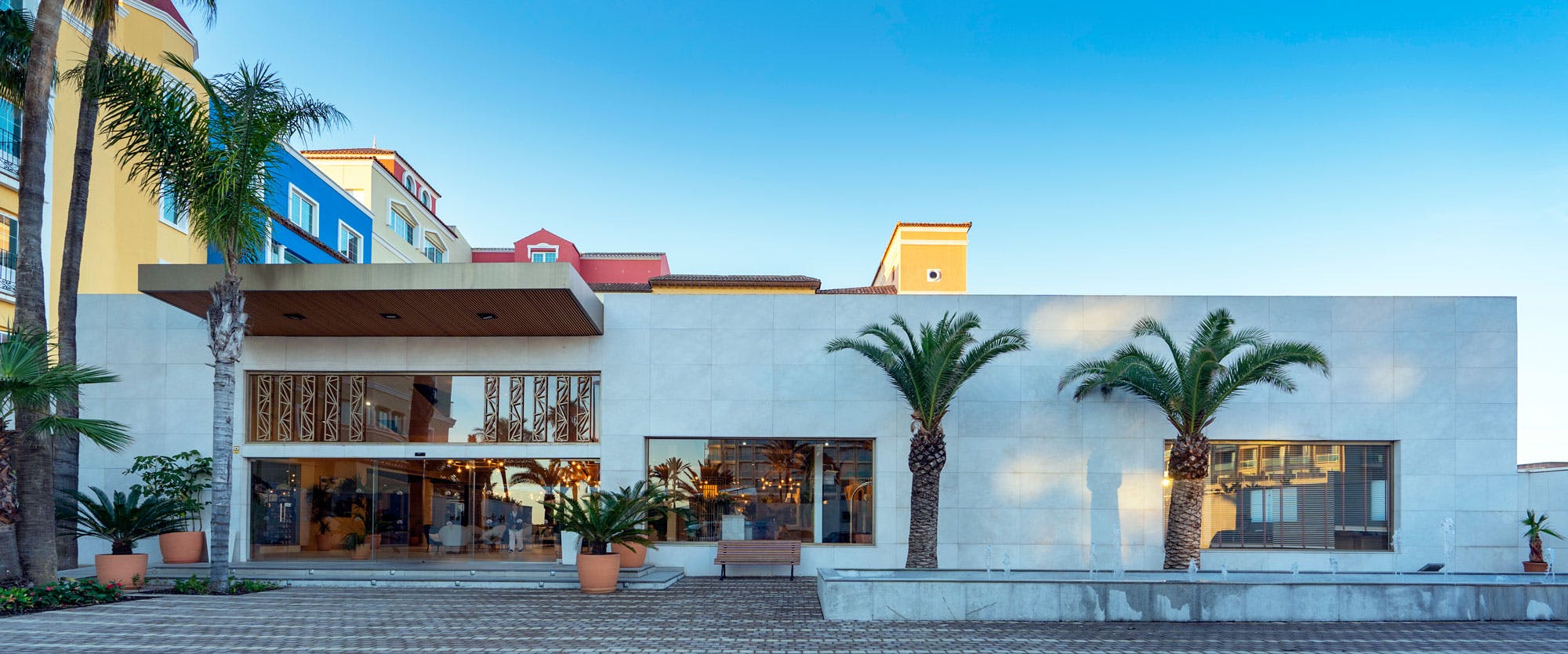 Material
Dekton | Silestone | Natural Stone
Color
Danae | Blanco Zeus | Crema Marfil | Negro Marquina
Application
Façade | Bar Counters | Stairs | Flooring | Cladding | Bathrooms
A design to match every surface
In June 2018, the Mediterráneo Bay Hotel & Resort opened its doors after a full refurbishment to celebrate its 25th anniversary. This cornerstone of the Almería hotel industry is located in a peaceful area on the seafront in Roquetas de Mar. With 367 rooms, an enormous lagoon-shaped swimming pool, a second pool with water slides for the little ones, a children's club, a fitness centre and much more, the Mediterráneo Bay Hotel & Resort is a four-star paradise perfect for a dream holiday.
Cosentino became a trusted partner in this refurbishment process. Its presence can be felt throughout every inch of the common spaces and rooms in the hotel, with materials from its Dekton, Silestone and Natural Stone brands.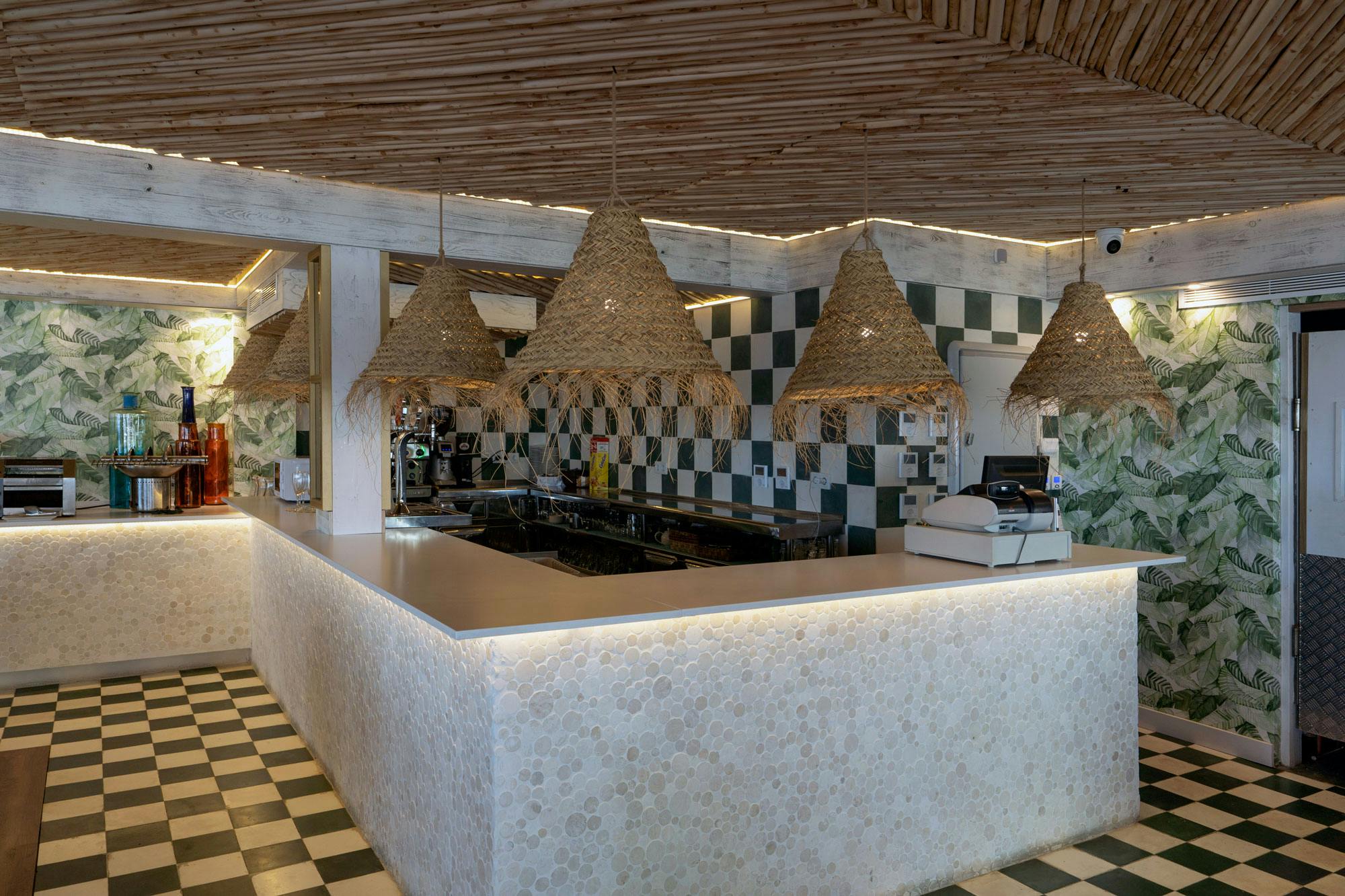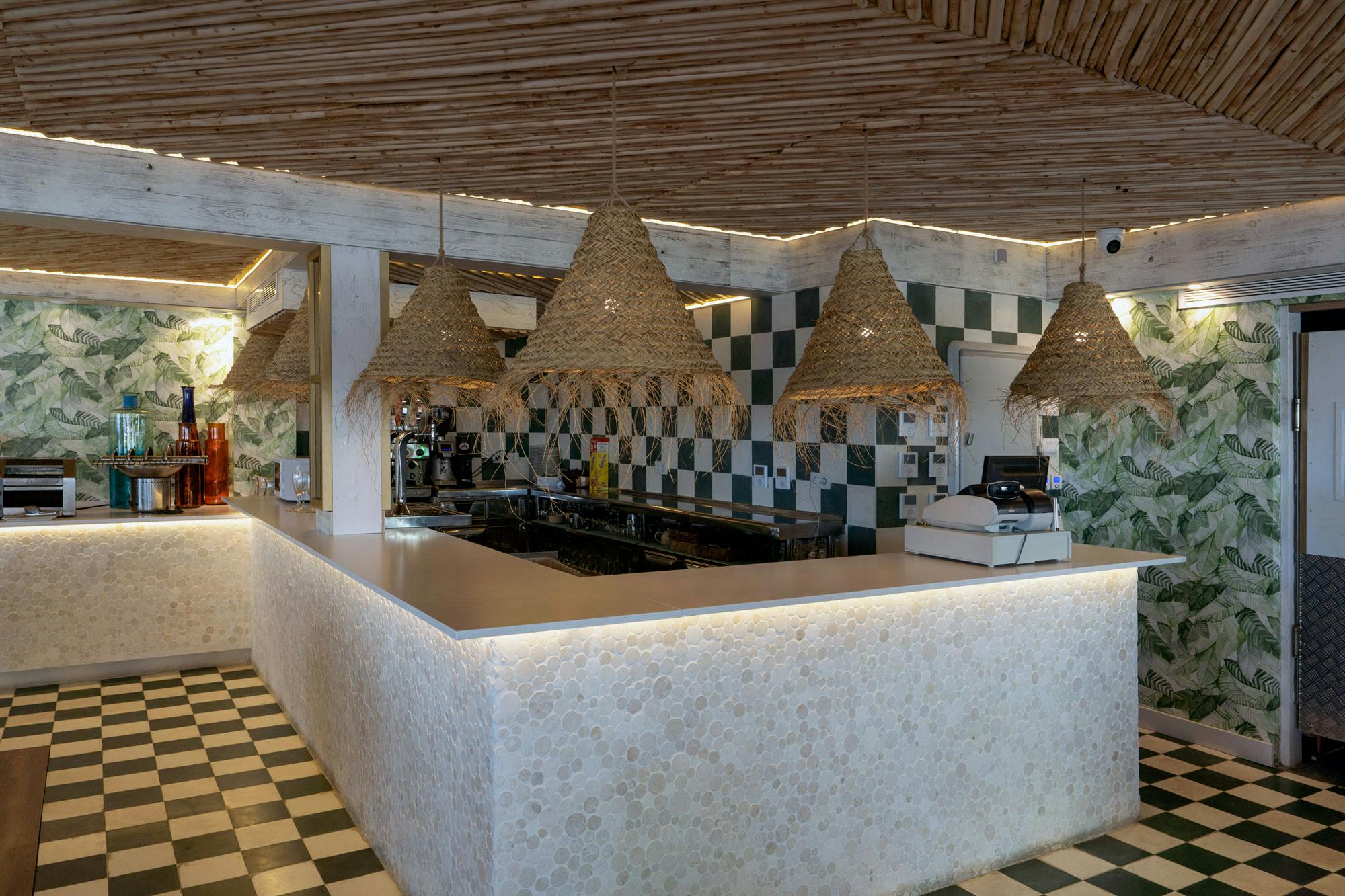 The Cosentino family of materials stands out in every detail
The hotel's main façade, crafted in more than 340 m2 of texturised crema marfil-coloured marble, grabs the visitors' attention to greet them upon arrival. A water fountain refreshes the traveller's visual palate next to the façade, also crafted in marble, in a 2 cm texturised Sierra Elvira tone.
The guest arrives at the hotel lobby with the assurance that everything to follow will be sophisticated and in good taste. The lobby's flooring is made of ultra-compact Dekton surfacing in the Danae colour tone, used in the 157 x 140 x 0.8 cm and 320 x 140 x 0.8 cm formats to guarantee the perfect visual continuity in a spacious and bright environment.
Durable and design-centred refurbishment
The buffet bar was crafted in the Blanco Zeus Suede model of Silestone with a 2 cm thickness. The counters for the other two bars were built with Alaska and Ibiza white marble, respectively. In addition, the dining area leaves guests spellbound, as the entire floor shines with the spectacular effect of the polished Venato Carrara floor covering, in its 40 x 40 x 2 cm format.
After the visual feast of the hotel's common areas, guests arrive at their room to discover, to their delight, that it follows the same aesthetic theme. The room and bathroom are cladded with polished and bevelled Crema Marfil marble tiles, with the bathroom flooring honed in the same tone and the countertops fashioned in a gorgeous Carrara white marble in the 120 x 60 x 2 cm format.
As a whole, the refurbishment of the Hotel Mediterráneo Park in Almería is a showcase of the design possibilities for the entire line of Cosentino surfaces.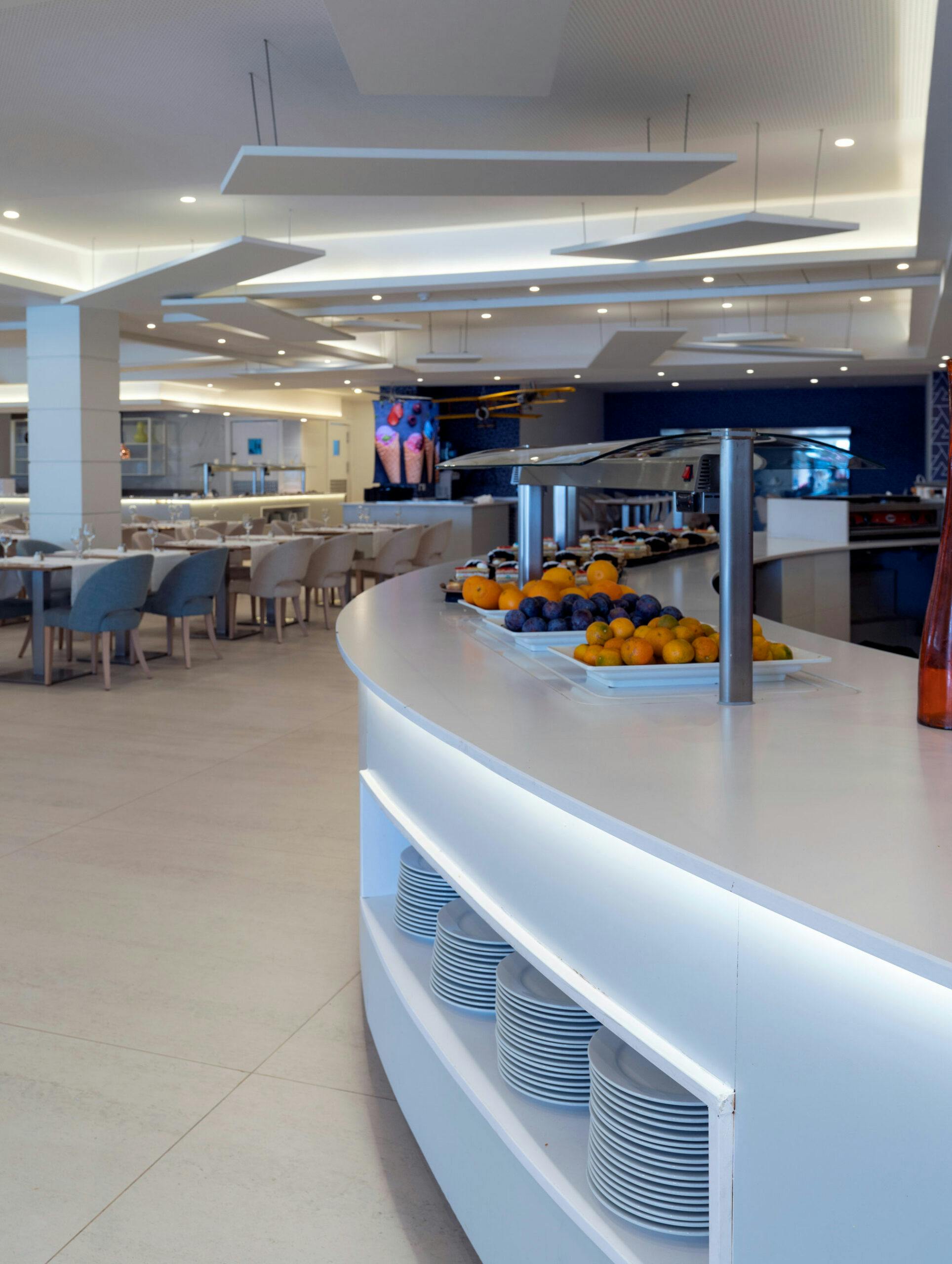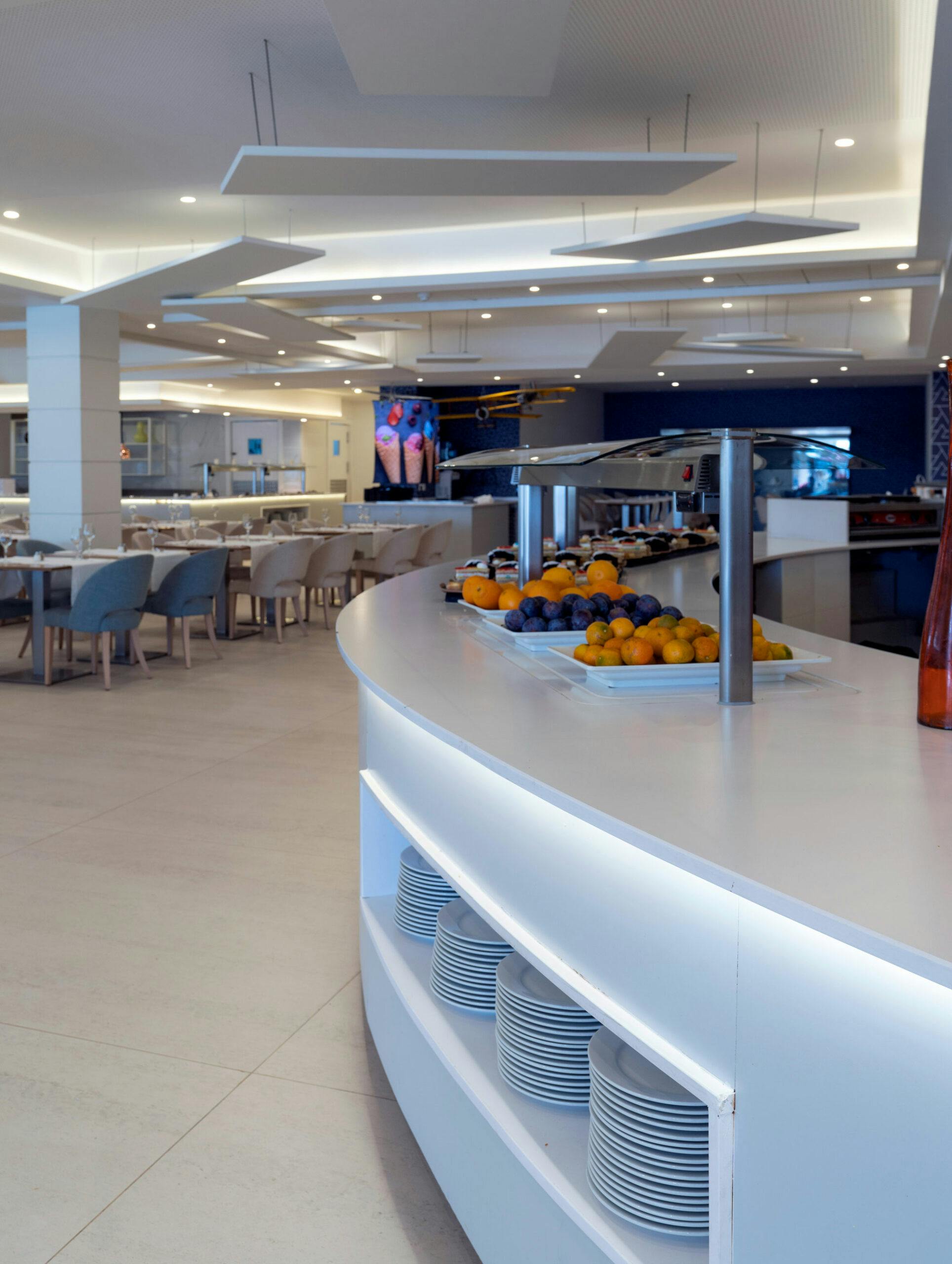 Do you need help with a project?
Contact our specialists for advice
Do you need help with a project?
Contact our specialists for advice
"The new hotel is a reflection of how the sector's transformation is affecting design"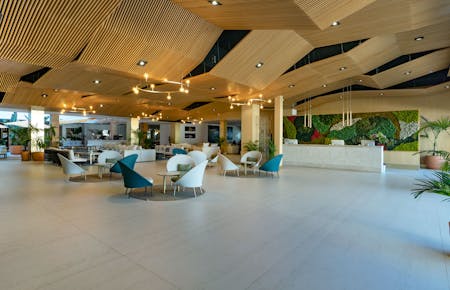 Lara Vázquez
General Manager
Cosentino's materials used in this project
Related Flagship Projects