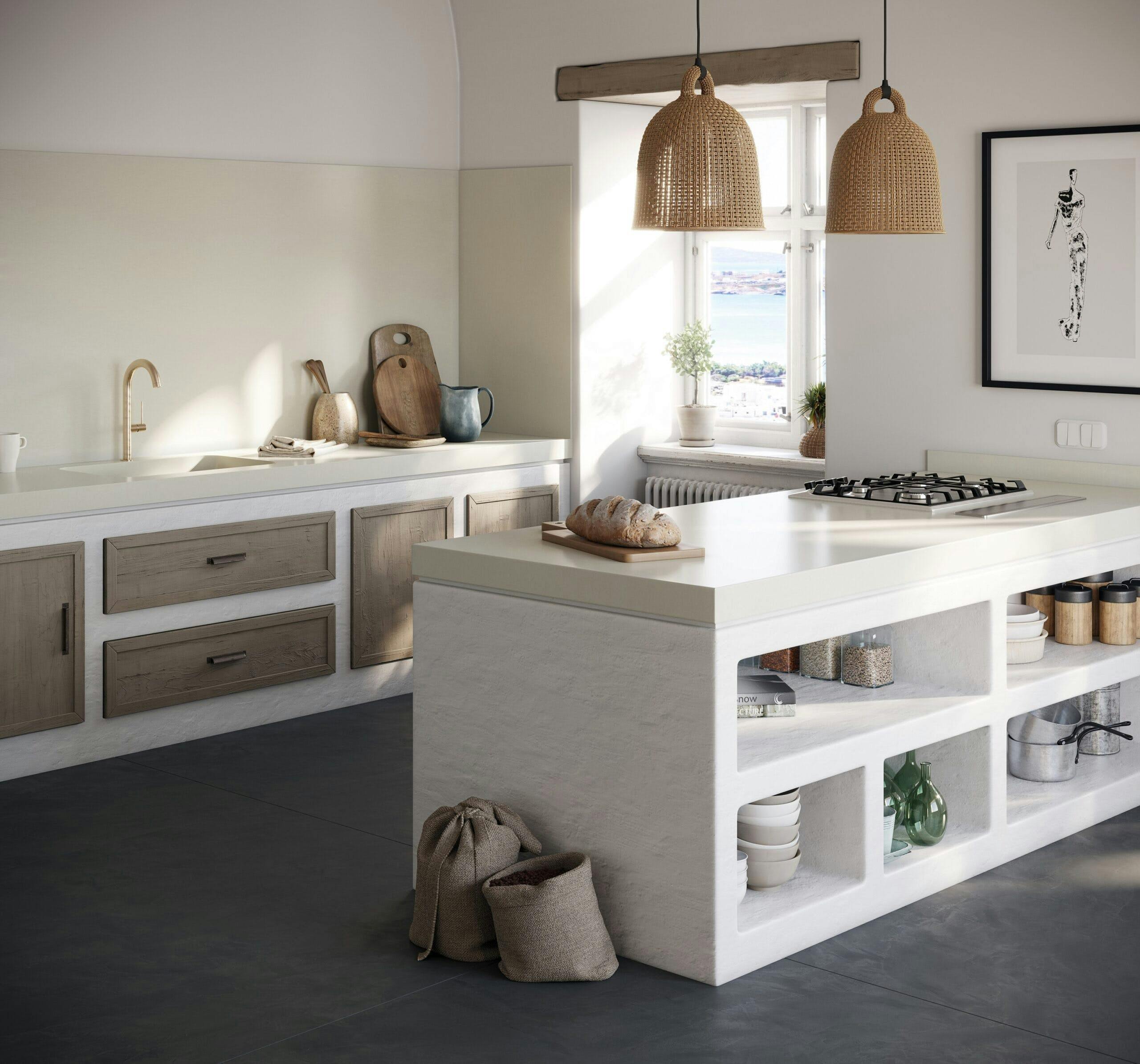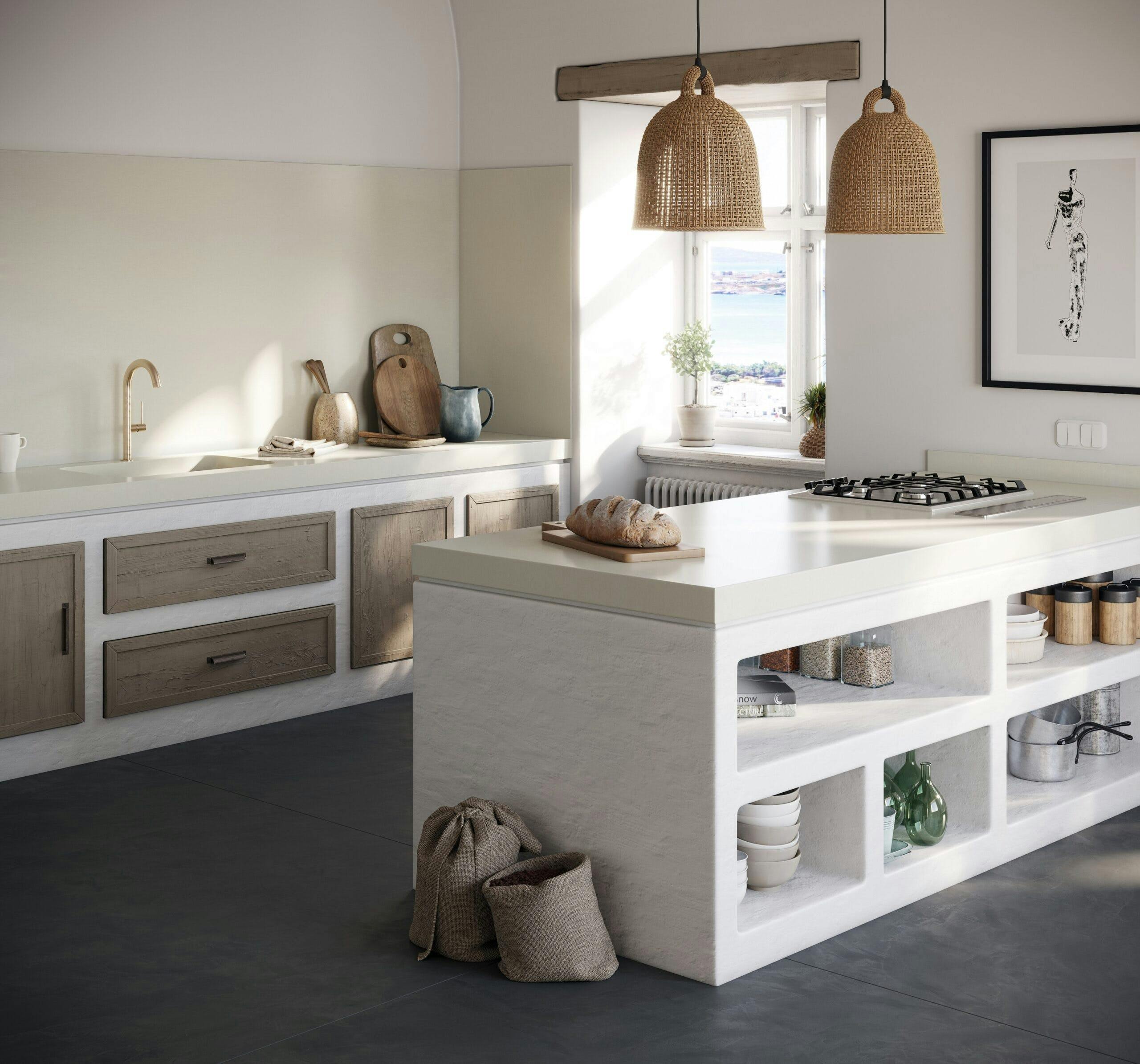 How to choose a worktop finish: matt or gloss?
One of the many decisions you have to make when you are designing your kitchen is the finish of the worktop: do you prefer it matt or polished? There is no one option better than the other, it will simply depend on your needs, your personal tastes and the characteristics of your kitchen. Of course, you should know that the result changes completely depending on the finish you choose.
Bear in mind that if you opt for a Silestone worktop, you can choose between different finishes for each of its colours, while in the case of Dekton, the colours are designed with a specific finish to bring out their maximum beauty.
As always, we want to advise you and let you know the characteristics of each worktop finish, so that you can make the right choice.
Worktops with a gloss finish
We reveal the pros and cons of choosing a worktop with a gloss finish:
The gloss finish makes the worktop stand out more and attracts attention, as it reflects a lot of light. It is a good choice when you want it to be the star of the kitchen.
The gloss finish is easier to clean, but also more sensitive to stains and fingerprints. You will have to clean more regularly but with less effort.
Gloss worktops are brighter and are ideal for smaller kitchens or kitchens with little natural light.
Worktops with a matt finish
Now it's time to find out the advantages and disadvantages of matt-finished worktops:
Matt worktops are less messy but slightly less quick to clean than gloss-finished worktops. As they do not reflect as much light, fingerprints are not left behind and maintenance is less.
The matt finish is more discreet, serene and elegant, so it fits very well with the minimalist and natural aesthetic.
The feel of matt worktops is warmer and more pleasant to the touch as they are slightly rougher, making the kitchen more welcoming and natural.
Combine matt and gloss finishes with Cosentino surfaces.
With Cosentino surfaces, we can choose from a series of finishes depending on the style we are looking for, taking into account the properties we have mentioned. In addition, we can combine them with each other and add much more richness to our design.
At Silestone we have the following finishes: Polished, Suede and Volcano.
Polished: extreme shine, a surface that is smooth to the touch with a uniform, intense and consistent colour.
Suede: a matt appearance that conveys a unique experience to the touch for its beauty and fineness.
Volcano: rustic and rough texture that is at the same time attractive, soft and pleasant to the touch.
In Dekton we have the finishes X-Gloss, Matt, Velvet, Matt or Velvet Textured and the non-slip Grip+.
Matt: the matte Matt texture pursues a natural look, without shine, ideal to achieve a harmonious and eternal finish. Most Dekton products are manufactured with this finish.
X-Gloss: a luminous and dazzling finish achieved thanks to mechanical polishing, without the need for glazes or other materials.
Velvet: Dekton's velvety texture. The materials chosen in Velvet create a feeling of warmth and comfort. This texture is perfect in classic colours, with veins.
Matte Matt or Textured Velvet: combines the warmth of velvet with the roughness of a textured, imperfect material. It is ideal for emulating the finish of natural stone.
GRIP+: our non-slip finish, suitable for wet areas such as the bathroom and outdoors.
It is important to bear in mind that while with Silestone you can choose the finish for all the colours, in Dekton the finish is predetermined by each design, and in some cases you can choose between matt or X-Gloss (polished).
This is the case with the new Dekton collection, Silverkoast, with colours that transport us to a trip to the coast of Malibu, giving rise to marbled colours that instil serenity and immensity, in which we can find colours in Velvet or X-Gloss finish.
In the case of Sensa we can choose between Caresse, Leather and Polished.
Polished: a shiny surface that plays with reflections.
Caresse: an exclusive satin texture, with volume.
Leather: matt, with a soft and very pleasant finish.
The trend towards matt finishes for kitchens
In recent years, the matt finish has become an upward trend, displacing gloss in many finishes in the home. This is not only seen in kitchens, but also in other surface applications such as bathrooms, flooring, furniture...
Thanks to its practicality and low maintenance, matt worktops and fronts, as well as furniture with soft textures and stain-resistant treatments, have become popular.
If you are looking for your kitchen furniture to blend in perfectly with the worktop and have low maintenance, we recommend panelling the doors with 4 mm Dekton Slim, in a matt finish.
It is also advisable to combine different textures, playing with the finishes of the furniture, the electrical appliances and the worktop and wall coverings. With the utmost aesthetic care, you can intersperse gloss and matt finishes to highlight the parts you want and soften others.
Discover all the colours and finishes of our collections in our colour finder, and remember that you can visit one of our Cosentino City Centres to get inspired and choose the one that best suits your project.