Top Homes
Interior designer Sanna Piitulainen chose Dekton Rem for her new kitchen
Sanna Piitulainen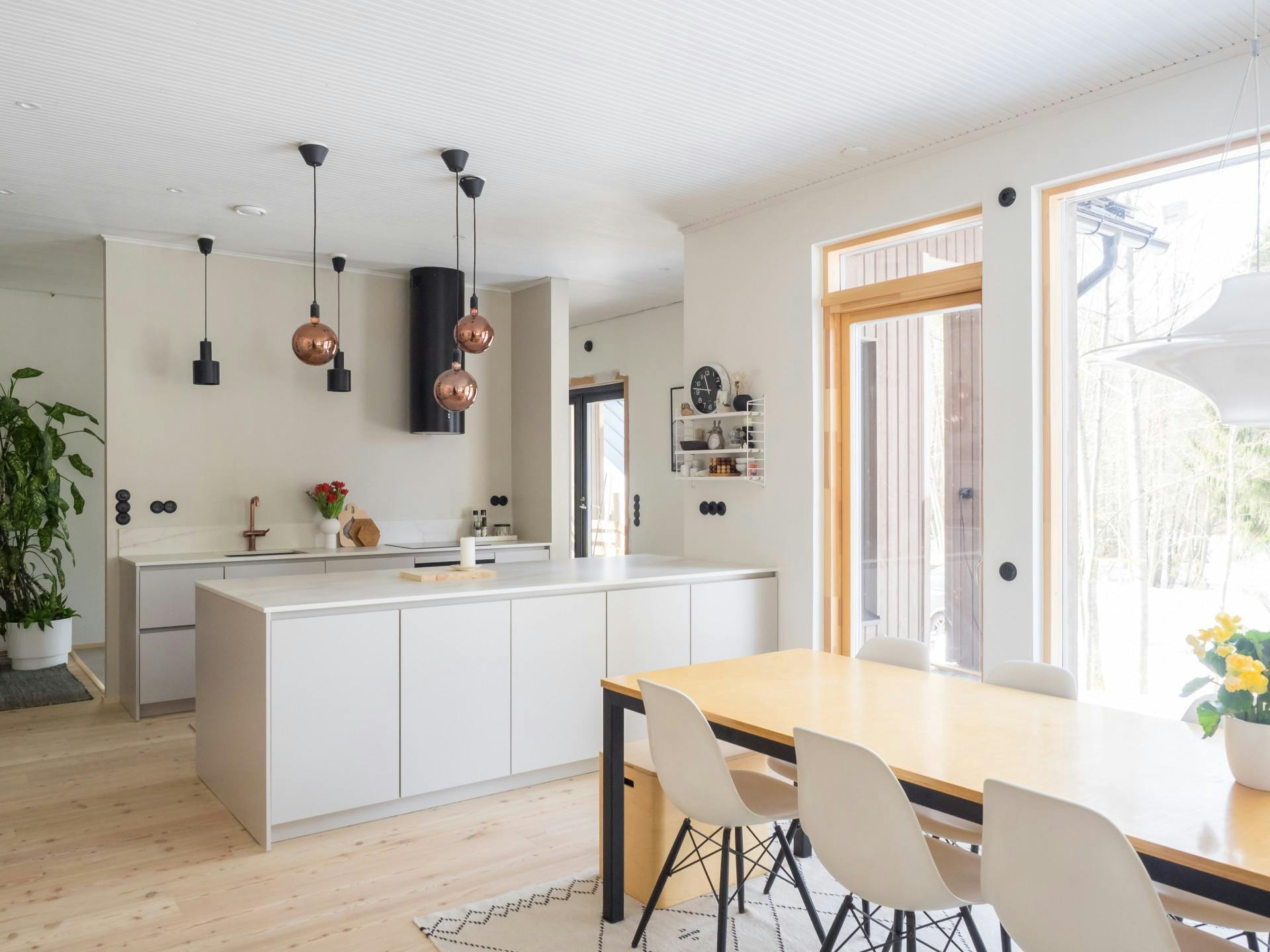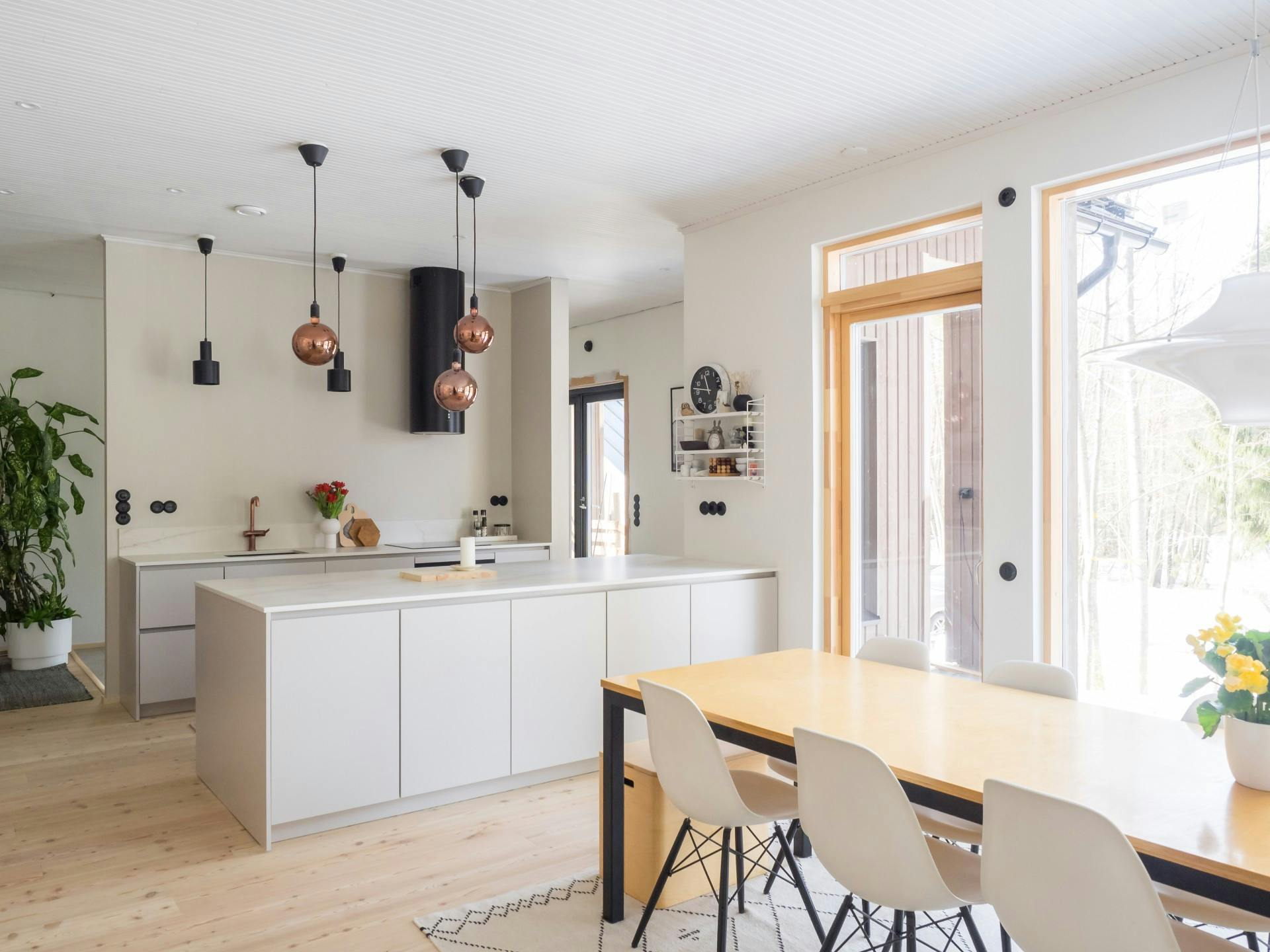 Architecture / Design
Sanna Piitulainen
Application
Kitchen worktops, cabinet back wall
Fabricator
Ylämaan Graniitti 
Sanna Piitulainen and her family have just built their third house. The family's new house is located in Porvoo and was designed completely around a pleasant and functional kitchen. Piitulainen started working on the floor plan of the house at an early stage. She wanted the kitchen and utility room to be located next to each other and also for the kitchen to be close to the vestibule, minimising the distance required for carrying grocery bags. "Some of my other wishes for this kitchen were also fulfilled," Piitulainen says. 
"The sink is installed under the worktop. Our old house had its kitchen sink installed over the worktop and it was a constant nuisance. The worktop requires constant wiping and the smooth edge of the sink is conveniently easy to sweep clean and dry. Lapetek's matte black sink was initially sent to stone producer Ylämaan Graniitti so that it was already attached to the worktop prior to installation. The joint is very clean and finished," Piitulainen observes.  
Piitulainen's wish list for her home also included a peninsula with no extra functions and a large continuous surface, enabling it to be used as a practical serving table for parties. The peninsula worktop is used for virtually all everyday kitchen tasks from cooking to baking and arts and crafts. The worktop material runs from the worktop to a backsplash that catches most of the splatters near the sink.  
The cabinet includes a separate space, a so-called breakfast nook for a coffee maker. This space has Dekton on its back wall. This back wall was made of three separate parts, avoiding the need to drill holes for fixing the shelves. All the parts were cut from one larger piece, enabling the pattern to run continuously. As the thin back wall material is only 12 mm thick, support beams were added behind it to fill a gap between the cabinet frame and the wall. 
In this house, Piitulainen got the kitchen worktop that she had long desired. She was attracted by the material's ease of maintenance, and it has proven to be a great choice. The matte finish feels so good to the touch that Piitulainen often brushes it as she passes. She chose a Dekton Rem kitchen countertop because of its soft colour and the material's excellent properties. Rem goes well with the kitchen's other surfaces and hues, such as the sandy Noblessa cabinet doors, copper Lapetek tap and Timberwise larch parquet floor. The combination of white, sand, black, copper and wood is calm and elegant.  
"The Dekton worktops have proved to be very low maintenance. I was a little cautious at first and took care not to place anything hot on them without using a trivet. Since then, I've noticed that I can use the worktops for chopping off the stems of a bouquet or even place a hot pan directly on their surface. The worktops' lovely matte finish feels soft and velvety to touch. I've found convenient ways to clean the worktops and can now even easily remove greasy fingerprints with a scouring pad and a cleaning stone. Luckily these are rarely needed, as everyday cleaning requires only water. I have truly fallen in love with this kitchen." 
Cosentino's materials used in this project