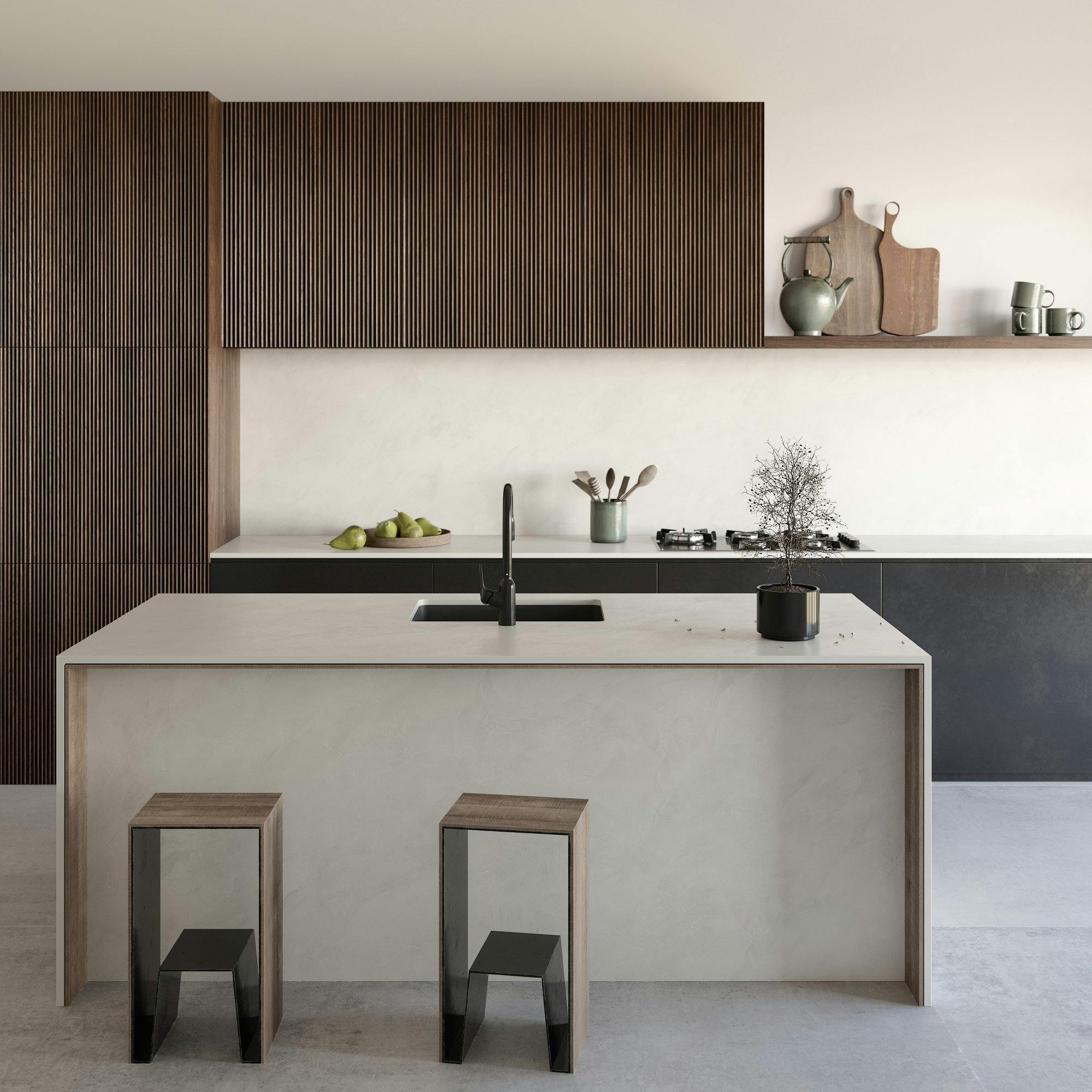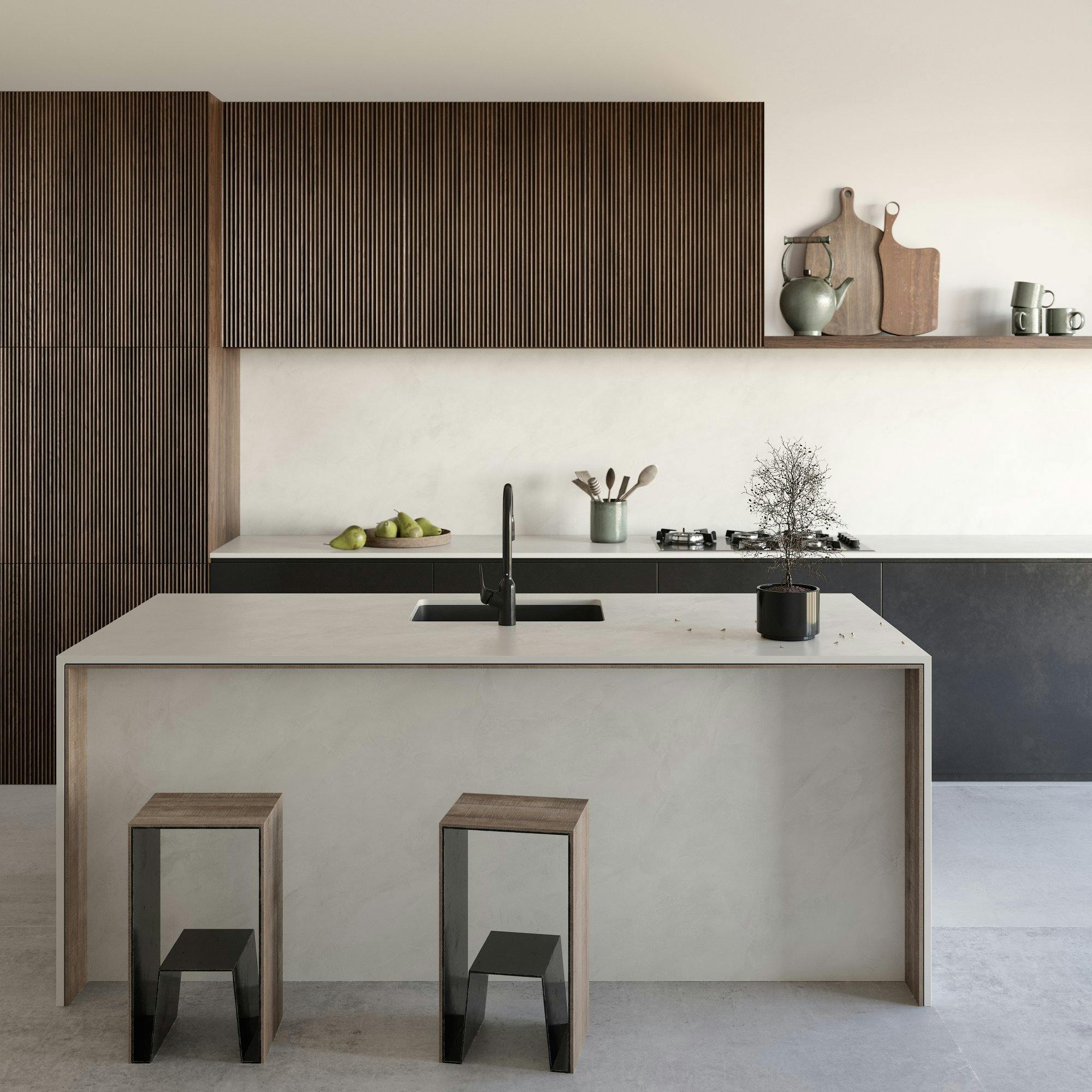 Japandi style: find out the keys to integrating it into your home
If you are passionate about Scandinavian style and you also like the minimalist Japanese aesthetic, you will fall in love with the Japandi style. Scandinavian and Japanese cultures have much in common due to their historical background, so it is not surprising that the decorative styles are similar and naturally converge. In this article you will find out the keys to give your home a Japandi style with the help of Cosentino surfaces.
What is Japandi style?
It is a blend of Japanese and Scandinavian styles that has arisen naturally from the influence between the architecture and design of the two countries.
This relationship of mutual admiration dates back more than 150 years, when a number of Danish architects, artists and designers came to Japan for inspiration. Similarly, Danish design products are also well received in Japan. No wonder, since both cultures share a respect for craftsmen and a taste for natural materials, especially wood.
Yet it is also true that both countries show a taste for minimalism, simplicity and a simple lifestyle, which is reflected in concepts such as hygge and wabi-sabi.
In a previous article we have talked about hygg, the need to feel comfortable at home in order to enjoy the little moments. On the other hand, wabi-sabi is an aesthetic based on finding beauty in imperfection, which appreciates the passage of time imbued in objects. The combination of both concepts results in a relaxed, simple and cosy decorative style that is far from being artificial and fussy.
The Japandi style can be adapted to any room in the house, playing with the materials, colours and textures that characterise it. In this article you will find the keys to achieve a kitchen or bathroom featuring this trendy style.
Ideas for a Japandi-style kitchen
The kitchen is one of the central parts of the house, especially when it is open and connected to the dining room. Today, more and more people are looking for a decorative style that matches the rest of the rooms, and Cosentino surfaces are ideal for this purpose. By integrating Sensa, Silestone and Dekton surfaces into your kitchen design, you can achieve the style you want, choosing from a wide range of colours and patterns, thicknesses, textures and formats.
If you wish to bring the Japandi style to your kitchen, be sure to introduce these elements into the design:
The use of wood is a must, as it connects us with nature and gives us a feeling of warmth. Light wood furniture with a natural finish and simple lines are ideally suited to this style.
Combine wood with a natural stone worktop in neutral colours – the result will be spectacular! You can choose either a 100% natural stone worktop from our Sensa brand of protected natural stone, or an innovative and sustainable surface such as Silestone and Dekton.
In terms of colours, opt for a palette of neutral shades, such as ecru and beige for paint, flooring and wall cladding. On this canvas you can introduce hints of pastel or earthy colours, and some dark wood furniture.
Decorate the dining room with wooden furniture and other natural fibres, in simple lines. You can even integrate some Danish design chairs to add the finishing touch to the style.
For a more wabi-sabi look, use handmade ceramic bowls and vases that add texture and character with their imperfect finish.
For kitchen textiles such as cloths, rugs and tablecloths, go for natural-coloured linen and cotton fabrics.
The Japandi style is all about nature, so it is essential to add some greenery to the décor, but not too much. Choose non-flowering plants, such as monstera or strelitzia.
Ideas for a Japandi-style bathroom
In the bathroom, the zen touch of the Japandi style plays a particularly important role in creating a space of relaxation and calm in which to spend a moment of the day taking care of oneself.
If you fancy creating your own self-care haven, here are some tips on how to incorporate this style:
It is paramount that nature is present in our bathroom through outdoor views, vegetation and natural materials like stone and wood.
Bring in the warmth of wood through innovative materials such as Dekton Valterra. So you do not have to worry about water damage to wood, as Dekton is a cutting-edge, ultra-compact material, ideal for any application, both indoors and outdoors, including flooring, wall cladding or washbasin countertops.
Minimalism and simplicity are the hallmarks of the Japandi style, so surfaces should be uncluttered and clean, with no objects in between. Make sure you have enough storage space in the bathroom to keep everything out of sight.
Introduce natural stone into the wall cladding and countertop to enhance that connection with nature. At Cosentino we offer an array of unique granites and quartzites, such as Sensa Taj Mahal and White Macaubas colours, which come with an exclusive stain-resistant treatment.
Separate the washbasin area from the shower or bathtub area, either physically or through the wall cladding, thus providing different atmospheres. By using a wall cladding and shower tray in the same shade of Dekton, you can create a completely minimalist and clean look, with hardly any joints, thanks to its large format.
To finish off the wabi-sabi look, choose natural and handcrafted finishes in wood, patterned surfaces and paint. Did you know that Venetian plaster is back on trend? In our new Dekton Kraftizen collection we take inspiration from this decorative technique to create more textured design surfaces.