Cosentino Flagship Project
Keil: Why the specialist for undercut fixing technology chose Dekton
Ralf Rother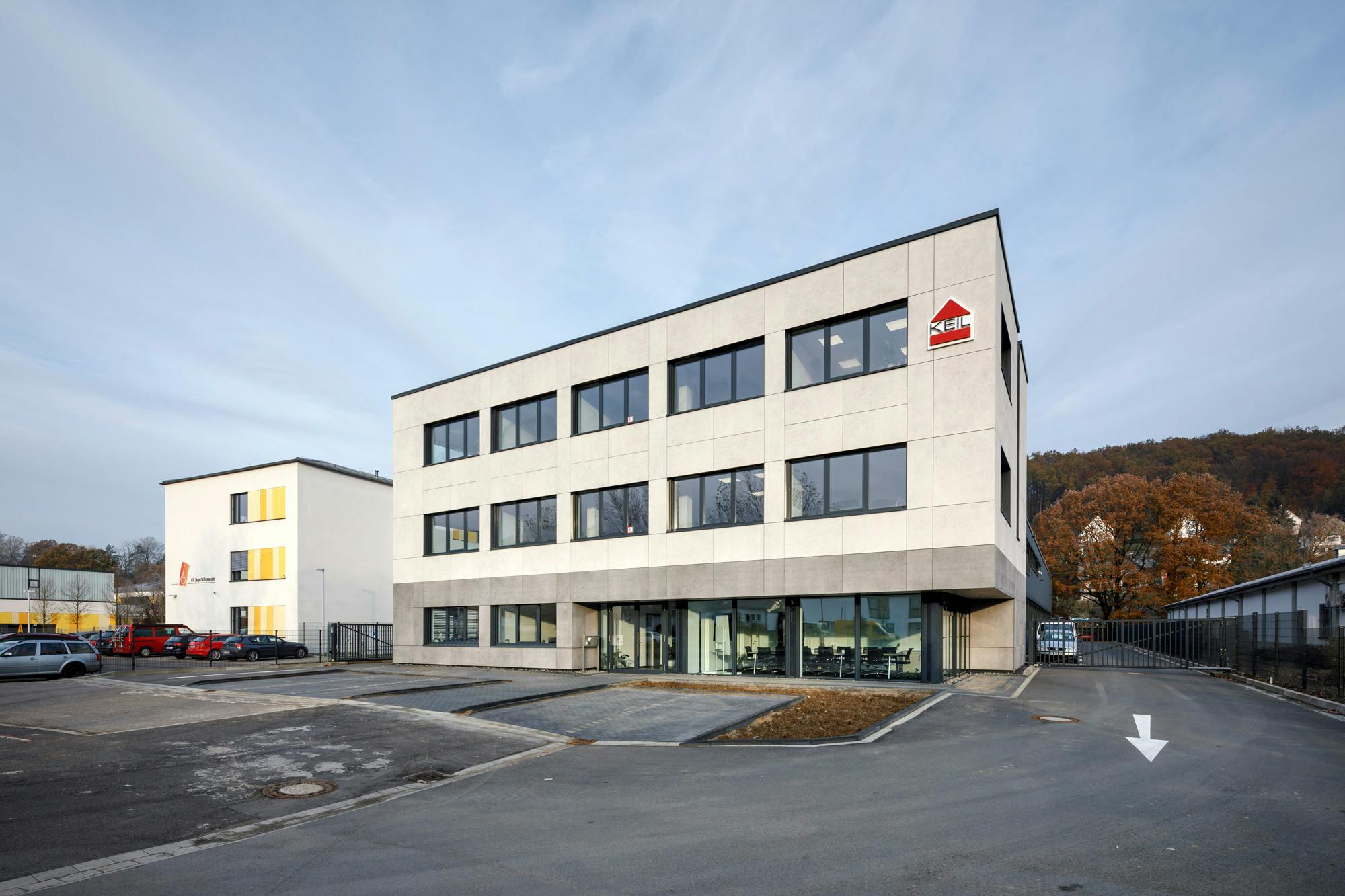 Location
Engelskirchen, Germany
Architecture / Design
Ralf Rother
A brand-new company building
Engelskirchen is a town in the Oberbergische Land, a hilly region near Cologne. Ore mining and medium-sized companies in metal processing and mechanical engineering shaped the local economy. The company KEIL is also based here. Its undercut anchors are used all over the world today, particularly for the secure and tension-free fixing of ventilated curtain wall elements.
The company is on course for growth and needed additional space. Therefore, KEIL built a new company building in 2019. First of all, the production hall was erected, where the systems for undercut technology are manufactured: Drilling tools, anchors and fixing articles for façades and interior design. The administration building with 703 square meters of gross floor space on three floors for offices, meeting and common rooms was placed in front of it. While the production hall was built in a sound-insulated sandwich design, the administration building was given a curtain-type back-ventilated façade.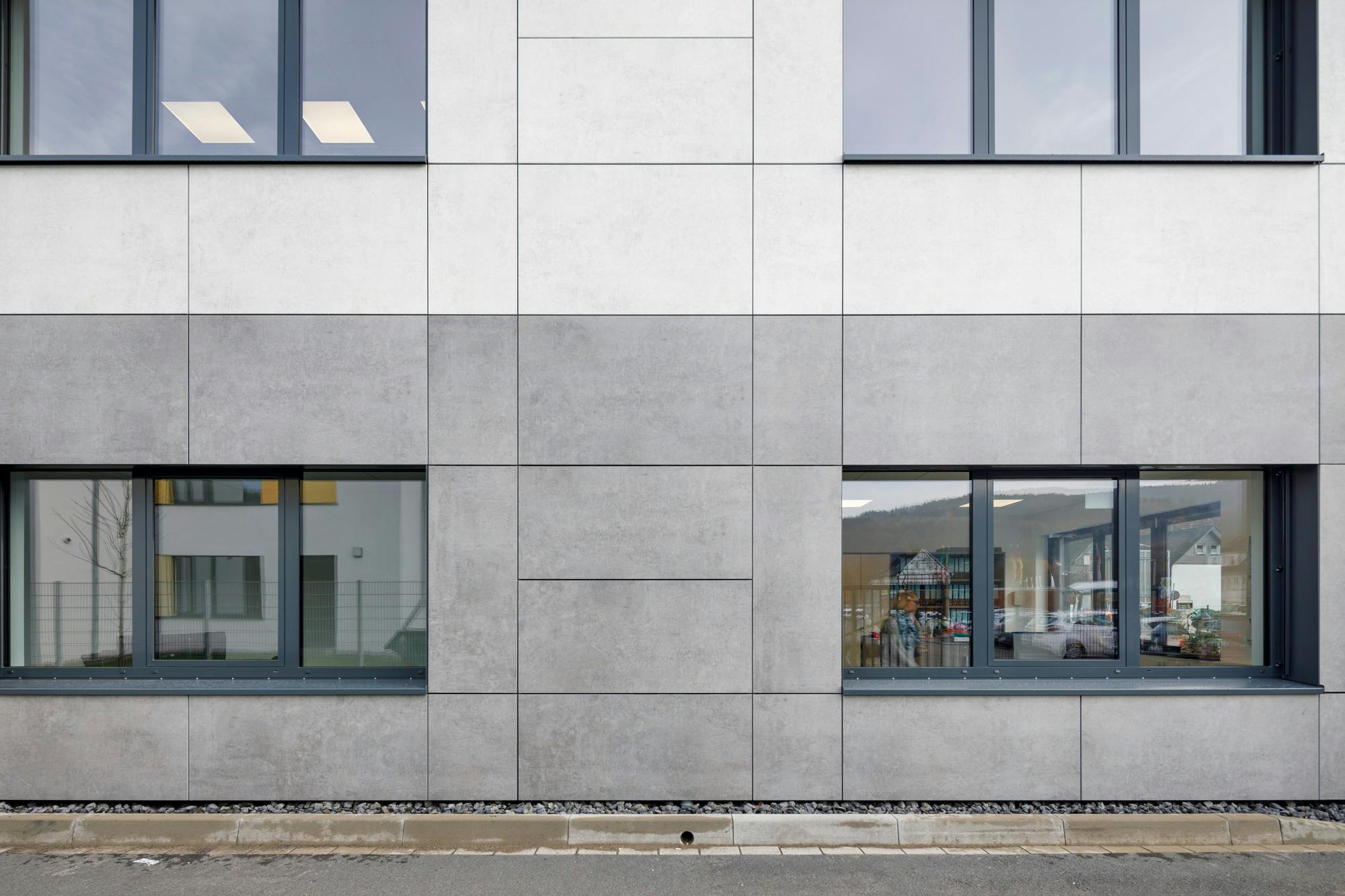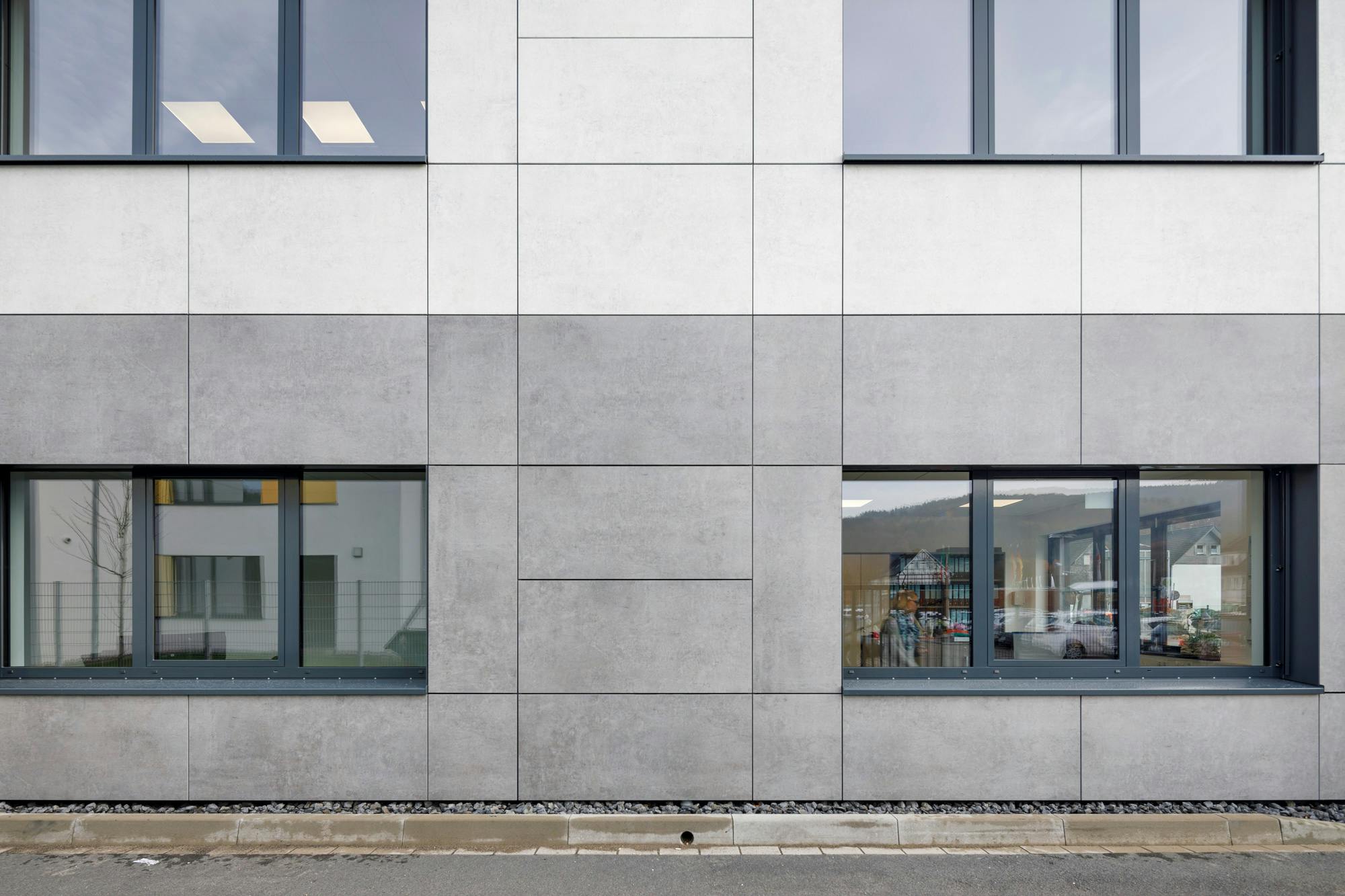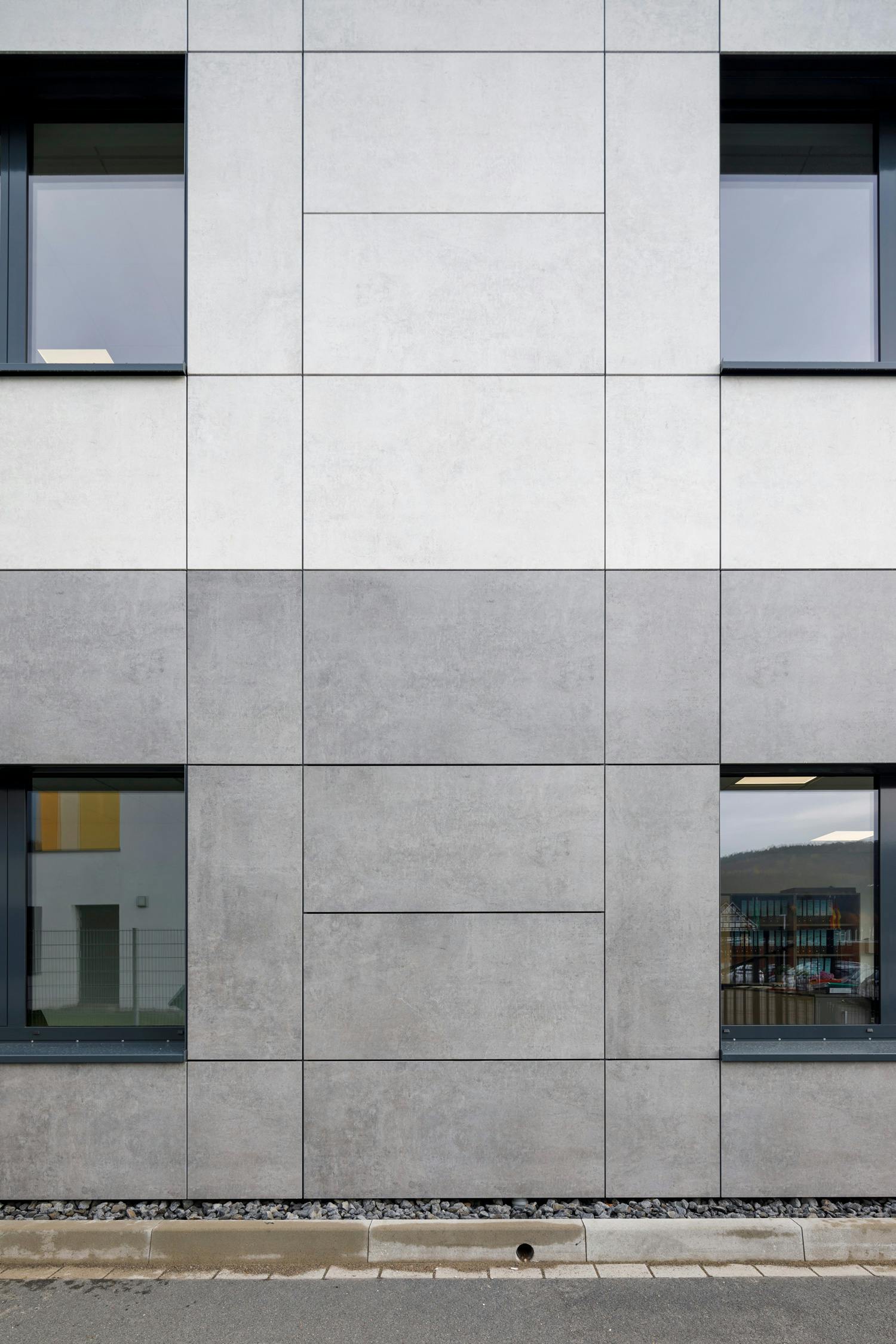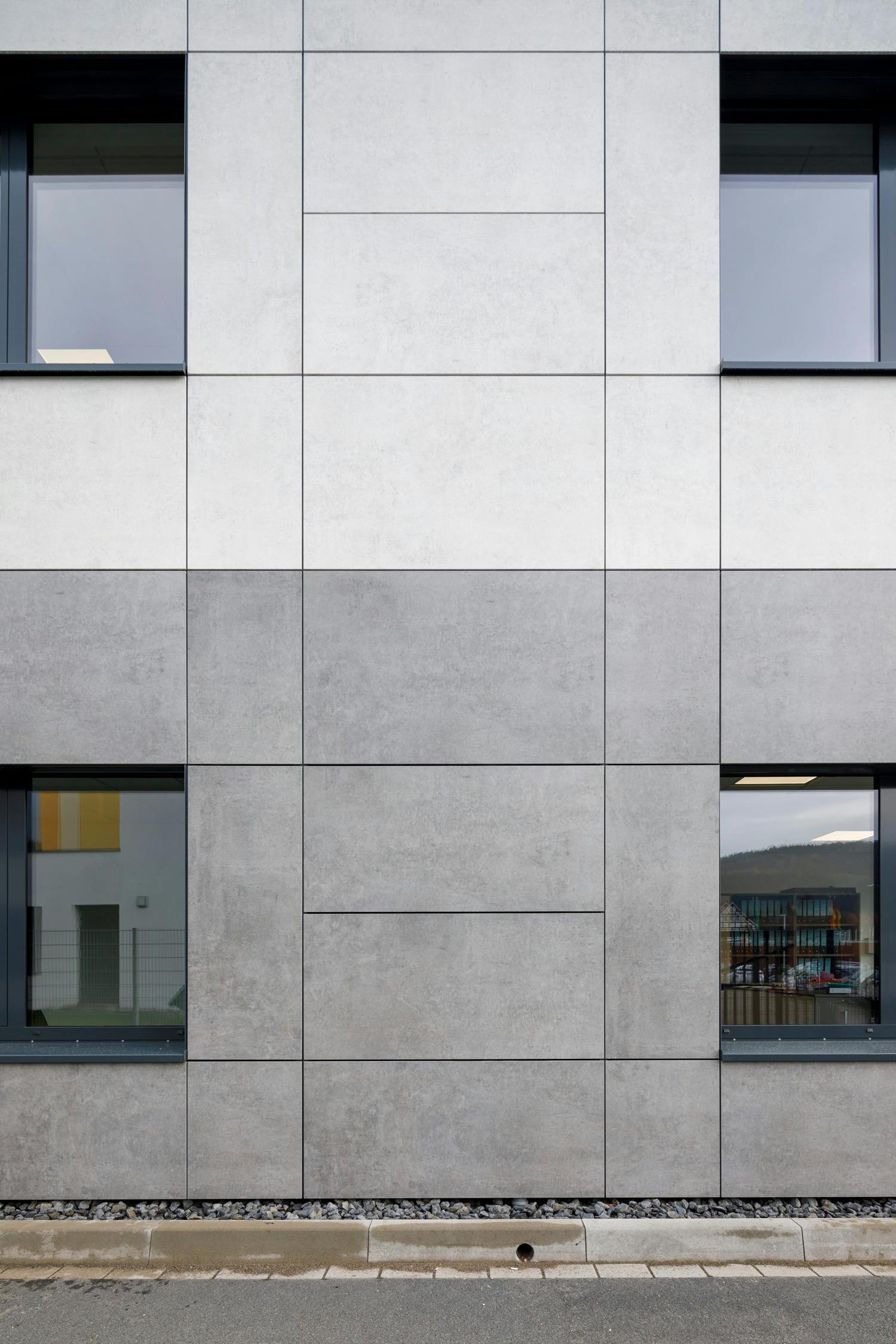 Two-tone cement look
Together with the architect, the designs Kreta and Lunar from the Industrial Collection were chosen from the more than 50 color and texture variations of Dekton. "Dekton Kreta is inspired by dark grey, matt cement and with its calm appearance it creates a solid foundation and a good connection to the dark grey production hall and the car park", says architect Ralf Rother. "Dekton Lunar also has a cement look but is much brighter. This was used to clad the upper floors. This way, the building adapts to the neighborhood and can still set its own highlights".
A narrow metal panel serves as a façade closure to the flat roof, on which a large photovoltaic system is installed to supply electricity to the company's buildings and electric vehicles. "We wanted to combine energy efficiency and aesthetics to create a future-oriented new building for our company," says KEIL Managing Director Schmidt. "We liked the ultra-compact surface not only because of the sustainable advantages such as weather resistance, but also because of the precision, haptics and design of Dekton – it is a timeless material that simply suits us very well".
Do you need help with a project?
Contact our specialists for advice
Do you need help with a project?
Contact our specialists for advice
``Cosentino offers an all-inclusive carefree service, which enabled us to achieve a stress-free and short construction period``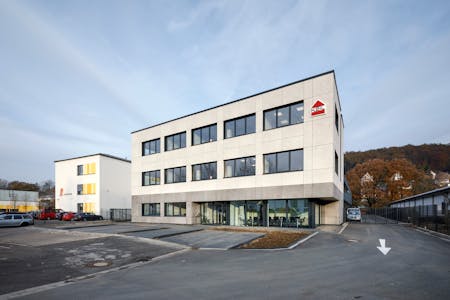 Christian Schmidt
KEIL Managing Director
All-inclusive carefree service
"We wanted an energy-efficient and aesthetic façade that radiates straightforwardness and calm," says Christian Schmidt. "The Dekton façade of the KAP WEST in Munich, for which we supplied the undercut anchors, came pretty close to our wishes. We also made very good experiences with Cosentino in collaboration. Dekton panels can be delivered in large formats, cut to size, provided with drill holes and numbered consecutively - an all-inclusive carefree service in logistics, which enabled us to achieve a stress-free and short construction period".
Dekton consists of inorganic natural minerals as used in the production of glass, porcelain and quartz surfaces and can be individually designed. The blank is pressed at a pressure of 25,000 tons and hardened at 1,200 degrees Celsius in a particle sintering process. In just a few hours, this creates what Mother Nature took thousands of years to create: an ultra-compact surface with outstanding strength, low moisture absorption and high resistance to weathering and UV light. The precisely shaped panels in thicknesses from 4 mm to 30 mm are available in formats up to 3200 mm x 1440 mm and are cut and processed according to customer requirements.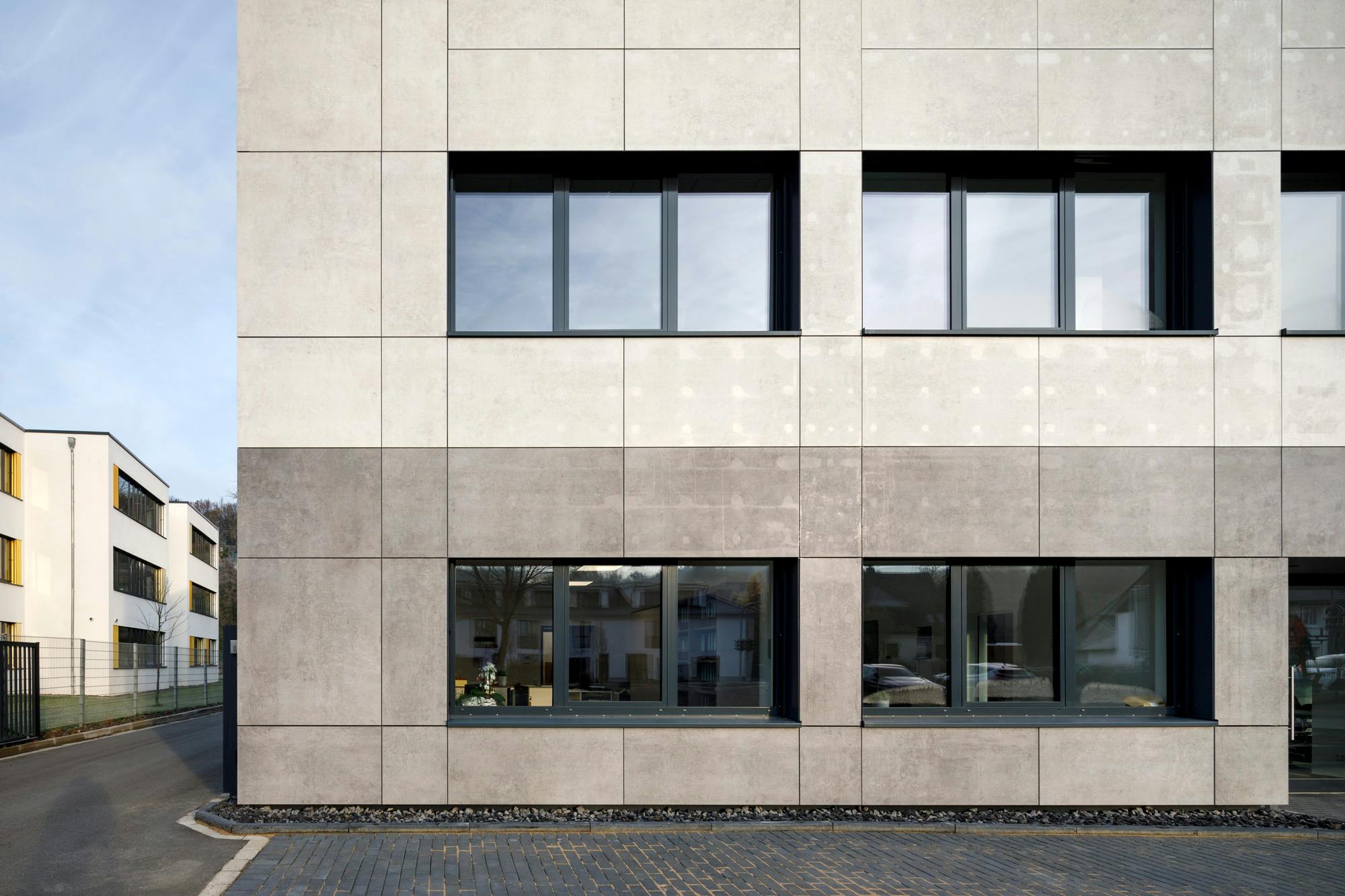 Cosentino's materials used in this project
Related Flagship Projects