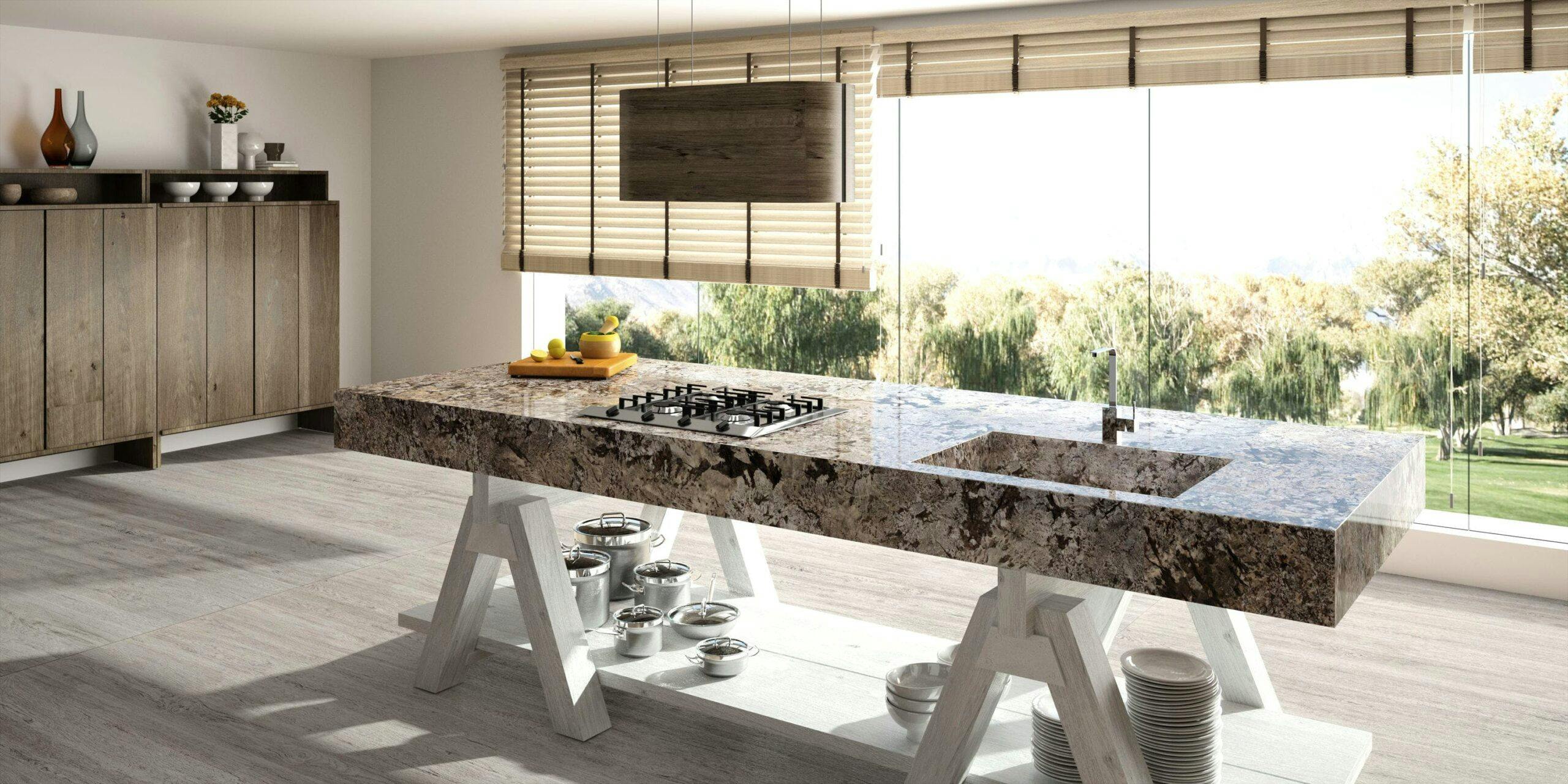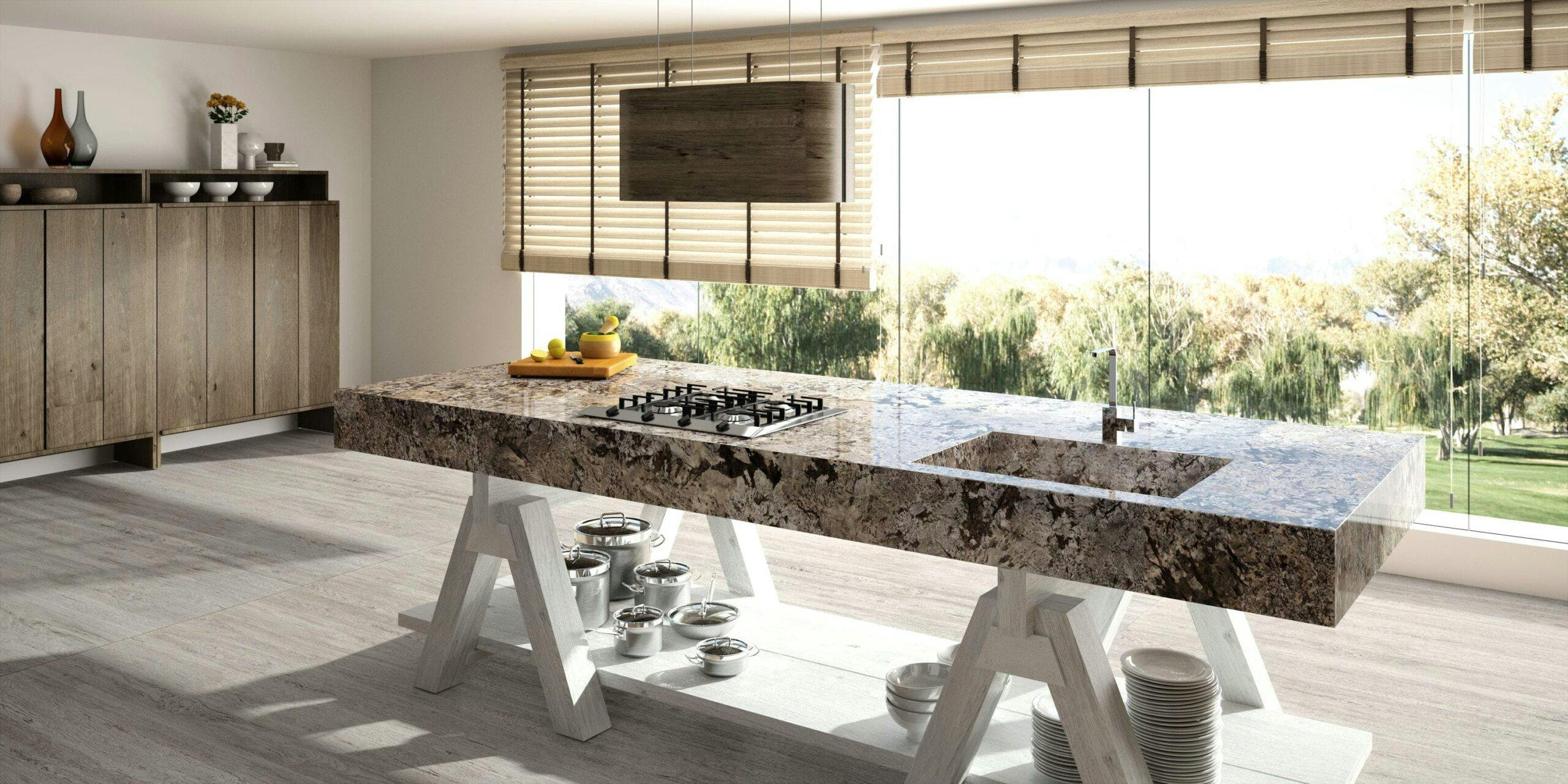 Kitchen Decor Trends -The Uncommon Elegance of Bianco Antico Granite
The Rich Surface of Bianco Antico Granite
Bianco Antico Granite is usually grey with touches of lighter grey, and even flecks of white, pink and taupe. The beautiful stone is quarried in Ceara, Brazil and is often used for colorful accent walls, fireplaces, backsplashes as well as floors in interior spaces as well as exterior features.  Granite is a wonderful surface choice because it tends to be heat and stain resistant, and long lasting with a wonderful hardness rating.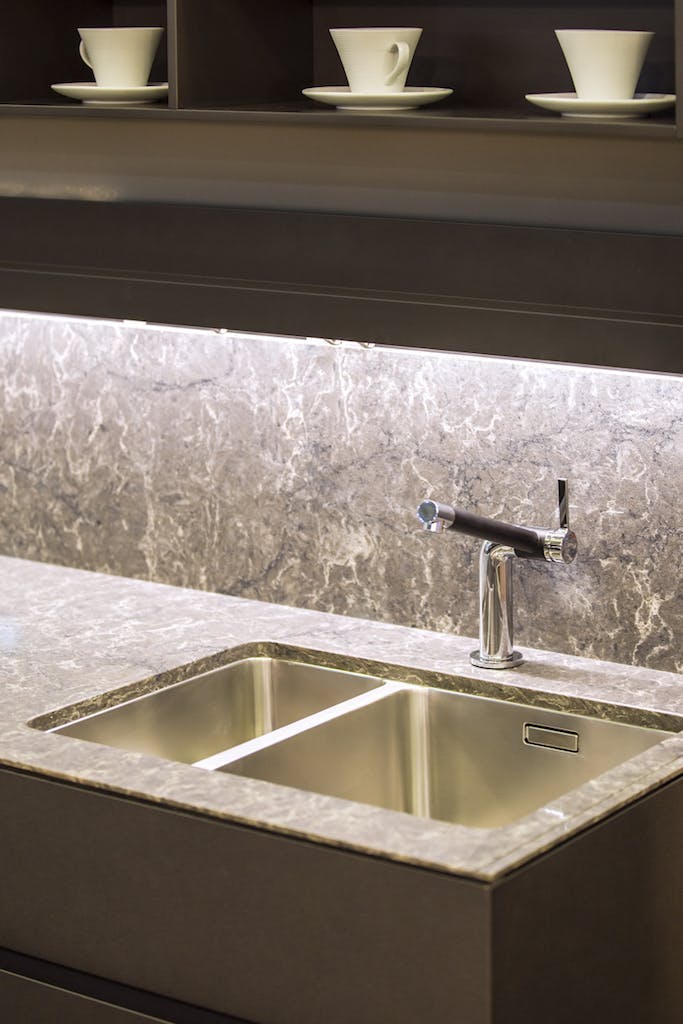 There is a certain depth and complexity to Bianco Antico Granite stone making it perfect for a dramatic statement or focal feature. This natural stone is an excellent choice for both residential and commercial design layouts. Enjoy our favorite kitchens showcasing the stone in innovative and stylish ways.
The Inspiration of Bianco Antico Granite -A Traditional Kitchen
Bianco Antico Granite is beloved for its variation and elegance and a perfect choice for minimalist contemporary spaces as well as traditional homes.
In this charming kitchen, deep hued wood floors and beautiful wood painted white cupboards are offset by a richly colored island surface material. A garden view of the backyard makes this kitchen reminiscent of old fashioned homes, but with a modern update, including a wonderful oven and stovetop with a gorgeous herringbone backsplash that adds a fantastic point of interest against the minimalist subway tiles in pure white. Functional, yet welcoming this is truly beautiful space.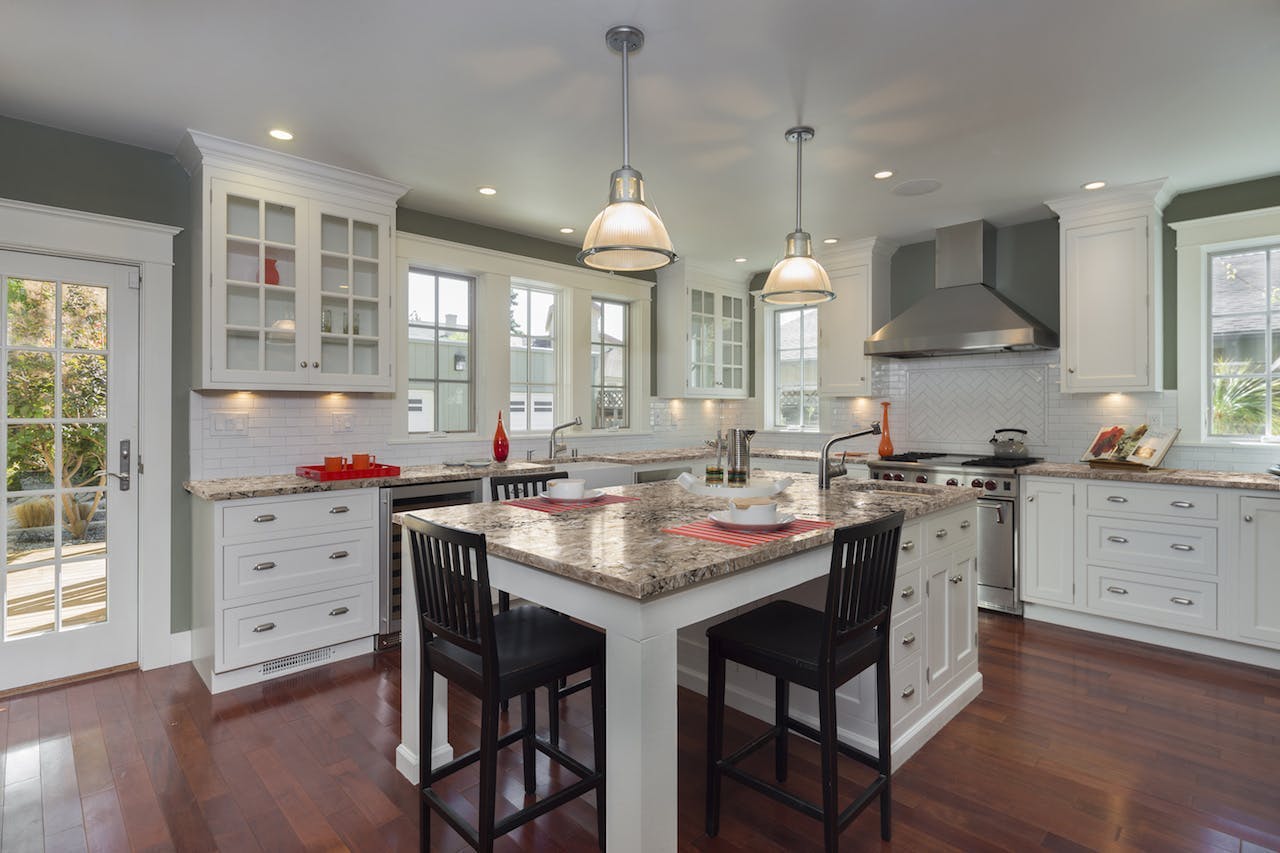 Bianco Antico Granite for the Modernist Space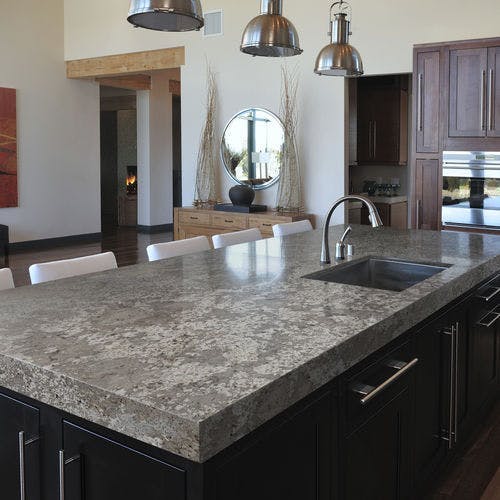 This room is the perfect example of this complexity of experience, a granite countertop with variegated colors and flecks of tone, within a black island, offset with wood cupboards and stainless steel fixtures. Add in modern furnishings with an international and eclectic art decoration and sensibility and you have a space that evokes a sophisticated lifestyle.
White kitchens are immensely popular, but what about the interior that takes a more dramatic view of beauty? Bianco Antico Granite is perfect for these spaces that play with depth of texture, tone and pattern.
The Modernist Masterpiece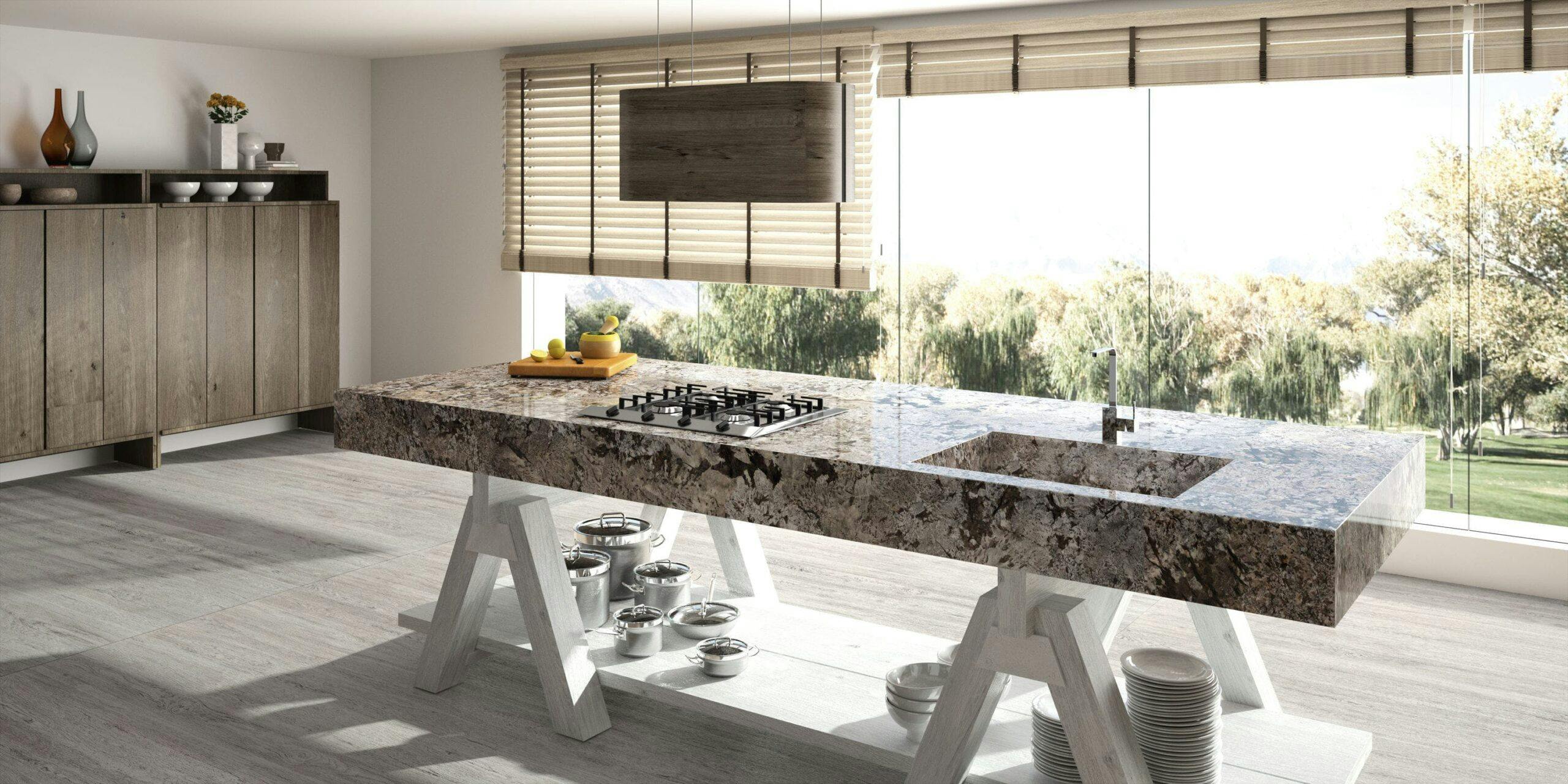 While many associate this gorgeous rich granite as a go to for traditional kitchens and homes, in fact it's a favorite among the most daring of contemporary designers and architects.
In this imaginative space, dark areas contrast with the crystalline beauty of the lighter areas within the stone's surface creating a natural painterly surface that astounds and is masterfully transformed into a work of art in this sculpture sink in an ultra modern kitchen overlooking a garden. A wall of windows gives the room a mid century modern classicism style.
Bianco Antico Granite is a perfect material for designers and architects looking for a stone that adds depth and even drama. Its complexity of color, hue, and natural patterning means it warms up a quiet white traditional kitchen in a family home, adds a sophisticated twist to the modern apartment space that is delightfully decorated with different materials, and artwork, and is of course, an ideal material for any designer looking to create a focal point sink and counter space in the contemporary home.
If you were interested by the article, check out our latest free guide about kitchen designs!