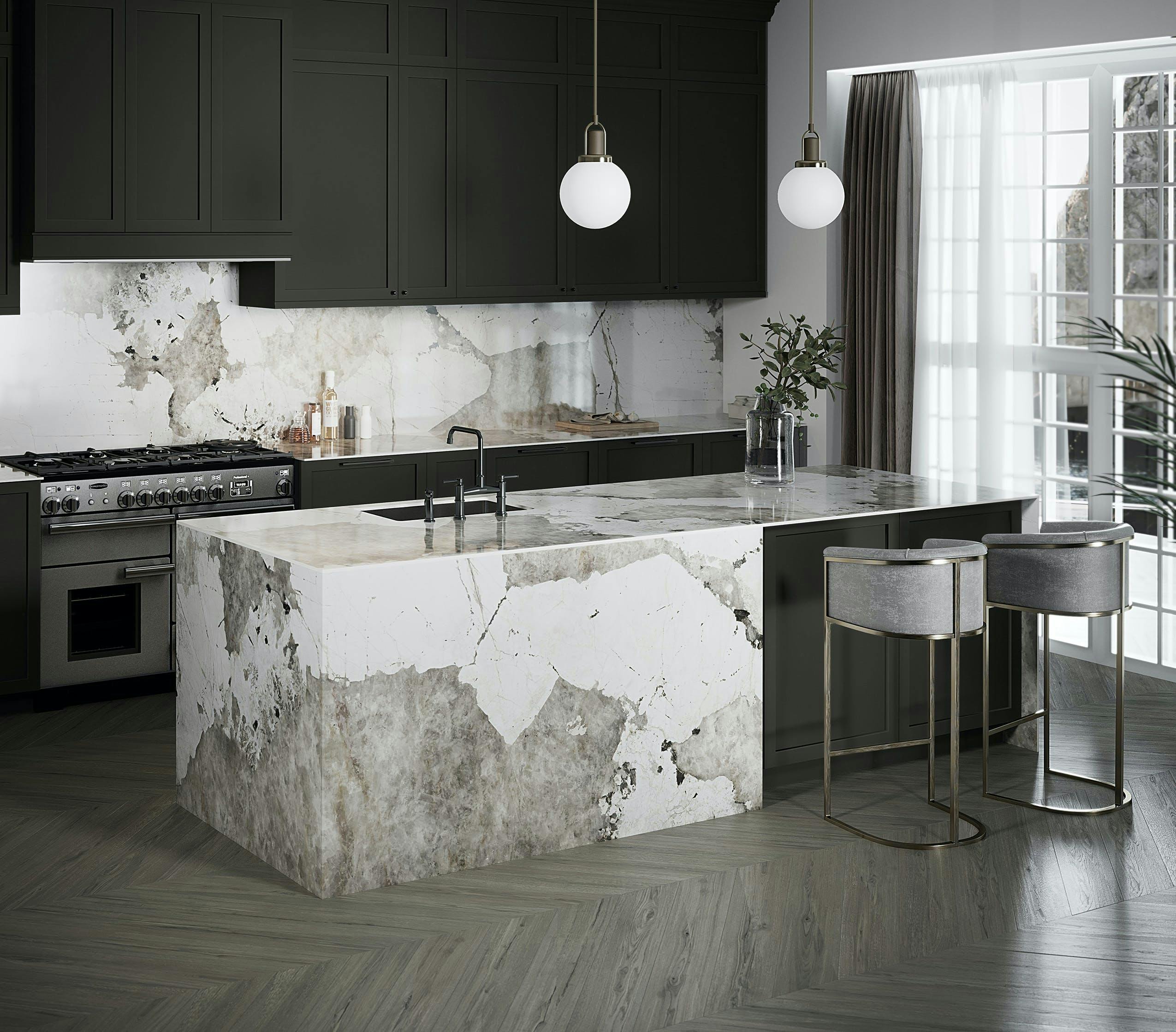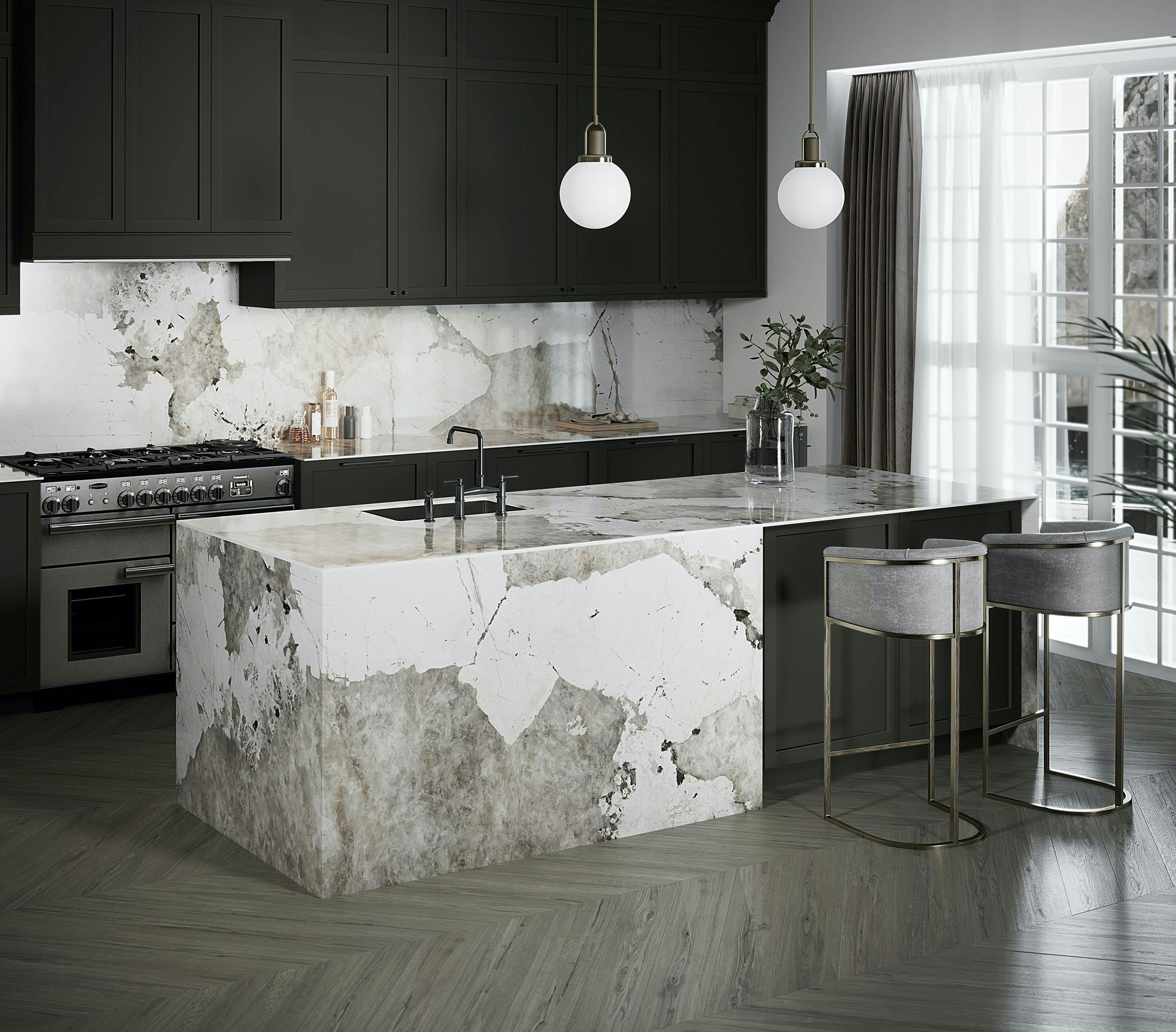 Kitchen walls: how to choose the best cladding
For decades, the range of choices for kitchen wall cladding was practically limited to the use of tiles. Today, thanks to new technologies, the development of new synthetic materials and the appreciation of natural products and more traditional techniques, possibilities are endless and the choice of a kitchen wall cladding can be made according to the needs, style or budget. Here are our best recommendations for designing the perfect kitchen Now you can design your kitchen in 3D.
QUARTZ AS A KITCHEN WALL CLADDING
The beautiful, resistant Silestone surfaces are made from over 90% quartz and are the ideal choice for today's kitchens, whether for use on countertops, splashbacks or as kitchen wall cladding.
Choose from the different formats available to create a sense of continuity: the standard slabs of 306 x 140 cm and the Jumbo format of 325 x 159 cm are both perfect for minimising joints; you can also choose from 30 x 30 cm, 40 x 40 cm, 60 × 30 cm, 60 × 40 cm or 60 x 60 cm formats, in different thicknesses of 1.2 cm, 2 cm and 3 cm.
The variety of colours offered by Silestone will allow you to design a unique kitchen, full of style and character. White, grey, brown, beige, black... you will even find surfaces in red, green and maroon. In short, everything you need to create an impeccable kitchen.
2. CERAMIC, A FURTHER OPTION FOR KITCHEN WALL CLADDING
Ceramic continues to be one of the most widely used materials for kitchen wall cladding, although today new technologies have transformed the design of ceramic tiles, offering modern and stylish pieces.
Tiles featuring hydraulic mosaic designs inspired by early 20th century motifs, are among the most widely used ceramic tiles for kitchen wall cladding today.
3. WALLPAPER, AN ALTERNATIVE FOR KITCHEN WALL CLADDING
Wallpaper, and particularly vinyl wallpaper which can be easily cleaned with a damp cloth, is another option for kitchen cladding. Choose a wallpaper featuring different patterns and motifs to decorate the walls of the office area.
4. EXPOSED BRICK WALL CLADDING
Exposed brick has become an original kitchen wall cladding, which will add character to your kitchen renovation. It is a cladding with a lot of character, whether you use it in its original reddish tone or painted it in white or grey. Make sure you use it to add a touch of style in areas where it's not too humid or hot. You will definitely get a more stylish kitchen.
5. ULTRA-COMPACT KITCHEN WALL CLADDING
One of the most innovative and cutting-edge options is Dekton ultra-compact surfaces, which will allow you to create an impeccable kitchen wall cladding, with stunning finishes and textures.
This new generation material has unique features such as high resistance to scratches, stains, abrasion and heat and cold. Besides, its hardness allows for its use as flooring, to create a total look in your kitchen.
Amongst the latest Dekton ultra-compact cladding surfaces, you can find Radium, Nilium and Orix from the Industrial Collection Series, a collection conceived to design and clad modern and industrial style kitchens.
6. CERAMIC PORCELAIN
This type of tile is characterised by its hardness and resistance and can be used on kitchen walls or floors, both indoors and outdoors. Nowadays you can find a great variety of textures, colours and finishes of ceramic porcelain. For example, some simulate natural materials such as wood, slate or stone, while others look like 3D designs that will add depth and character to your kitchen.
There are different sizes of ceramic porcelain tiles available, from 10 x 10 cm to larger formats such as 90 x 150 cm, all with a thickness of less than 8 mm.
7. MARBLE
This natural material will bring both elegance and sophistication to the kitchen. Although this fashionable material is considered to be a cold material, when combined with wooden elements the feeling of coldness is softened.
If you prefer, you can go for an ultra-compact Dekton cladding from the Natural Collection series, inspired by the finish and veins of natural marble, thus enhancing the style of your kitchen while enjoying the advantages of this type of surface.
8. METRO TILES
This type of tile, with its characteristic, rectangular and bevelled shape, has become a good option for use as a cladding in eclectic and Nordic style kitchens. Although the original proposal has a glossy finish, if you prefer you can choose a matt metro tile to clad your kitchen with style.
9. MICROCEMENT
Microcement floors and cladding are a trend. A 2 mm thick layer is all that is needed to design and clad a very personal and modern kitchen. Choose from the different colours available to create a customised space, to suit your customers' tastes and favourite styles.
Making the right choice from the multitude of kitchen wall cladding options will allow you to create a customised space designed to highlight the style of the kitchen, whether it is modern, rustic, traditional, Nordic or industrial.