Cosentino Flagship Project
Lagasca 99: Natural stone makes a difference in Madrid City Centre
Rafael de la Hoz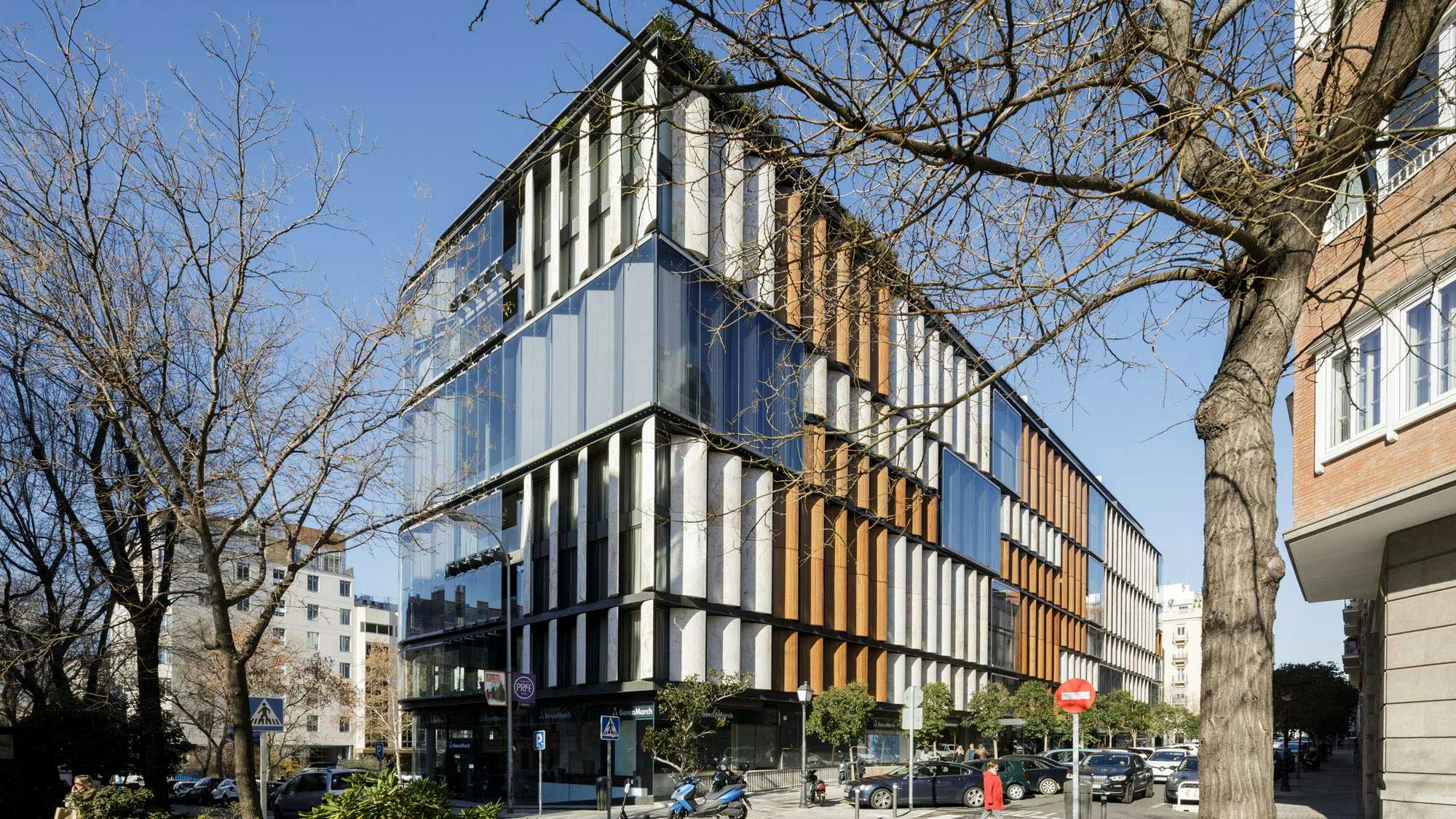 Material
Dekton | Silestone | Natural Stone
Colors
Keyla – Blanco Zeus – Travertino
Quantity
180 large format slabs – 330 solid and fixed shafts
Architecture / Design
Rafael de la Hoz
Application
Façade – Flooring – Wall Cladding – Stairs – Countertops
An oasis of light in the heart of Madrid
Lagasca 99 is an innovative residential building that is already capturing the attention of the residents of the Salamanca neighbourhood, one of the most distinguished areas in Madrid, known for its history and architecture. Located at the gates of what is known as Madrid's Golden Mile, this property is a benchmark in style and design thanks to the work of Rafael de la Hoz, an architect known for the outstanding livability and sustainability of his projects.
In what has turned into an exercise of imagination and pragmatism, Rafael de la Hoz and his team have managed to customise large spaces in which natural light is key, offering residents not only a comfortable environment, but also high energy efficiency thanks to the cutting-edge technology that is an intrinsic part of Lagasca 99.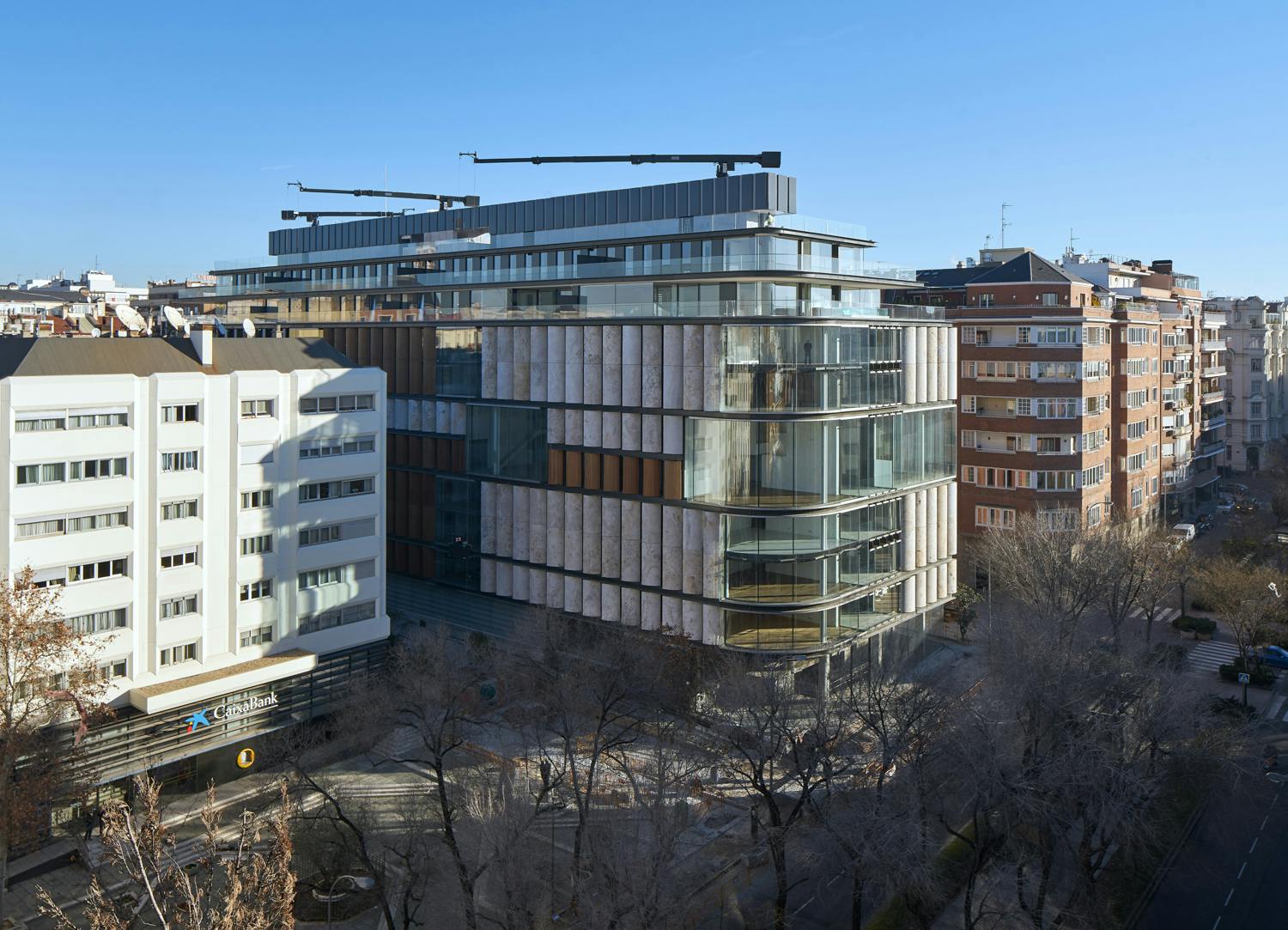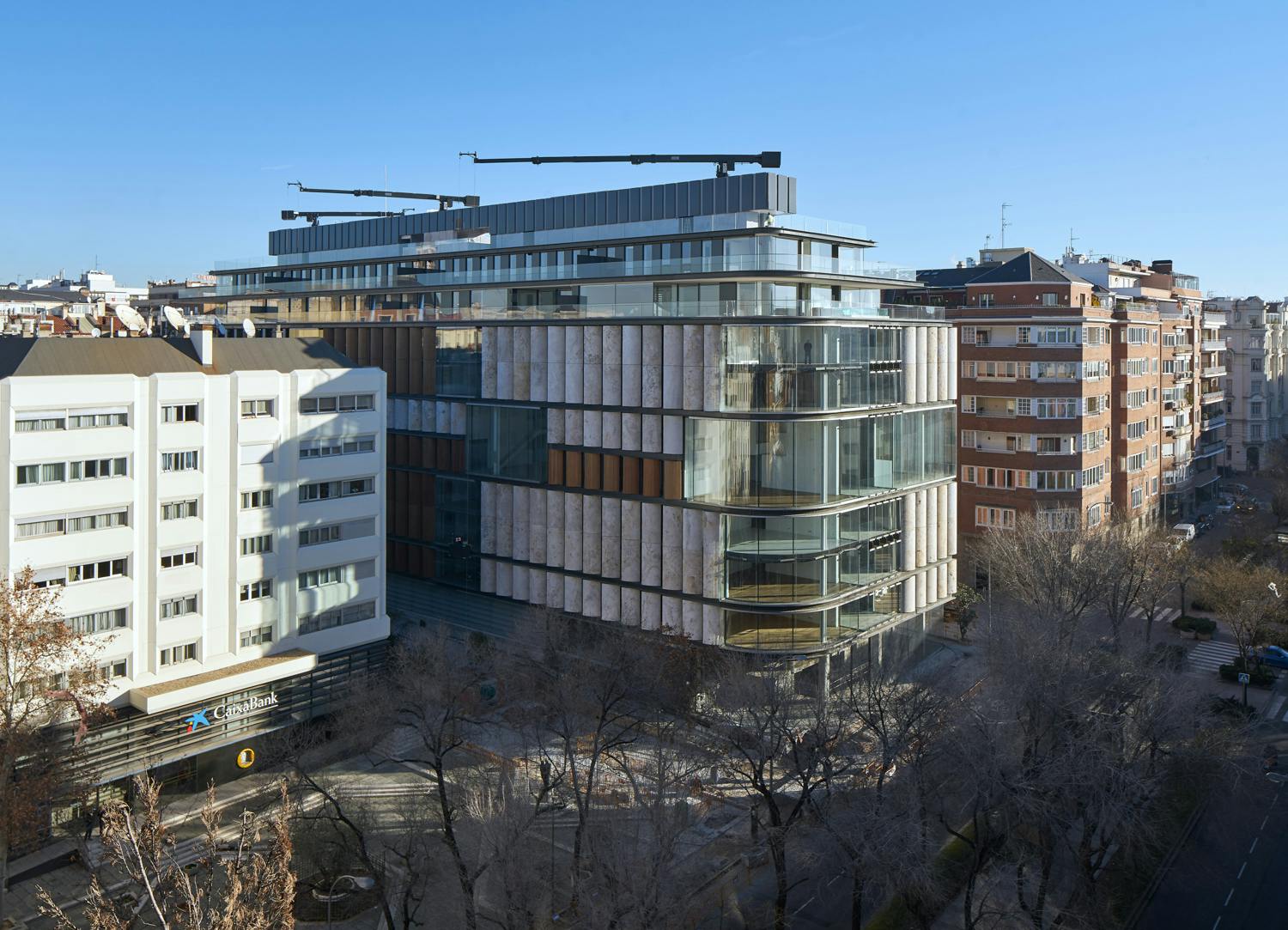 Two tonne natural stone fins
There are numerous architectural elements that make Lagasca 99 a unique building. Without a doubt, the first thing that stands out is its futuristic façade: 330 colossal, solid pieces of natural stone – 273, 288 and 306.5 cm x 140 cm wide and 35 cm thick – whose individual weight is approximately 2,200 kg. Each of these vast pieces in the distinctive Travertino colour has been modelled to evoke the shape of a shark fin. The effect they produce from the outside is spectacular.
This new benchmark of Madrid's architecture incorporates other unique elements in its exterior design, such as bevelled corners or homes of different heights and spaces that play with the relief of the façade.
Dekton and Silestone transform a residential unit into a home
Rafael de la Hoz has focused on making the interior of the residence as attractive as the façade, while also complying with the strictest standards in sustainability and energy efficiency. The insulation, installation and materials used have been essential when creating a comfortable and sustainable environment in which Dekton and Silestone have played a vital role.
For the main kitchens, the ultra-compact Dekton surface, has been used in the colour Keyla, an elegant and high-quality tone that is combined with the Silestone Blanco Zeus used for service kitchens.
The communal areas, such as the stairs, are also designed using Travertino Natural Stone.
Do you need help with a project?
Contact our specialists for advice
Do you need help with a project?
Contact our specialists for advice
``It is interesting to think that in order to build something that looks like it is from the 21st century within a historic neighbourhood of Madrid, we have to turn to classic stone``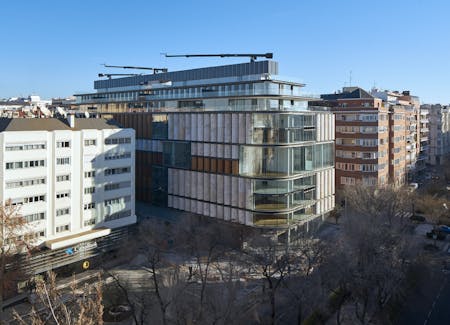 Rafael de la Hoz
Architect
Lagasca 99 accommodates 44 homes with a floor area of 330 metres, which is distributed over nine floors and penthouses. The complex also includes 154 parking spaces, two commercial premises and premium facilities such as an English-style garden illuminated with natural light, a gym, a heated indoor pool, private meeting rooms, a private British club and a garden terrace with unbeatable views of the city.
Lagasca 99 and Rafael de la Hoz won the "International Europe Award" for the design, functionality and use of a wide variety of Cosentino materials, at the well-known Macael Awards 2019, which recognise the most unique architectural works made using Dekton, Silestone or Natural Stone.
Cosentino's materials used in this project