"Sustainability is something that affects us all. If designers and manufacturers work closely together, we can contribute to a more circular economy and to the conservation of the planet."
Valencian Alberto Sánchez and Eduardo Villalón founded MUT Design in 2010 and, in these almost 13 years, their studio has become one of the most internationally renowned Spanish studios thanks to pieces such as their 'Náutica' swing chair, designed for Expormim and which won a Red Dot Award, or the 'Beetle' panels, designed for Sancal and which are part of the permanent collection of the Centre National des Arts Plastiques (CNAP) in Paris. In addition, installations such as 'Das Haus', designed for IMM Cologne 2020, or their 'Valencia Pavilion', created for the Madrid Design Festival 2021, are proof of the quality of their designs, which aim to involve the user. Their latest project has been to reinvent, with two very different proposals, the bathroom concept for The Bathelier, the ideas laboratory of C·Bath, Cosentino's integral bathroom proposal.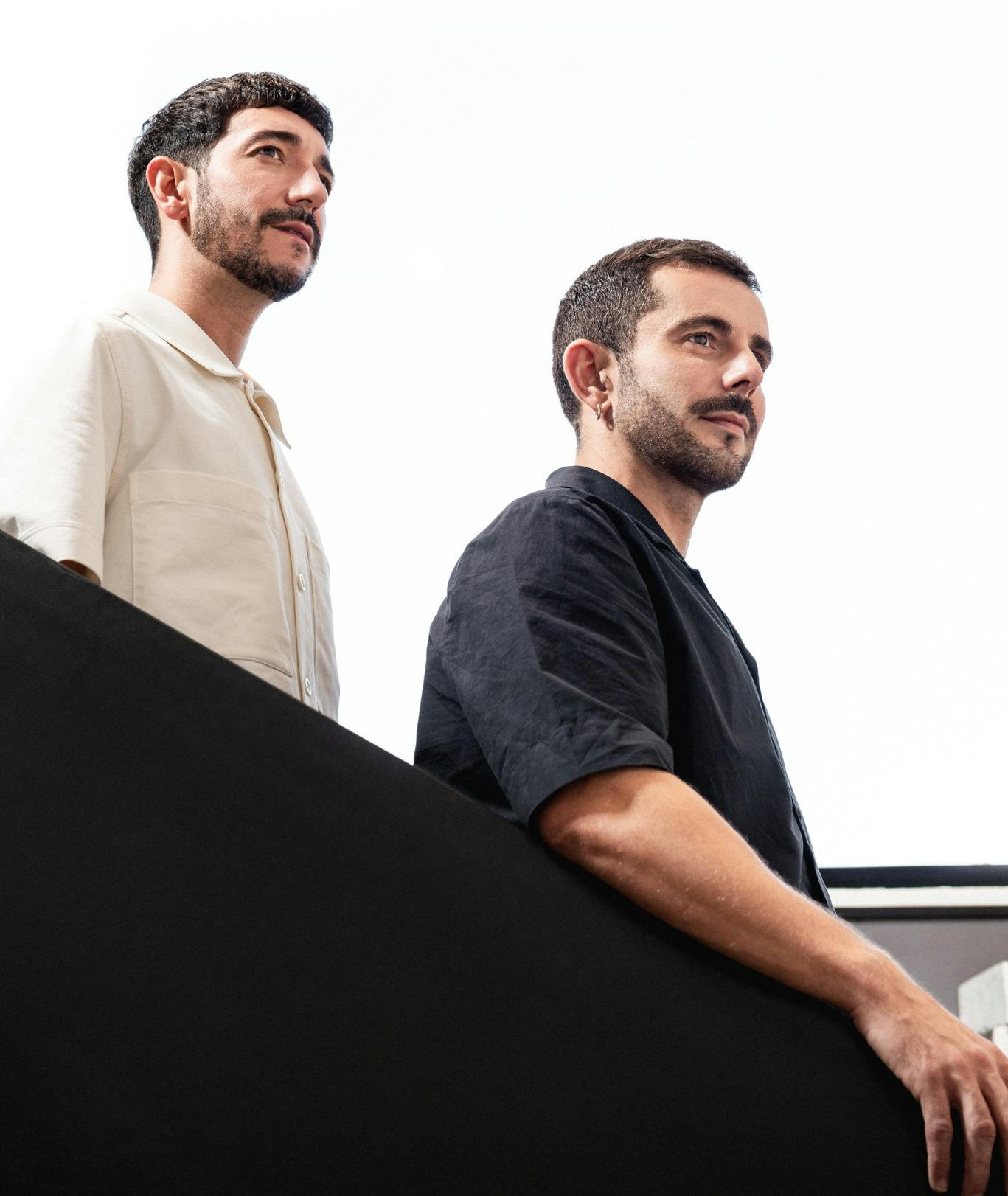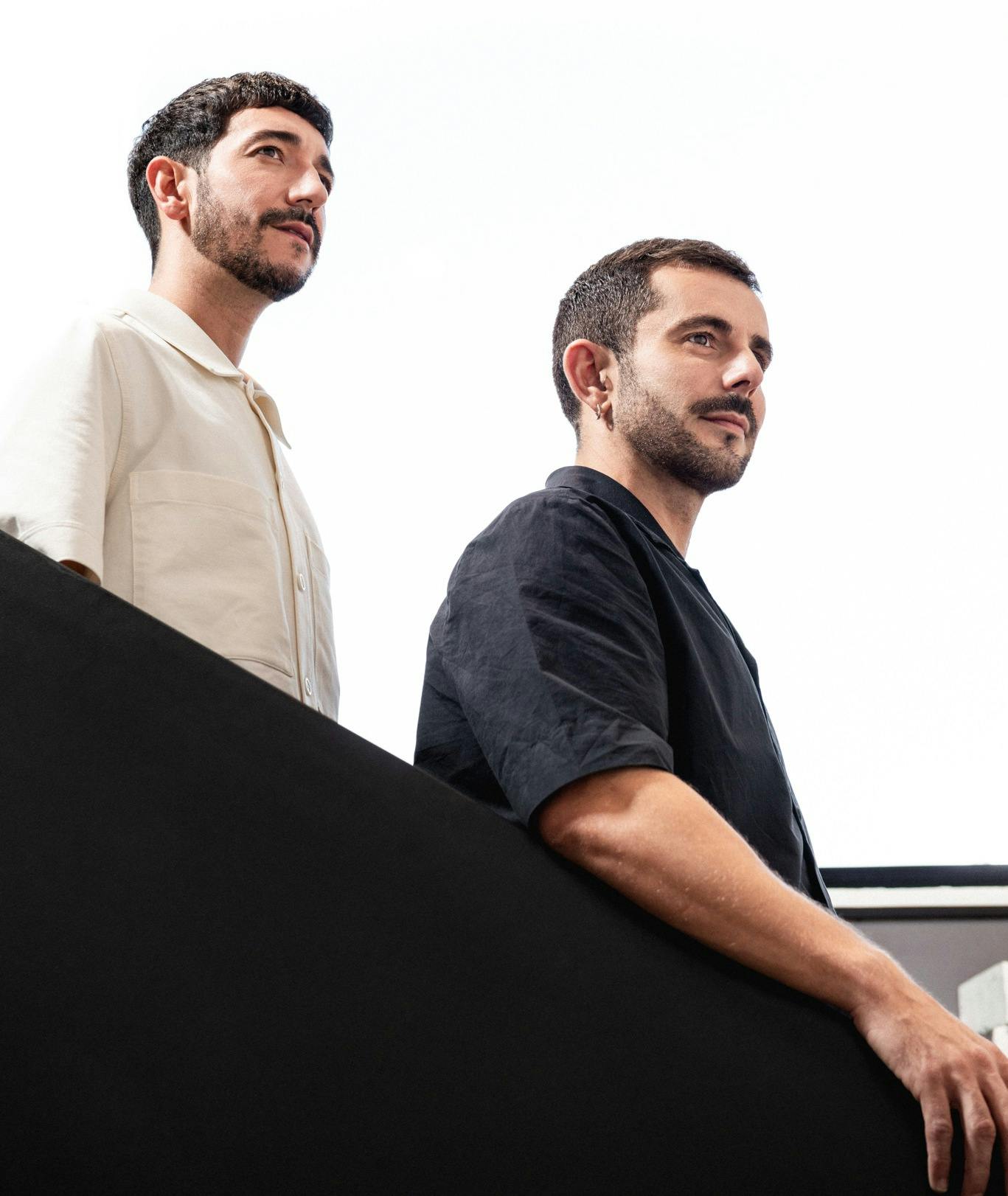 Eduardo Villalón (left) and Alberto Sánchez on the stairs of Cosentino City Madrid. Photo: Coke Riera
It all started at the Salone, in Milan
We participated in Salone Satellite 2010 with three products: the 'Ulah' rocking chair, the 'Leaf' swing and the 'Clover' lamp. Expormim showed interest in our rocking chair and, after that, they came to us with a project that we didn't expect to be as successful as it has been, the re-edition of one of its classics, the 'Náutica' swing chair. The British magazine Wallpaper* included us in an article on the new wave of Spanish Design, and in a way pointed us out as the promising Spanish newcomers.
Two profiles that complement each other
Eduardo: Alberto has been drawing since he can remember. Design comes naturally to him, which led him to study Industrial Design at the Polytechnic University of Valencia. It soon became clear to him that, rather than working for others, he wanted to establish his own studio and design the way he really wanted to design.
Alberto: Meanwhile, Eduardo comes from a very different background, more focused on the commercial field, public relations and communication. But he has always been attracted to design and has a crafty side that is very useful during the creative process.
Friends before starting to work together
Eduardo: Valencia is a small city, we already knew each other. And one day the idea of working together just came up. As a designer, Alberto would be in charge of the creative part, and I would be in charge of public relations, management, communication, art direction, etc. We moved into ground floor premises in the Barrio del Carmen neighbourhood of Valencia and started working almost immediately.
Our approach to design is emotional
We seek to touch, entertain, involve the user. We want our objects to convey something, to evoke a memory, anything that provokes a reaction in the observer. Our objects are pure geometry and we are obsessed with curves. They are truly inspired by the natural world, by everyday situations, by personal experiences. In a way, they are the story of our personal history and we feel that, due to their simplicity, they are very friendly and easy to understand, while at the same time showing a playful component. They always invite users to play with them, to make the most of them. They all share a number of features, such as their simplicity, geometric shape, noble materials and, of course, functionality.
Sustainability is essential to us
We want our products to be as environmentally friendly as possible. For this reason, we always work with sustainable materials. Furthermore, we also work with companies that strive to reduce their impact and carbon footprint, which makes our work much easier. Sustainability is something that affects us all. If designers and manufacturers work closely together, we can contribute to a more circular economy and to the conservation of the planet.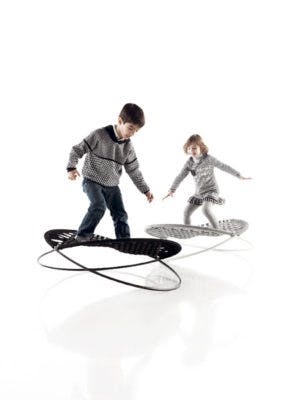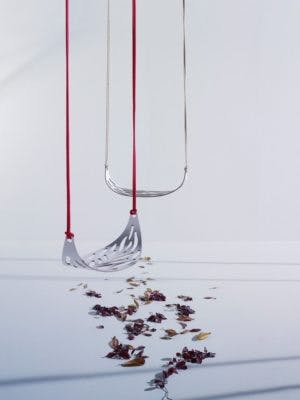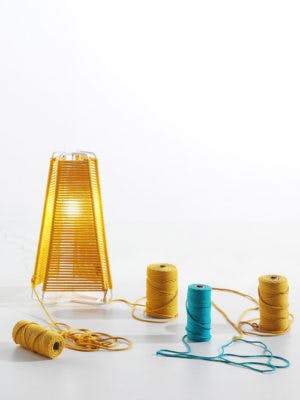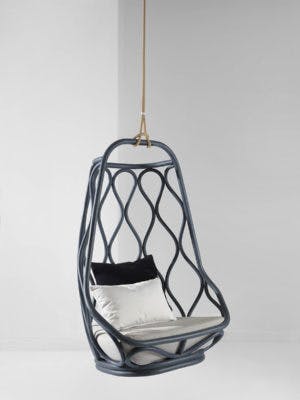 From left to right, Ulah seesaw, Leaf swing, Clover lamp and Náutica swing. Photos: Mut Design
Our inspiration is varied
As we usually say, a little bit from here and a little bit from there, something new and something old, a bit of art, a bit of fashion and a bit of architecture: Mondrian, Frank Lloyd Wright, Jean Paul Gaultier, Álvaro Siza, Thierry Mugler, Aires Mateus. We draw inspiration from many sources. We could say that Alvar Aalto and Mies van der Rohe are our biggest influences. And the Bouroullec brothers from a more contemporary point of view.
There are no ugly colours...
Or to put it another way, we don't think there are any colours that are more beautiful than others, so we don't rule out using any of them. Depending on the product we are going to create and its combination with the material, we choose one colour or another. It is also true that the range of colours depends on the customer. The good thing is that we collaborate with companies that are so different from each other that we can enjoy the colourful style of Sancal and Missana, and the sobriety of Expormim.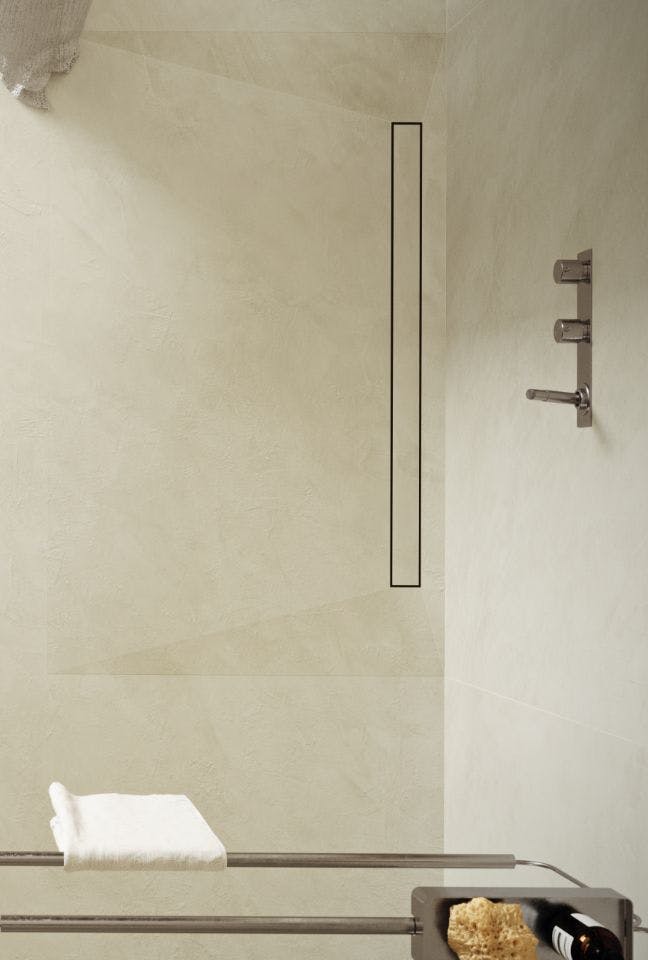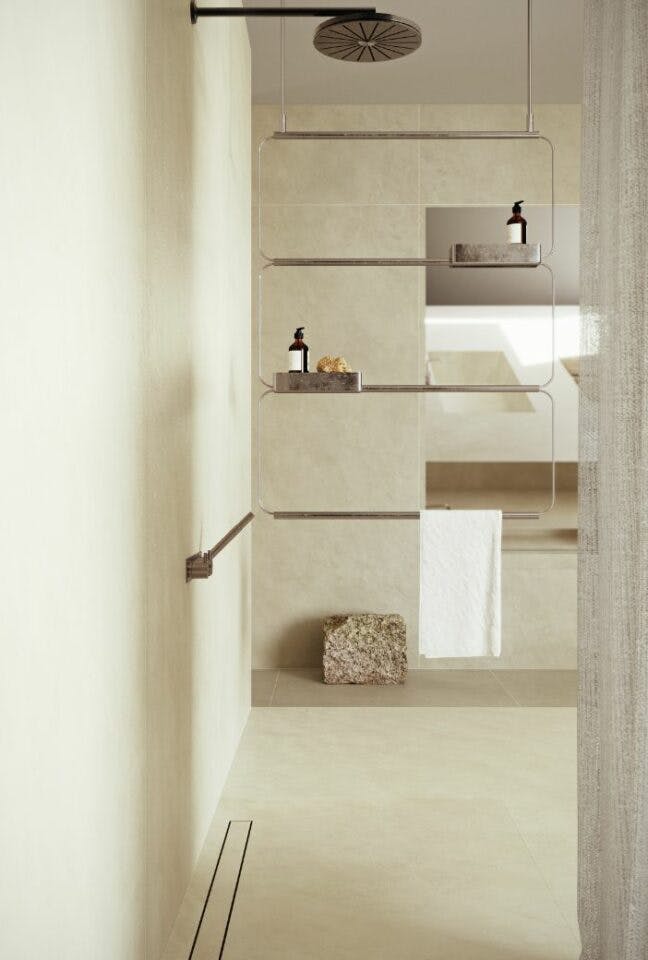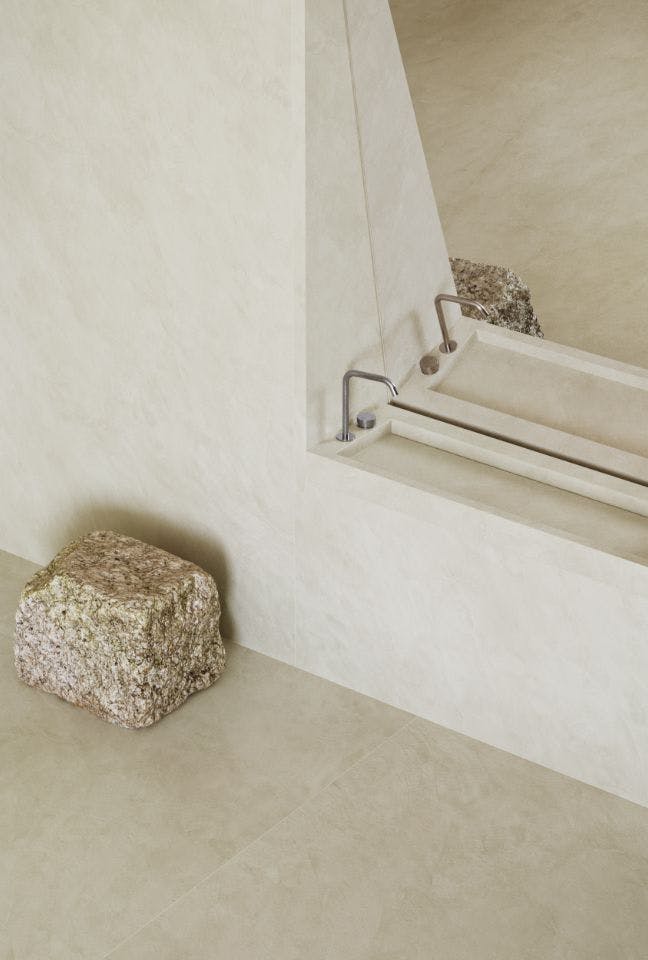 THE BATHELIER: THE RESILIENT HOUSE
A spa-like space in which the brand's materials become a blank canvas on which to project cladding and integrated features through a solution in the form of a spatial architecture system. An architecture that blends the natural and organic with the geometric and technological, the hand of nature and the hand of man to create interiors based on neutral surfaces.
There are no essential materials, but we really like natural materials, such as ceramics, glass, rattan… We have always been attracted to them. We are passionate about their artisanal manufacturing process and the warmth they bring to the final product.
We have always been attracted to interior design
Eduardo: Before 'Das Haus', we had designed stands for some of our customers. We even designed Alberto's house in Valencia. We entirely developed that project. 'Das Haus' was our breakthrough, but we had already taken our first steps in this field.
A MEDITERRANEAN, ORGANIC AND OPEN HOUSE
Alberto Sánchez and Eduardo Villalón brought Mediterranean design to IMM Cologne 2020 with their installation for the 'Das Haus' stand. Their design was inspired by a house that questions the boundaries between indoors and outdoors through the use of open architecture and a relaxed and balanced interior design. Inspired by the Albufera lagoon in Valencia, they named their proposal 'A la fresca - ¡Sal al aire libre!' (In the fresh air, get outdoors!). "The active area of our home is reminiscent of Roman amphitheatres and the wooden floors of fishing boats. It has a round shape because people always gather in circles: around a campfire since ancient times, around a table to share a meal, around a board to play a game", say the designers.
The process is quite similar
We always approach projects in the same way. We usually start with a market analysis to identify gaps and trends, but we don't go crazy with this, as we try to stay away from fads. We brainstorm ideas. Then, the whole team chooses the most interesting or successful ones and we start sketching and developing the project, always in close contact with the customer. In the end, when designing something, whether it is a small object or a large space, the same steps are followed and the process is very similar. The times will change, as will the workload, but in general, the working system is identical.
The pandemic changed everything
Having had to spend several months at home has made us rethink what we want our homes to be like so that we can fall in love with them again and feel totally comfortable there in the event such a situation happens again. Now we try to make them even more habitable. Homeworking has also made us aware of the importance of devoting a part of our home to the workspace. There have been a number of changes that we believe are here to stay.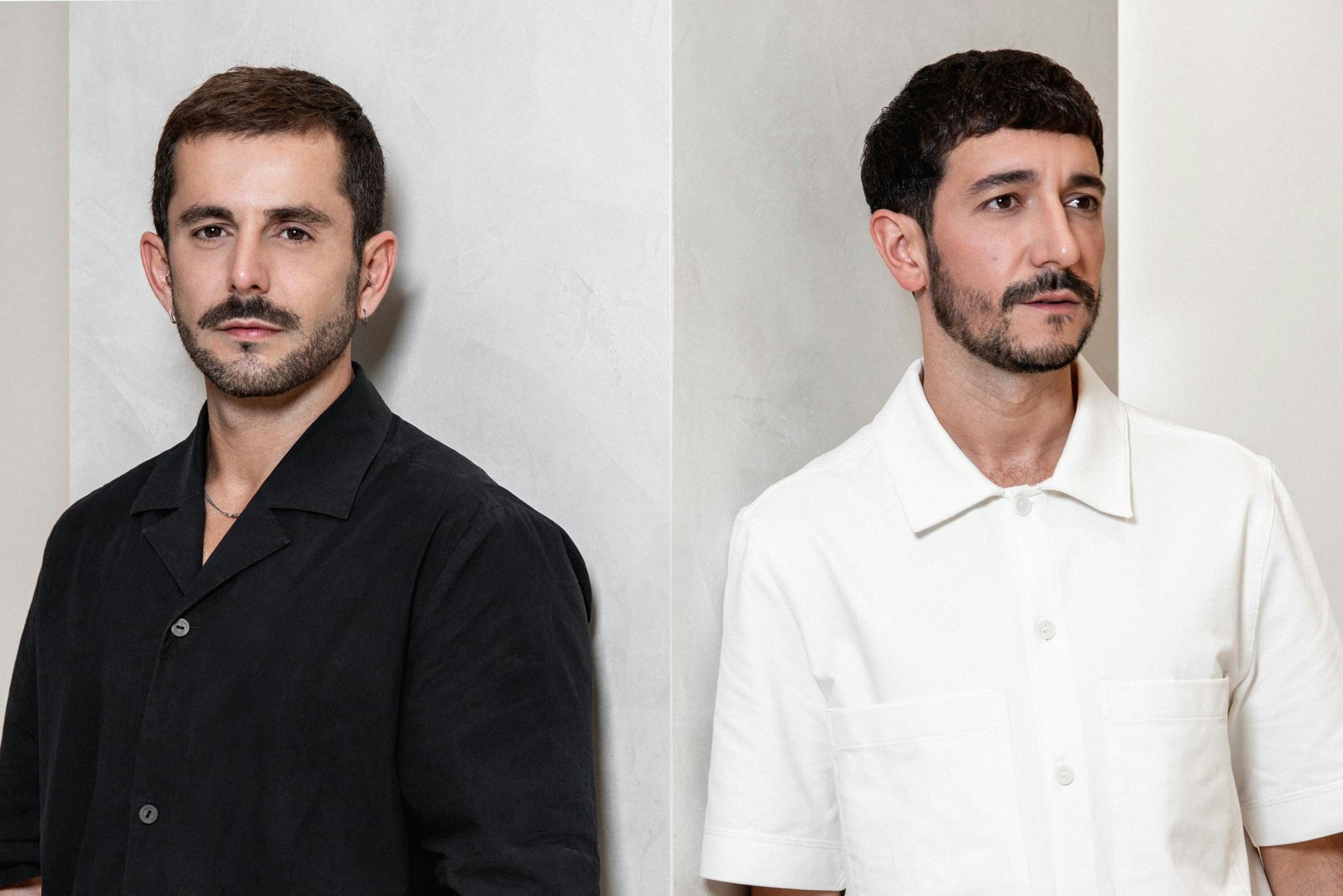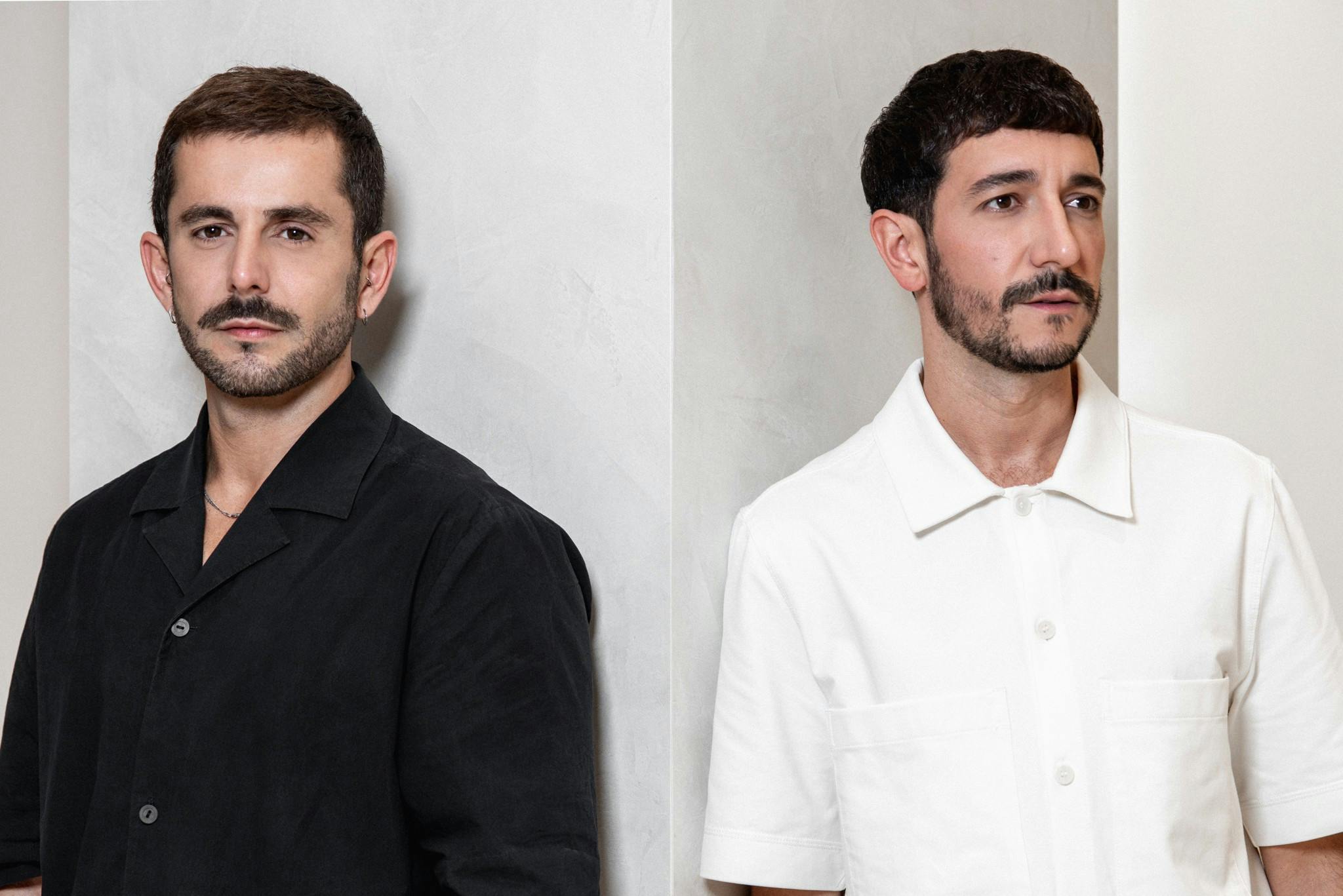 The Mut Design duo, at Cosentino City Madrid, in front of a wall cladding from the Dekton Craftizen collection. Photo: © Coke Riera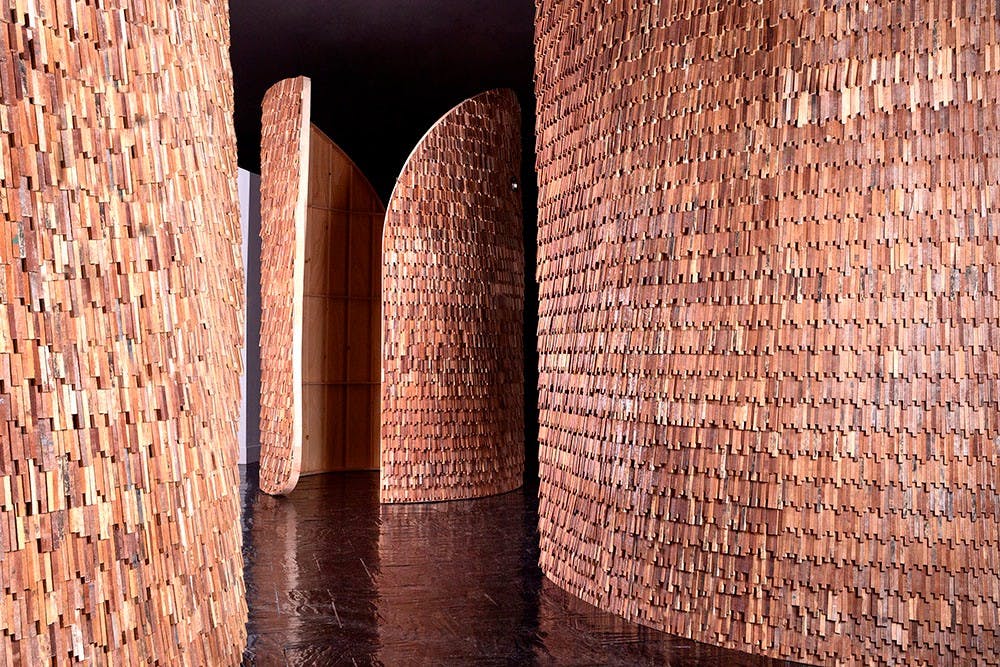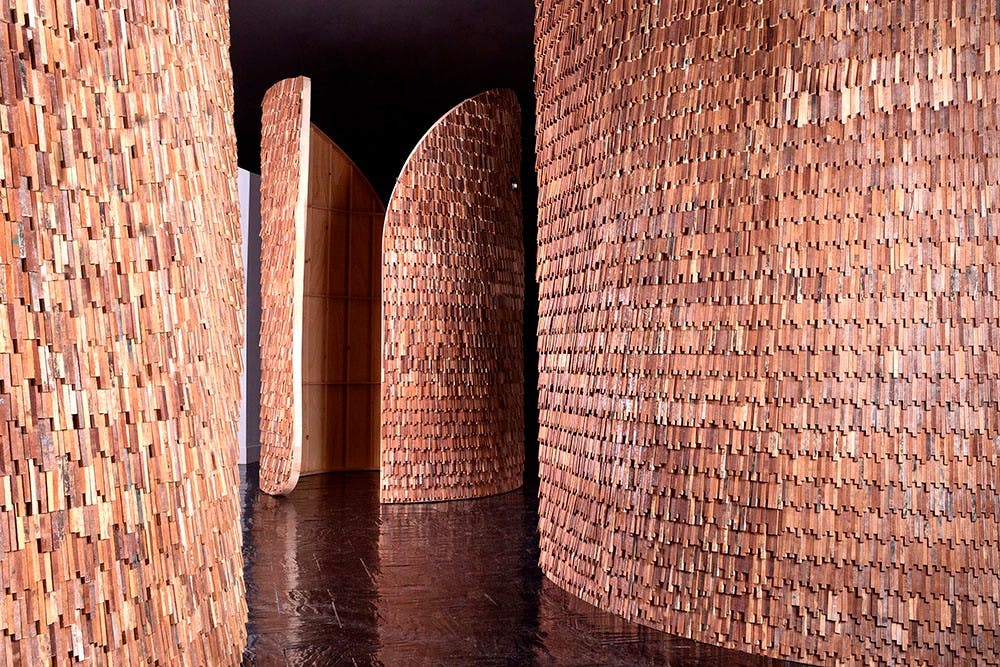 Valencia Pavilion, at the Madrid Design Festival 2021. Photo: © MDF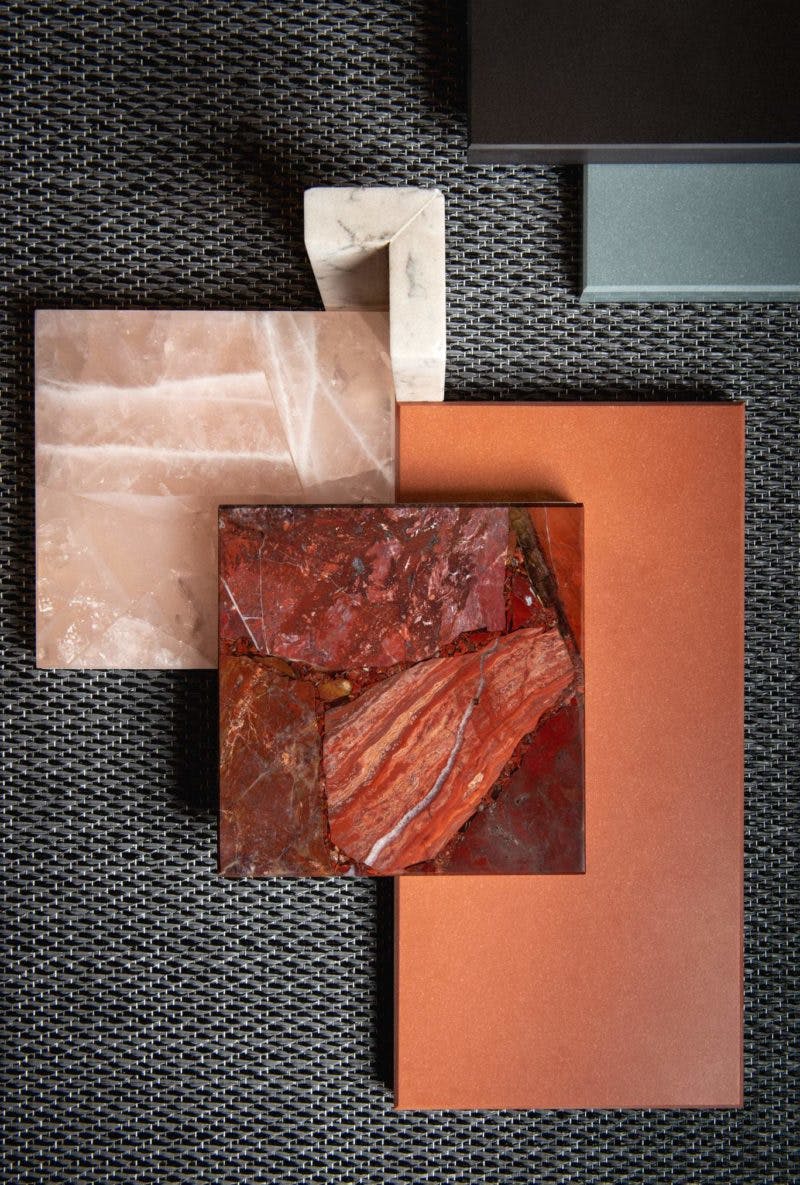 Composition made by Mut Design with different stones from Cosentino's Prexury and Scalea brands together with a Silestone from the Sunlit Days collection. Photo: © Coke Riera
We detect that the bathroom has become a space in the home that is given greater importance. This is something that first happened with the kitchen and is now being transferred to this other space. The trend is for the bathroom to be more than just a place for grooming and satisfying basic needs in an almost automatic way, but a room dedicated to wellbeing. Almost like a refuge for disconnection, reflection and a bit of a place to recharge batteries for the day ahead or to prepare the body for a good night's rest. We appreciate not only the introduction of new materials or state-of-the-art technologies (everything to do with home automation also finds its place in the bathroom), but also the return of an element that had been sacrificed previously: the bathtub. This points precisely to what we were talking about, that the bathroom is a place where you want to spend more time and that is why the aim is to make it more habitable, more comfortable, more welcoming. A place that invites you to read, to listen to music, to pamper your spirit as well as your body.
Our two designs to The Bathelier
We are passionate about the two designs we have created. The inspiration for one and the other is quite disparate, but the result does indicate the search for a similar bathroom concept. For the first space, we used Dekton and turned to quarries, Roman baths and natural rock pools. Dekton, being a surface that evokes stone or marble, allows us to create a space that takes us back in time, to a spa, but ancient, something you could find in Greece or Rome. Technological surfaces and natural materials enter into a perfect dialogue here. The second space, on the other hand, is inspired by the brutalist and organicist architecture of the White Towers. Here we place more emphasis on form than on texture. We take the curved line as a starting point, something we have done before, and from it, we draw the different areas, subtly delimited, but equally interconnected and open to the outside.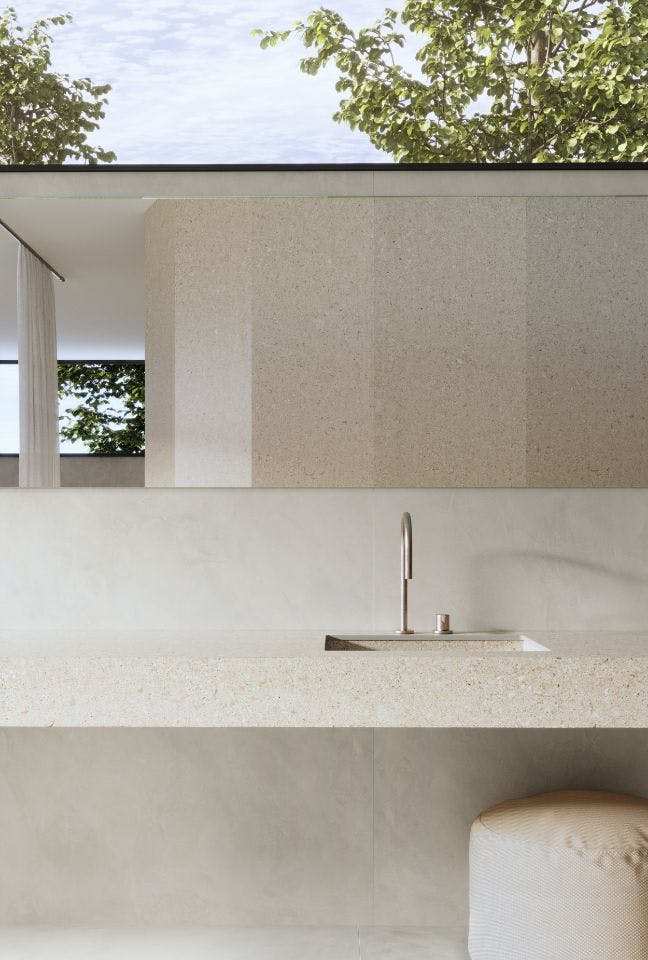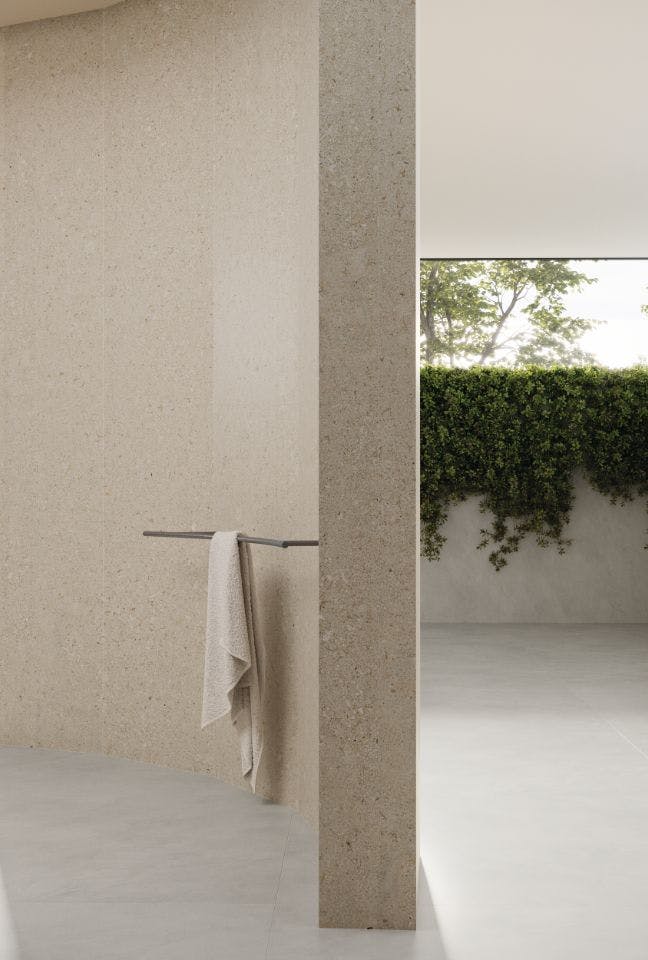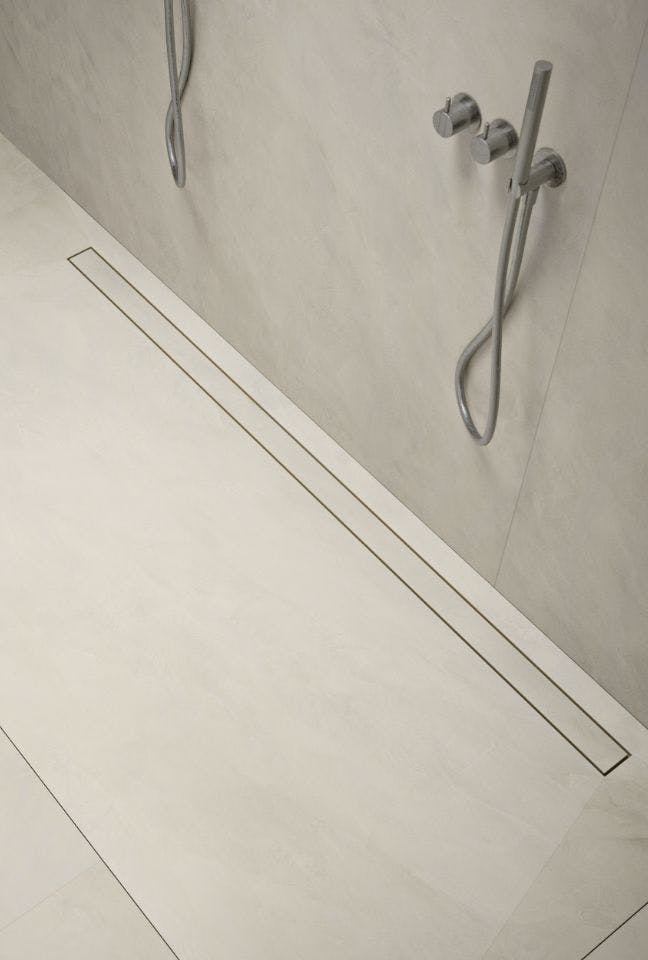 THE BATHELIER: ELLIPSE
A partitioning element that plays with the different levels of privacy in an open bathroom space formed by truncated cylindrical modules that facilitate the flow from the interior to the exterior and vice versa. In this project, MUT Design is inspired by the expressionism and organic architecture of Torres Blancas in Madrid. The curved, spiral and seashell shapes so often found in nature.
We couldn't choose just one project
They are all special to us, we are very fond of them. But it is true that there are two that we tend to highlight because of their significance and, especially, because of the impact they had and continue to have. One is the 'Náutica' swing chair, which we designed for Expormim and which was awarded a Red Dot Award (the first for them and also for us, who had just started our business). 'Náutica' has become an iconic design for the brand and everyone immediately identifies it as one of our designs. It is also part of the permanent collection of the Design Museum of Barcelona. The second is our Beetle acoustic panels, which we created for another Spanish company, Sancal, and which we love because they are an innovative and unique product that is also part of the permanent collection of the Centre National des Arts Plastiques (CNAP) in Paris.
Perhaps our biggest challenge has been the design of 'Das Haus' for IMM Cologne 2020, due to the importance of the event and the scale of the project. We had never faced anything that big before and it was quite imposing. And, of course, we learned a lot from it because it required a lot of organisation, management – in terms of work and pressure –, time management… As it was a holistic project, every little detail fell on us and we had to work very hard to deliver what we had envisioned and, of course, at the level that was expected of us. And we are convinced that we passed the test with flying colours. We were very satisfied with the result and received very positive feedback from the media, from other professionals, the fair itself, etc.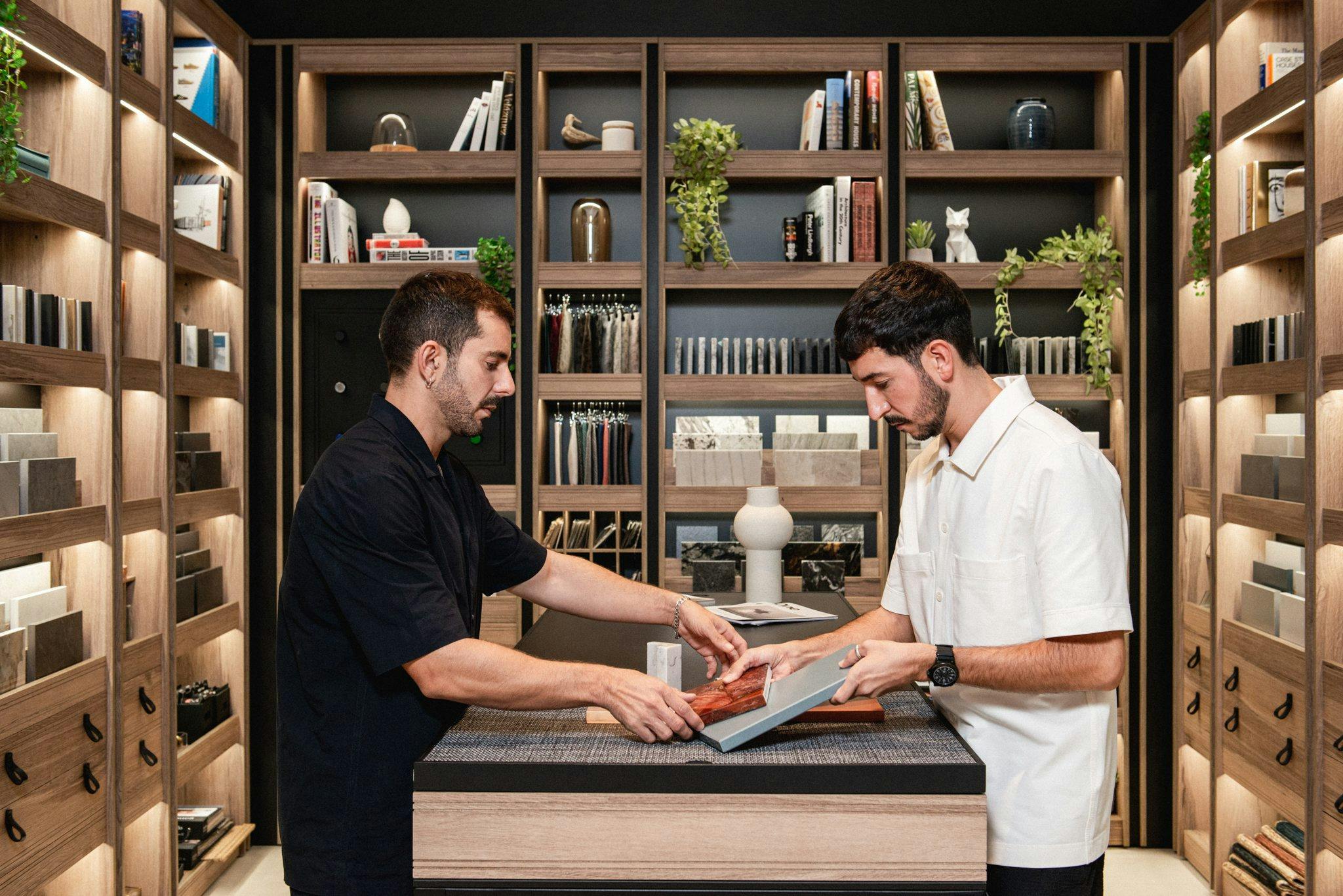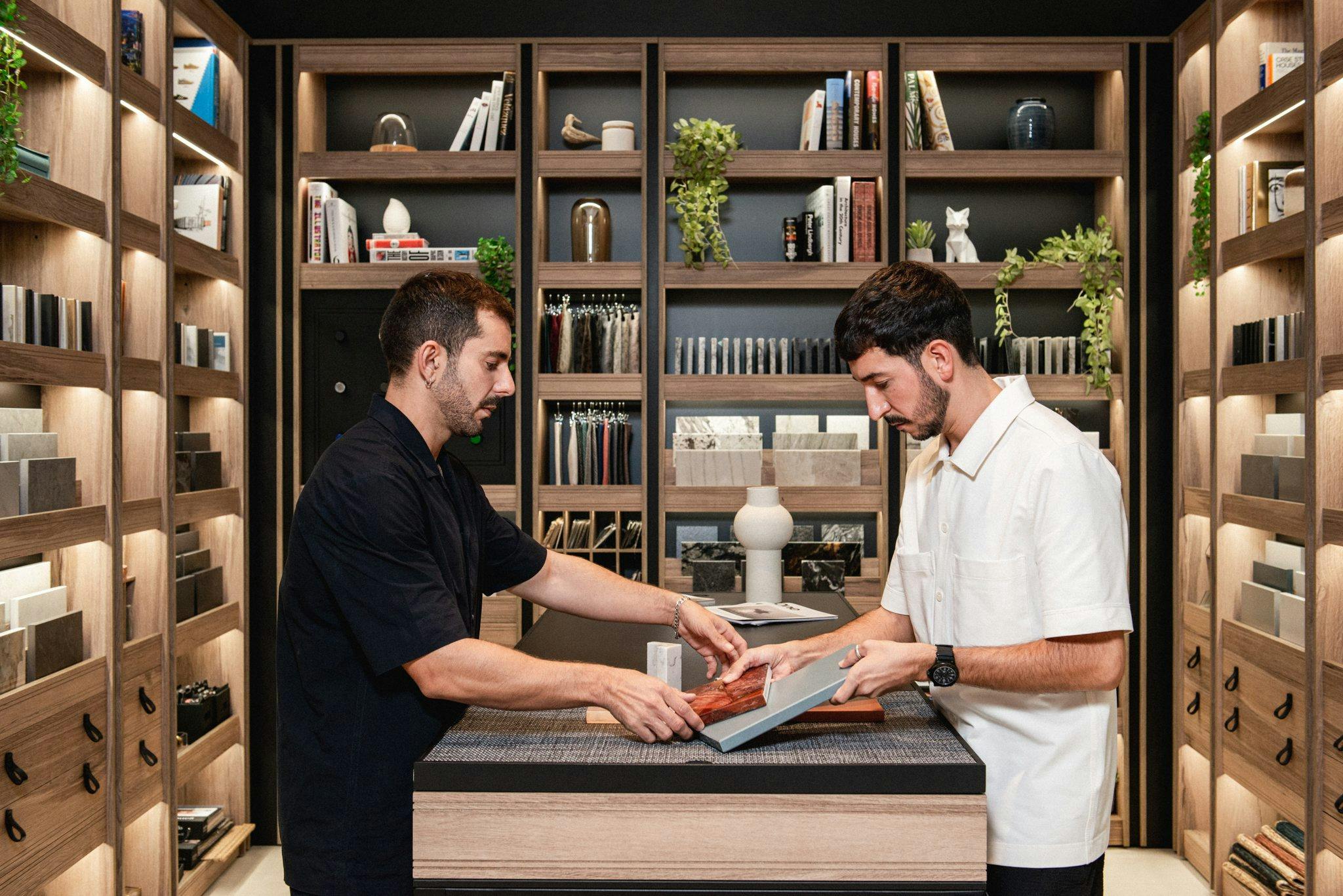 Alberto Sánchez (left) and Eduardo Villalón at Cosentino City Madrid. Photo: © Coke Riera
A hotel or some kind of commercial premises, for example.
We are focused on product development
We are collaborating for the first time with a Singapore-based company and, in addition, we are working on a project on our own, a completely personal project that we hope to be able to launch in the next couple of years.
My 10 favourite design pieces
1. The Butterfly stool by Sori Yanagi for Vitra (1954)
2. The Osaka sofa by Pierre Paulin for La Cividina (1967)
3. The Aluminum Group chairs by the Eames' for Vitra (1958)
4. The Lounge Chair by the Eames' for Vitra (1956)
5. The Wassily chair by Marcel Breuer and Marcel Bouvier (1925-26)
6. No.B9 Le Corbusier Chair by Thonet (1920)
7. The Barcelona chair by Mies Van Der Rohe (1929)
8. Cassina's version of the Hill House chair by Mackintosh (1902)
9. The Serif television by Bouroullec (2016, in the photo)
10. The Kettle 9093 by Michael Graves for Alessi (1985)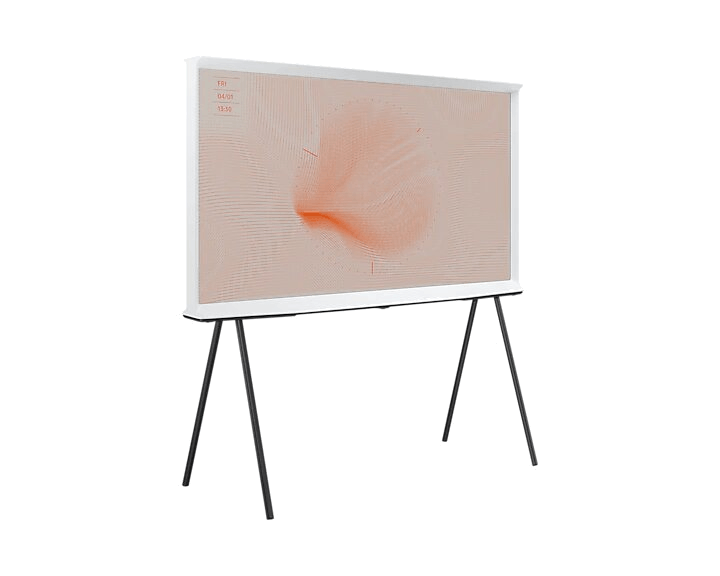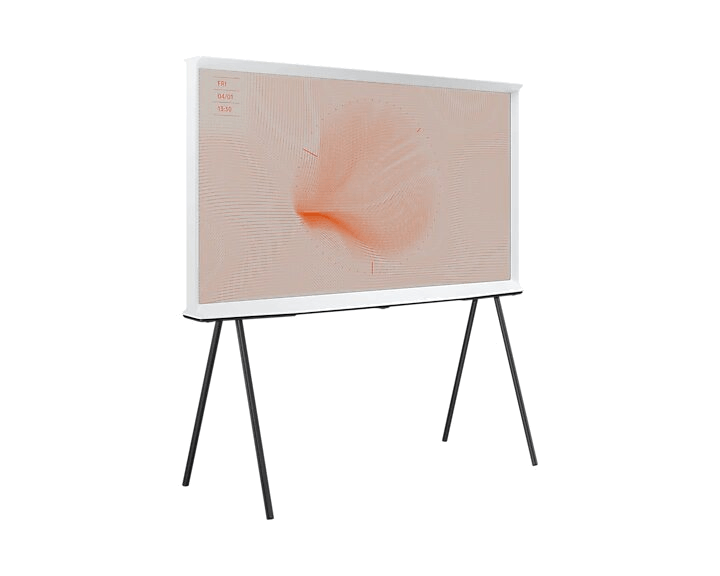 "We want our objects to convey something, to evoke a memory, anything that provokes a reaction in the observer."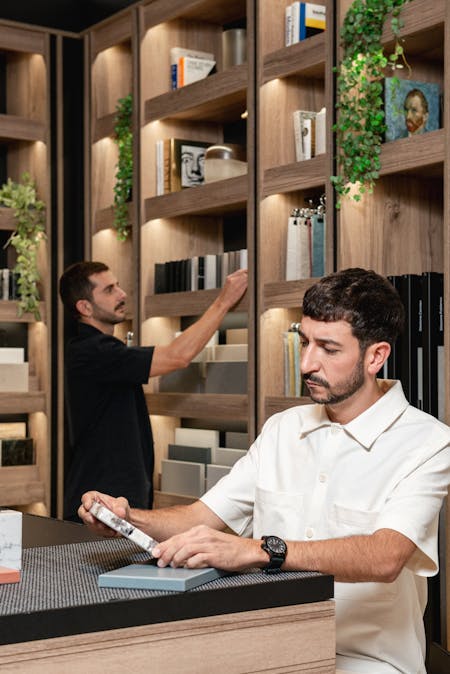 Mut Design
Designers
Regístrate en C·Top Design
Podrás formar parte de nuestra comunidad de diseñadores y acceder a multitud de servicios exclusivos.