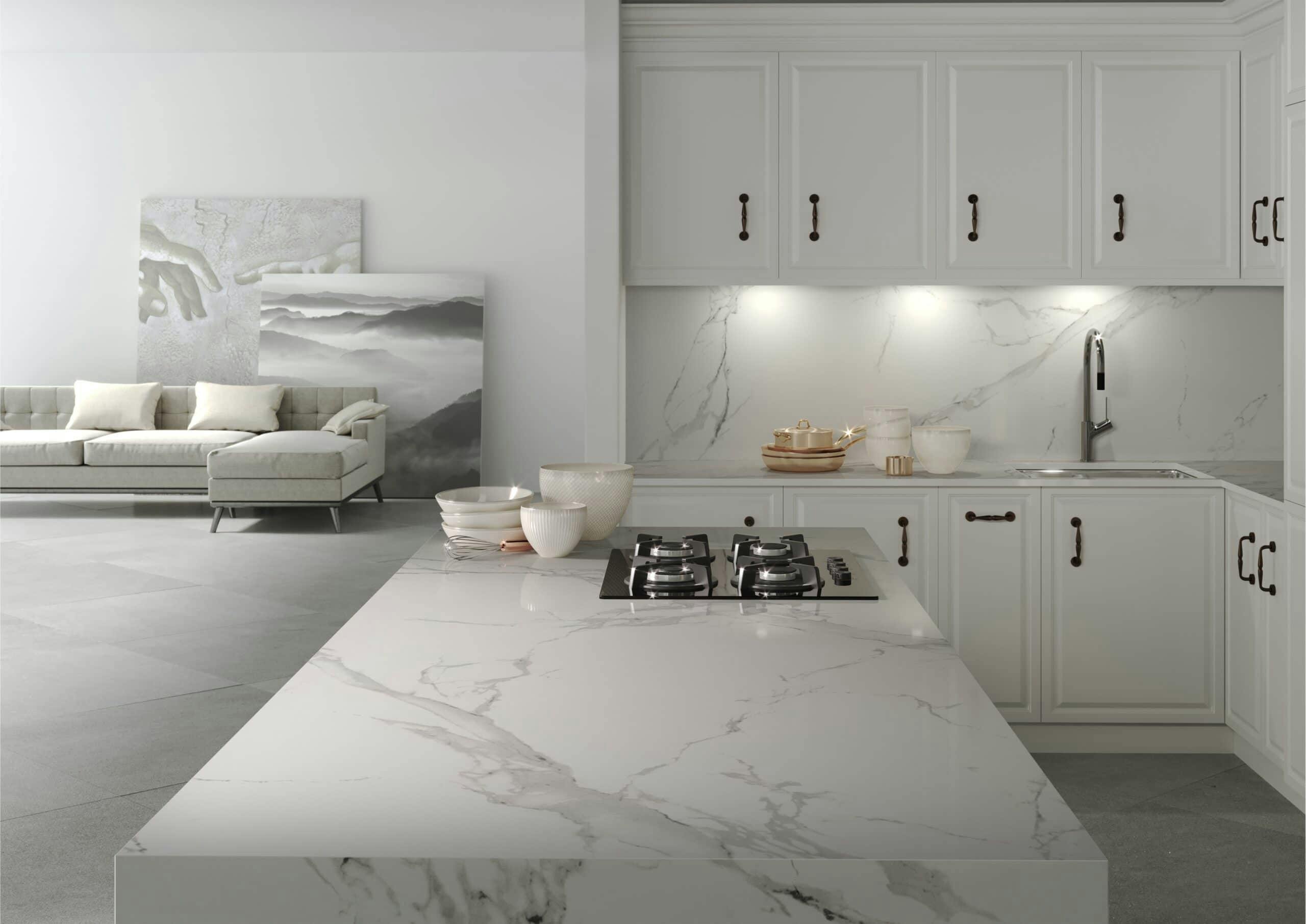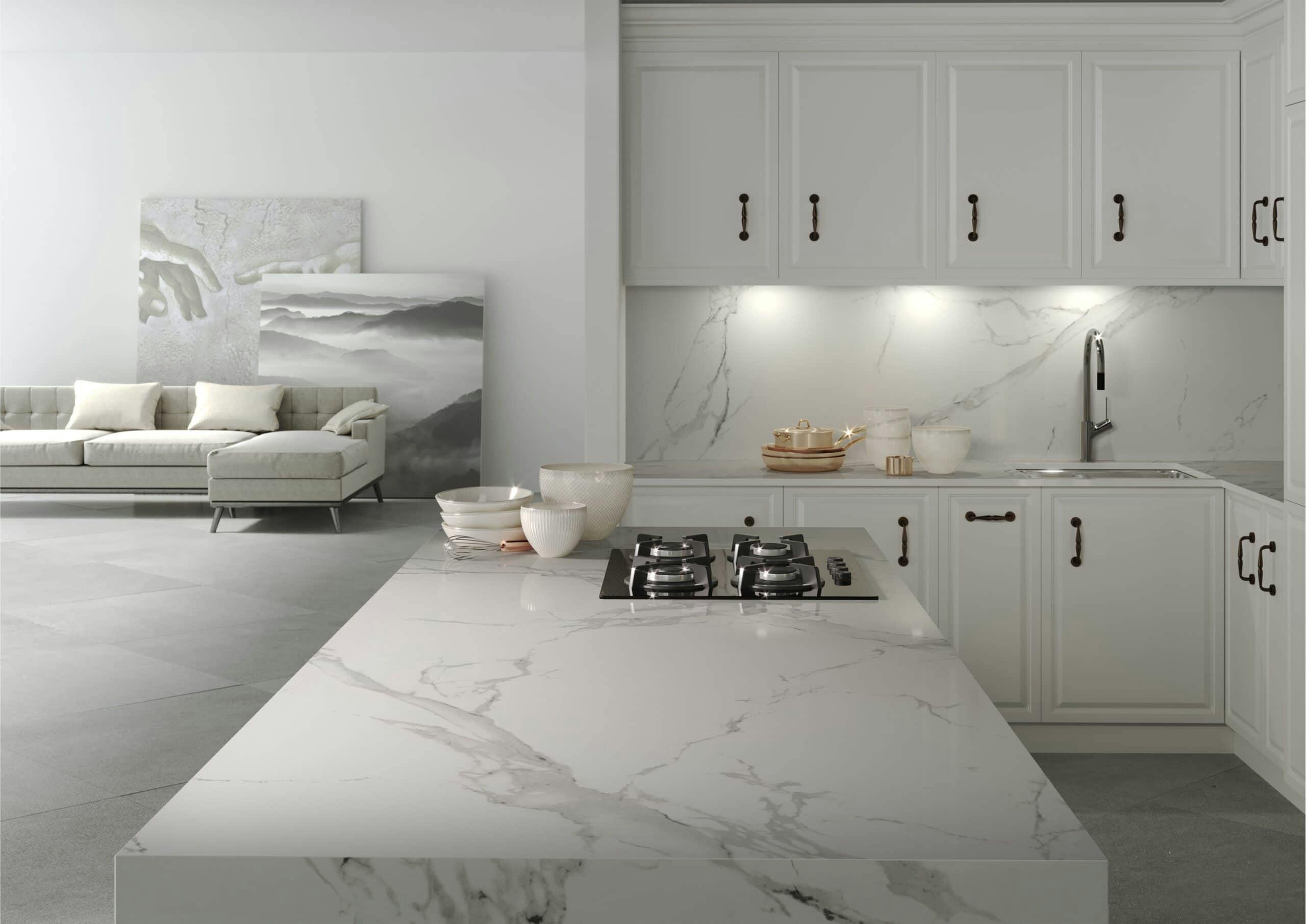 Quartz or granite: examples to help you choose the ideal material for your kitchen countertop
What material is best for your kitchen countertop? Quartz or granite? The trends in kitchen decor offer several possibilities, but it is quartz and granite that lead the market. In this post, we describe the characteristics of both materials and show you some examples so you can choose which option is better for your next project – quartz or granite.
QUARTZ OR GRANITE: MAIN DIFFERENCES
Refurbishing or creating a kitchen is one of the most difficult tasks to do in the home, as it is a space for daily use, where we spend many hours, whether it is for cooking, eating or socialising with family and friends. Therefore, designing a new kitchen poses a challenge. Although there are other alternatives on the market for countertops, such as wood or ceramic, most people prefer natural stone, so the question becomes "quartz or granite?".
You may have heard that quartz offers more design options because of its artificial component (especially in quartz countertops) or that the granite requires some maintenance to keep it in good condition. Here are some of the main differences between quartz and granite.
QUARTZ: THE COMBINATION OF DESIGN AND DURABILITY
What is quartz and what are its properties?
Quartz is a natural material found in the Earth's crust that has one of the highest levels of resistance. When it comes to quartz countertops, the composition is 90-95% quartz and 5-10% other materials, like resin, ceramic, glass, etc. It is this combination of natural and artificial elements that gives quartz some important advantages over other materials such as granite.
These are the properties of quartz as a countertop material:
Customised design: the great advantage of quartz over granite is its many colour variations and options. This makes it possible to fully customise kitchens, since you do not have to choose the same colour for the countertop as for the rest of the features: it will still be the main kitchen feature, but with your personal touch.
Stain-resistant: the combination of quartz and other materials makes the surface non-porous, which means that it is highly resistant to stains. This is a major point to consider in a space like the kitchen, as liquids such as oil or wine can be spilt on the countertop. Furthermore, the non-porosity means that the countertop always maintains its brightness, since cleaning products do not corrode the surface.
Impact resistant: on kitchen countertops, we often put hot pans, cut food, knock things over, etc., even if it is by accident. Quartz is highly resistant to both knocks and scratches.
EXAMPLES OF HOMES WITH QUARTZ countertopS
Now that you know the characteristics of quartz, you can't wait to see projects using this material. Well, here are a few of them. Which of these kitchens with quartz countertop is your favourite?
Let's start with this one, in white and grey tones. As you know, grey is one of the most popular colours nowadays. The combination with white creates a clean and relaxing atmosphere. In the picture, you can see a Natura model countertop by Dekton – it looks great with these white units! The result is a minimalist yet distinctive space, thanks to the veins in the countertop. Now you can design your kitchen in 3D.
In this project, the designer has opted for dark tones combined with the warmth of natural wood. The countertop, in this case the Keyla model by Dekton, helps create that modern space, while the wooden floors, table and chairs (as well as the plants) bring a very special touch of warmth.
And finally, let's take a look at the quartz countertop in this kitchen, the most classic of all those seen in this post. The colour of the wood used for the units fits well with the white fronts and quartz countertop. The quartz countertop is Alpina White by Silestone, the best option to combine with this wood tone, and the stainless steel of the appliances and chairs.
GRANITE: A NATURAL TOUCH ON YOUR countertop
What is granite and what are its properties?
Granite is a type of rock composed of about 40% quartz, in addition to other rocks. The typology of granite is magmatic – it is formed when the magma solidifies within the Earth's crust. The granite used in our kitchens is one of the classic materials for countertops.
In fact, granite or marble were for many years almost the only option for countertops (the latter being much more expensive). Today, granite is a strong competitor to quartz and its variety of colours.
The resistance and durability of granite are undeniable, as long as the basic maintenance is carried out.
The design is limited but unique – being natural stone, no two granite countertops are ever the same.
As it is a natural stone, the shades of granite cannot be changed. It does not feature the wide range of colours of quartz, but you can choose from about 20 different shades. This will depend on the quarry from which the stone has been extracted.
It is seen as eco-friendly, as it is a natural material.
It is important to note that both domestic and imported granite can be found on the market. Domestic granite will probably be cheaper than imported granite, but it will also be more limited in terms of colour. If you opt for an imported granite, bear in mind that its price could be higher, but there will also be more colour varieties available.
Granite itself is a porous material, so it is important that a protective resin is applied by the manufacturer, so that the countertop is able to withstand stains well. This coating can wear off over time, so it would be ideal to apply a new coat of resin to continue protecting it.
However, if you prefer the natural look of granite, we recommend the Sensa series by Cosentino. These are natural stone surfaces that have been specially treated to be resistant to daily use. Furthermore, an anti-bacterial coating is applied to them in the factory, so you do not have to worry about the usual care that a material like granite requires.
Examples of homes with granite countertops
Do you want to see some kitchen designs with granite countertops?
In this kitchen, the pearl grey and black granite countertop fits perfectly with the white units. A grey wall cladding in line with the countertop tones has been chosen. A classic combination that always provides good results.
If you are looking for a more rustic style, this is a great example. The contrast of the natural wooden beams with the white gives a feeling of warmth. The dark grey island with its matching granite countertop adds an industrial touch to this kitchen. The metal legs of the island stools work beautifully.
In this kitchen, the beige and brown granite countertop is combined with appliances and classic white units. A restrained and elegant design.
Quartz or granite? Do you already know which material is the most suitable for your kitchen design? Hopefully, this post has helped you decide which material is best for you.