Case Study
São Paulo's leading business group uses Dekton in its new elegant offices
Athié Wohnrath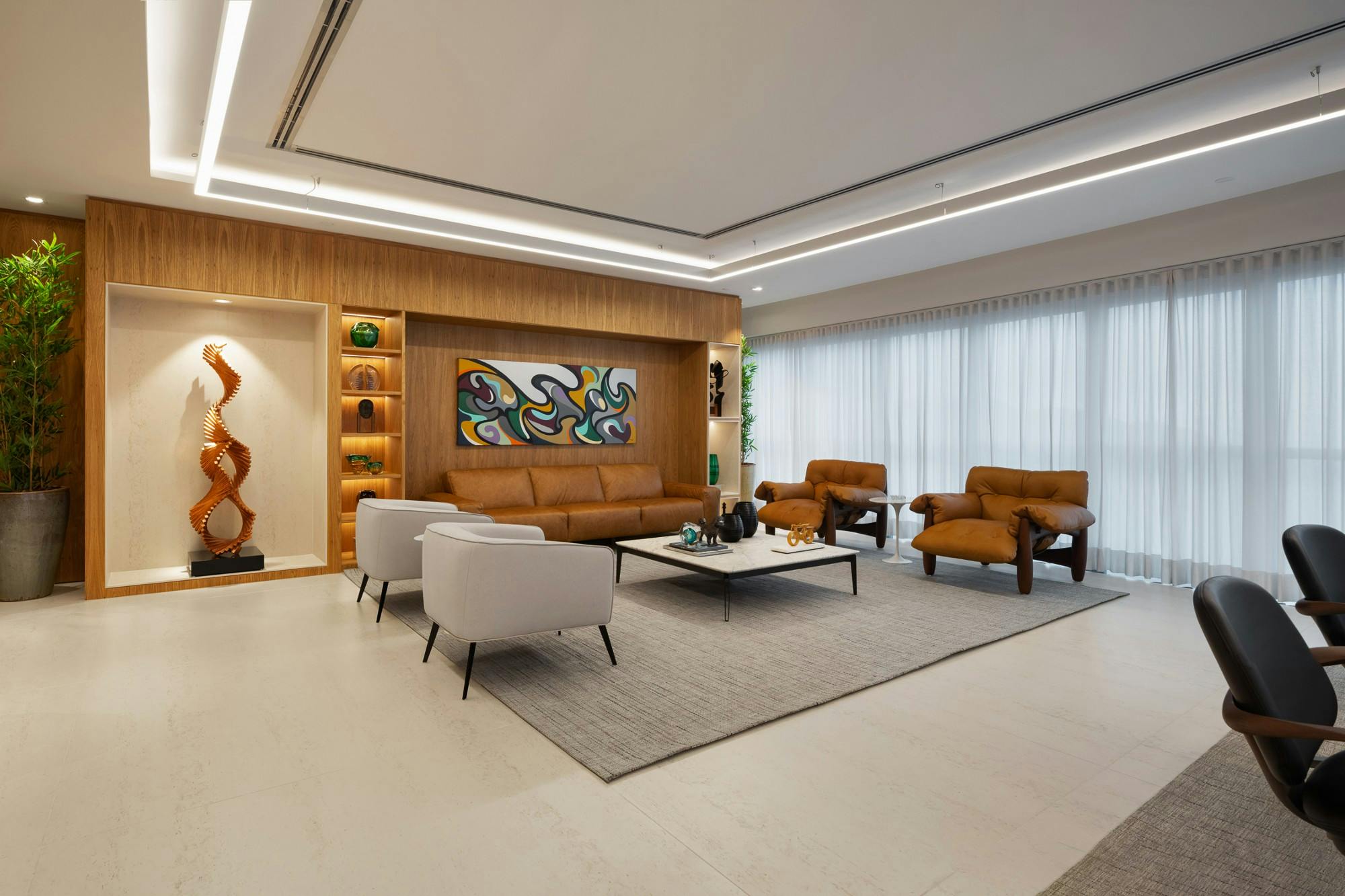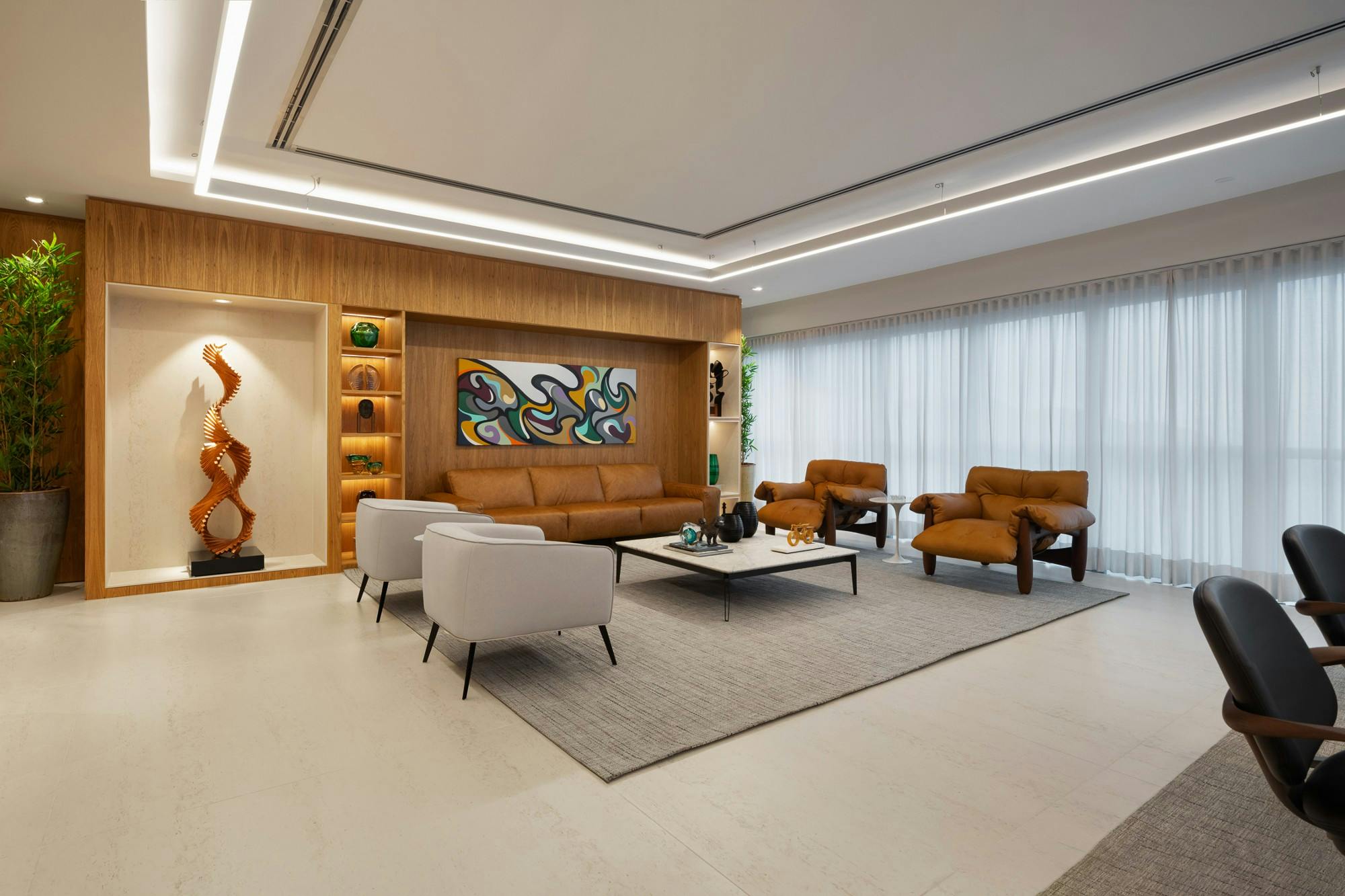 Location
Santos, São Paulo (Brazil)
Application
Flooring, walls and reception desk
Architecture / Design
Athié Wohnrath
The leading business group on the São Paulo coast, the Mendes Group, has been at the forefront of creating the largest shopping centres in the area, the most comprehensive event centres and the most luxurious hotels, such as the Sheraton Santos Hotel, as well as the most modern residential and shopping developments, such as Praiamar Shopping.
In order to celebrate the many milestones achieved, the family-run group has transformed three flats into a unique office overlooking the city from above. 'The project aims to emphasise the solidity of the company through the use of noble materials in architectural solutions,' explains Athié Wohnrath, the studio in charge of the project, with major clients in its portfolio.
The new space boasts an impressive collection of works of art, which the business group has acquired over the years. This is why the architectural concept was approached from a minimalist perspective, so that the place would serve, above all, as a stage for the exhibition of these pieces.
As a result, the interior is elegant, simple and refined, and despite its minimalist style, it manages to be warm and welcoming. 'We want to inspire people to live unique experiences, building innovative spaces that stimulate creativity and the sharing of ideas, increasing productivity, regardless of the size of the company,' explain the professionals.
To create this stunning office, which functions as a museum, decision-making centre and meeting point for the members of the Mendes Group and their clients, Wohnrath has been captivated by Cosentino materials.
Danae, the beauty of wind-blown sand combined with all Dekton's advantages
Dekton Danae has thus become the key feature for the floor and wall cladding. It is a tone reminiscent of sand moving with the wind in the desert thanks to its different shades of beige, which are dynamically reproduced on the surface to capture the essence of movement.
'We went for this colour because the project is close to the beach, and Dekton Danae is very close to sandy tones,' confirms Wohnrath Studio. This colour was also chosen for the reception desk, although aesthetics were not the only thing that mattered to these professionals when they opted for this ultra-compact surface.
'We used Dekton as an alternative to limestone, looking for the most cost effective solution. Dekton comes out on top due to its excellent technical features, such as mechanical strength and resistance to stains and sea air,' the company continues.
'In addition to their beauty and versatility, Cosentino products offer durability, low porosity, easy maintenance and cleaning, and high resistance to sudden changes in temperature. Therefore, we used them in the common and outdoor areas, as well as in the finished unit,' the team concludes.
Cosentino's materials used in this project