Top Homes
Sensa natural granite becomes the centrepiece of a luxury kitchen that doubles as a living space
2nd Edition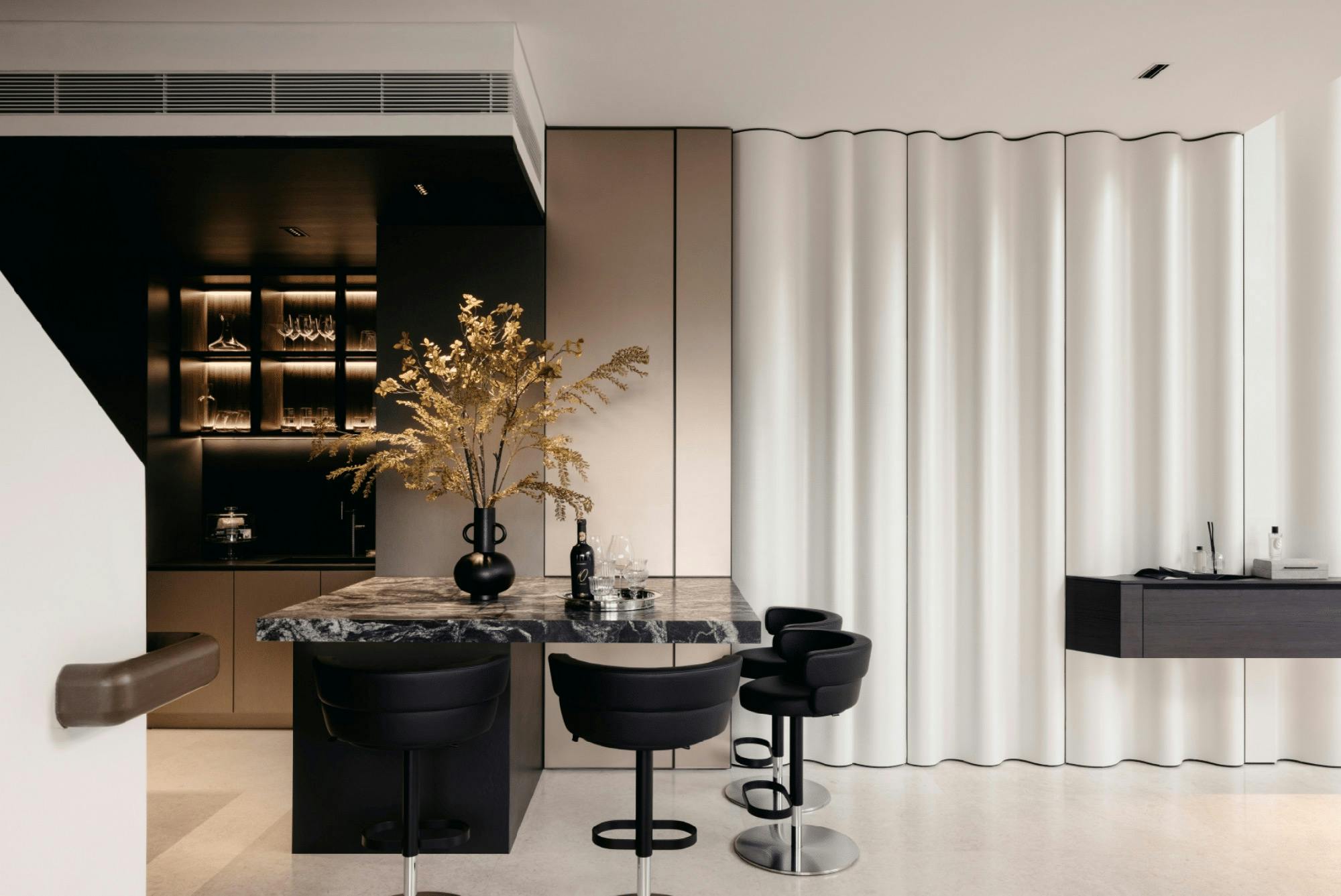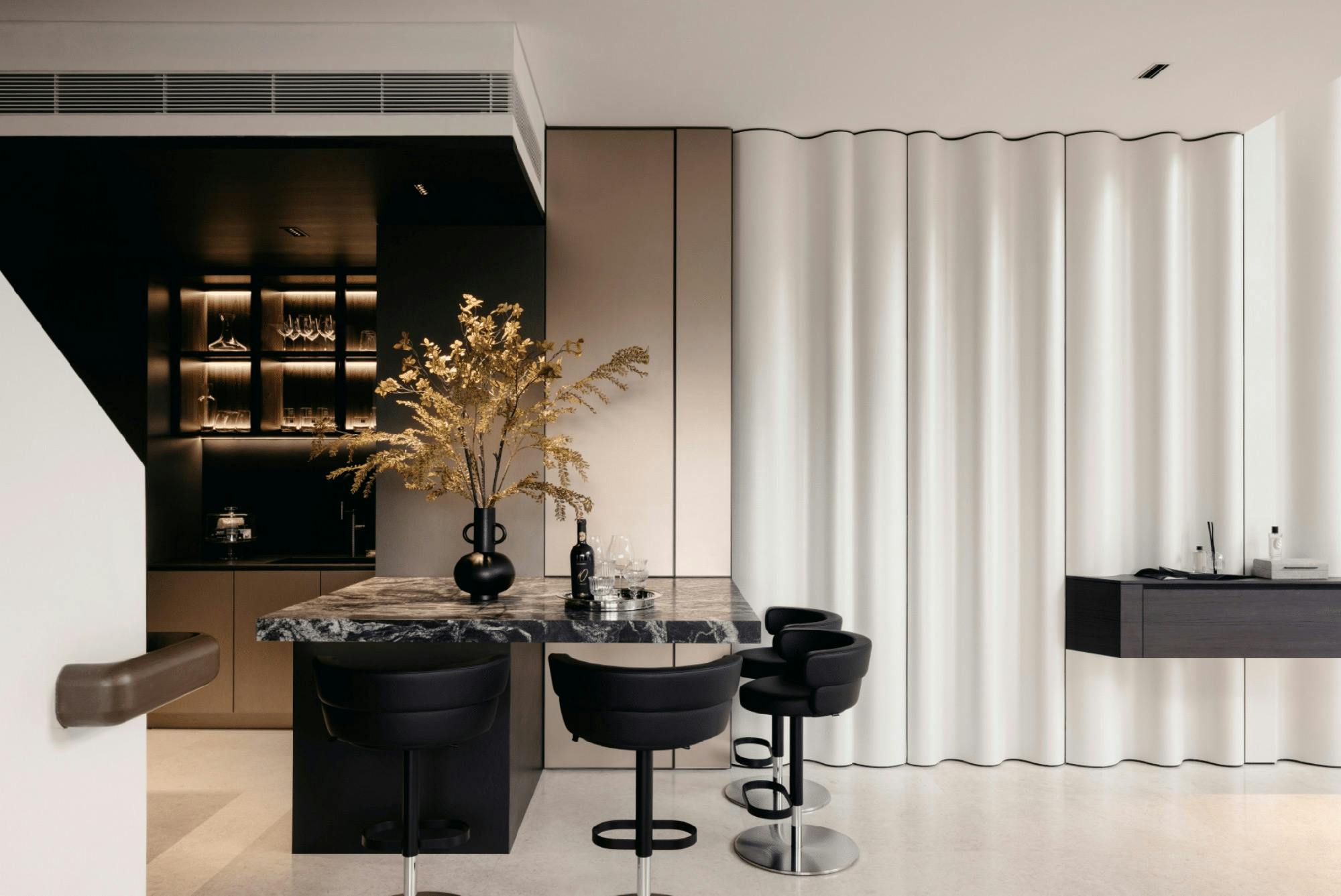 Application
Worktop, wall cladding
Photography
Marc Tan (Studio Periphery)
Architecture/Design
2nd Edition
Color
Black Beauty | Sirius
Orchard By The Park is the new luxury residential development in Singapore's prime Orchard Road area. This modern development boasts lush green areas, including children's playgrounds, sports courts, jogging paths and a state-of-the-art security system.
The property – conceived by none other than the award-winning Antonio Citterio, known for his collaborations with leading brands such as Hansgrohe, B&B Italia, Flexform, Flos, Hermès, Iittala and Kartell – is located close to clubs, bars, restaurants, shopping centres, five-star hotels and top schools.
So it certainly has all the necessary ingredients, to attract high-class inhabitants from all over the world, on the outside. But also on the inside, designed by the 2nd Edition studio, where two Cosentino products play a special role: Sensa, a natural granite with unique stain-resistant protection, and Dekton, an ultra-compact and extraordinarily resistant stone composed of a sophisticated blend of more than 20 minerals extracted from nature.
The challenge: to create a kitchen for cooking, but also for living
'The main challenge we faced was to create a beautiful focal point for the open-plan kitchen-living space,' explains the firm. 'To this end, we designed a dry area that fulfils its function, as well as becoming a central social space,' they say.
The idea behind the island was that it would serve not only as a space for preparing food, but also as a hub for eating, reading and gathering, and even for enjoying the views outside. And it was clear from the start how to achieve this: using Sensa Black Beauty. 'Its veining has a distinctive character that essentially highlights the worktop and the wall behind the cocktail bar shelf, but at the same time provides durability and robustness'.
In this case, the chosen finish was Leather, a matt patina that, according to the studio, 'adds appeal to the surface'. 'Everyone who visits the unit stops to touch and admire the material which ultimately fulfils our idea of making this "social kitchen" the centre of the space,' they add.
Dekton Sirius: high resistance and unique texture in a refined black shade
This Indian granite with a black base full of white veins, reminiscent of the foam of the waves, fits into the design of the room with Dekton Sirius, which is installed on the front and side walls of the kitchen as well as on the worktop. 'It is a unique piece: it blends in with its environment while its own texture gives it character, especially when illuminated by the recessed lighting in the kitchen,' emphasises the 2nd Edition studio, which is very satisfied with the final result.
'We love Cosentino products: they are technically avant-garde, they are fashionable in terms of colours and patterns and, most importantly, they meet all the functional requirements of a good cladding product,' concludes the studio.
Cosentino's materials used in this project
Explore Similar Case Studies