Top Home
Silestone and Dekton are the guiding threads in this Australian home, whose heart and soul is the kitchen
Mahercorp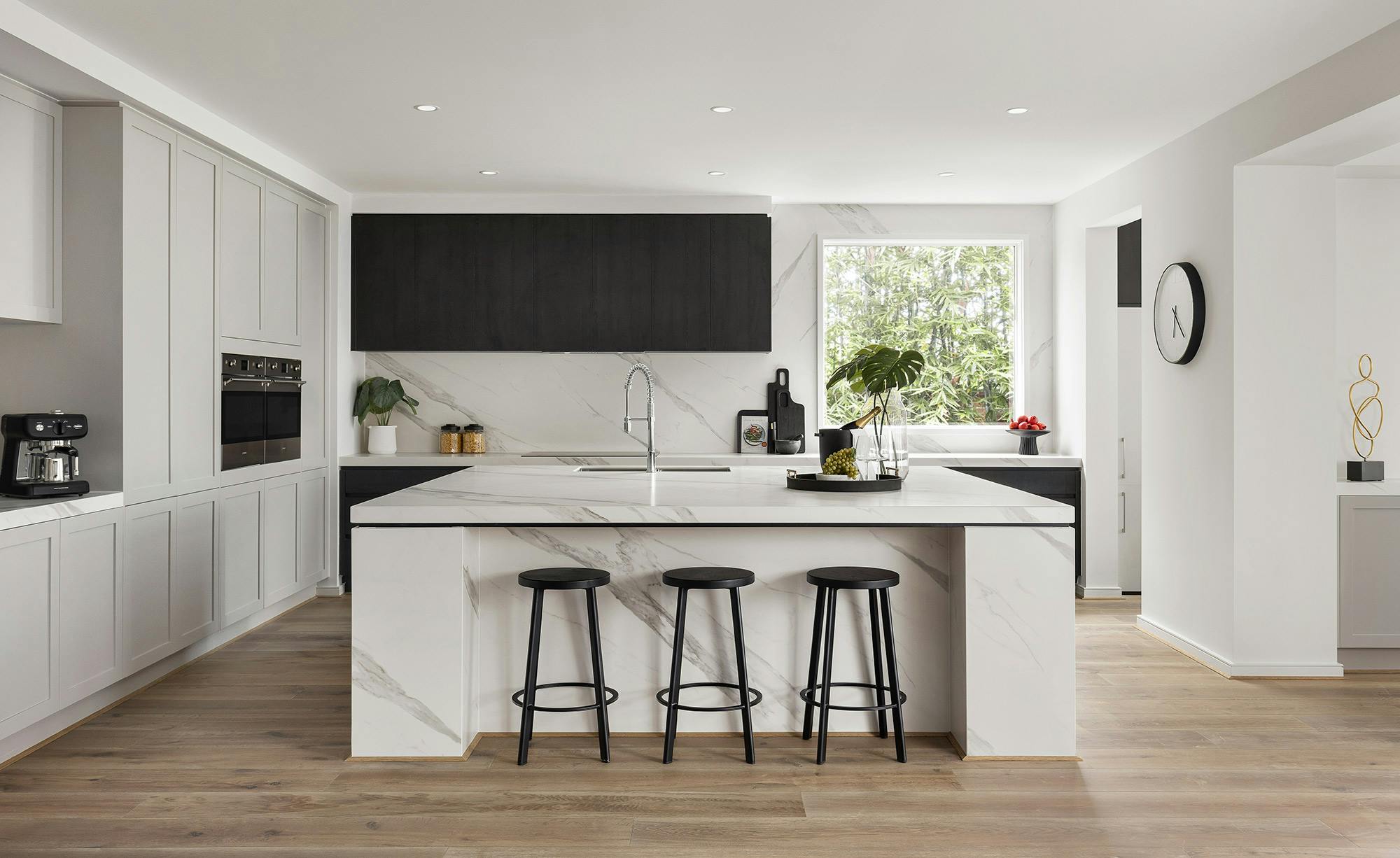 Location
Sunbury (Australia)
Material
Dekton | Silestone
Application
Worktops, bathroom and kitchen, splashback, fireplace cladding, tables
Architecture/Design
Mahercorp
Color
Opera | Et. Statuario
Kitchens really are the heart of the home, and proof of that is this display house by Mahercorp, a Melbourne-based construction company with its own design team. Located in Redstone, Sunbury (Australia), the house is an exceptional example of a spacious, open-plan and timeless space in which light, neutral tones establish a dialogue with the warm wooden floors and which uses Dekton as a focal point by using it on the kitchen island, worktop and the most luminous wall in the room.
To create a well-balanced concept, the Mahercorp design team chose another Cosentino surface that sets the tone in the bathrooms, laundry and dressing rooms. Both Dekton and Silestone bring a note of sophistication and a robust character to this project that moves between classic and minimalist styles.
The distinctive touch of Dekton Opera for the kitchen and the fireplace
"The kitchen is an important space in this house, so we wanted a bold and eye-catching, but also elegant and timeless work surface for this area", says Julie Gorgievski, project manager at Mahercorp. The colour chosen to achieve that special touch was Dekton Opera, a surface with classic white and grey tones and featuring a prominent veining pattern that provides great visual appeal when used on the island and worktops.
"The large slab format was also key to ensuring the use of as few joints as possible and achieving a clean, uniform look and feel", Gorgievski further says. This surface, which is stain and scratch resistant and easy to maintain, also ensures a long service life for this dream kitchen.
The same colour was also used for the fireplace, adding a natural touch to this cosy corner in the living room. Thanks to its technical properties, this material is perfectly suitable for high temperatures while giving this element a unique design.
Silestone and its restrained elegance
According to Gorgievski, for the other spaces of the house the designers were looking for a surface that was similar in colour and style to Dekton Opera, "but also a little more subtle so as not to compete with the rest of the elements".
Thus, the chosen surface was Silestone Eternal Statuario which, thanks to its touches of colour and restrained elegance, brings consistency and the distinctive look of Italian Carrara marble. This colour was used for the bathroom countertops and vanities, in perfect dialogue with the dark-toned furniture, as well as for the tables in the dressing rooms.
Cosentino's materials used in this project
Explore Similar Case Studies