Case Study
Sleek Silestone & Dekton countertops complement a Cape Town hotel designed to be lived in
MLB Architects & LK Kitchens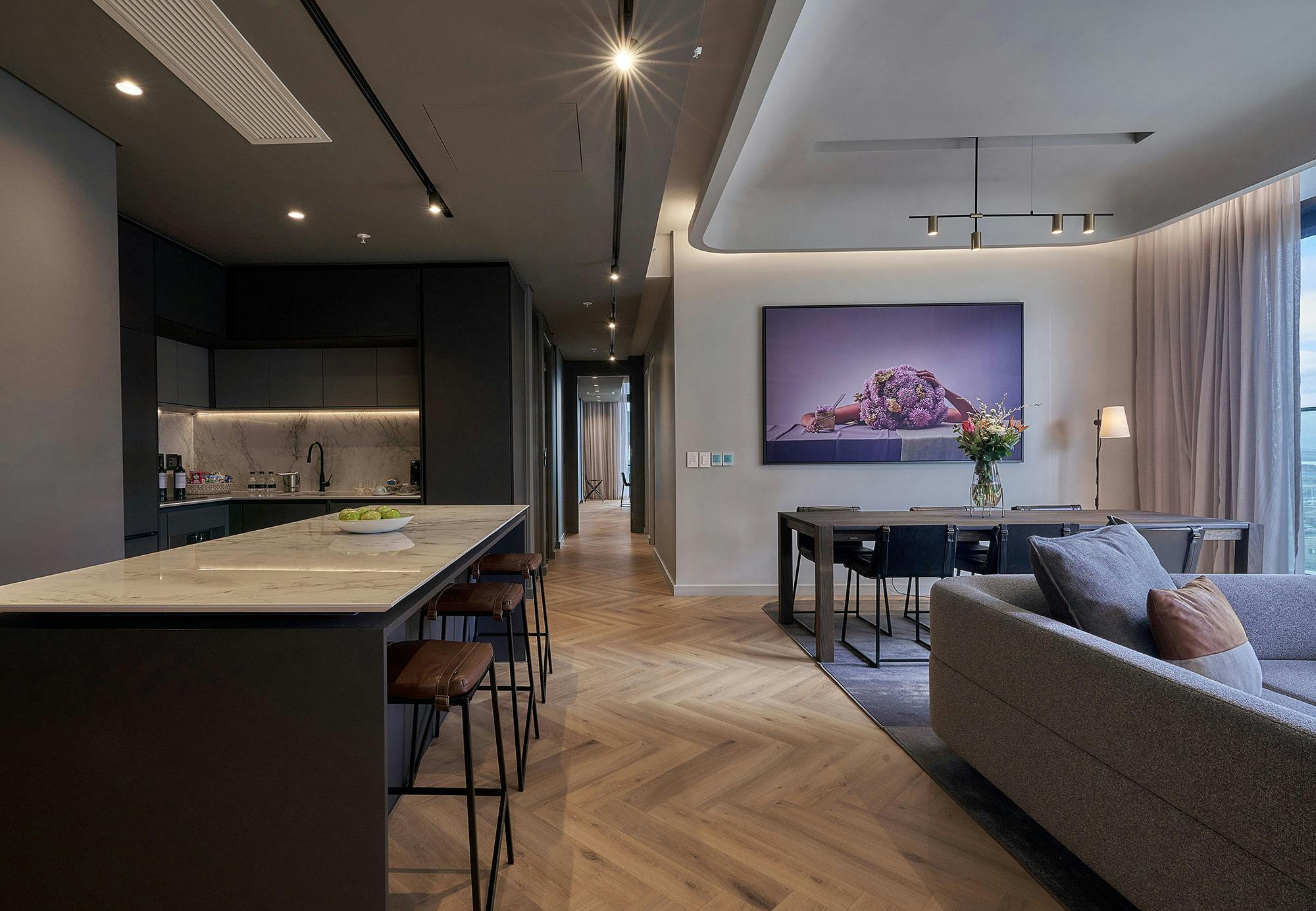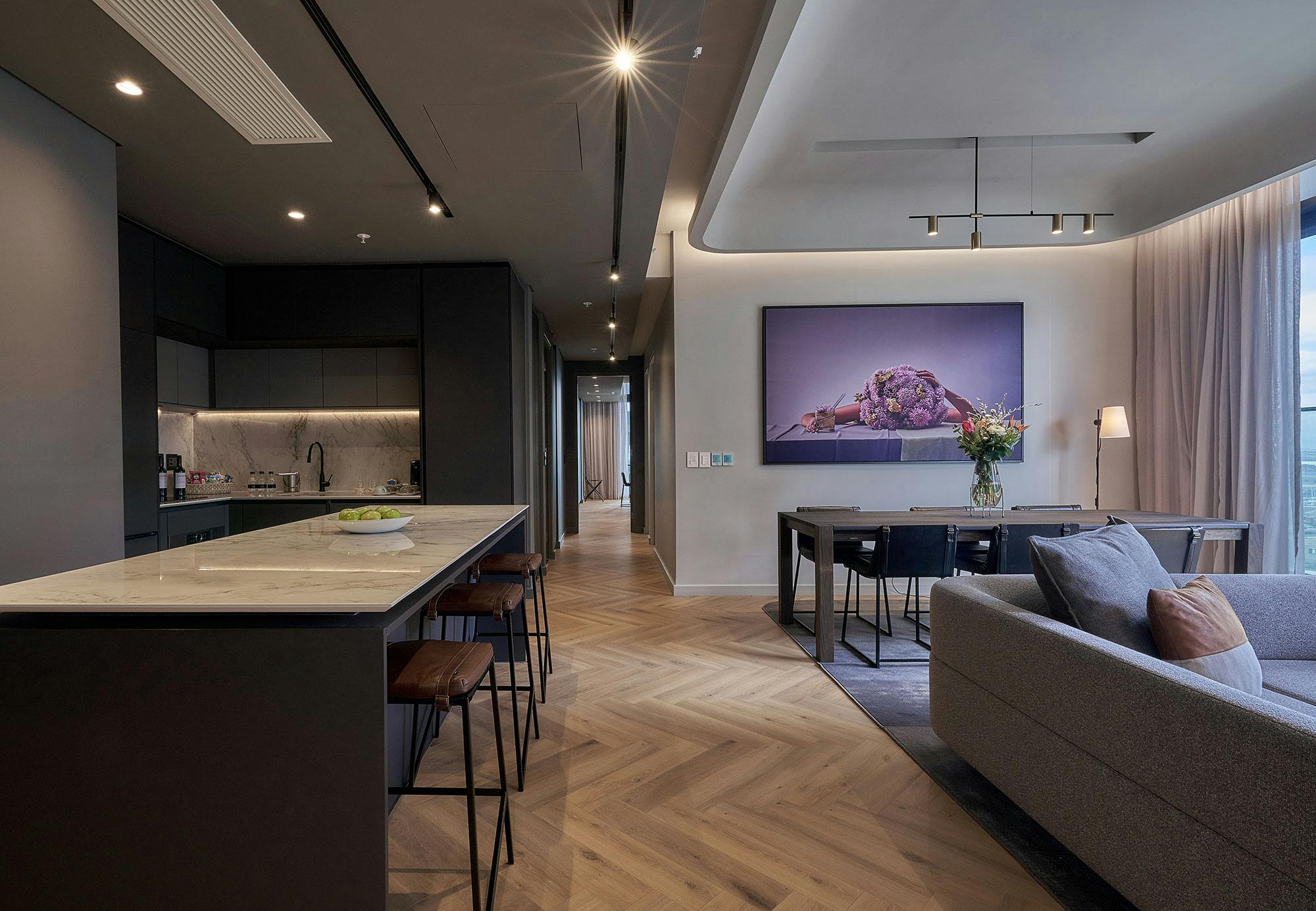 Location
Cape Town (South Africa)
Developer
Ryan Joffe Properties
Material
Dekton | Silestone
Application
Countertops, cladding
Architecture / Design
MLB Architects & LK Kitchens
Fabricator
Rock & Stone Works
Color
Bergen X-Gloss | Tebas Black Suede
Photography
Ryan Joffe Properties
Located on the Foreshore of Cape Town, The Rockefeller Hotel & Residence comprises 395 aparthotel units across 18 floors that provide sweeping vistas of the ocean, city and mountains.
The ground floor of the residential hotel is home to the 24-hour concierge and reception, a fine-dining restaurant, a laundromat and a world-class fitness centre, while the top floor boasts a glistening pool.
With the slogan 'designed to be lived in, designed to be enjoyed' in mind, the architectural and design team chose Cosentino's pioneering Silestone countertop cladding in sleek Tebas Black for each of the room's modern kitchen units, and the beautiful Dekton Bergen specifically for the penthouse suite. Designed by MLB Architects together with LK Kitchens, the petite kitchen units and penthouse kitchen act as an anchor to the other rooms in each apartment, a deep-black and contrasting marble-look visual centrepiece that personifies the building's character as a space of both comfort and luxury.
Functional luxury with Silestone & Dekton
Silestone and Dekton surfaces are ideal for spaces of lived-in luxury, such as The Rockefeller, where the designers wish to maintain the highest aesthetic standard regardless of who may stay in the room or how they choose to use the countertops. Both hygienic and easy to maintain, Silestone and Dekton were the ideal solutions for The Rockefeller's kitchen countertops.
Silestone is a hybrid of minerals and recycled materials that is highly resistant to stains, scratches and everyday wear. Extremely hardy, but at the same time very beautiful, Silestone brings colour and texture to any environment. No manufactured with the innovative HybriQ® technology — containing a minimum of 20% recycled materials, such as glass — Silestone is a more sustainable approach to architectural surfaces.
Countertops that epitomise opulence
The Rockefeller offers refuge from the bustle of inner-city life in a way that still captures the cosmopolitan character of Cape Town. Here, the colour and texture choice of the flawless Silestone Tebas Black in Suede and Dekton in Bergen X-Gloss, and for each of the kitchen-unit countertops brings a quality of understated magnificence to the sleek and sophisticated spaces, blending seamlessly with the contemporary wooden floors and deep-grey walls.
Cosentino's materials used in this project