Case Study
Stylish tables in Dekton to withstand sea salt, ultraviolet rays and the hustle and bustle of a restaurant
Lotus Hotel Group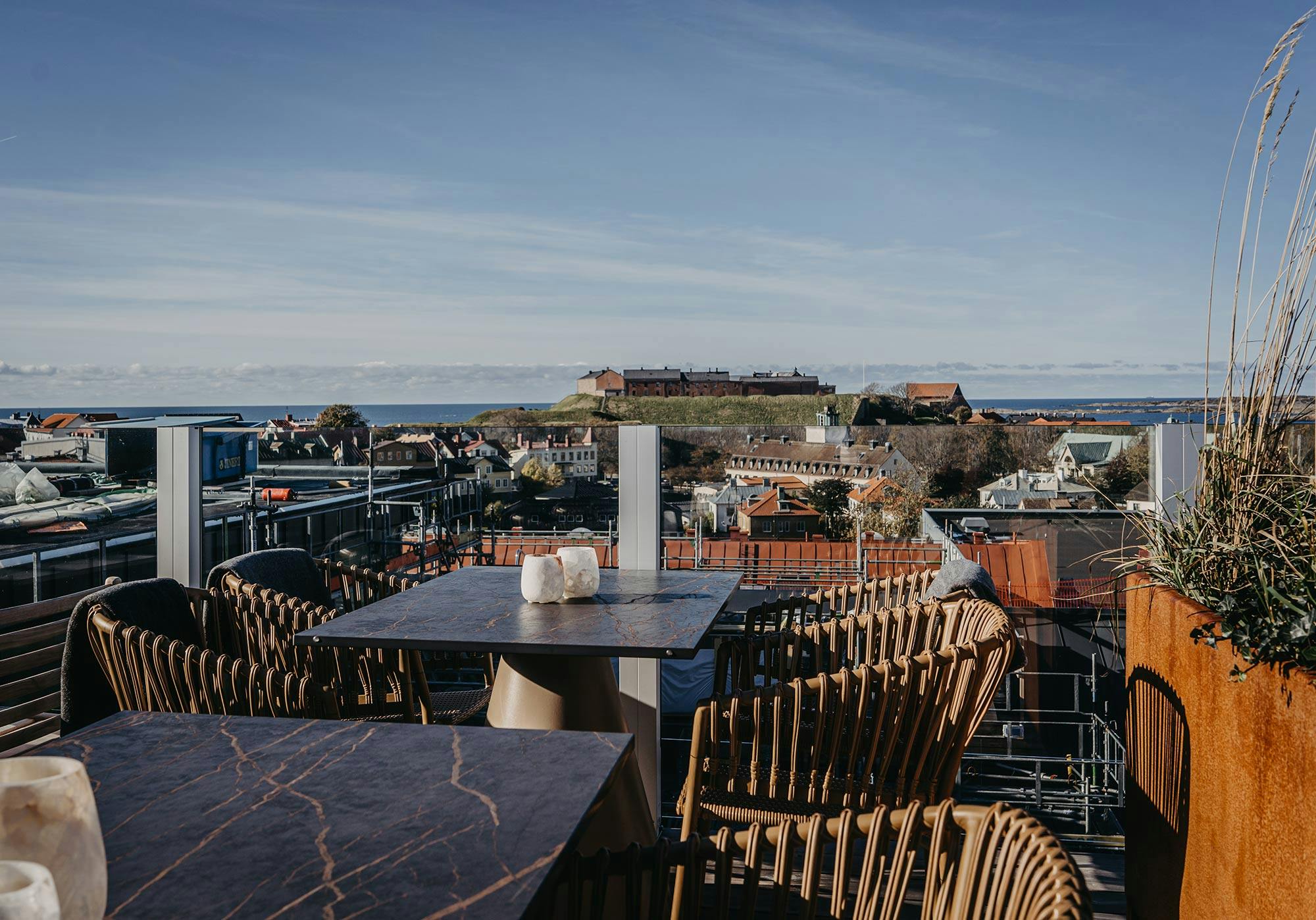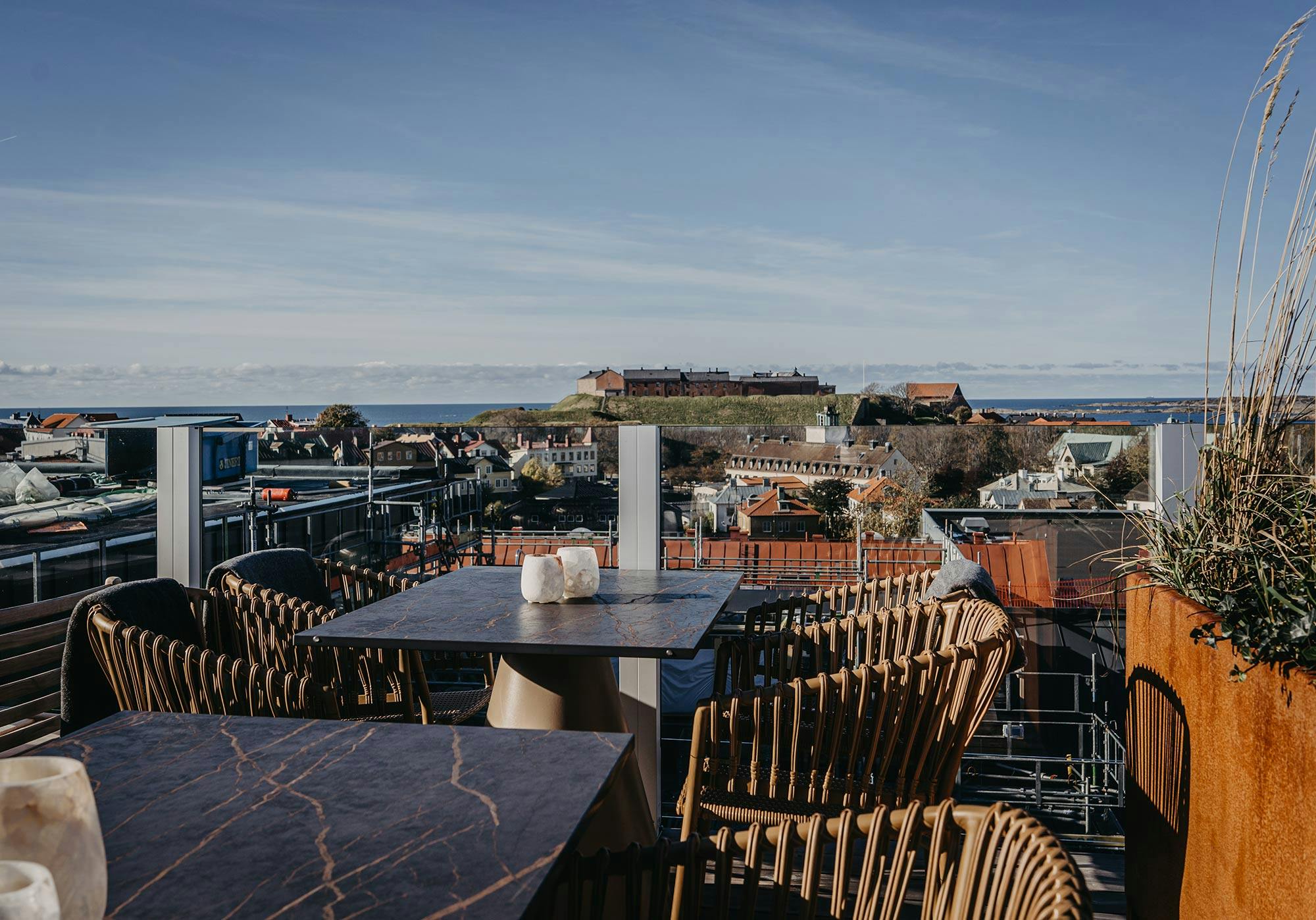 Location
Varberg (Sweden)
Architecture/Design
Amanda Oskarsson (Lotus Hotel Group)
Color
Laos, Soke, Laurent
Photography
Anna Marxen, Deilig Media
Standing in the heart of the holiday town of Varberg is the popular Varbergs Stadshotell hotel, which dates back more than 120 years. Its wellness centre, Asia Spa, is located on the top floor of the building, featuring breathtaking views of the city fortress, its rooftops and the sea. The spa has recently celebrated its 20th anniversary, and to celebrate it, the hotel has renovated its facilities, adding new areas for socialising and relaxing.
These new areas include a beautiful rooftop terrace which houses a restaurant and a bar. In addition, in order to cope with the cold weather, the space has been equipped with two glazed units, as if they were two beautiful greenhouses.
"As always, we continue to offer good vibes in this place that our customers love so much. With the new outdoor areas, our guests enjoy not only something new, but also an even better experience", says Bo Samuelsson, Director of the Varbergs Stadshotell & Asia Spa hotel.
Samuelsson continues: "The new surfaces fit perfectly with the building and the Asia Spa. They feature beautiful colours and materials and have nature and the five elements as guiding design principles. Slate floors, cement, woodwork and earthy tones add warmth". In addition, the use of wicker and wooden furniture and planters filled with greenery enhances the feeling of warmth.
Handcrafted and innovative bathrooms thanks to Dekton KraftizenDekton, a design material to withstand it all
Among the new surfaces used on the terrace is Dekton, which was used for the bespoke table tops. Specifically, the colours chosen were Laos, Soke and Laurent. Laos features grey veins and warm shades against a dark background with a soft matt finish. In perfect harmony with Laos comes Soke, a colour inspired by classic cement floors which offers a whole range of greys and a background full of details. Last but not least, Laurent adds a bold touch, as this colour is inspired by Port Laurent black natural stone. Its surface texture creates a play of nuances that enhances the contrast of its shades thanks to its golden veins, which combine perfectly with the earthy tones of the space.
"These new surfaces are an extension of the core, feeling and experience that Asia Spa offers. An extension of its good vibes, its calm and its emphasis on silence. Natural materials, sunlight and rest are an essential part of the space", says Amanda Oskarsson, Architect at Lotus Hotel Group.
Oskarsson, who was in charge of the renovation project, was looking for a design material with extraordinary properties for the tables, as they needed to be able to withstand the intense sunlight, the salt of the sea and the daily hustle and bustle of an establishment of this type. According to Marthin Larsson, Sales Manager of A&D Cosentino, all these reasons led the team to choose Dekton, "the material that met all these requirements".
Cosentino's materials used in this project
Explore Similar Case Studies