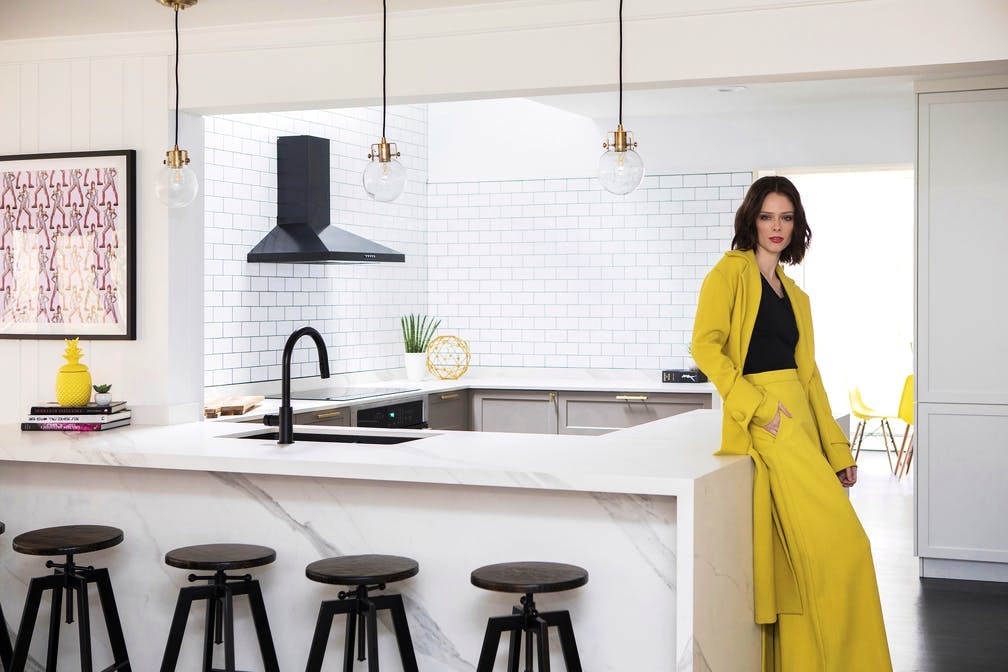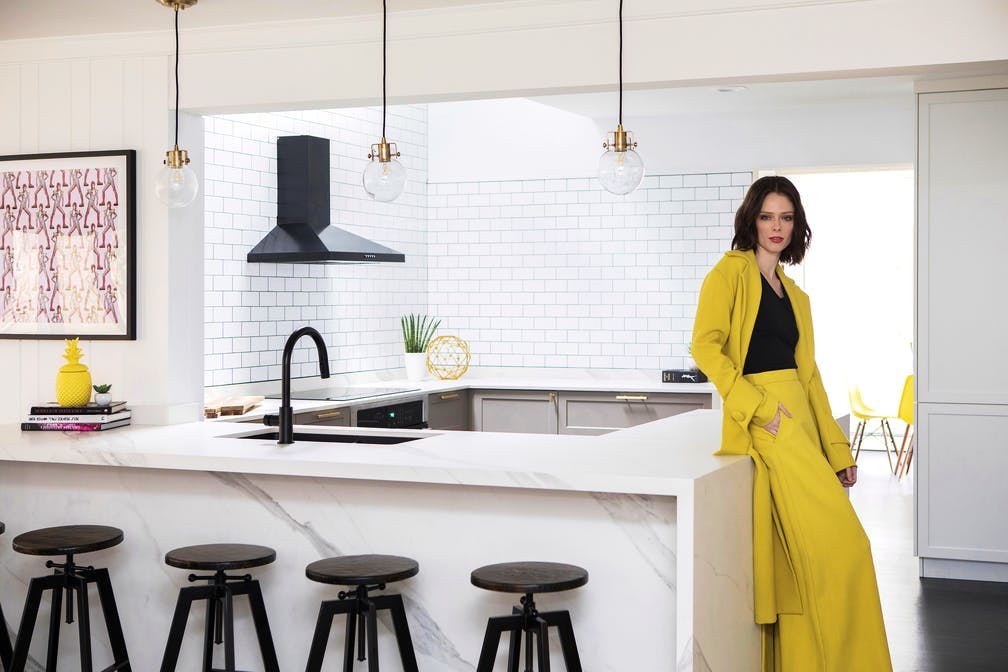 Supermodel Coco Rocha's Modern Farmhouse Featuring Dekton by Cosentino
Tags: Dekton | 4 años ago | Written by: Cosentino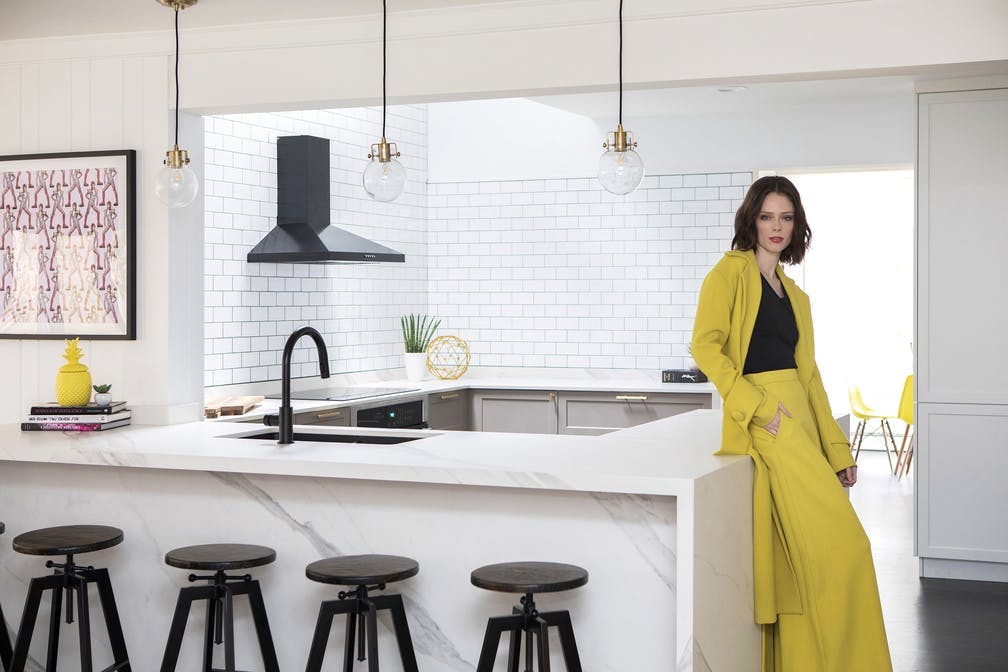 Canadian-born International supermodel Coco Rocha chooses Dekton countertops in Opera hue for her farmhouse kitchen in New York state.
Project Details:
Project: Coco Rocha Farmhouse Renovation
Trend: Modern Farmhouse
Style: Country with modern updates, Pops of color
Cosentino Materials:
8 Slabs of Dekton® Opera: Kitchen Countertops
Coco Rocha
Canadian-born International supermodel Coco Rocha was discovered in her hometown of Toronto in 2002. Her breakthrough came in 2006 when she opened the Christian Lacroix couture show in Paris, and later that year landed the cover of VOGUE Italia.
Throughout her career Coco has graced the covers of top international fashion magazines such as VOGUE, Harper's Bazaar and ELLE, and worked with numerous globally esteemed fashion designers including Chanel, Dior, Louis Vuitton, Lanvin, Balenciaga, Calvin Klein and Versace. In 2010 she married artist James Conran and the pair welcomed their first daughter, Ioni James Conran in March 2015. They live just outside of New York City in Westchester, New York.  In addition to her 15-year international modeling career, Rocha and her husband have started Model Camp, a program for girls around the world to learn the art of posing and how to navigate the modeling industry.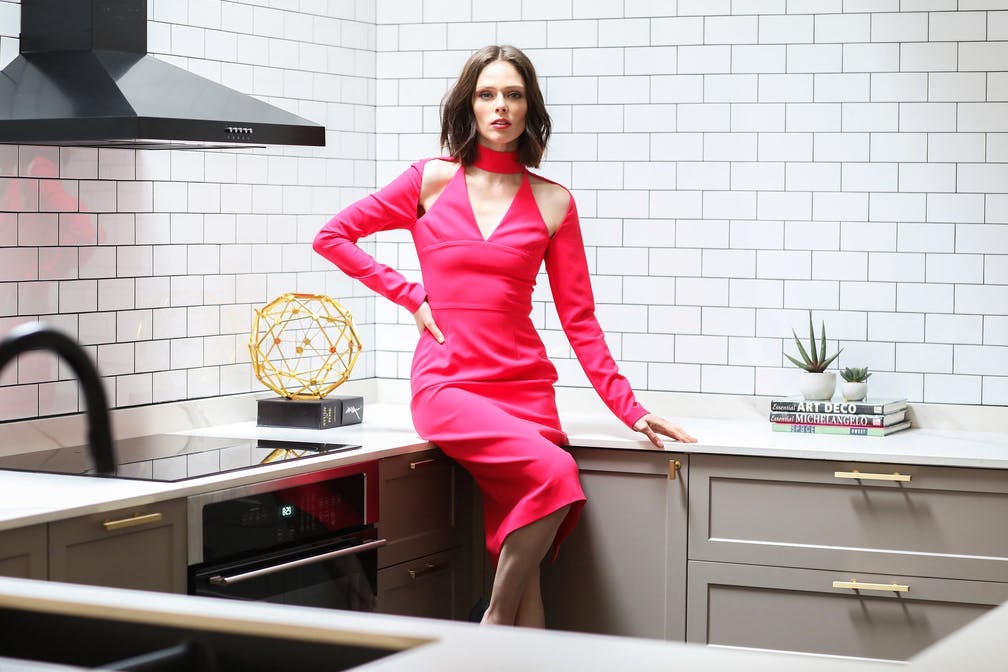 Project Overview
The home is a retreat for Coco's family but mainly serves as a place for Coco and James to host their Model Camp.  During Model Camp, the couple hosts up to ten girls from around the world during which they teach the girls lessons on posing and tips on the modeling industry. In order to open up the space and engage their guests while they cook, the wall dividing the cooking area from the dining space was removed.  Countertops with a waterfall edge, made of Dekton® Opera, were installed, allowing guests to sit along the edge of the kitchen and interact with Coco and James as they prepare meals.
Inspiration for the space was a country chic style, with the overall goal of keeping the country farm home's character and charm while adding a modern twist with pops of color and sleek and comfy spaces.  Elements including stylish rustic furniture and Dekton countertops were added to the space to achieve this balance of modern and traditional styles.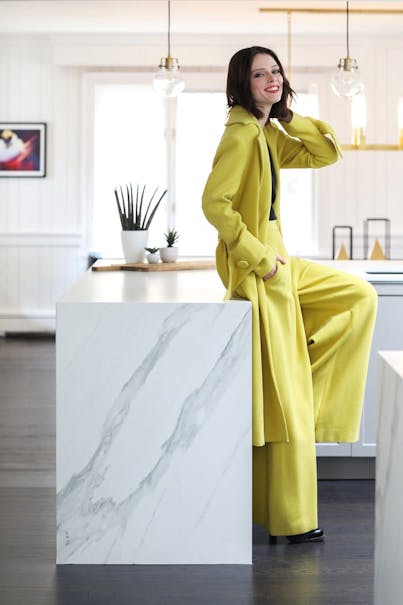 Q&A
This marks your second partnership with Cosentino -- Tell us about your new home.
Coco: We wanted to get a second place for us personally to have with the kids, but also as a business. We have this business called Model Camp where girls from around the world are invited to learn from myself and James, my manager, the art of posting, learning how to work with agencies and contracts - all sorts of stuff. So we needed kind of a home base to host the girls. This house is great because it's homey and cozy so the girls can feel at home in a space like this.
We searched for this house for months. It was the first house we saw and after months of looking at houses we came back to this one and realized it was the perfect location. James came here everyday for a year, ripping this place apart. It was owned by a much older man who didn't have the means to keep it up over the years. We wanted to keep the character and aesthetics of the house but with the modern twist we like with pops of color, a modern kitchen, clean and comfy spaces.
How this house different from your home in Westchester?
Coco: It's very different from our home in Westchester. Our home there is super modern, minimal and here it feels like a farm house in the woods, or country chic. There are elements of country furniture that have a modern twist to them. Every room has a historic element to them but the kitchen, as the hub of the home, had to feel clean, and beautiful.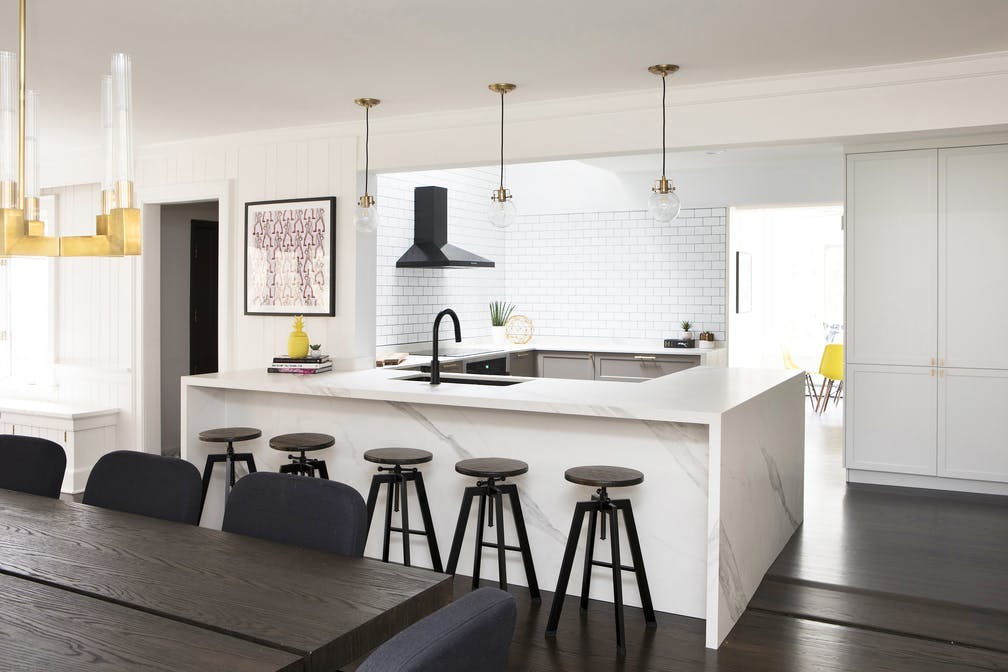 Tell us about your renovation process.
Coco: We didn't keep any elements of the original kitchen because it just wasn't cute or usable. There used to be a wall by the peninsula. When the house was built, the kitchen was meant for a space to go in and get work done and get food out to the dining room, but that's not how we live anymore. So, we brought down that wall so we can create a space for everyone to gather.
During Model Camp I cook a few meals and the girls definitely just sit around that space - 12 girls just sit and watch me make chili and breakfast. It's a great open space, for conversation and congregation without the girls being in my bubble while I'm making food. It's perfect.
How did your plans to use the space influence your design vision and selection of materials?
Coco: Everything had to be durable, but is also needed to look good. We don't necessarily know the people coming into our home so we don't know how clumsy or ditsy they are, so at least we know that the surface is durable even if the girls aren't. No one wants to be in a dirty space, so minimal and clean was also a must.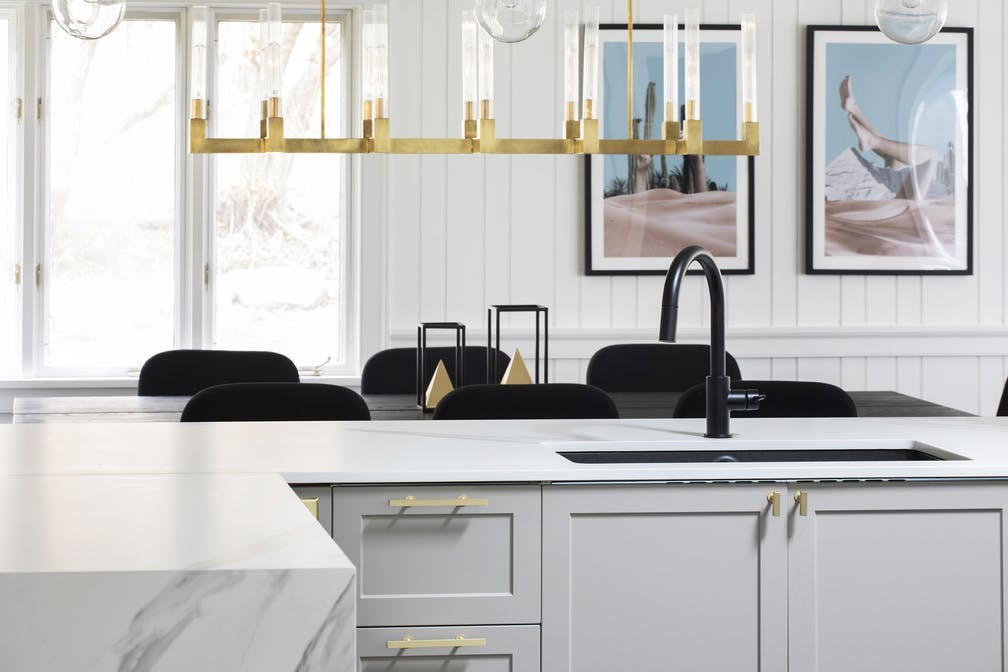 What was your design process?
James: We knew we were keeping the hardwood floors throughout the house. Since those are dark, that kind of dictated that the countertops being a brighter color. We didn't want all white, so we picked the tile to match the veining on the Dekton®, pulling out some of that gray. Brass is a continuous theme around the house so all the knobs are brass and light fixtures are brass.
Why did you select this color?
James: We love the grain and grit of our Dekton® surface. We also love the waterfall, which translates really well in the space. Even more important than the color, we love the silky feel to it. It feels almost like satin, soft and not cold. Dekton® also cleans up really well.
Coco: For us it was the veins for sure. The veins don't look manufactured - even though they are. We wanted it to look as organic and authentic as possible and it does the job.
You've lived with Silestone® in your first kitchen for a couple of years. How did that influence your selection for this kitchen?
Coco: We knew it was durable. When we went to the showroom, we told them we wanted a durable material kind of similar to what we already had but also different and new. Choosing what is cool and new really influenced our decision.
James: Cindy Crawford also did the campaign for Silestone® and Coco is a friend of Cindy's. We saw her campaign right after we finished our Westchester house and that I love that material, but Dekton® is really special. So we were excited to have a new project where we could incorporate this material.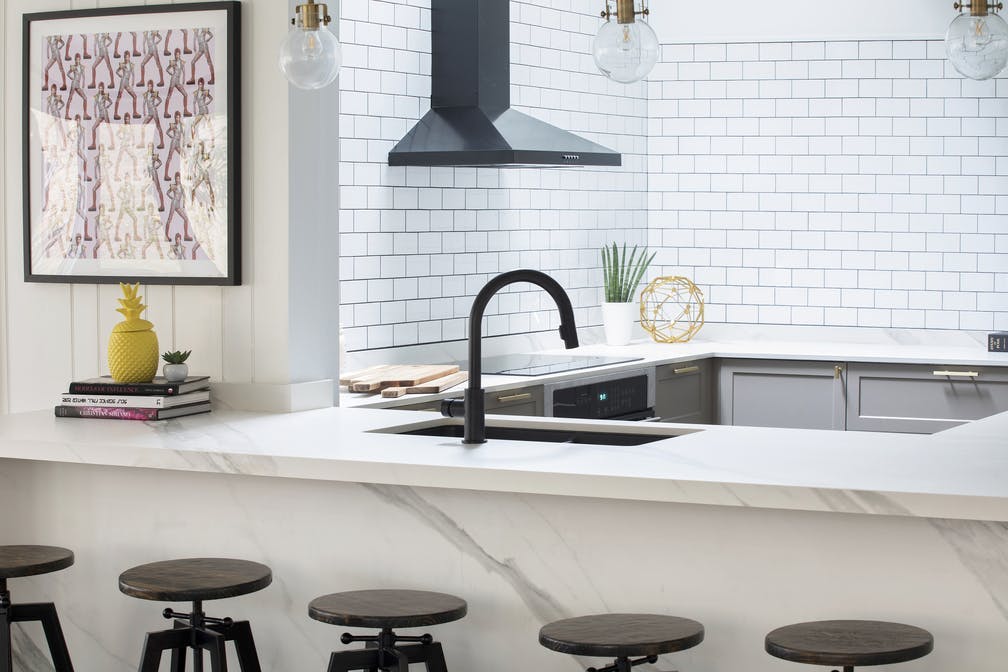 What are design tips you'd give to a homeowner renovating their kitchen?
Coco: Space! Create as much kitchen and countertops space as possible because it is amazing how it just gets filled up. When we first started the project, the kitchen was basically unusable, so we really had to figure out how we were going to create and use the space that we have. Find where you can steal space from other rooms.
James: No upper cabinets. I know a lot of people grow up with upper cabinets and its kind of a default in kitchen design but it creates a lot of shadows, darkening the kitchen and making it feel cramped. If you can get away with just drawers for all your pots and pans, it creates a much cleaner, open, brighter space.  Make sure you have good lighting. You don't want a moody looking kitchen. You want bright, even lighting. So being strategic with your lighting makes a world of a difference. You want to enjoy being in there. Dark and moody is fine for the living room, but the kitchen needs to be well lit.
What is your favorite memory you've had here since completing the kitchen renovation.
Coco: I think honestly it's the conversations around the space with all the girls. I've tried many times to move it to the living rooms but somehow we all just keep congregating into the kitchen after dinner.
James: We have had eight camps, so around 80 girls. But it's very personal. Coco is like a mentor to the girls so Coco talks to them about issues they've had in the industry or just being a young woman growing up in the world. They are very personal conversations but it's a super supportive atmosphere and all the girls are supporting one another and are super sweet.
Coco: They come from all around the world, Australia, Puerto Rico, Canada, to come hang out in our kitchen.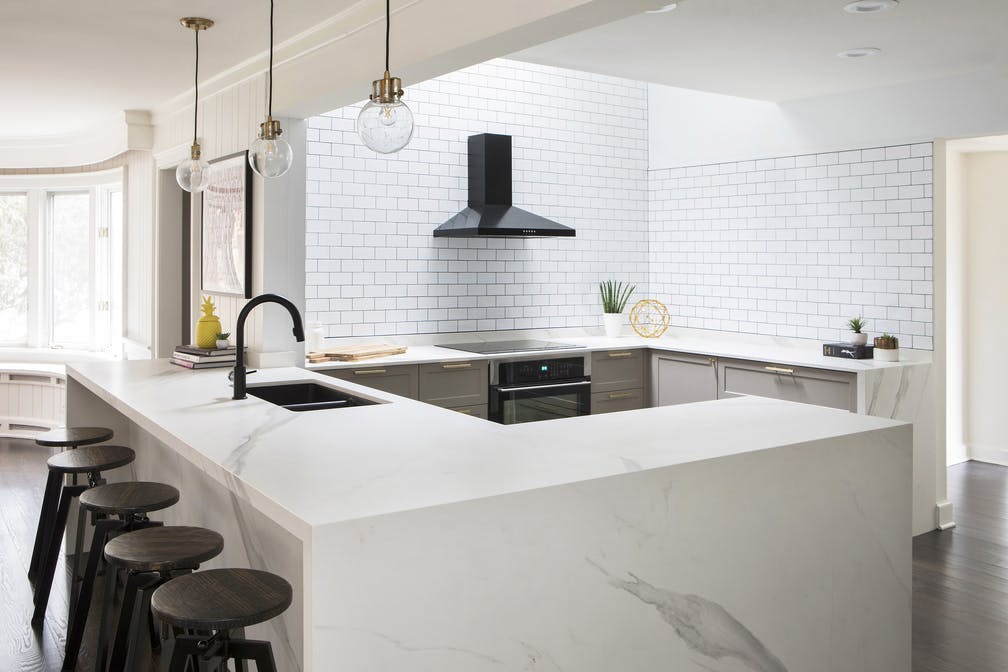 Do you have any thoughts you'd like to share on this renovation project?
Coco: I always say after a renovation that we don't want to do another for a very long time, but then we end up missing it and we buy another house.
James: Every renovation you do, you get better at it because you realize from your mistakes what you can do differently and what you can do better.  I feel like every time we do it we are actually improving so why not use all those skills on a new project? We're looking forward to our next renovation project, although that likely won't be anytime soon!
Coco Rocha Farmhouse Case Study Coco Rocha Farmhouse Case Study_FCA
See more of Coco's Kitchen and Farmhouse featuring Dekton on Elle Decor and People Magazine.