Case Study
The architectural firm Studio Power chooses Dekton and Silestone's sustainable surfaces for its office
Studio Power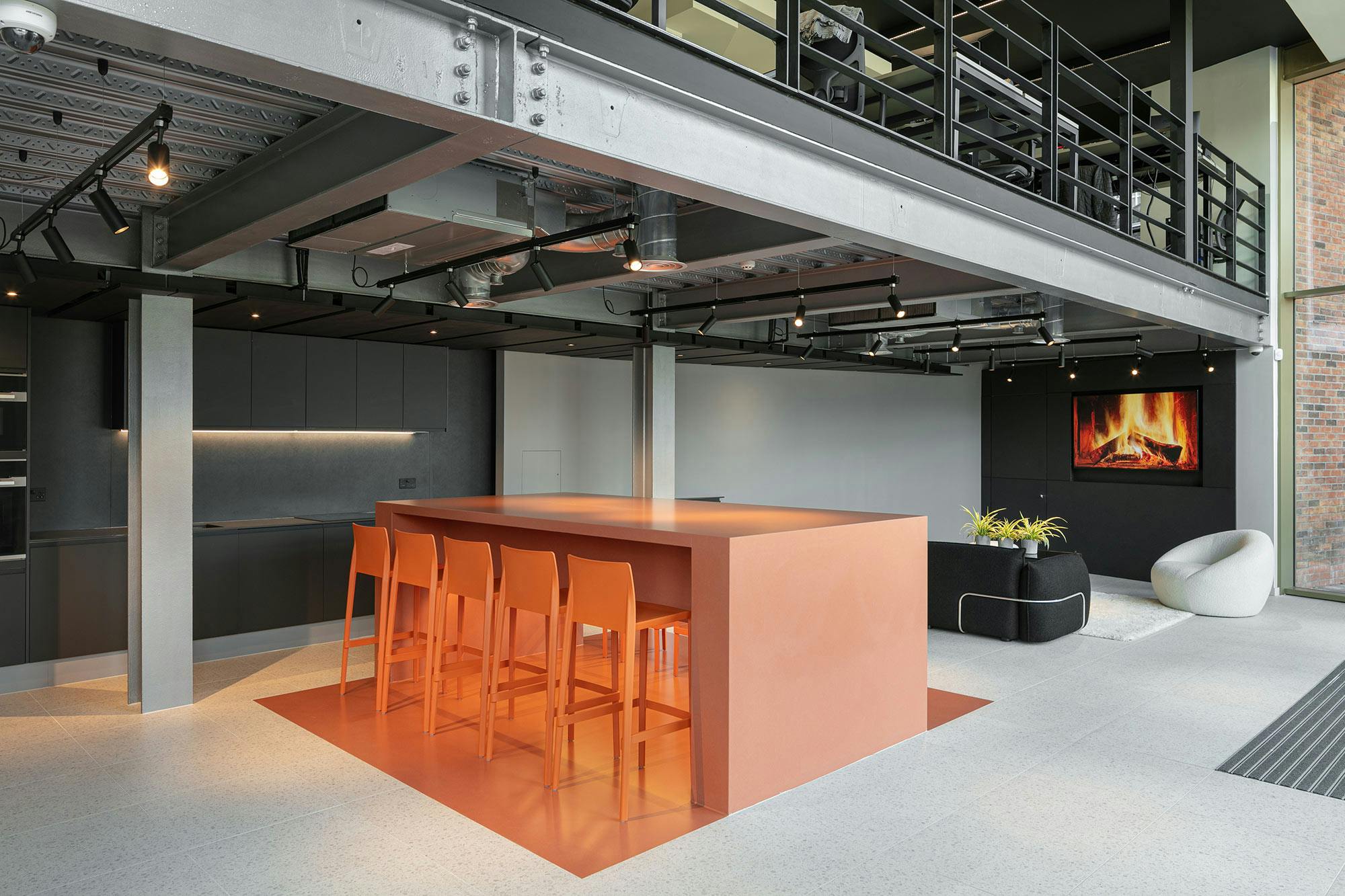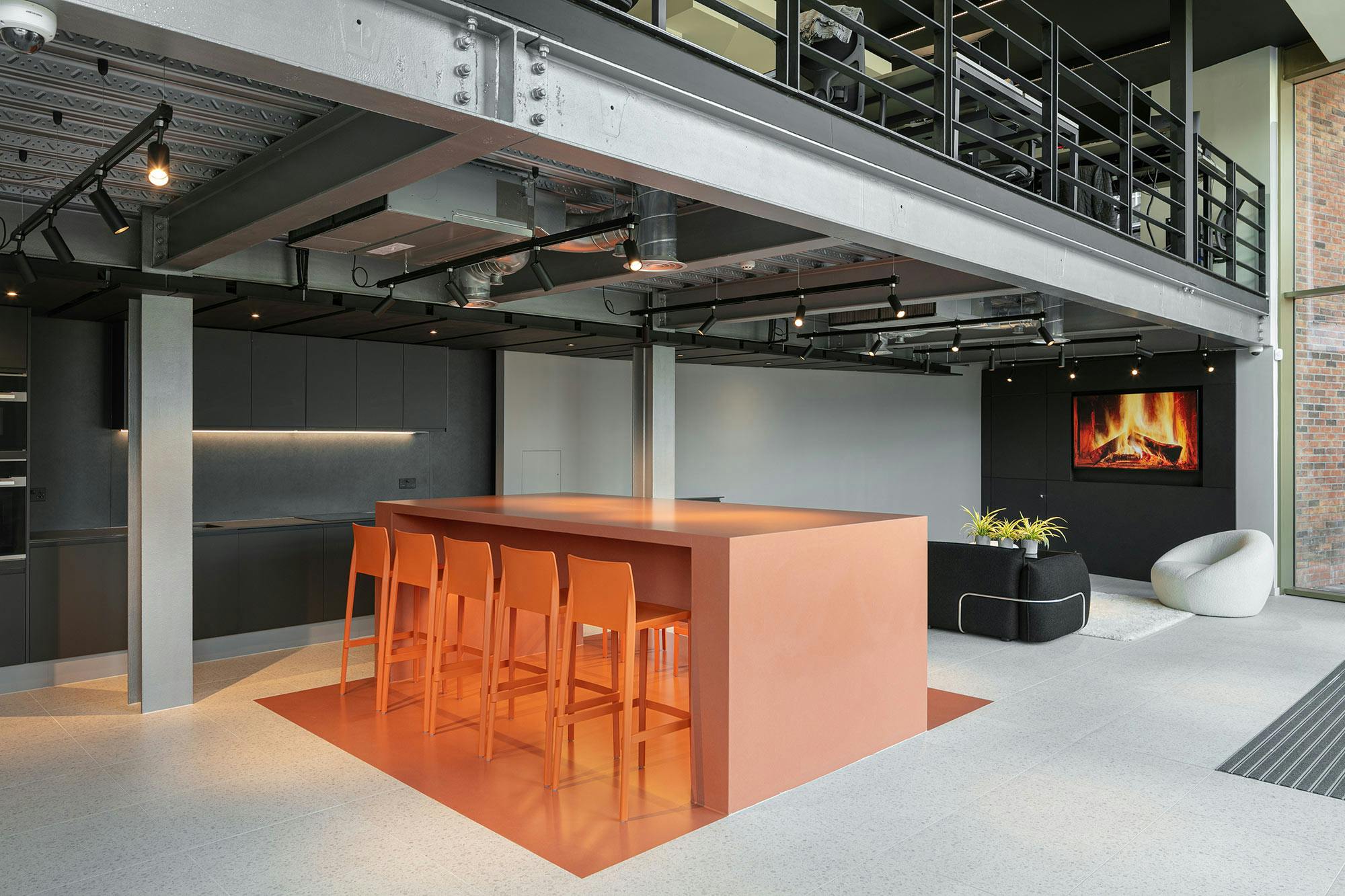 Material
Silestone | Dekton
Application
Worktop, flooring, front
Architecture/Design
Studio Power
Color
Silestone Arcilla Red | Dekton Eter
Multidisciplinary architectural firm Studio Power chose Silestone Arcilla Red, a colour from the Sunlit Days collection (a carbon neutral collection), for the freestanding island and matching floor of its office in Salford. The studio also chose Dekton Eter for the work surfaces and the front of the kitchen area.
"We went through several materials during the design process and felt that the warmth, simplicity and serenity of Silestone Arcilla Red were perfect for the studio island. We have always longed for a sculptural piece, and with Arcilla Red we have achieved it! As for Dekton Eter, it was beautifully combined with matt dark grey kitchen units to achieve a consistent, single-colour backdrop that allows the Arcilla Red piece to shine in all its splendour", says Jyh Lee, architect at Studio Power.
Silestone Arcilla Red, a sustainable and low maintenance colour for the worktop and floor
Studio Power chose Silestone Arcilla Red for both the kitchen island and the floor area underneath it. The island features a thickness of 12 mm, while the floor is 20 mm. This carbon neutral material is made from 20% recycled materials and is a fully sustainable choice. This colour from the Sunlit Days collection is a deep, earthy red shade that brings warmth and a striking look to the open plan space.
Silestone's innovative HybriQ+ technology provides a top quality hybrid surface made of minerals, quartz and recycled materials that ensures minimal maintenance and high resistance to scratches and stains, making it the perfect choice for this busy studio.
Eter, a grey shade that showcases the great versatility and durability of Dekton
The material chosen for the work surfaces in the kitchen area was 12 mm Dekton Eter slabs, while 8 mm thickness was chosen for the fronts. Manufactured by Bolton-based Signature Splashbacks, this innovative ultra-compact surface is composed of a mix of porcelain, glass and quartz. This material is extremely resistant to scratches, stains, heat and fire, and its use in these applications is proof of its strength and versatility. Its use is suitable for residential projects on all scales, whether for kitchen or bathroom worktops, wall cladding or even façades, flooring, furniture or shower trays, to name but a few.
Just like the Sunlit Days collection by Silestone, Dekton is also a carbon neutral material that combines sustainability with safety and energy efficiency. In fact, Dekton is LEED and BREEAM certified for environmental and sustainable design, and has the highest fire resistance classification. Last but not least, Dekton Eter, a colour from the Natural collection, features a stunning background in shades of black and grey and a contemporary look that is perfect for the studio kitchen area.
Cosentino's materials used in this project
Explore Similar Case Studies