Case Study
The Cave: a bathroom designed by Colin Seah that pays homage to primitive rituals
Colin Seah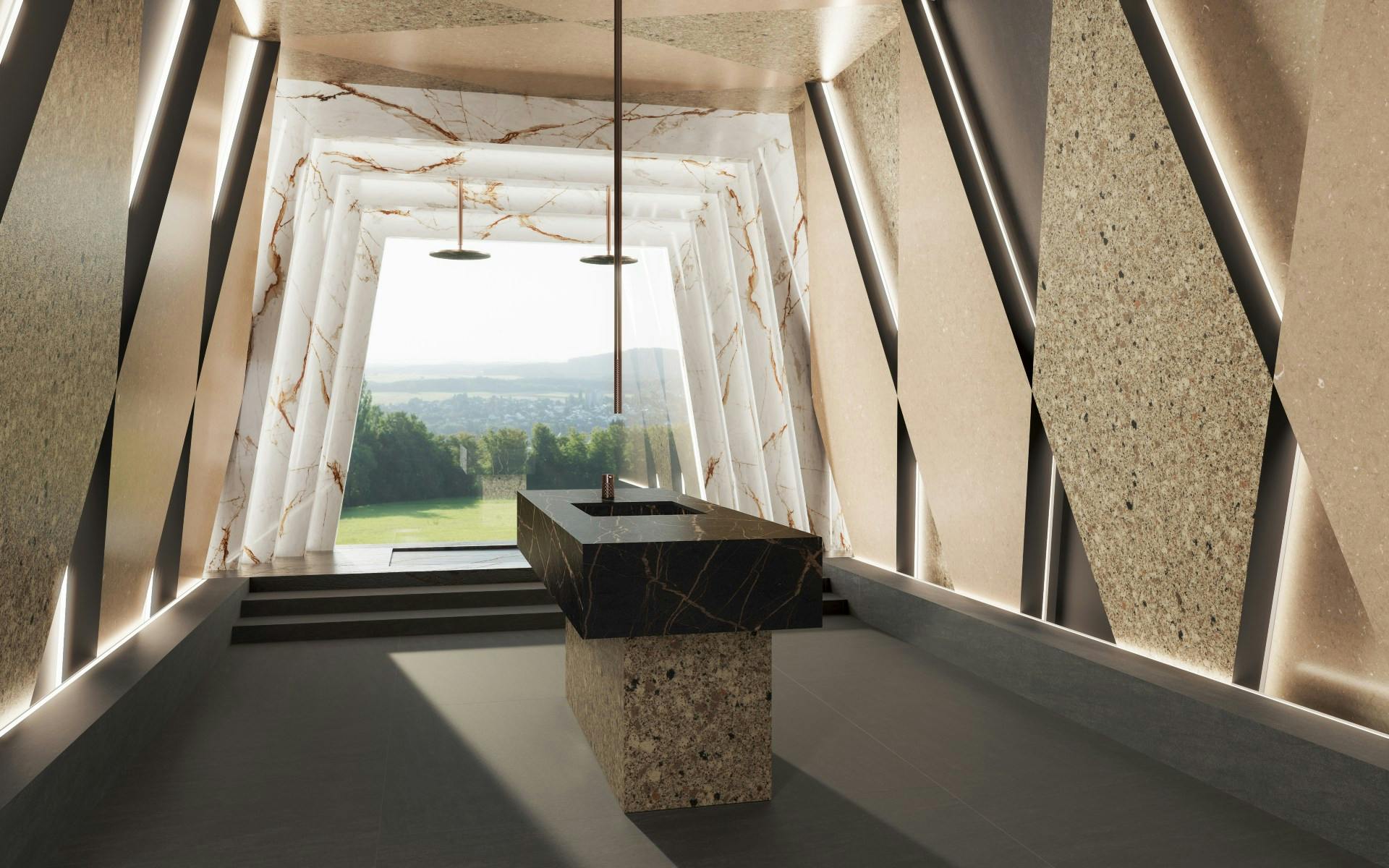 Color
Bromo, Laurent, Awake | Coral Clay, Sienna Ridge
Features for bathrooms
Washbasin: Simplicity | Shower tray: Dekton Rainfloor
Architecture / Design
Colin Seah
Material
Dekton | Silestone
Application
Flooring, wall cladding, washbasin, shower
Personal hygiene and bathing habits are undeniably primitive and fundamental to human beings. From this premise, Colin Seah explores a space reminiscent of a cave and introduces us to a primitive way of relating to the place in which we live. This project is part of The Bathelier, the C·Bath ideas lab, Cosentino's comprehensive proposal for bathrooms.
In this design, rituals come to life through the creation of a dramatic bathroom, characterised by sloping walls in deep earth tones, integrated lighting and a huge window at the back. This bathroom also reminds us of the most primitive form of architecture: the cave.
Dekton creates altars of self-care
The central volume – a Simplicity washbasin in Dekton Laurent – recreates an almost mystical atmosphere with its golden veins that structure the space and its deep background that creates dynamism. In the same way as an altar, this object elevates the moment of contact with water to a ritual, pondering how the bathroom has become an essential space for self-care and health.
An opening in the façade frames a privileged view of the exterior and floods the interior with plenty of natural light. This impressive area is reserved for the shower tray, making this moment a unique experience. Here, Dekton Laurent is also used to clad the walls, in dialogue with the architectural structures designed with the refined Dekton Awake, which reinterprets the iconic attributes of the precious Paonazzo stone.
As a unifying element, the deep, dark colour of Dekton Bromo runs throughout the floor, creating a warm and intense feel.
Silestone brings aesthetics to architectural shapes
Backlit diamond-shaped panels complete this architectural space, which is given a sophisticated touch with Silestone Coral Clay, an earth tone with neutral hues that exudes energy and positivity. In the background, Silestone Sienna Ridge, with its granite effect, adds texture to the walls and the base of the washbasin.
In short, a holistic design that reflects Colin Seah's concept of the ideal bathroom. 'Away from the hustle and bustle and distractions of the world around us, it offers a moment to immerse ourselves in healing sounds, aromas and textures,' he asserts. Once again, the innovative design vision of this architect, founder of the Ministry of Design (MOD) studio, challenges conventions and redefines spaces.
Cosentino's materials used in this project